Mammalian prion protein (PrP) forms conformationally different amyloid intracellular aggregates in bacteria
Microbial Cell Factories
2015
14:174
Received: 6 July 2015
Accepted: 17 October 2015
Published: 4 November 2015
Abstract
Background
An increasing number of proteins are being shown to assemble into amyloid structures that lead to pathological states. Among them, mammalian prions outstand due to their ability to transmit the pathogenic conformation, becoming thus infectious. The structural conversion of the cellular prion protein (PrPC), into its misfolded pathogenic form (PrPSc) is the central event of prion-driven pathologies. The study of the structural properties of intracellular amyloid aggregates in general and of prion-like ones in particular is a challenging task. In this context, the evidence that the inclusion bodies formed by amyloid proteins in bacteria display amyloid-like structural and functional properties make them a privileged system to model intracellular amyloid aggregation.
Results
Here we provide the first demonstration that recombinant murine PrP and its C-terminal domain (90–231) attain amyloid conformations inside bacteria. Moreover, the inclusions formed by these two PrP proteins display conformational diversity, since they differ in fibril morphology, binding affinity to amyloid dyes, stability, resistance to proteinase K digestion and neurotoxicity.
Conclusions
Overall, our results suggest that modelling PrP amyloid formation in microbial cell factories might open an avenue for a better understanding of the structural features modulating the pathogenic impact of this intriguing protein.
Keywords
Mammalian prionsProtein aggregationProtein conformationInclusion bodiesAmyloids E. coli
Background
Protein aggregation is the hallmark of many neurodegenerative diseases, including Alzheimer's (AD), Parkinson's (PD), and the Transmissible Spongiform Encephalopathies (TSEs) [1], also termed prion diseases. The misfolding of a particular protein, i.e., the β-amyloid peptide (Aβ) for AD, α-synuclein (α-syn) for PD, and prion protein (PrP) for TSEs can lead to its abnormal accumulation in tissues, which usually comes along with severe cellular damages. Irrespectively of the misfolded protein sequence and structure, protein aggregation usually proceeds in a well-organized fashion to form amyloids in these diseases [1]. Amyloid fibrils architecture is characterized by a β-sheet enriched core, which usually binds to Congo red (CR) and thioflavin-T (Th-T) dyes [2].
TSEs form a group of lethal neurodegenerative disorders, which affect both humans and other mammals [
3
]. They may manifest as infectious, genetic or sporadic diseases. The structural conversion of the cellular prion protein (PrP
C
), into its misfolded pathogenic form (PrP
Sc
) is the central event of these pathologies. PrP
C
, which is found anchored to the extracellular membrane of several cell types, has a well-defined structure, with a highly flexible and unstructured N-terminal tail and a globular C-terminal domain composed by three α-helices and two short antiparallel β-strands [
4
,
5
] (Fig.
1
). Unlike PrP
C
, PrP
Sc
is an insoluble protein, mainly composed by β-sheet structures, partially resistant to proteolysis, with a high propensity to form both amorphous and amyloid-like aggregates [
3
,
6
,
7
]. Deposition of aggregated PrP
Sc
in tissues is attributed to cause neurodegeneration. PrP
Sc
aggregation becomes self-perpetuating in vivo through the conversion of host PrP
C
into abnormal PrP
Sc
, in a process catalyzed by the infectious form [
6
,
7
]. In vitro, the assembly of prions into amyloids displays a typical nucleation-elongation reaction, but in the presence of preformed fibrillar seeds the 'lag-phase', corresponding to the nucleation reaction, is abrogated. The reduction in the lag-phase evidences the ability of the seed to catalyze amyloid polymerization [
7
–
9
], a property that underlies the mechanism of prion conformational replication [
10
]. It is assumed that the PrP can adopt multiple misfolded conformations that are the molecular origin of prion strains and dictate the efficiency of the species barrier in the transmission of prions [
11
]. Distinct prion strains can lead to phenotypically different prion diseases in animals, with different incubation times and brain deposition profiles [
12
–
14
].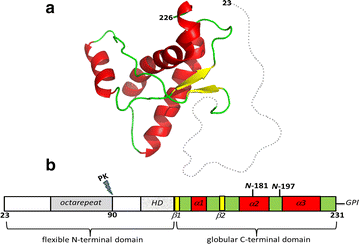 Inclusion bodies (IBs) formation in bacteria has long been regarded as an unspecific process resulting from the collapse of hydrophobic contacts between partially or totally unfolded species after protein synthesis at the ribosome [15]. However, an increasing body of evidence indicates that the bacterial IBs formed by amyloidogenic proteins share a number of common structural features with the highly ordered and, in many cases, pathogenic amyloid fibrils [16–19]. Interestingly, it was shown that a specific domain of a bacterial DNA replication protein, the RepA-WH1, assembles into fibrils and, when expressed in E. coli, can lead to a peculiar amyloidosis through the inhibition of bacterial proliferation [19]. These RepA-WH1 aggregated particles can be vertically transmitted across generations, thus this protein was characterized as a synthetic bacterial prionoid [19]. Therefore, bacteria have become a simple model system to study intracellular protein aggregation under biologically relevant conditions that cannot be easily recapitulated in vitro, such as the presence of chaperones and proteases, molecular crowding, and the continuous synthesis of the protein in the ribosome [20–22].
Het-s, from the fungus Podospora anserina, was the first prion protein whose bacterial IBs were shown to display amyloid-like properties [23, 24]. The differential trait of these aggregates emerged when they were transfected into prion-free fungal strains, as they promoted prionic conversion [23]. This result was later corroborated for the yeast prion Sup35 [25, 26]. The amyloid-like IBs of Sup35 induced the prion phenotype in prion-free yeast strains, the infectivity rate being modulated by the environmental conditions during the formation of IBs [25–27]. These observations provide perhaps the best evidence that the IBs molecular structure can recapitulate the architecture of amyloid fibrils, in such a way that even the infectious properties of amyloids, which depend on specific conformational features, seem to be conserved in the two type of aggregates.
It was previously shown that bacterially expressed recombinant murine PrP can be turned infectious in vitro causing prion pathology when inoculated in mice [28]. Here, we address whether, like their fungal counterparts, mammalian PrP can form amyloid intracellular aggregates when expressed in bacteria. With this aim, we produced, purified and conformationally characterized the intracellular aggregates formed by the wild-type murine PrP encompassing residues 23–231 (PrPWT) and the C-terminal domain of murine PrP (PrP90–231) (Fig. 1). Our current study provides the first demonstration that recombinant murine PrPs can form amyloid structures inside bacterial IBs. Besides, although possessing similar secondary structure, PrPWT IBs and PrP90–231 IBs exhibit conformational diversity, as they bind CR and Th-T dyes to different extents, display distinct morphology, different stability and resistance against proteinase K proteolysis. These conformational differences result in different toxicity of the two PrP IBs resistant cores when added to neuroblastoma cells in culture.
Conclusions
Prions are misfolded, self-propagating and infectious proteins. The bacterial inclusion bodies formed by fungal prions, such as HET-s PFD, Ure2p and Sup35-NM have been shown to display an amyloid fold and to be infective. This ability to embrace potentially harmful misfolded polypeptides into insoluble deposits seems to be a strategy mechanism perpetuated along the evolution from prokaryotic bacteria to highly complex eukaryotic organisms. We showed here for the first time that the IBs formed by mammalian prion proteins are also enriched in seeding competent amyloid-like structures, supporting the formation of prion-like conformations inside bacteria. Moreover, these aggregates display conformational diversity, thus becoming an interesting and simple model to study how this property can be modulated in vivo by the quality control machinery. Since PrP accumulates in IBs at high levels and these biological particles are easily purified, it is suggested that they might become a convenient source to obtain prion particles. It is clear that the bacterial cytosol where these aggregates are formed differs from that of eukaryotic cells; however, the potentiality of these inside-the-cell formed amyloid particles to adopt infective conformations is, in our opinion, much higher than the one of the aggregates formed by the purified recombinant protein in vitro after complete denaturation and refolding procedures. In addition, as already shown for other amyloids [15], PrP-producing bacterial cells can potentially be used for the easy and cheap screening of anti-aggregation compounds able to prevent intracellular PrP amyloid-like aggregation, being thus useful in the early stages of discovery of anti-prionic drugs.
Methods
Prion proteins expression and purification
E. coli C43 (DE3) cells were transformed with plasmids (pET-28 b) encoding the murine wild-type prion protein (PrPWT) encompassing residues 23–231 and the murine PrP C-terminal domain residues 90–231 (PrP90–231), both containing a histidine-tag. Cells were grown aerobically in liquid Luria–Bertani (LB) medium containing appropriate antibiotics in a rotary shaker at 37 °C and 250 RPM. Overnight cultures were diluted 100-fold in LB and allowed to grow to an OD600 = 0.7. At OD600 = 0.7, expression was induced with 1 mM isopropyl-1-thio-β-d-galactopyranoside (IPTG). Cells were harvested after overnight induction (18–20 h), centrifuged, resuspended in 60 mL of buffer U (8 M urea, 10 mM Tris–HCl, 100 mM NaH2PO4, 10 mM reduced glutathione, pH 8.0). After sonication and centrifugation, the soluble protein fraction was added to 5 mL of HisTrap FF prepacked column (GE Healthcare) and washed with 30 mL of buffer U. On-column oxidative refolding was performed by applying for 2 h a 160 mL-gradient of buffer U to buffer B (10 mM Tris–HCl, 100 mM NaH2PO4, pH 8.0). Then, the column was washed with 50 mL buffer B. Unspecific bound proteins were removed from the column with 50 mL of 50 mM imidazole in buffer B. The recombinant proteins PrPWT and PrP90–231 were eluted with buffer E (10 mM Tris, 100 mM NaH2PO4, 750 mM imidazole, pH 5.8). Histidine tail-fused PrP was dialyzed against milliQ water at least two times. The histidine tail was removed from the prion protein using thrombin (1:1000). The cleavage reaction was carried out at room temperature for 2 h. After thrombin cleavage, the sample was repurified in the HisTrap column. Finally, the protein solution was dialyzed against milliQ water two times to remove any remaining salt. 15 % SDS-PAGE analysis revealed more than 95 % of purity.
PrPWT and PrP90–231 IBs extraction
IBs were purified from IPTG-induced cells harbouring the pET-28(b)/PrPWT plasmid, the pET-28(b)/PrP90–231 plasmid and vector alone by detergent-based procedures. IBs were purified from induced cell extracts by detergent-based procedures as previously described [17]. Briefly, cells in a 10 mL culture were harvested by centrifugation at 12,000g (at 4 °C) for 15 min and resuspended in 200 µL of lysis buffer (50 mM Tris–HCl pH 8.0, 1 mM EDTA, 100 mM NaCl), plus 30 µL of 100 mM protease inhibitor PMSF and 6 µL of a 10 mg/mL lysozyme solution. After 30 min of incubation at 37 °C under gentle agitation, Nonidet-P40 was added at 1 % (v/v) and the mixture was incubated at 4 °C for 30 min. Then, DNase I and RNase were added to a final concentration of 25 μg/mL and 3 µL of 1 M MgSO4 was added. The resulting mixture was further incubated at 37 °C for 30 min. Protein aggregates were separated by centrifugation at 12,000g at 4 °C for 15 min. Finally, IBs were washed once with the same buffer containing 0.5 % Triton X-100 and once with phosphate buffered saline (PBS). After a final centrifugation at 12,000g for 15 min, pellets were stored at −20 °C until analysis. The frozen pellets were reconstituted in PBS. SDS-PAGE analysis revealed that in all cases the murine prion proteins were the major polypeptidic components of the aggregates. Prion proteins concentration in IBs was estimated using image densitometry software ImageJ in the SDS-PAGE gel analysis in comparison with the respective dosed purified protein. We performed the same procedures with cells extracts of bacteria containing an empty plasmid as control IBs.
Secondary structure determination
Attenuated total reflectance (ATR)-Fourier Transformed Infrared spectroscopy analyses of PrPWT and PrP90–231 IBs were performed using a Nicolet 6700 IR spectrometer (Thermo Scientific, USA) equipped with an ATR accessory. Dried samples were applied directly to the ATR crystal to be analysed. Each spectrum consisted of 128 accumulated scans, measured at a spectral resolution of 4 cm−1 within the mid-IR range (4000–675 cm−1). Fourier deconvolution of the FTIR spectra was performed with a resolution enhancement factor of 1.6 and a bandwidth of 21 cm−1. Peak position and curve fitting were determined with OMNIC™ software v. 8.0 (Thermo Scientific WI, USA) with a mixed Gaussian-Lorenztian function, allowing assignment of different secondary structure components in the amide I range (1700–1600 cm−1) [47, 48, 67].
Congo red binding
To get insights into the amyloid nature of the PrPWT and PrP90–231 IBs, CR binding assays were performed. The interaction of 20 μM CR with the purified IBs (final OD600: 0.1) was tested using a Cary100 UV/Vis spectrophotometer (Varian, Palo Alto, CA, USA). CR binding was quantified by the equation: CR bound = Abs540nm/25,295 − ABS477nm/46,306 [84]. The extent of amyloid structure was measured by the increase of CR bound to PrP IBs in relation to control IBs [IBs purified from IPTG-induced cells harbouring only the pET-28(b) plasmid].
Thioflavin T (Th-T) binding assay
Th-T binding was used to probe amyloid presence in the samples. Incubation of 30 μM Th-T with PrPWT IBs and PrP90–231 IBs (final OD600: 0.1) or the correspondent amyloid fibrils was recorded using a Jasco FP-8200 spectrofluorometer (Jasco Inc, MD, USA) with an excitation wavelength of 445 nm and emission range from 480 to 580 nm at 37 °C in PBS. Five individual scans were averaged for each measurement. The intensity of the spectra at the 482 nm maximum was recorded as an indication of the extent of amyloid conformation in the aggregates.
Thioflavin-S binding in living cells
Detection of thioflavin-S (Th-S) binding was performed in living cells expressing PrPWT, or PrP90–231 and control non-induced cells. Bacterial cells were washed with PBS buffer and diluted at an OD600 of 0.1. Th-S was added at 125 µM final concentration; cells were then incubated for 1 h and washed twice with PBS. Cells were placed on top of a microscope slide and covered with a cover slip. Photographs were acquired at 40-fold magnification under UV light in a Leica fluorescence microscope (Leica DMRB, Heidelberg, Germany).
Chemical denaturation
For stability assays, purified PrPWT and PrP90–231 IBs were prepared at final OD350 = 1 in PBS containing selected concentrations of urea ranging from 0 to 8 M. The reactions were allowed to reach equilibrium by incubating them for 12 h at room temperature. The fraction of soluble protein (fS) was calculated from the fitted values using equation: fS = 1 − ((yS − y)/(yS − yA)), where yS and yA are the absorbance at 350 nm of the soluble and aggregated protein, respectively, and y is the absorbance of the protein solution as a function of the denaturant concentration. The value m1/2 was calculated as the denaturant concentration at which fS = 1/2. OD350 changes were monitored with a Cary400 Varian spectrophotometer.
Transmission electron microscopy (TEM)
Each sample (20 μL) was applied to a carbon coated copper grid, and after 5 min the grid was washed with MilliQ water. Samples were stained with 2 % (w/v) uranyl acetate for 1 min and then washed again. Images were collected on a Jeol 1200 microscope (Boston, MA, USA) operating at 80 kV.
In vitro conversion of PrP into amyloid fibrils
To target amyloid fibril formation, PrP solutions were prepared immediately before use by resuspending lyophilized purified PrPWT powder in 4 M GdnHCl, 0.02 M thiourea, and 0.1 M MES, pH 6.0, in a protocol adapted from previous studies [59]. Samples were centrifuged at 12,000g for 5 min and the protein concentration was determined by its extinction coefficient at 280 nm (63,495 M−1 cm−1), calculated from the PrPWT primary sequence in http://web.expasy.org/protparam/. The fibrillation reactions of 0.5 mg/mL PrP were carried out in 1.5-ml conical low-binding plastic tubes up to a total reaction volume of 0.6 ml at 37 °C with continuous shaking at 600 rpm for at least 3 days using an Eppendorf Thermomixer Comfort (Eppendorf, USA). Aliquots from each sample were taken over time.
Seeding assays
PrP aggregation departing from monomeric recombinant PrP was monitored by measuring the transition from non-aggregated to aggregated state by following light scattering at 350 nm in a Jasco FP-8200 spectrofluorometer (Jasco Inc, MD, USA). The polymerization reactions showed typical nucleation-elongation kinetics of amyloid formation. The reactions were carried out with 0.5 mg/mL of soluble purified PrPWT in 4 M GdnHCl, 0.02 M thiourea, and 0.1 M MES pH 6.0 using 1 cm-path length quartz cuvette in a total reaction volume of 1 mL at 37 °C with continuous shaking at 600 rpm using micro-stir bars. In the seeding assays, a solution of PrPWT IBs resuspended in PBS with OD350 of 10.0 were sonicated for 10 min, and then diluted 100-fold (final OD350 = 0.1) at the beginning of the reaction. The seeding ability of 2 % preformed fibrils (after 10 min of sonication) was also evaluated. Cross-seeding assays were performed in the same manner by adding a sonicated solution of PrP90–231 IBs (final OD350 = 0.1) to initially soluble PrPWT.
Confocal microscopy and image processing
Confocal images of human neuroblastoma (SH-SY5Y) cell cultures were captured in complete medium at 37 °C, using a laser scanning confocal microscope (Leica TCS SP2 AOBS equipped with a HCX PL APO 63 × 1.4 oil, immersion objective, Germany). Briefly, SH-SY5Y cells were seeded in 35 cm2 plates (Mat Tek) with approximately 30 % of confluence in complete medium and incubated for 72 h in the presence of sterile PBS buffer + PK (positive control) and the PK-resistant core of the PrPs IBs. Proteinase K was inactivated by boiling all solutions before applying them to cultured cells. Cells were incubated with 0.5 μg/mL SYTO green and 10 μg/mL propidium iodide (PI) (Molecular Probes) for 15 min at 37 °C and washed twice with PBS buffer. Cell morphology was analysed by confocal fluorescence microscopy using an orange diode (588–715 nm emission collected) and a UV laser (excited at 350 nm and collected at 405 nm). Two independent experiments, both in duplicate were done and the entire field of each plate was observed at the microscope.
Proteinase K (PK) resistance assay
The PK concentration in this assay was optimized in preliminary experiments (not shown). PrPWT IBs and PrP90–231 IBs at final OD350 of 0.5 were incubated with PK (Sigma-Aldrich, USA) at final concentration of 2.5 μg/mL in PBS for 1 h at 37 °C. Aliquots of PK digestion were taken at every 10 min and the reaction quenched by the addition of the same amount of 4 times concentrated denaturing sample buffer. Samples were heated at 95 °C for 5 min and analysed by Tris–Glycine SDS-PAGE. The assay with soluble purified recombinant PrP was performed in the same manner [85].
Declarations
Authors' contributions
BM carried out most of the experiments and drafted the manuscript. RS and SN participated in the experimental work. SV and YC supervised the project and revised the manuscript. All authors read and approved the final manuscript.
Acknowledgements
We thank Pablo Castro for help with microscopy analysis and we also thank Dr. Byron Caughey (RML, NIH) for providing us the rabbit polyclonal anti-PrP antibody R20. This work was supported by Ministry of Education of Brazil [CAPES process number: 99999.002869/2014-04 to the fellow student B.M]; and by Ministerio de Economia y Competividad, Spain [BFU2013-44763P to S.V.]; by ICREA [ICREA Academia 2009 to S.V.] and by FAPERJ, CNPq and INBEB from Brazil to Y.C.
Competing interests
The authors declare that they have no competing interests.
Open AccessThis article is distributed under the terms of the Creative Commons Attribution 4.0 International License (http://creativecommons.org/licenses/by/4.0/), which permits unrestricted use, distribution, and reproduction in any medium, provided you give appropriate credit to the original author(s) and the source, provide a link to the Creative Commons license, and indicate if changes were made. The Creative Commons Public Domain Dedication waiver (http://creativecommons.org/publicdomain/zero/1.0/) applies to the data made available in this article, unless otherwise stated.
Authors' Affiliations
(1)
Faculdade de Farmácia, Centro de Ciências da Saúde, Universidade Federal do Rio de Janeiro, Rio de Janeiro, Brazil
(2)
Institut de Biotecnologia i de Biomedicina, Universitat Autònoma de Barcelona, Bellaterra, Spain
(3)
CAPES Foundation, Ministry of Education of Brazil, Brasilia, Brazil
(4)
Departament de Bioquímica i Biologia Molecular, Facultat de Biociències, Universitat Autònoma de Barcelona, Bellaterra, Spain