Generation of a platform strain for ionic liquid tolerance using adaptive laboratory evolution
Microbial Cell Factories
2017
16:204
Received: 25 August 2017
Accepted: 9 November 2017
Published: 16 November 2017
Abstract
Background
There is a need to replace petroleum-derived with sustainable feedstocks for chemical production. Certain biomass feedstocks can meet this need as abundant, diverse, and renewable resources. Specific ionic liquids (ILs) can play a role in this process as promising candidates for chemical pretreatment and deconstruction of plant-based biomass feedstocks as they efficiently release carbohydrates which can be fermented. However, the most efficient pretreatment ILs are highly toxic to biological systems, such as microbial fermentations, and hinder subsequent bioprocessing of fermentative sugars obtained from IL-treated biomass.
Methods
To generate strains capable of tolerating residual ILs present in treated feedstocks, a tolerance adaptive laboratory evolution (TALE) approach was developed and utilized to improve growth of two different Escherichia coli strains, DH1 and K-12 MG1655, in the presence of two different ionic liquids, 1-ethyl-3-methylimidazolium acetate ([C2C1Im][OAc]) and 1-butyl-3-methylimidazolium chloride ([C4C1Im]Cl). For multiple parallel replicate populations of E. coli, cells were repeatedly passed to select for improved fitness over the course of approximately 40 days. Clonal isolates were screened and the best performing isolates were subjected to whole genome sequencing.
Results
The most prevalent mutations in tolerant clones occurred in transport processes related to the functions of mdtJI, a multidrug efflux pump, and yhdP, an uncharacterized transporter. Additional mutations were enriched in processes such as transcriptional regulation and nucleotide biosynthesis. Finally, the best-performing strains were compared to previously characterized tolerant strains and showed superior performance in tolerance of different IL and media combinations (i.e., cross tolerance) with robust growth at 8.5% (w/v) and detectable growth up to 11.9% (w/v) [C2C1Im][OAc].
Conclusion
The generated strains thus represent the best performing platform strains available for bioproduction utilizing IL-treated renewable substrates, and the TALE method was highly successful in overcoming the general issue of substrate toxicity and has great promise for use in tolerance engineering.
Keywords
Escherichia coli
Renewable feedstocks
Ionic liquids
Adaptive laboratory evolution
Background
There is a need to replace chemical and fuel production from fossil feedstocks with carbon neutral sources to retain the natural cycle of carbon emission and assimilation. Certain biomass feedstocks can play a major part in this need as they are abundant, diverse, and renewable. These biomass feedstocks include general plant-based materials like energy crops, crop residues, wood, wood residues, and grasses. Most of these materials have intrinsic value alongside with the added possibility of use as biomaterials [1]. Biomass feedstocks, however, possess a low energy density requiring a greater quantity of them to meet market demands [2]. Therefore, innovative approaches are necessary to make biomass feedstocks viable carbon sources to replace fossil feedstocks.
Lignocellulosic biomass can serve as a carbon neutral and abundant feedstock for bioprocesses [3]. In order to utilize lignocellulosic biomass for biochemical conversion in biorefineries, a pretreatment process is needed to remove the physical and chemical barriers to fully utilize the sugar substrates. The main aim of pretreatment is to increase the accessibility of cellulose, which then can be subjected to enzymatic saccharification to release fermentable sugars. This can be achieved through dissolution of hemicellulose and/or lignin, which coat the surface of cellulose [4]. There are several approaches for pretreatment of lignocellulosic biomass which include physical and chemical methods, but one of the most effective approaches is to directly release monomeric sugars through treatment with Ionic liquids (ILs) [5]. ILs are effective solvents for deconstruction and result in generating sugar feedstocks without significant loss of sugars due to degradation [4, 6, 7].
Despite its efficacy, IL pretreatment has some limitations, as some amounts of ILs remain from the pretreatment and these are often highly toxic to microbes used in downstream fermentation processes. Typically, a deconstruction hydrolysate has around 0.2–5% (w/v) of ionic liquid after the pretreatment [8]. One practice to overcome toxicity is to wash the pretreatment several times mostly with water, but this process adds significant purification costs [6]. Thus, an alternate approach to deal with toxicity by developing microbial platform strains that can tolerate residual ILs is needed. Limited tolerance toward ILs has been previously achieved using a range of techniques including rational design [8–10] and adaptive laboratory evolution (ALE) [11]. The rationally-designed strains generally introduced a non-native efflux pump for ILs which exerts a metabolic burden on the cells and a need for tight expression control. The previous ALE study showed promise for the approach [11], but the scope was limited to one IL, utilized a rich undefined media, and no genetic basis for the improved performance was presented. Nonetheless, this preliminary work revealed an opportunity to apply ALE for IL tolerance and can be used for comparison.
In the present work, the problem of IL toxicity is addressed using a systematic ALE strategy, Tolerance adaptive laboratory evolution (TALE), to generate Escherichia coli (E. coli) strains that were highly tolerant to the presence of ILs. The TALE method differs from previous efforts in that dynamic control is used to increase the amount of stress applied to cells to keep a strong selection pressure without crashing cultures due to overstressed growth conditions. The TALE approach for IL tolerance employed in the present study has two major advantages compared to manual ALE work (e.g., [11]). First, the TALE approach significantly improved fitness and final cell density in higher IL concentrations than the manual ALE approach. Additionally, the IL cross-tolerance phenotype exhibited by the best performing strains can expand the application of TALE-derived strains. Finally, these results were obtained over a significantly shorter time frame (40 vs 90 days) using an automated platform for performing TALE (details of the improvement are provided below).
In this study, two biotechnologically-relevant strains of E. coli (K-12 MG1655 and DH1) were exposed to increasing concentrations of two ILs; 1-butyl-3-methylimidazolium chloride and 1-ethyl-3-methylimidazolium acetate. Both of these targeted ILs are promising solvents for biomass pretreatment and were considered as a good candidates for IL-pretreated biomass [5, 7]. The exposure was performed over repeated exponential batch growth in parallel biological replicates. The evolved populations were screened and individual isolates were re-sequenced to identify key causal mutations. Selected isolates were compared against rationally-designed strains previously demonstrated to possess IL tolerance [8, 12]. The best performing strains showed markedly improved tolerance toward higher concentrations of ILs over rationally designed strains. The key mutations identified in this study provide a linkage between the IL tolerance phenotype and genotype.
Results
A tolerance adaptive laboratory evolution (TALE) experiment was utilized to generate strains which could tolerate toxic concentrations of similarly close ionic liquids (ILs) and identify mutations which likely confer a fitness advantage under more economically advantageous bioprocessing conditions, i.e., pretreated biomass solution containing some ILs. Two different E. coli strains were chosen for the study (K-12 MG1655 and DH1) as well as two types of ILs; 1-butyl-3-methylimidazolium chloride ([C4C1Im]Cl) and 1-ethyl-3-methylimidazolium acetate ([C2C1Im][OAc]). The E. coli strains were chosen as they are often used in bioprocessing applications [15, 16] and as the adaptive responses of K-12 MG1655 toward minimal medium growth is known [17]. IL pretreatment for biomass deconstruction has been demonstrated in several studies as a promising approach to solubilize cellulosic polysaccharides, thereby increasing the enzymatic turnover of saccharification, and also reducing the formation of inhibitory by-products [6, 18, 19].
Discussion
The economical and efficient break down of lignocellulosic material into carbon feedstocks is an essential step in renewable bioprocessing. Ionic liquid (IL) solubilization is a promising method for breakdown of lignocellulosic material, however these compounds are toxic to most bioproduction chassis strains. Thus, the scope of this study was to generate IL tolerant strains utilizing an adaptive laboratory evolution process. Accordingly, the main contributions from this work are: (1) effective generation of IL tolerant strains (including cross-tolerance) for two common production chassis, E. coli K-12 MG1655 and DH1, which can be used as platform strains for utilizing feedstocks generated through IL degradation methods, (2) insights into both strain-specific and global mechanisms of IL tolerance through examining key mutations found in multiple parallel evolved isolates, and (3) establishing a viable method using a multiple population TALE approach with next-generation sequencing towards generating tolerant strains. This method was benchmarked via comparison to rational engineering approaches.
TALE was successful in generating strains that were tolerant to the targeted ILs. After approximately 40 days of continuous exposure to ILs during growth (mostly in exponential growth), populations of cells were able to grow at approximately threefold or greater of the initial concentration of each IL compared to the wild type (Table 1). Tolerance levels of isolated clones are impressive when compared to other tolerant bacterial strains [8, 12, 45]. Additionally, the selected best performing strains demonstrated high level of IL cross-tolerance toward [C2C1Im][OAc]; detectable growth at 11.9% (w/v) for TALE-derived E. coli K-12 MG1655 clones and robust growth at 8.5% (w/v) for the same MG1655 isolates plus the E. coli DH1 best-performing clones. Thus, the TALE-derived strains show promise as platform strains for utilization of biomass hydrolysates generated using IL treatment.
The key mutations identified from this study provide insights into the potential mechanisms of tolerance phenotypes in the evolved strains. The most prevalent and shared mutations observed were in the
mdtJ
/
tqsA
intergenic region, as well as in the
tqsA
gene, and in the
yhdP
gene (Fig.
4
). The key mutations identified in this study were specific to ILs when compared to a control experiment where K-12 MG1655 was evolved on M9 glucose minimal medium at the same temperature but without any stress from ILs [
17
]. Thus, it appears that modulating transport, likely of ILs, in and out of the cell is crucial for tolerance to the ILs tested here and likely similar compounds. This finding further supports the focus of rationally modulating transport systems in engineering tolerance [
12
,
23
,
46
]. However, identifying which transporters are critical for tolerance in a given strain de novo is difficult, therefore making the use of TALE a powerful approach.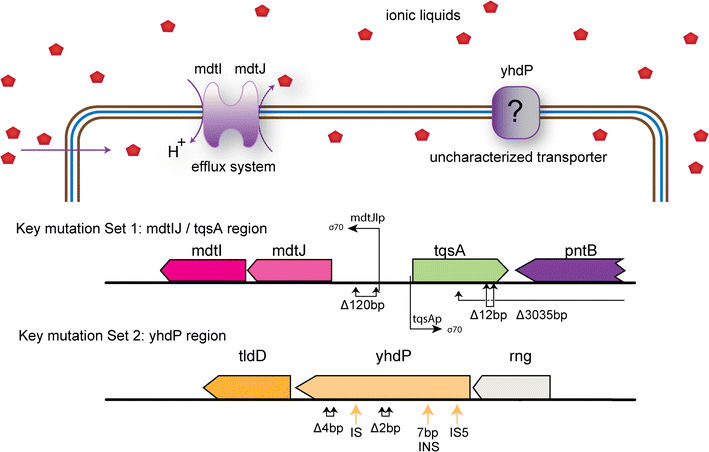 A genetic-level analysis of the specific multidrug transport system mutation observed in both strains provides a glimpse into the mechanistic impact of these mutations. The most prevalent Δ120 bp deletion in the intergenic region between mdtJ and tqsA likely disrupts H-NS binding sites in the mdtJI promotor region, which is then believed to relieve negative repression of transcription of mdtJI by H-NS, given its role as a steric hindrance protein [47]. Supporting this, when H-NS is absent, a ninefold increase in mdtJI expression occurs as compared to wild type E. coli, and consequently the activity of MdtJI as well [47]. This finding further highlights the likely active role of this small multi-drug resistance (SMR) efflux pump in the resistance mechanism. Similar work has shown such pumps to be active on a wide range of inhibitory compounds [23, 46–48]. It is noteworthy that in the control experiment [17], an intergenic hns/tdk mutation was reported in almost all evolved endpoints where hns was determined to be upregulated and conferred a fitness advantage, i.e., fast growth rate, likely through subsequent downregulation of stress responses. Given that no similar intergenic hns/tdk mutations were seen in this work with ILs present during the evolution, this finding further supports the importance of high expression of mdtJI towards tolerance of the ILs examined here and the benefit of control ALE experiments.
The other key mutated region, in this case one gene, identified in the tolerant clones was in yhdP. The yhdP gene encodes a predicted transporter [29]. The occurrence of five unique mutations, all interpreted to be loss of function mutations, imply that removing this gene is a viable strategy for increased IL tolerance. However, the specific mechanism is unclear as to what metabolite is pumped in or out of the cell to provide the increased fitness. One can speculate that ILs could enter through this transporter, but this has yet to be verified. Future work could include an effort to definitively assign the causality of key mutations. For example, expression profiling could be performed on isolates or reconstructed strains carrying only the Δ120 bp deletion in the intergenic region between mdtJ and tqsA. Such transcription levels could help focus on the impact of mdtJ and/or tqsA and lead to a better understanding of the underlying mechanisms of tolerance.
The TALE approach of independently passaging multiple populations in an automated, strictly-controlled platform, coupled with next-generation sequencing resulted in an effective process for generating tolerant strains and for revealing the key causal mutations. Sequencing the whole genome revealed mutational changes in the evolved strains when compared to the reference strains. However, relating a specific mutation or a set of mutations, i.e., genotype, to the apparent phenotype in certain conditions is time-consuming [39, 49, 50]. The use of multiple independent replicates allowed for the identification of mutations in the same gene or genetic region multiple times across different TALE experiments. This approach of using many replicates to decipher the causality of a mutation or set of mutations in a given strain appeared effective given that the best performing clones, MG4.7 and MG3.10, possessed such key shared mutations. To validate the key mutations identified, as well as to confirm the efficacy of the evolution process, the selected clones were compared to rationally-designed strains in two different media with closely similar ILs. The performance of TALE-derived strains was superior, which indicated the efficacy of utilizing TALE and pointed to the identified mutations in the generated the strains.
In summary, utilizing the TALE approach outlined here to generate IL-tolerant strains resulted in the generation of promising platform strains with enhanced tolerance toward high concentrations of ILs [up to 11.9% (w/v)]. The approach used to identify and interpret the key causal mutations using whole genome sequencing complemented with analyzing isolates from multiple independent populations, and multiple isolates from each population, was successful in revealing the key mutations involved in IL tolerance phenotypes. The most striking identified key mutations appeared to involve modulation of transport mechanisms, possibly the direct transport of ILs into and out of the cell. The results of this study and the approach used to generate tolerant strains can be expanded to other conditions, strains, and selection criteria, which would help in fast-tracking the utilization of alternative renewable feedstocks, as well as to better understand tolerance mechanisms for inhibitory compounds.
Abbreviations
IL:

ionic liquid
TALE:

tolerance adaptive laboratory evolution
ALE:

adaptive laboratory evolution
E. coli :

Escherichia coli
SMR:

small multi-drug resistance
Declarations
Authors' contributions
Conceived and designed the experiments: ETTM and AMF. Performed most of the experiments: ETM. Performed comparison with rationally-designed strains and cross-tolerance: SW. Analyzed the data: ETM, AMF, RML, MJH and SWS. Contributed reagents/materials/analysis tools: BAS. Wrote the paper: ETM and AMF. RML, MJH, BAS and SWS reviewed manuscript and helped in discussing the results. All authors read and approved the final manuscript.
Acknowledgements
We would like to thank Mohammad Radi, Anna Koza, Patrick Phaneuf, Professor Gang Cheng, and Professor Qipeng Yuan for their help in the project.
Competing interests
The authors declare that they have no competing interests.
Availability of data and materials
All data generated or analyzed during this study are included in this published article (and its Additional files).
Consent for publication
This article does not contain any studies with animals or with human participants performed by any of the authors.
Ethics approval and consent to participate
Not applicable.
Funding
Funding for the project was provided by The Novo Nordisk Foundation Grant Numbers NNF14OC0011269 and NNF10CC1016517. Portions of this work were supported by International Joint Graduate-Training Program of Beijing University of Chemical Technology. Part of this work was part of the DOE Joint BioEnergy Institute (http://www.jbei.org) supported by the U.S. Department of Energy, Office of Science, Office of Biological and Environmental Research, through contract DE-AC02-05CH11231 between Lawrence Berkeley National Laboratory and the U.S. Department of Energy. The United States Government retains and the publisher, by accepting the article for publication, acknowledges that the United States Government retains a non-exclusive, paid-up, irrevocable, world-wide license to publish or reproduce the published form of this manuscript, or allow others to do so, for United States Government purposes.
Publisher's Note
Springer Nature remains neutral with regard to jurisdictional claims in published maps and institutional affiliations.
Open AccessThis article is distributed under the terms of the Creative Commons Attribution 4.0 International License (http://creativecommons.org/licenses/by/4.0/), which permits unrestricted use, distribution, and reproduction in any medium, provided you give appropriate credit to the original author(s) and the source, provide a link to the Creative Commons license, and indicate if changes were made. The Creative Commons Public Domain Dedication waiver (http://creativecommons.org/publicdomain/zero/1.0/) applies to the data made available in this article, unless otherwise stated.
Authors' Affiliations
(1)
Novo Nordisk Foundation Center for Biosustainability, Technical University of Denmark, Kgs. Lyngby, Denmark
(2)
Department of Bioengineering, University of California, San Diego, USA
(3)
Joint Bioenergy Institute, Emeryville, USA
(4)
Biological Systems and Engineering Division, Lawrence Berkeley National Laboratory, Berkeley, USA
(5)
State Key Laboratory of Chemical Resource Engineering, College of Life Science and Technology, Beijing University of Chemical Technology, Beijing, People's Republic of China