New insights into Escherichia coli metabolism: carbon scavenging, acetate metabolism and carbon recycling responses during growth on glycerol
Microbial Cell Factories
2012
11:46
Received: 15 December 2011
Accepted: 18 April 2012
Published: 18 April 2012
Abstract
Background
Glycerol has enhanced its biotechnological importance since it is a byproduct of biodiesel synthesis. A study of Escherichia coli physiology during growth on glycerol was performed combining transcriptional-proteomic analysis as well as kinetic and stoichiometric evaluations in the strain JM101 and certain derivatives with important inactivated genes.
Results
Transcriptional and proteomic analysis of metabolic central genes of strain JM101 growing on glycerol, revealed important changes not only in the synthesis of MglB, LamB and MalE proteins, but also in the overexpression of carbon scavenging genes: lamB, malE, mglB, mglC, galP and glk and some members of the RpoS regulon (pfkA, pfkB, fbaA, fbaB, pgi, poxB, acs, actP and acnA). Inactivation of rpoS had an important effect on stoichiometric parameters and growth adaptation on glycerol. The observed overexpression of poxB, pta, acs genes, glyoxylate shunt genes (aceA, aceB, glcB and glcC) and actP, suggested a possible carbon flux deviation into the PoxB, Acs and glyoxylate shunt. In this scenario acetate synthesized from pyruvate with PoxB was apparently reutilized via Acs and the glyoxylate shunt enzymes. In agreement, no acetate was detected when growing on glycerol, this strain was also capable of glycerol and acetate coutilization when growing in mineral media and derivatives carrying inactivated poxB or pckA genes, accumulated acetate. Tryptophanase A (TnaA) was synthesized at high levels and indole was produced by this enzyme, in strain JM101 growing on glycerol. Additionally, in the isogenic derivative with the inactivated tnaA gene, no indole was detected and acetate and lactate were accumulated. A high efficiency aromatic compounds production capability was detected in JM101 carrying pJLBaroG fbr tktA, when growing on glycerol, as compared to glucose.
Conclusions
The overexpression of several carbon scavenging, acetate metabolism genes and the absence of acetate accumulation occurred in JM101 cultures growing on glycerol. To explain these results it is proposed that in addition to the glycolytic metabolism, a gluconeogenic carbon recycling process that involves acetate is occurring simultaneously in this strain when growing on glycerol. Carbon flux from glycerol can be efficiently redirected in JM101 strain into the aromatic pathway using appropriate tools.
Keywords
Sole Carbon SourceCarbon FluxGlyoxylate ShuntStrain JM101Gluconeogenic Gene
Background
Escherichia coli
is capable of utilizing several compounds as carbon sources. However, glucose is the preferred carbon source and its rapid utilization depends on the phosphoenolpyruvate: carbohydrate phosphotransferase system (PTS). PTS not only transports specific sugars but also in the absence of its substrates, stimulates, through adenylate cyclase (Cya), the production of
c
AMP which in turn activates the transcription of many
c
AMP-CRP dependent catabolic genes, including those involved in glycerol utilization [
1
]. Glycerol, an energy-poor carbon source, has enhanced its biotechnology importance as carbon source since it is a by-product of the biodiesel synthesis, whose production is expected to increase in the future [
2
–
4
]. A balanced aerobic growth on glycerol depends on three global regulators:
c
AMP-CRP as the principal inducer of the glycerol catabolic regulon (including
glpF
glpK
and
glpD
); Cra (FruR) as regulator of some gluconeogenic genes, and ArcA as regulator of several central metabolic genes including the TCA cycle and others involved in respiration [
1
,
5
].
E. coli
growing aerobically on glycerol incorporates this molecule into central metabolism as dihydroxyacetone phosphate (DHAP), a metabolite which can participate in both gluconeogenic and glycolytic processes (Figure
1
) [
6
]. The expression of metabolic genes, in particular the overexpression of
pykA
pckA, gltA
fumABC
sdh
mdh
and
acnA
genes and the downregulation of the
ackA
gene, has been reported for
E. coli
growing on glycerol [
7
]. Proteomic and enzymatic assay studies, in which cells were grown on a complete medium (Luria broth) plus glycerol, reported overexpression of the
fbp
gene and at lower levels
aceBA
operon [
8
]. However, studies on the carbon stress response of
E. coli
growing only on an energy-poor carbon source such as glycerol are scarce. It is know that
E. coli
displays carbon stress responses when growing under carbon source limitation similar to those encountered during stationary phase or glucose limited conditions in chemostats cultures [
9
,
10
], fed batch cultures [
11
], or in strains with limited glucose transport capabilities [
12
,
13
].
E. coli
carbon stress response utilizes mechanisms which are part of the general stress response, and involve several changes in cellular physiology. This response can be a fast emergency strategy or a long-term program of adaptation to starvation [
14
]. The master regulator of the general stress response is the sigma factor RpoS, whose regulation is complex and involves transcriptional and posttranscriptional control mechanisms. For example,
rpoS
transcription is stimulated by downshifts in the specific growth rate (μ) [
9
,
15
,
16
]. Furthermore, a continuous reduction in μ, results in an inversely correlated increase in
rpoS
transcription (5 to 10- fold). In addition, when an abrupt cessation of growth occurs, as in response to sudden glucose starvation,
rpoS
transcription is also induced [
17
,
18
]. In strains lacking PTS which grow slowly on glucose as the sole carbon source, cells apparently sense low levels of carbon and induce
rpoS
transcription and several other genes involved in carbon scavenging, as well as a carbon (acetate) recycling mechanism [
12
,
13
,
19
–
21
]. Since
rpoS
expression is induced by different stresses, genes whose transcription are regulated by this sigma factor can be modulated by various coregulators such as Crl. Crl responds to indole as a signal molecule, increasing gene transcription of some genes by binding to RpoS. This in turn, stimulates RNA polymerase holoenzyme formation [
22
]. Carbon stress responses also involve amino acid starvation conditions in which ppGpp concentration increases rapidly to the millimolar range. When cells are growing under stress conditions, including slow growth on glucose, the expression of central metabolic genes is modified by altering the transcription of genes that redirect metabolism [
12
–
14
,
19
–
21
].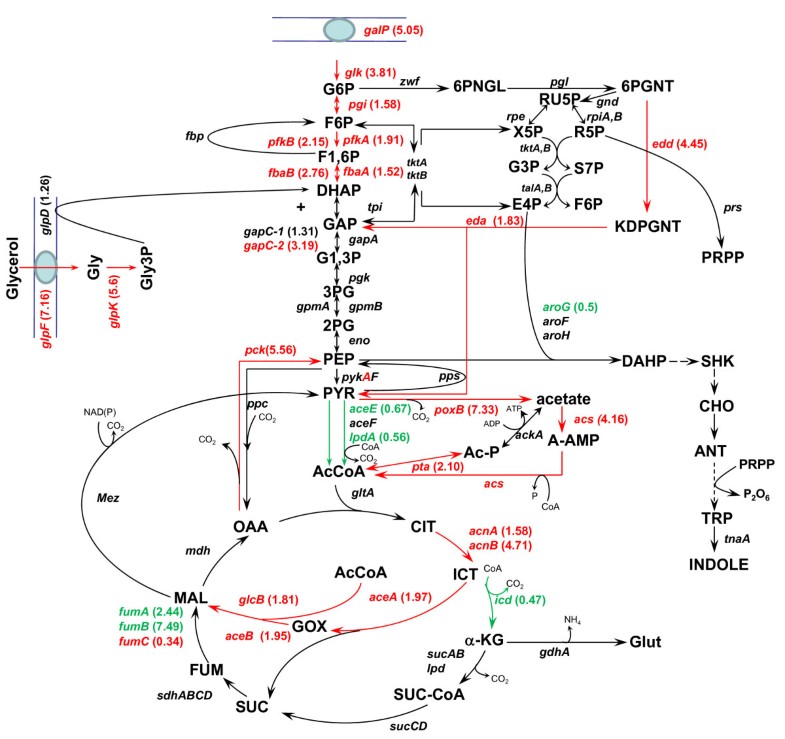 In this report some non described features detected in E. coli strain JM101 [23] grown in minimal medium on glycerol as the sole carbon source, are presented. Gene transcription levels and protein production patterns corresponding to a carbon stress response were detected. Overexpression of genes involved in the production and consumption of acetate that correlated with no detection of this metabolite in cultures of JM101 grown on glycerol, as well as the capability of acetate and glycerol coutilization in mineral media cultures were also detected in this strain, in agreement with a "carbon stress acetate recycling" response. Additionally, derivative strains with inactivated important genes such as rpoS and some members of the PEP-PYR node (pckA poxB ppc pykA and pykF) were constructed and evaluated to clear the role of their coded proteins in the JM101 glycerol metabolism.
Conclusions
Overexpression of the genes and overproduction of their coded proteins involved in glycerol uptake and metabolism were detected. These proteins are responsible for the transport and incorporation of glycerol as DHAP, one of the metabolites of the glycolytic pathway. Overexpression of several glycolytic and gluconeogenic genes in the upper part of the glycolytic pathway, especially fbaA, fbaB, fbp and pgi, are responsible for the production of G6P from DHAP. Low F1,6P/F6P levels could be the signal for the induction of some of these regulons when strain JM101 is growing on glycerol. This phenomena is reinforced by the differential expression of some genes regulated by Cra which respond to low F1,6P concentrations.
The detected overexpression of the mal/lam and mgl/gal regulons and the overproduction of their coded proteins and some genes regulated by RpoS, indicate that JM101 apparently induced a "carbon stress and carbon scavenging response" when growing on glycerol as the sole carbon source, indicating as reported that this carbohydrate is a poor carbon source. This proposition is in agreement with the involvement of RpoS, the master regulator of stress response in glycerol fermentation, since its inactivation reduced 10% the μ and delayed by two hours the growth of JM101ΔrpoS.
The detected overexpression of poxB, acs, pta, actP, acnB and the glyoxylate shunt genes (aceBA and glcB), some of them transcribed by RpoS, indicates that JM101 is apparently producing and simultaneously consuming acetate when growing on glycerol as the sole carbon source. In agreement with this proposal, was the result that no acetate was detected when growing on glycerol, and acetate can be coutilized with glycerol as carbon sources. It has been proposed that when E. coli is growing slowly on glucose apparently reduces the carbon flux through the Pdh system, which yields AcCoA directly from PYR, and diverts part of the carbon flux via PoxB that synthesizes acetate from PYR, with a concomitant reduction of quinones at the membrane. Acetate, is then utilized by Acs and transformed into AcCoA, apparently creating a "carbon acetate recycling" mechanism which is also apparently present in PB11 (a derivative of JM101 lacking PTS) that grows slowly on glucose. Therefore, it appears that in addition to the glycolytic metabolism that is functioning in JM101 when growing on glycerol, carbon scavenging responses are also observed in this strain when it grows on this poor carbon source. Consistent with this proposed metabolic response, in JM101 cultures grown on glycerol as mentioned, no acetate was detected, because this strain probably recycles acetate through the PoxB-Acs-glyoxylate shunt enzymes and is capable of coutilizing glycerol and acetate. In accordance, JM101 derivatives with inactive poxB or pckA genes accumulated acetate and their specific growth rates were affected. The induction of this mechanism apparently permitted a more efficient carbon utilization and acetate recycling in these growing conditions. In agreement, the downregulation of icd and lpdA coding for IcdA and LpdA (part of the SucABCD complex), supports the proposition that the carbon flux is reduced through the lower section of the TCA cycle, thus enabling carbon gluconeogenic recycling through the glyoxylate shunt, since aceBA and glcB were overexpressed. As a result, if this hypothesis is correct, less carbon should be lost as CO2 in the lower section of the TCA pathway.
In agreement with a reduced TCA cycle during the growth of JM101 on glycerol, it appears that relatively low production of C4 carbon metabolites occurred, given that the μ of this strain was enhanced in cultures grown on glycerol when succinate, malate or aminoacids derived from 2-oxoglutarate were added to the fermentation. This supports the hypothesis that when E. coli grows slowly, part of the carbon is recycled, preserved through the glyoxylate shunt and not lost as CO2 in the TCA cycle.
Indole production in JM101 grown on glycerol indicates an important carbon flux through the aromatic amino acids pathway. Indole is a signaling molecule that activates Crl for modulating the expression of certain RpoS-Crl regulons; however, a signaling role of this metabolite is not completely clear at the moment. It has been proposed that the expression of rpoS is not only negatively controlled by cAMP-CRP high levels but also inversely correlated with growth rate. Since glycerol is a relatively poor carbon source, intracellular high levels of cAMP-CRP are expected in JM101. Indole synthesis could stimulate RpoS activity under these non favorable growth conditions. Additional studies should be conducted to gain a better understanding into the role of this signal. Nevertheless, the detected overproduction of Cdd, DeoD, and Upp suggests that the carbon flux through the pentose-phosphate pathway is reduced when glycerol is used as the sole carbon source as compared to the flux when glucose is utilized. It appears that when glycerol is used as the only carbon source, a carbon stress mechanism occurs. In this condition, RpoS regulons could be also indirectly activated by indole, allowing a more adequate response to growth on carbon limited conditions. Importantly, and in agreement with an increased carbon flux through the aromatic pathway growing on glycerol when JM101 is transformed with plasmid pJLBaroG fbr tktA that redirects and enhances carbon flux into the aromatic pathway, this strain showed a yield increase of aromatic compounds almost 9-fold as compared to the production of these metabolites when glucose is used as the sole carbon source.
The transcription levels of most of the measured genes correlated with the detected values of the proteins produced in the analyzed growth conditions, using glycerol as the only carbon source. Also, the specific activities of various measured proteins correlated with these values.
In this contribution we described new features of E. coli physiology during the growth on glycerol, as detected through a proteomic-transcriptional study and kinetic-stoichiometric evaluation of strain JM101 and some isogenic mutants in certain key PEP-PYR genes (poxB, ppc, pckA, pykA and pykF) and in rpoS. It appears that when glycerol is used as the sole carbon source in addition to the glycolytic metabolism, a carbon stress response occurs that includes carbon scavenging and acetate gluconeogenic carbon recycling responses mediated mainly by RpoS. In addition, this regulator could also be activated by Crl through indole, allowing a more adequate response to growth on glycerol, a carbon limited condition. The simultaneous utilization of various metabolic redundant alternative mechanisms when growing on glycerol indicates metabolic plasticity of E. coli. Understanding these capacities advances the knowledge on the physiological responses E. coli is capable of, and enhances our capacities for developing more advanced metabolic engineering strategies using this bacterium for the production of specific metabolites.
Declarations
Acknowledgements
We thank Magdalena Hernández Ortiz, Mercedes Enzaldo, Aurelia González and Daniela Garcia for their technical assistance. We are also grateful to Paul Gaytán, Jorge Yáñez and Eugenio López for the synthesis of oligonucleotides. This work was supported by Consejo Nacional de Ciencia y Tecnología (Conacyt), Mexico with grants 105782, 83039; FONSEC/SSA/IMSS/ISSSTE/CONACYT grants 44126, 126793, 167756; DGAPA-PAPIIT, UNAM grants IN213508, IN224709, IN221106, and GAPA-UNAM grant No. IN216210-3.
Authors' Affiliations
(1)
Departamento de Ingeniería Celular y Biocatálisis, Instituto de Biotecnología, Universidad Nacional Autónoma de México (UNAM), Cuernavaca, Morelos, Mexico
(2)
Departamento de Medicina Molecular y Bioprocesos, Instituto de Biotecnología, Universidad Nacional Autónoma de México (UNAM), Morelos, Mexico
(3)
Programa de Genómica Funcional de Procariotes, Centro de Ciencias Genómicas, Universidad Nacional Autónoma de México (UNAM), Cuernavaca, Morelos, Mexico
Copyright
© Martínez-Gómez et al; licensee BioMed Central Ltd. 2012
This article is published under license to BioMed Central Ltd. This is an Open Access article distributed under the terms of the Creative Commons Attribution License (http://creativecommons.org/licenses/by/2.0), which permits unrestricted use, distribution, and reproduction in any medium, provided the original work is properly cited.