Type IIs restriction based combinatory modulation technique for metabolic pathway optimization
Microbial Cell Factories
2017
16:47
Received: 6 December 2016
Accepted: 8 March 2017
Published: 16 March 2017
Abstract
Background
One of the most important research subjects of metabolic engineering is pursuing a balanced metabolic pathway, which is the basis of an efficient cell factory. In this work, we dedicated to develop a simple and efficient technique to modulate expression of multiple genes simultaneously, and select for the optimal regulation pattern.
Results
A Type IIs restriction based combinatory modulation (TRCM) technique was designed and established in the research. With this technique, a plasmid library containing variably regulated mvaE, mvaS, mvaK 1 , mvaD and mvaK 2 of the mevalonate (MVA) pathway were obtained and transformed into E. coli DXS37-IDI46 to obtain a β-carotene producer library. The ratio of successfully assembled plasmids was determined to be 35%, which was increased to 100% when color based pre-screening was applied. Representative strains were sequenced to contain diverse RBSs as designed to regulate expression of MVA pathway genes. A relatively balanced MVA pathway was achieved in E. coli cell factory to increase the β-carotene yield by two fold. Furthermore, the approximate regulation pattern of this optimal MVA pathway was illustrated.
Conclusions
A TRCM technique for metabolic pathway optimization was designed and established in this research, which can be applied to various applications in terms of metabolic pathway regulation and optimization.
Keywords
Metabolic pathway optimizationType IIs restrictionβ-caroteneMVA pathwayTerpene
Background
As the development of Synthetic Biology and Metabolic Engineering, various microbial cell factories have been developed for producing value-added chemical compounds. However, engineering of cell metabolism often disturbs the metabolic network,triggers energetic and objective inefficiency inside the cell, and impedes cell metabolism [1]. Hence, one of the most important research subjects of metabolic engineering is pursuing the balanced metabolic network and pathways. Techniques have been developed to analyze metabolic pathways, including genome-scale models and C13-metabolic flux analysis. And there have been strategies developed to relieve the metabolic burden, such as enhancing respiration, co-utilizing nutrient resources, decoupling cell growth with production phases, and dynamic regulatory systems [1]. As for a specific metabolic pathway, gene expression level is the key effector of the pathway efficiency [2]. Lower expression of genes decreases metabolic pathway flux, while overexpressed genes may over-consume building blocks and cause cells metabolic burden [3]. Furthermore, imbalanced pathway may cause accumulation of pathway intermediates, some of which may even be toxic and jeopardize cell growth [4].
Due to the complexity of metabolic network in organisms and difficulty to precisely control expression of certain gene, it is almost impossible to rationally design and construct an optimized metabolic pathway. In most metabolic engineering projects, one common way was to modulate gene expression one by one [5]. With this strategy, the possibility to achieve an optimized regulation pattern is very low. A better solution was to analyze all possible expression levels of pathway genes in a combinatorial fashion. With this strategy, Yin et al. constructed a plasmid library containing the possible combinations of gene regulation patterns [6]. A similar strategy was employed by Xu et al. to optimize fatty acid pathway. Plasmids of various copy numbers were used to carry expression genes for the first round of optimization, which was followed by fine tuning expression with four RBS elements [7]. However, in their work, regulatory parts were limited and the plasmids were exhaustively constructed one by one, which limited the experiment outcome and made the process laborious. The same group also established a BioBrick based method with specially designed restriction adapters. Genes with regulatory elements could be iteratively integrated into the ePathBrick vectors to create a diversified expression library [8]. Similarly, Zelcbuch et al. created a plasmid library construction method to "span high-dimensional expression space" [9]. In their methods, the libraries were constructed with multiple rounds of plasmid construction, which made the practice very time consuming. In the work of Lee et al., a combinatorial library was established by Gibson assembly based method in one reaction [10, 11]. However, only five regulatory parts were employed, which decreased the diversity of the combinatorial library. Based on the extensive researches and great progress achieved by fellow researchers in this subject, we were able to develop a convenient method for constructing complex combinatorial expression library, which was aimed for optimizing a metabolic pathway with maximal outcome and minimal lab hours.
β-carotene, one kind of isoprenoids, is one of the strongest antioxidant in nature [
12
], and has tremendous potential in healthcare and pharmaceutical industries [
13
,
14
]. Isoprenoids are all derived from two five-carbon building blocks, isopentenyl diphosphate (IPP) and dimethylallyl diphosphate (DMAPP), which are synthesized either by the mevalonate (MVA) pathway in eukaryotes, archaea, and some bacteria or 2-C-methyl-d-erythritol-4-phosphate (MEP) pathway in other prokaryotes and plastids in plants (Fig.
1
) [
13
–
15
]. In MVA pathway, two acetyl-CoA are condensed into one atetoacetyl-CoA, which is then reduced into 3-hydroxy-3-methyl-glutaryl-coenzyme A (HMG-CoA). The CoA group is released from HMG-CoA to form MVA, which is phosphorylated into mevalonate-5-phosphate, and then mevalonate-5-diphosphate. This compound is coverted into IPP, the common precusor of isoprenoids (Fig.
1
). The heterologous MVA pathways have been introduced into
E. coli
to improve precursor supply of IPP and DMAPP [
16
–
20
]. Isoprenoid production was improved by employment of the bottom portion of MVA pathway derived from
Streptococcus pneumoniae
and supplementation of MVA in culture [
18
,
20
]. Lycopene production of
E. coli
with only native MEP pathway was increased twofold with introduction of the whole MVA pathway from
Streptomyces
sp. CL190 [
19
]. However, over-expression of mevalonate pathway genes was reported to inhibit cell growth. Pitera et al. found that accumulation of MVA pathway intermediate HMG-CoA inhibited cell growth, which was caused by overexpression of
atoB
,
mvaS
and
hmg1
[
4
]. Mevalonate kinase (MK), encoded by
erg12,
was identified as another rate-limiting enzyme when MVA pathway was adopted for amorphadiene production in
E. coli
[
21
]. Thus, the MVA pathway has to be expressed in an optimized and balanced status to benefit isoprenoid cell factories, otherwise an unbalanced MVA pathway would impede the growth and production. In this work, an MVA pathway optimized by combinatorial expression library technique was to be introduced into MEP pathway dependent
E. coli
cell factory for improving β-carotene production (Fig.
2
).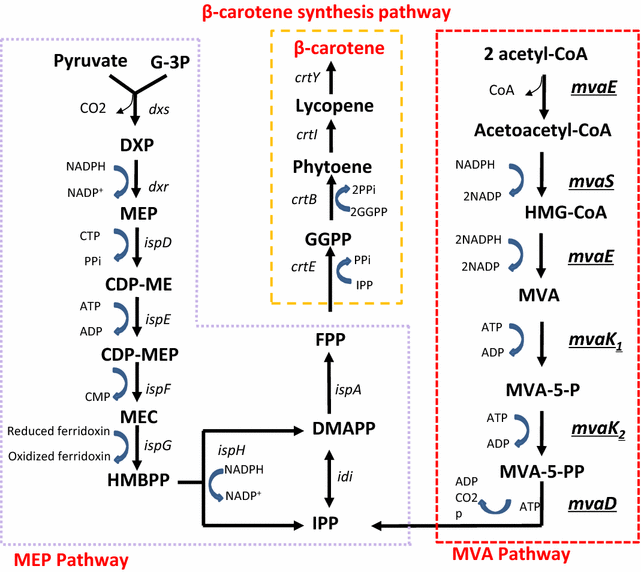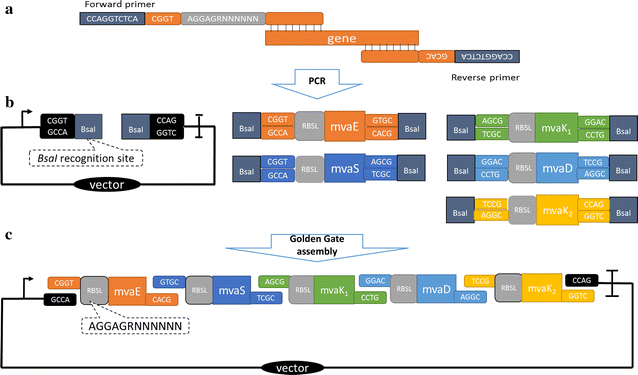 Conclusion
A TRCM technique was designed and established in the research, which could be easily applied to various applications in terms of metabolic pathway regulation and optimization. An optimized MVA pathway was constructed with TRCM to increase β-carotene yield of E. coli cell factory by twofold, and the optimal regulation pattern of MVA pathway was analyzed and illustrated.
Abbreviations
LB:

lysogeny broth
RBS:

ribosome-binding site
DCW:

dry cell weight
ATP:

adenosine triphosphate
Declarations
Authors' contributions
YL and HP planned and performed experiments, analyzed and interpreted the data. LQ, BC and ZX supervised the study, designed experiments and interpreted the results. YL wrote the manuscript. All authors read and approved the final manuscript.
Acknowledgements
We would like to thank the two great reviewers this manuscript is lucky to have, who took a lot of time and made tremendous efforts to give very precise criticism and very constructive suggestions to help make this manuscript better.
Competing interests
The authors declare that they have no competing interests.
Availability of data and materials
All supporting data is present in the article and the supplemental material documents. Specifically, plasmid maps and DNA sequence data are repent in Additional file 2.
Consent for publication
I hereby give the Journal of Microbial Cell Factories the right and permission to publish this article.
Funding
This research was supported by grants from National High Technology Research and Development Program of China (2015AA020202), Tianjin Key Technology RD program of Tianjin Municipal Science and Technology Commission (Y5M2121111), National Natural Science Foundation of China (31522002), Natural Science Foundation of Tianjin (15JCYBJC49400), and Chinese Academy of Sciences (NN-CAS) Research Fund (NNCAS-2015-2).
Open AccessThis article is distributed under the terms of the Creative Commons Attribution 4.0 International License (http://creativecommons.org/licenses/by/4.0/), which permits unrestricted use, distribution, and reproduction in any medium, provided you give appropriate credit to the original author(s) and the source, provide a link to the Creative Commons license, and indicate if changes were made. The Creative Commons Public Domain Dedication waiver (http://creativecommons.org/publicdomain/zero/1.0/) applies to the data made available in this article, unless otherwise stated.
Authors' Affiliations
(1)
Tianjin Institute of Industrial Biotechnology, Chinese Academy of Sciences, Tianjin, People's Republic of China
(2)
Key Laboratory of Systems Microbial Biotechnology, Chinese Academy of Sciences, Tianjin, People's Republic of China
(3)
School of Pharmacy, East China University of Science and Technology, Shanghai, People's Republic of China