Human FMO2-based microbial whole-cell catalysts for drug metabolite synthesis
Microbial Cell Factories
2015
14:82
Received: 11 February 2015
Accepted: 11 May 2015
Published: 12 June 2015
Abstract
Background
Getting access to authentic human drug metabolites is an important issue during the drug discovery and development process. Employing recombinant microorganisms as whole-cell biocatalysts constitutes an elegant alternative to organic synthesis to produce these compounds. The present work aimed for the generation of an efficient whole-cell catalyst based on the flavin monooxygenase isoform 2 (FMO2), which is part of the human phase I metabolism.
Results
We show for the first time the functional expression of human FMO2 in E. coli. Truncations of the C-terminal membrane anchor region did not result in soluble FMO2 protein, but had a significant effect on levels of recombinant protein. The FMO2 biocatalysts were employed for substrate screening purposes, revealing trifluoperazine and propranolol as FMO2 substrates. Biomass cultivation on the 100 L scale afforded active catalyst for biotransformations on preparative scale. The whole-cell conversion of trifluoperazine resulted in perfectly selective oxidation to 48 mg (46% yield) of the corresponding N 1-oxide with a purity >98%.
Conclusions
The generated FMO2 whole-cell catalysts are not only useful as screening tool for human metabolites of drug molecules but more importantly also for their chemo- and regioselective preparation on the multi-milligram scale.
Keywords
Flavin monooxygenase isoform 2 Escherichia coli Whole-cell biocatalysisDrug metabolitesTrifluoperazinePropranololFMO2
Background
Flavin monooxygenases (FMOs) are flavin containing enzymes that catalyze substrate oxidation at the expense of NADPH and molecular oxygen. FMOs are involved in the phase 1 drug metabolism of compounds containing soft nucleophiles such as sulfur or nitrogen. Among the six known FMO isoforms, the FMO2 isoenzyme—known also as the pulmonary FMO—is expressed in lung tissue [1]. In humans, two alleles have been described: FMO2*1 is the functional full length version that is found in high frequency in Sub-Saharan African populations [2–4] and descendants from these populations in Hispanics [5] whereas the FMO2*2 gene codes for a sequence with a premature stop codon that results in a 64 amino acid C-terminal truncation and yields non-functional protein FMO2X472 [1].
The substrates typically described for human FMO2*1 are sulfur derived compounds such as thioureas [6, 7], thioetherorganophosphates [6], thiazetazone [8] and ethionamide [8, 9]. FMO2 homologues from other mammalian species were shown to catalyze also the N-oxidation, e.g. of primary aliphatic alkylamines [10, 11], secondary and tertiary aliphatic alkylamines [10] as well as a few examples of alicyclic amines like nicotine [12] and N-deacetyl ketoconazole [13]. Rabbit FMO2 catalyzed the oxidation of prochlorperazine, desmethylperazine and trifluoperazine [10]. These are phenothiazine derived xenobiotics with antipsychotic effects.
In course of the drug discovery and development process, drug metabolites are required for structure elucidation and as analytical references. Furthermore, with the introduction of the metabolites in safety testing (MIST) guidelines by the US Food and Drug Administration in 2008, all metabolites present at >10% of the parent compound in the human metabolism have to be subjected to toxicity studies [14]. In this context two questions arise: Which drug metabolites are formed in the human body and how can these compounds be produced in sufficient amounts? Chemical preparation of authentic drug metabolites often requires multiple steps including several functional group protection and deprotection steps. To circumvent this problem, our aim was the generation of scalable mimicks of single steps of the phase 1 metabolism reactions in vitro. This can be accomplished with heterologously expressed human enzymes in a ready-to-use biocatalyst such as E. coli.
The use of whole-cell catalysts is beneficial in many aspects. The enzyme performing the actual biotransformation does not need to be isolated and purified, which saves time and costs. In addition, the half-life of enzyme activity can be prolonged because the cell acts as a protective shield against e.g. shear forces and organic solvents. As many industrially relevant reactions rely on cofactors, whole cells constitute an attractive strategy to regenerate these costly compounds by exploiting the cell metabolism [15].
A prerequisite for productive whole-cell biocatalysts is the efficient expression of the target enzyme. Human flavin monooxygenases (hFMOs) are membrane bound proteins, a class of proteins that are known to be challenging targets for recombinant expression in E. coli. Therefore, we investigated—among other critical parameters—the influence of C-terminal truncation of FMO2*1 on the overall biocatalyst activity.
Methods
Chemicals and reagents
Ampicillin, benzydamine, ethionamide, (±)-propranolol and trifluoperazine were purchased from Sigma Aldrich (Steinheim, Germany) and acetonitrile (ACN) from J. T. Baker (Deventer, The Netherlands). Isopropyl β-d-1-thiogalactopyranoside (IPTG) was obtained from Biosynth AG (Staad, Switzerland). All other chemicals and buffer components were obtained from Carl Roth (Karlsruhe, Germany). NunclonTMΔ surface 24 well plates were purchased from Nalgene nunc (Penfield, USA) and oxygen permeable foils (Gas Permeable Adhesive Seals # AB-0718) from Thermo Fisher Scientific (Waltham, MA, USA).
Cloning and expression of full length and truncated hFMO2
The T1414C mutant of the gene coding for human flavin containing monooxygenase 2 (NCBI accession number BC005894) was ordered at GenScript (NJ, USA). Plasmid DNA was retrieved according to the protocols delivered with the genes and used as templates for gene amplification using Phusion® High-Fidelity DNA polymerase (Finnzymes, Vantaa, Finland) with primers 5′-ATG GCA AAG AAG GTA GCT G-3′ and 5′-AAC TAG GAC CAT TGA AGT TGG C-3′. This insert was A-tailed with Taq polymerase (Thermo Fisher Scientific) and cloned into the pEamTA vector as described previously [16]. The hFMO2 sequence in construct pEamTA:hFMO2 was confirmed by sequencing at LGC Genomics (Berlin, Germany). The construct was then used as a template for the construction of truncated hFMO2 proteins. Specifically, the genes were amplified with Phusion® High-Fidelity DNA polymerase using forward primer 5′-TTA AGC ATA TGG CAA AGA AGG TAG CTG TG-3′ in combination with one of the reverse primers as stated in Table 1. Subsequently, the fragments were ligated into the pMS470 vector via NdeI and HindIII restriction sites, transformed into electrocompetent E. coli TOP10 F' cells and the sequences were confirmed by Sanger sequencing (LGC Genomics). Finally, electrocompetent E. coli BL21 (DE3) Gold cells were transformed with plasmid DNA to give nFMO2 expression strains. The nFMO2 expression strains were cultivated as follows: overnight cultures [20 mL Luria Bertani (LB) medium supplemented with 100 µg/mL ampicillin], inoculated with a glycerol stock sample and grown at 37°C in an orbital shaker) were used to inoculate 500 mL LB/ampicillin medium in 2 l baffled Erlenmayer flasks (OD600 = 0.05). These main cultures were grown at 37°C and 110 rpm to an OD600 of 0.8 and subsequently induced with 50 µL of IPTG (1 M). After incubation for 24 h at 30°C and 110 rpm, the cells were harvested by centrifugation (4,000g, 4°C, 10 min) and the pellets were stored at −20°C.
Biomass production
Shake flask cultivations were carried out as follows: A glycerol stock of E. coli BL21(DE3)/pMS470nFMO2*1 was thawed and 20 µL were used to inoculate 20 mL of LB medium (containing 100 µg mL−1 ampicillin) in Falcon tubes, respectively. The precultures were incubated at 90 rpm on a rotary shaker at 37°C overnight. Fresh LB cultures (500 mL) with ampicillin (100 µg mL−1) in baffled 2-L Erlenmeyer flasks were inoculated to OD600 0.05 with the preculture. The main cultures were incubated at 37°C with shaking at 110 rpm until an optical density of 0.6–0.8 was reached. FMO2 expression was induced by addition of IPTG (1 mM). The cultures were incubated at 30°C with shaking at 110 rpm for 24 h. Finally, the cells were harvested by centrifugation (10 min, 4,000 rpm). The cell paste (approximately 2 g of wet cells) was suspended in 8 mL of potassium phosphate buffer (50 mM, pH 8.5), and stored at −20°C.
Catalyst preparation in the bioreactor was carried out as follows: Cells of E. coli BL21 (DE3) Gold harboring the vector with the FMO2*1X510 gene were taken from vials stored in liquid nitrogen and streaked on LB agar plates containing ampicillin (100 mg/L). The plates were incubated at 37°C for 6.5 h. A loop of the resulting cells was used to inoculate 10 × 500 mL baffled flasks each containing 100 mL LB media supplemented with ampicillin (100 mg/L). Following incubation for 18 h at 30°C with shaking at 200 rpm (orbital shaker, 5 cm radius), the pooled pre-cultures were used to inoculate 100 L of LB/ampicillin (100 mg/L) and Aseol antifoam (0.01% v/v) in a Braun Biotech 150 L fermentation vessel. Fermentation parameters were as follows: temperature 30°C, stirring 150 rpm and airflow 10 L/min. No pH regulation was employed. When OD600 reached 0.6–0.8, filter sterilized IPTG was added to a final concentration of 1 mM. After approx. 24 h cultivation, the biomass was harvested by continuous flow centrifugation at 13,000 rpm in a Heraeus Contifuge 20RS at 4°C. The resulting cell paste (340 g) was then shock frozen in dry ice before storage at −80°C.
Cell fractionation
A cell pellet corresponding to 50 OD600 units was resuspended in potassium phosphate buffer (50 mM, pH 8.5) and disrupted by ultrasonication (6 × 30 s). The resulting lysate was centrifuged for 5 min at 5.000×g and 4°C to remove cell debris and unbroken cells. In a next centrifugation step (30 min at 10.000×g and 4°C) inclusion bodies, if present, were separated. To recover the membrane fractions from E. coli, the cleared lysates were ultra-centrifuged at 100.000×g and 4°C for 1 h. The resulting supernatant contained the cytosolic protein fraction.
Total protein concentrations of each fraction were determined by the BCA protein assay (Thermo Fisher Scientific), according to the manufacturer´s instructions, using bovine serum albumin as standard.
Western blot analysis
50 µg of total protein per lane was separated by SDS-PAGE under reducing conditions using NuPAGE® 4–12% Bis–Tris gel (Life Technologies, Carlsbad, USA). Protein bands were transferred onto a nitrocellulose membrane (GE Healthcare, Chalfont St Giles, UK) electrophoretically in a wet blotting system. Immunoblot detection was performed using an FMO2-specific antibody (Abcam, Cambridge, UK, ab171907) according to the manual provided by the supplier. The presence of FMO2 was visualized by staining with nitro blue tetrazolium/5-bromo-4-chloro-indolylphosphate (NBT/BCIP; Merck, Darmstadt, Germany).
Resting cell biotransformation
Frozen cell pellet was thawed and suspended in reaction buffer (50 mM potassium phosphate buffer, pH 8.5). The cell suspension was equally divided into 24 well plates to give an OD600 of approximately 15 based on the final volume of 1 mL. The reaction was started by addition of 10 µL MgCl2 (1 M), 50 µL NADP+ (1 mM), 50 µL trisodiumcitrate (1 M) and 10 µL substrate in MeOH (100 mM). The plate was sealed with oxygen permeable foil and agitated at 37°C for 16 h on a Titramax (900 rpm). 500 µL samples were drawn and mixed with 500 µL MeOH thoroughly. After centrifugation, the supernatant was analyzed by HPLC/MS. The optical density of the remaining sample was measured in order to determine a correction factor.
Analysis by HPLC–MS
For HPLC measurements, an Agilent Technologies 1200 Series equipped with G1379B degasser, G1312B binary pump SL, G1367C HiP-ALS SL autosampler, a G1314C VWD SL UV detector, G1316B TCC SL column oven and a G1956B MSD mass selective detector was used. The analytes were separated on an Agilent Zorbax SB-C18 column (1.8 µm; 4.5 × 50 mm) at 50°C by using aqueous eluent (0.1% formic acid) and ACN at a flow of 1.0–1.2 mL min−1 which was split to 0.6–0.8 mL min−1 before the mass selective detector.
The following gradients were used to separate substrate and products from whole cell conversions: benzydamine (0–2.10 min: 20–70% ACN, 2.10–2.20 min: 70–90% ACN, 2.20–2.40: 90% ACN, 2.40–2.60 min: 90–20% ACN); ethionamide (0–1.20 min: 0–70% ACN, 1.20–2.10 min: 70% ACN, 2.10–3.00: 70–0% ACN); propranolol (0–3.00 min: 0–100% ACN, 3.00–3.50 min: 100% ACN, 3.50–4.00: 100–0% ACN); trifluoperazine (0–2.50 min: 15–100% ACN, 2.50–3.50 min: 100% ACN, 3.50–3.51: 100–15% ACN).
Typical example of preparative scale biotransformation
Frozen cell paste was thawed at room temperature and re-suspended in a minimal volume of 50 mM potassium phosphate buffer pH 8.5. The suspension was held on ice until required. Preparative biotransformations were carried out in a total volume of 0.2 L phosphate buffer pH 8.5 in a 0.5 L baffled flask containing 3.4 g wet weight E. coli cells corresponding to an OD600 of 15, 50 mM trisodiumcitrate, 10 mM MgCl2, 50 µM NADP+ and 100 mg trifluoperazine (final concentration 500 mg/L). The flasks were incubated at 37°C with agitation at 110 rpm on an orbital shaker (5 cm radius). At various time points aliquots were removed and mixed with an equal volume of ACN before centrifuging at 13,200 rpm for 2 min. The supernatants were analyzed using an Agilent Zorbax SB-C18 column (1.8 µm; 4.5 × 50 mm) at 50°C. UV absorption was monitored at 255 nm and the mobile phases consisted of (0.1% formic acid) and ACN at a flow of 1.5 mL min−1 (0–2 min: 40–80% ACN). After 22 h incubation, the biotransformation yield of N-oxide (Figure 1) reached 89.6%.
The broth was mixed with an equal volume of ethyl acetate and stirred at room temperature for 2 h. The mixture was then centrifuged for 1 h at 10,000 rpm in a Sorvall JA10 rotor at 4°C. The organic phase was collected and the ethyl acetate evaporated under reduced pressure at 40°C. The residue was dissolved in 2 mL dimethylsulfoxide (DMSO) and this solution contained 95 mg N-oxide according to HPLC analysis.
The crude product was mixed with 2 mL ACN and 2 mL water and filtered through a PTFE syringe filter. The filtrate was pumped directly onto the RP18 chromatography column concurrently with a 9-fold larger volume stream of an aqueous solution (0.025% v/v) of trifluoroacetic acid (TFA). The conditions for preparative HPLC were: stationary phase: Chromolith prep. RP18e 100 × 25 mm (Merck, 1.25252.0001); solvent A: aqueous TFA 0.025%; solvent B: ACN; gradient: 0–5 min 10% B, 45 min 40% B; flow rate of 50 mL/min; room temperature; detection at 259 nm; fraction size 50 mL. The product eluted between 24 and 25% B. All fractions were analyzed by LC/MS–UV. Fractions containing >95% of product (relative LC/UV peak area) were combined, the solvents were evaporated under reduced pressure to about 50 mL and finally dried by lyophilisation overnight. The product, 48 mg 1-methyl-4-(3-(2-(trifluoromethyl)-10H-phenothiazin-10-yl)propyl)piperazine 1-oxide, was obtained in 46% isolated yield >98% purity (HPLC/full diode array detection)
1
H and
13
C NMR spectra were recorded on a Bruker Avance III instrument (
1
H NMR 600.13 MHz,
13
C NMR 150.9 MHz).
1
H NMR (600 MHz, DMSO-d
6
) δ 7.36 (d, J = 8.0 Hz, 1H, H-4″), 7.28–7.21 (m, 3H, H-8″/1″/3″), 7.18 (d, J = 7.6 Hz, 1H, H-6″), 7.08 (d, J = 8.2 Hz, 1H, H-9″), 7.00 (t, J = 7.5 Hz, 1H, H-7″), 4.19 (t, J = 7.5, 2H, H-3′), 3.75 (m, 4H, H-2/6) 3.53 (s, 3H, H-7), 3.20 (d, J = 12.1 Hz, 2H, H-3), 3.03 (s, 1H, H-5), 2.87 (s, 2H, H-1′), 1.96–1.90 (m, 2H, H-2′).
13
C NMR (151 MHz, DMSO-d
6
) δ ppm, 23.15 (C-2′), 44.61 (C-3′), 46.31 (C-5), 46.56 (C-3), 53.68 (C-1′), 56.59 (C-7), 62.55 (C-6), 62.57 (C-2), 112.39 (C-1″), 116.85 (C-9″), 119.54 (C-3″), 123.48 (C-5″a), 123.71 (C-7″), 127.89 (C-6″), 128.21 (C-4″), 128.40 (C-8″), 129.05 (C-2″), 124.55 (C-11″), 130.01 (C-4″a), 144.24 (C-9″a), 145.81 (C-10″a).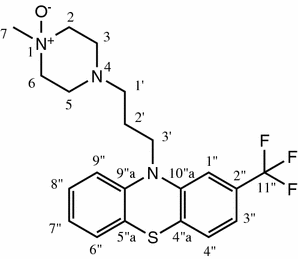 Conclusions
Human flavin monooxygenase 2 (hFMO2) was successfully used in form of E. coli based whole-cell catalysts. Solubilizing membrane associated enzymes by removal of their membrane anchor(s) is a strategy to afford higher enzyme levels. In case of hFMO2, N-terminal truncation would remove the FAD binding site and C-terminal truncation did not affect protein localization, as reported herein. Although hFMO2*1X510 remained attached to the membrane fraction, a positive effect on its expression level translated in a whole-cell biocatalyst with increased activity. The thus generated catalysts were used on the one hand to investigate the substrate scope of the FMO2 enzyme beyond literature known substrate structures. On the other hand, the synthetic utility of recombinant human FMO2 for metabolite preparation was finally demonstrated by the selective oxidation of a substrate with several soft nucleophiles (trifluoperazine).
Abbreviations
ACN:

acetonitrile
DMSO:

dimethylsulfoxide
FAD:

flavin adenine dinucleotide
FMO2:

flavin monooxygenase isoform 2
hFMO:

human flavin monooxygenase
HPLC:

high performance liquid chromatography
IPTG:

isopropyl-β-d-thiogalactoside
LB:

Luria-Bertani
LC:

liquid chromatography
NMR:

nuclear magnetic resonance
Declarations
Authors' contributions
The outline of the present study was drafted by MW, SH, MK, BW and SL. Strain generation and whole-cell conversions were conducted by MG and TB. NMR analyses and interpretation of the obtained data was done by HW, MW and FE. MG and MW wrote the paper with input from SH, MK and BW. All authors read and approved the final manuscript.
Acknowledgements
We gratefully acknowledge Mrs. Marie-Odile Grieneisen and Mr. Meinrad Birrer (Roche) for their technical support (fermentation and biotransformation). This work has been supported by the Federal Ministry of Science, Research and Economy (BMWFW), the Federal Ministry of Traffic, Innovation and Technology (bmvit), the Styrian Business Promotion Agency SFG, the Standortagentur Tirol, the Government of Lower Austria and ZIT—Technology Agency of the City of Vienna through the COMET-Funding Program managed by the Austrian Research Promotion Agency FFG.
Compliance with ethical guidelines
Competing interests The authors declare that they have no competing interests.
Open AccessThis article is distributed under the terms of the Creative Commons Attribution 4.0 International License (http://creativecommons.org/licenses/by/4.0/), which permits unrestricted use, distribution, and reproduction in any medium, provided you give appropriate credit to the original author(s) and the source, provide a link to the Creative Commons license, and indicate if changes were made. The Creative Commons Public Domain Dedication waiver (http://creativecommons.org/publicdomain/zero/1.0/) applies to the data made available in this article, unless otherwise stated.
Authors' Affiliations
(1)
acib GmbH c/o Institute of Molecular Biotechnology, Graz University of Technology, NAWI Graz, Graz, Austria
(2)
F. Hoffmann-La Roche Ltd., Basel, Switzerland
(3)
Novartis Pharma AG, Basel, Switzerland
(4)
Institute of Organic Chemistry, Graz University of Technology, NAWI Graz, Graz, Austria