Small, synthetic, GC-rich mRNA stem-loop modules 5′ proximal to the AUG start-codon predictably tune gene expression in yeast
Microbial Cell Factories
2013
12:74
Received: 5 February 2013
Accepted: 10 July 2013
Published: 29 July 2013
Abstract
Background
A large range of genetic tools has been developed for the optimal design and regulation of complex metabolic pathways in bacteria. However, fewer tools exist in yeast that can precisely tune the expression of individual enzymes in novel metabolic pathways suitable for industrial-scale production of non-natural compounds. Tuning expression levels is critical for reducing the metabolic burden of over-expressed proteins, the accumulation of toxic intermediates, and for redirecting metabolic flux from native pathways involving essential enzymes without negatively affecting the viability of the host. We have developed a yeast membrane protein hyper-expression system with critical advantages over conventional, plasmid-based, expression systems. However, expression levels are sometimes so high that they adversely affect protein targeting/folding or the growth and/or phenotype of the host. Here we describe the use of small synthetic mRNA control modules that allowed us to predictably tune protein expression levels to any desired level. Down-regulation of expression was achieved by engineering small GC-rich mRNA stem-loops into the 5′ UTR that inhibited translation initiation of the yeast ribosomal 43S preinitiation complex (PIC).
Results
Exploiting the fact that the yeast 43S PIC has great difficulty scanning through GC-rich mRNA stem-loops, we created yeast strains containing 17 different RNA stem-loop modules in the 5′ UTR that expressed varying amounts of the fungal multidrug efflux pump reporter Cdr1p from Candida albicans. Increasing the length of mRNA stem-loops (that contained only GC-pairs) near the AUG start-codon led to a surprisingly large decrease in Cdr1p expression; ~2.7-fold for every additional GC-pair added to the stem, while the mRNA levels remained largely unaffected. An mRNA stem-loop of seven GC-pairs (∆G = −15.8 kcal/mol) reduced Cdr1p expression levels by >99%, and even the smallest possible stem-loop of only three GC-pairs (∆G = −4.4 kcal/mol) inhibited Cdr1p expression by ~50%.
Conclusion
We have developed a simple cloning strategy to fine-tune protein expression levels in yeast that has many potential applications in metabolic engineering and the optimization of protein expression in yeast. This study also highlights the importance of considering the use of multiple cloning-sites carefully to preclude unwanted effects on gene expression.
Keywords
mRNA stem-loopsPost-transcriptional regulation of gene expressionInhibition of translation initiationYeast 43S preinitiation complexRegulation of translationNegative interactions of multiple cloning-sites
Background
Recent advances in synthetic biology and bioinformatics together with exponentially growing biological databases and the -omics revolution, especially transcriptomics and metabolomics, have increased the importance of yeast to industrial biotechnology [1, 2]. Saccharomyces cerevisiae is a key eukaryotic model organism for fundamental molecular biology research, it was the first eukaryotic organism to have its entire genome sequenced [3], and it is also a common industrial microorganism used extensively in food and beverage production. These factors, together with its genetic tractability and its ability to grow at low pH, have made S. cerevisiae an attractive microorganism to be used as a chemical factory. Gibson et al., 2008, have assembled the entire Mycoplasma genitalium genome in yeast [4], and Shao et al., 2009, used transformation-associated recombination to assemble entire metabolic pathways in one single step in yeast [5]. The list of non-natural biological compounds successfully produced by S. cerevisiae is diverse and ranges from protein drugs to fine and commodity chemicals [1], advanced biofuels [6], the large family of benzylisoquinoline alkaloids [7] and many other secondary metabolites with a wide range of pharmacological activities [2] including the successful production of high levels of artemisinin [8], a highly effective antimalarial.
Despite these significant advances in synthetic biology major challenges in the design of optimal metabolic pathways remain. To obtain maximal yield, pathway flux needs to be optimized, and the accumulation of toxic intermediates and the metabolic burden on the host minimized. Therefore, one of the key challenges of pathway engineering is the regulation of individual pathway enzymes for optimal activity [2]. Control of expression still relies heavily on regulatable, often plasmid-based, expression systems, but their use is largely limited to research and development only. Both regulatable promoters and plasmids require expensive synthetic media for their stable maintenance and controlled function (i.e. addition of inducers or repressors). In addition, many inducers exhibit disadvantageous pleiotropic effects [9, 10] that affect other aspects of the cell's biology and/or physiology that are often not well characterized and may lead to misinterpretations of the induced effects or negatively affect expression of foreign genes. Thus, an ideal production host requires expression modules stably integrated into the genome with each enzyme expression level individually optimized in a way that does not depend on regulatable promoters and the use of complex synthetic media. Alper et al., 2005, provided an elegant solution by creating constitutive promoter libraries in Escherichia coli and S. cerevisiae that drove a wide (~1000-fold) dynamic range of protein production [11, 12]. However, the lack of well-characterized promoters still provides a significant hurdle for pathway engineering in yeast.
Here we describe how we discovered a way to tune protein production predictably in yeast. This was revealed during the development of a novel system for the constitutive expression of exceptionally high levels of functional heterologous membrane proteins in S. cerevisiae. The expression system consists of plasmid pABC3 and derivative plasmids and the S. cerevisiae hosts AD1-8u- and its close relative AD∆ [13, 14]. Both strains are deleted in seven ABC transporters, which makes them exquisitely sensitive to a wide range of xenobiotics [15, 16], and the transcription factor PDR3. They also contain the gain-of-function mutant transcription factor Pdr1-3p, that drives the hyper-expression of heterologous ORFs from single-copy genes stably integrated at the genomic PDR5 locus [13–15, 17]. This system has several advantages over other, plasmid-based, expression systems: i) significant cost savings for large-scale protein production, as there is no need for expensive synthetic media for the maintenance of plasmids; ii) robust, highly reproducible, phenotypes and homogenous cell populations; and iii) improved homogeneity of the expressed protein. The objective of this study was to develop a strategy to down-regulate these constitutively over-expressed proteins in a way that avoids the potential disadvantages of existing regulatory systems. When we tried to improve the cloning efficiency of large (7~kb) expression modules by replacing all hexamer cutting sites of the multiple cloning-site (MCS) of pSK-PDR5-PPUS [15] with rare 8 bp cutting sites we noticed that inclusion of the GC-rich Sfi I site reduced protein expression levels ~8-fold. This forced us to use a single AT-rich 8 bp cutting site (Pac I) for efficient cloning of the 5′ end of heterologous ORFs in plasmid pABC3 [14] - thus indicating, as shown by Crook et al., 2011 [18], that MCSs can be far from benign cloning tools.
Investigation of AUG start-codon scanning has shown that the yeast ribosomal 43S preinitiation complex (PIC) is very sensitive to interfering hairpins in their 5′ UTRs [19–24], which, as will be demonstrated in this article, explains why the GC-rich Sfi I site was so detrimental for protein production. Although it has long been established that mRNA stem-loops in the 5′ UTR near the AUG start codon inhibit protein expression in eukaryotes, and their inhibitory activities appeared largely independent of gene context [19, 21, 22, 24], no attempts have been made to exploit this intrinsic feature of the eukaryotic translation machinery to regulate protein production in yeast. The only systematic study of the effects of the stability, size, sequence and position of a set of different mRNA stem-loop constructs, expressed in COS-7 cells, found that stems of identical stability but with increasing GC content from (52% to 92%) diminished the expression of a GFP reporter by over 18-fold [25] indicating that it is not only the thermodynamic stability of the stem-loop per se but also, and perhaps more importantly, its GC-content that determines its degree of inhibition of protein expression/translation in mammalian cells.
In this study we created 17 systematically modified mRNA stem-loop constructs in front of the C. albicans multidrug efflux pump reporter Cdr1p ORF which revealed minimal features necessary for effective repression of protein expression in yeast. Stem-loops of mixed A/U- and G/C-pair containing stems inhibited Cdr1p expression less predictably. However, Cdr1p expression controlled by mRNA stem-loops comprising stems containing only GC-pairs was highly predictable and decreased exponentially with the number of GC-pairs in the stem. Even the smallest stem-loop stem of 3 GC-pairs inhibited Cdr1p expression by ~50%. Additional fine-tuning of expression could be achieved by varying the size of the loop. The degree of translation inhibition by individual mRNA stem-loop modules appeared an intrinsic feature that was independent of: i) sequence context; ii) the host yeast strain; iii) the growth medium; iv) the pH and carbon source of the growth medium; v) steady-state mRNA levels; and vi) they also appeared independent of the growth stage of cells. The stable and predictable tuning of protein expression, with a large dynamic range, from a single promoter by well-defined, small, GC-rich mRNA stem-loops near the AUG start codon provides a simple and very powerful tool for optimal pathway engineering and synthetic biology in yeast. It also provides important clues for an improved understanding of the molecular mechanism of AUG start codon scanning of the yeast 43S PIC.
Discussion
Our host strain AD∆ is deleted in seven ABC transporters [13] and therefore exquisitely sensitive to many xenobiotics [14, 15]. The overexpression of Cdr1p led to a ~400-fold increase in FLC resistance. We exploited this large dynamic range of FLC susceptibilities as a very sensitive and robust tool to analyze the effects of varying mRNA stem-loops 5′ proximal of the AUG start-codon on the efficiency of Cdr1p translation in yeast.
A number of studies have shown that small, GC-rich, mRNA stem-loops placed into 5′ UTRs of yeast genes have strong inhibitory effects on their expression levels [19–24]. This effect was exhibited at the level of translation (mRNA levels were mostly unaffected and varied no more than 2–4 fold [19, 22, 24]) and was largely independent of gene context and the promoter used. The inhibitory effects of individual mRNA stem-loops were comparable to some of our Cdr1p stem-loop constructs (Table 4): e.g. i) a −10.5 kcal/mol mRNA stem-loop (GAATTCCC ATCTTGGGAATTC; stem nucleotides are in italics) positioned 21 nt upstream of the AUG start-codon of the GCN4-lacZ reporter plasmid reduced the β-galactosidase activity to 13% [20]; and ii) a −8.5 kcal/mol mRNA stem-loop (TGAATTCG TTAACGAATTCA) right next to the AUG start codon of the CYC1 gene (this construct was integrated into the CYC1 locus) reduced iso-1-cytochrome c expression to 10% [19]. Most other mRNA stem-loops tested were of higher stabilities (<−20 kcal/mol) and inhibited reporter gene expression (e.g. endogenous CYC1 and HIS4 genes or the plasmid-encoded chloramphenicol acetyl transferase (cat) reporter) to <1% or completely undetectable levels causing histidine auxotrophy for some HIS4 constructs [19, 21, 24].
However, our studies demonstrate for the first time that small GC-rich mRNA stem-loops placed 5′ proximal to the AUG start-codon can be used as an efficient tool to 'predictably' down-regulate protein expression levels in yeast whereas the degree of inhibition of mRNA stem-loops of mixed G/C and A/U pairs was less predictable. Figure
6
shows representative secondary structures predicted for the wild-type and the
Sfi
I-site containing 5′ UTRs of
PDR5
. All 34 possible secondary structures for the
Sfi
I-containing construct predicted the presence of the −8.6 kcal/mol GC-rich mRNA stem-loop (Figure
6
B) but the structures for the rest of the molecule varied significantly (data not shown). This −8.6 kcal/mol GC-rich
Sfi
I mRNA stem-loop was also predicted for all possible secondary structures that included the 5′ part of
CDR1
(data not shown), indicating that the surrounding mRNA sequence has little effect on the possible formation of small, GC-rich, mRNA stem-loops. We experimentally verified sequence context independence of the inhibitory effects of this
Sfi
I mRNA stem-loop by expressing four different ORFs (
PDR5
,
CDR1
,
CDR2A
or
CDR2B
) and using two different terminators (
PGK1
or
PDR5
terminator) with similar results. The inhibitory effects of the
Sfi
I mRNA stem-loop were also independent of the host in which they were expressed or any changes to the growth medium. Interestingly, Northern blot analysis revealed that the
Sfi
I mRNA stem-loop increased (~3-fold) the steady-state mRNA levels of
PDR5
. This increase was observed in different strain backgrounds and in cells harvested at different growth stages. Thus, it seemed that the GC-rich mRNA stem-loop had increased the stability (i.e. half-life) of the mRNA. Sagliocco
et al.
, 1994, made similar observations for a
cat
reporter transcript that contained a strong (∆G = −23.2 kcal/mol) GC-rich mRNA stem-loop (the stem had 8 consecutive GC-pairs) placed in its 5′ UTR which inhibited its translation by ~99% but increased its mRNA half-life ~3-fold [
34
]. However, further investigations revealed no obvious correlation between the translatability of different stem-loop constructs and their half-life [
34
].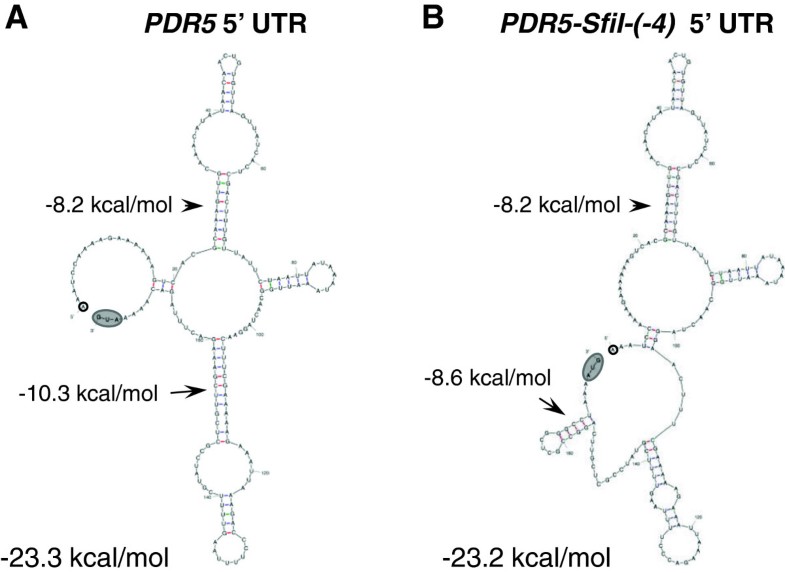 The vast amount of literature on translation initiation in yeast and higher eukaryotes (a schematic illustration is given in Figure
7
and reviews can be found in [
36
–
38
]) combined with our own observations reveal important insights into the possible molecular mechanism of inhibition of translation by GC-rich mRNA stem-loops in yeast. A first important clue derives from studies by Sagliocco
et al.
, 1993, who clearly demonstrated that any mRNA reporter that carried a strong 5′-secondary structure had a biphasic polysome distribution one mRNA pool that was actively translated and heavily loaded with ribosomes while the majority of mRNA molecules had only the 43S PIC bound [
23
]. And secondly, studies have shown that the 43S PIC is extremely tightly bound to the mRNA
in vivo
[
39
]. This together with our own observations (i.e. inhibition of AUG start codon scanning by small stem-loops is directly proportional to the predicted thermodynamic stability (
f
(∆G); grey boxed-in area) of stem-loop stems consisting of GC-pairs only) is strongly suggestive of the following model of AUG start codon scanning of the yeast 43S PIC. There are two types of transcripts (shown at the top of Figure
7
) that are in equilibrium with each other, those that have the GC-rich mRNA stem-loop formed in front of the advancing 43S PIC (left) and those that don't (right). GC-rich stem-loop containing mRNA species get stuck in the advancing 43S PIC (i.e. the yeast 43S PIC cannot resolve stems >2 GC-pairs; center left of Figure
7
) leaving only the small remaining pool of mRNA without a GC-rich stem-loop to be efficiently translated (once the first 43S PIC has successfully scanned through the entire 5′ UTR the mRNA remains unfolded [
23
]; right side of Figure
7
), leading to a biphasic polysome distribution and inhibition of translation that is inversely proportional to the thermodynamic stability of the stem-loop. This model is further supported by recent
in vitro
studies with a reconstituted mammalian translation system where the authors have shown that small GC-rich mRNA stem-loops get trapped inside the 43S PIC and require a dedicated DHX29 RNA helicase to be resolved [
40
]. Interestingly, yeast does not appear to have a dedicated DHX29 homolog [
40
] which could explain why it is so sensitive to GC-rich mRNA stem-loops artificially introduced into its 5′ UTRs and why their rather short 5′ UTRs (<134 nucleotides [
41
]) are so AU rich [
41
,
42
]. Clearly, further experimental evidence is required to unravel whether GC-rich mRNA stem-loops do indeed get stuck inside the 43S PIC and create a 'stalled' complex from which it is difficult for the yeast 43S PIC to escape (center left; Figure
7
), or whether another less obvious mechanism is at work that could explain our findings. But whatever the mechanism, it is clear that the yeast 43S PIC has a very limited ability to unwind 'local' (i.e. complementary stem nucleotide-pairs separated by loops of no more than ~10 nucleotides) GC-rich mRNA stem-loops and their degree of inhibition of translation is determined solely by their thermodynamic stability and independent of sequence context and the promoter used.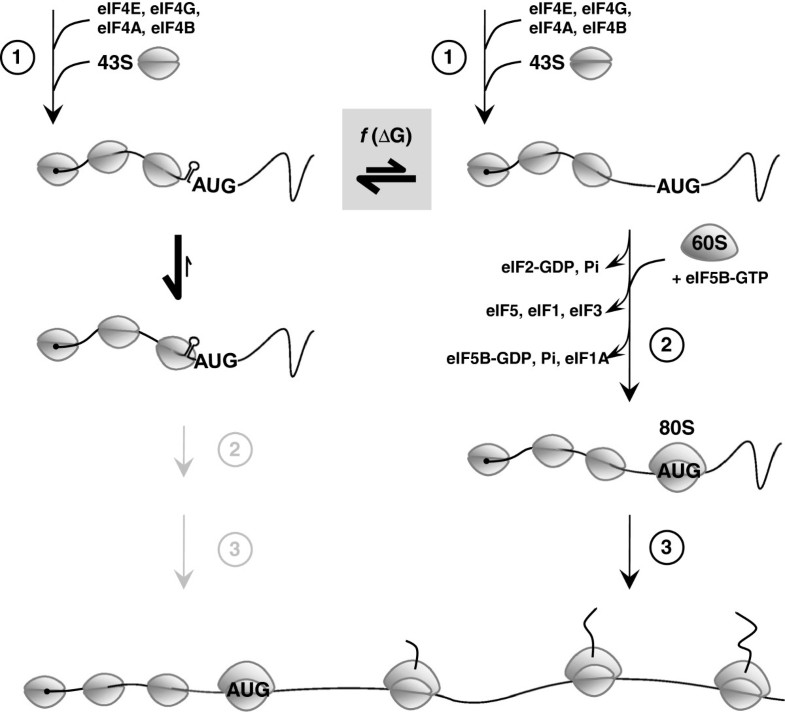 Conclusions
We successfully exploited the intrinsic nature of small GC-rich mRNA stem-loop modules 5′ proximal to the AUG start-codon of yeast genes to stably and predictably tune gene dosage from a single promoter without the need for inducers. This discovery, and the general lack of well-characterized promoters for gene expression in yeast, makes GC-rich mRNA stem-loop modules an important tool for regulating protein expression in yeast. They could be of value for i) the titration of minimal expression levels required for essential genes; ii) the elucidation of gene function; or iii) the determination of the precise impact of the gene dosage on a desired phenotype [11]. They could help identify the rate-limiting step and optimize the expression levels for genes in novel metabolic pathways by modifying the expression modules for each gene. Also they could be used to down-regulate expression levels of essential genes of competing endogenous biological pathways, which can lead to dramatically reduced levels of a target metabolite. One example would be the successful synthesis of artemisinic acid, precursor of the antimalarial artemisinin, in yeast that required down-regulation of the essential gene ERG9[8, 43]. Another application of the GC-rich mRNA stem-loop modules is the optimization of heterologous membrane protein expression in yeast as, often, high expression levels can lead to their misfolding and/or mislocalization [44, 45]. As AUG start-codon scanning is a universal eukaryotic feature it is possible that this strategy can be applied in many other eukaryotic hosts as well [25].
Declarations
Funding
This work was supported by the Japan Health Sciences Foundation (SH24405 to MN); the Japan Society for the Promotion of Science (S04718, S06741 to EL); and in part by the Foundation for Research Science and Technology of New Zealand (UOOX0607 to RDC).
Authors' Affiliations
(1)
Sir John Walsh Research Institute, University of Otago, Dunedin, New Zealand
Copyright
© Lamping et al.; licensee BioMed Central Ltd. 2013
This article is published under license to BioMed Central Ltd. This is an Open Access article distributed under the terms of the Creative Commons Attribution License (http://creativecommons.org/licenses/by/2.0), which permits unrestricted use, distribution, and reproduction in any medium, provided the original work is properly cited.