Chromosome engineering of Escherichia coli for constitutive production of salvianic acid A
Microbial Cell Factories
2017
16:84
Received: 15 March 2017
Accepted: 10 May 2017
Published: 16 May 2017
Abstract
Background
Salvianic acid A (SAA), a valuable natural product from herbal plant Salvia miltiorrhiza, exhibits excellent antioxidant activities on food industries and efficacious therapeutic potential on cardiovascular diseases. Recently, production of SAA in engineered Escherichia coli was established via the artificial biosynthetic pathway of SAA on the multiple plasmids in our previous work. However, the plasmid-mediated system required to supplement expensive inducers and antibiotics during the fermentation process, restricting scale-up production of SAA. Microbial cell factory would be an attractive approach for constitutive production of SAA by chromosome engineering.
Results
The limited enzymatic reactions in SAA biosynthetic pathway from glucose were grouped into three modules, which were sequentially integrated into chromosome of engineered E. coli by λ Red homologous recombination method. With starting strain E. coli BAK5, in which the ptsG, pykF, pykA, pheA and tyrR genes were previously deleted, chassis strain BAK11 was constructed for constitutive production of precursor l-tyrosine by replacing the 17.7-kb mao-paa cluster with module 1 (P lacUV5 -aroG fbr -tyrA fbr -aroE) and the lacI gene with module 2 (P trc -glk-tktA-ppsA). The synthetic 5tacs promoter demonstrated the optimal strength to drive the expression of hpaBC-d-ldh Y52A in module 3, which then was inserted at the position between nupG and speC on the chromosome of strain BAK11. The final strain BKD13 produced 5.6 g/L of SAA by fed-batch fermentation in 60 h from glucose without any antibiotics and inducers supplemented.
Conclusions
The plasmid-free and inducer-free strain for SAA production was developed by targeted integration of the constitutive expression of SAA biosynthetic genes into E. coli chromosome. Our work provides the industrial potential for constitutive production of SAA by the indel microbial cell factory and also sets an example of further producing other valuable natural and unnatural products.
Keywords
Salvianic acid A Escherichia coli Constitutive promoterMetabolic engineeringSynthetic biologyChromosomal engineering
Background
Salvianic acid A (SAA, 3-(3′,4′-dihydroxyphenyl)-2-hydroxypropanoic acid), also called danshensu, is the major bioactive ingredient of traditional Chinese herb plant Salvia miltiorrhiza (danshen) which is widely used for the prevention and treatment of vascular diseases in clinic [1, 2]. SAA is well-known for its distinguished antioxidant capacity to scavenge the superoxide anion radicals and free hydroxyl radicals, which is even higher than vitamin C [3]. In recent years, SAA has attracted considerable attentions due to its various pharmacological activities, including inhibition of platelet activation and arterial thrombosis [4], alleviation of alcohol-induced acute liver damage [5] and myocardial ischemia injury [6]. Moreover, SAA derivatives, salvianolic acids B and A, and rosmarinic acid, show promising application in medicines and food industries. Salvianolic acid B has already been used to alleviate angina pectoris and treat coronary heart diseases in clinic [7]. Salvianolic acid A has been approved by China Food and Drug Administration (CFDA) into phase I clinical trial. Rosmarinic acid could be used for food preservation as a natural antioxidant to substitute synthetic antioxidant like butylated hydroxytoluene [8]. Notably, conjugates of SAA with cysteine show better vascular-protective effect than SAA [9].
Although SAA could be extracted from root of
S. miltiorrhiza
, tiny amount of SAA in roots (0.045%) restricts its application [
10
]. The chemical synthesis of SAA suffers from intractable enantioselectivities for large-scale production [
11
]. An alternative route for SAA production was developed previously in our laboratory via metabolic engineering of
Escherichia coli
[
12
,
13
] (Fig.
1
a). In order to intensify the availability of PEP, block the competitive biosynthesis of
l
-phenylalanine and eliminate the transcriptional repression of genes in
l
-tyrosine biosynthetic pathway, the
ptsG
,
pykF
,
pykA
,
pheA
and
tyrR
genes were deleted, and
l
-tyrosine overproducing strain BAK5 was obtained. For efficient production of SAA, strain BAK5 harbored three extra expression plasmids: middle-copy-number plasmid (30–40 copies) carrying module 1 (
aroG
fbr
-
tyrA
fbr
-
aroE
) and module 2 (
ppsA
-
tktA
-
glk
), middle-copy-number plasmid (~20 copies) carrying module 3 (
hpaBC
-
d
-
ldh
Y52A
), and low-copy-number plasmid carrying T7 RNA polymerase gene [
12
]. Despite this available alternative, SAA production by plasmid-mediated strain had serious drawbacks. Expensive isopropyl-β-
d
-thiogalactopyranoside (IPTG) was necessary to induce the expression of target genes. Additional antibiotics to maintain the genetic stability were harmful to cell growth and environmentally unfriendly [
14
]. Taken together, overexpressing target genes on multiple plasmids has become a barrier for industrial-scale production of natural product SAA.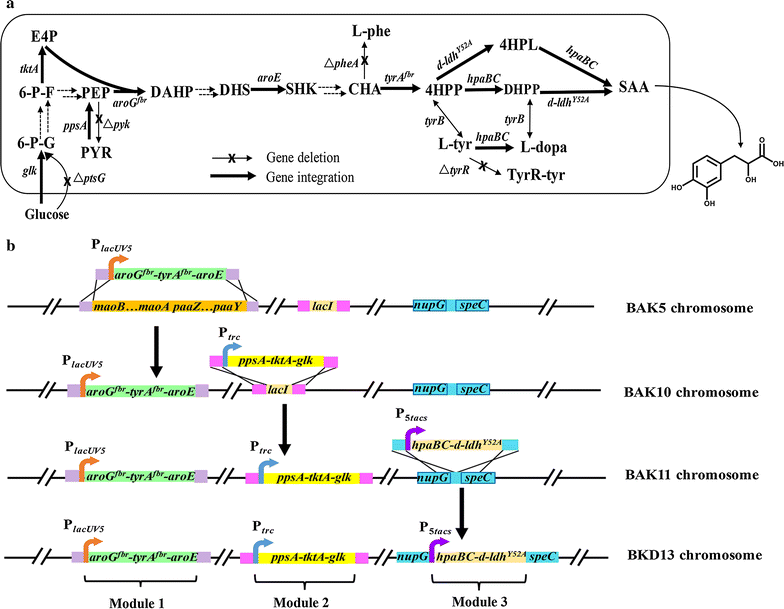 Synthetic biology and metabolic engineering are promising strategies to deal with those obstacles by reconstructing inducer-free and plasmid-free strains. The constitutive promoters, the core elements for metabolic engineering, have been paid more attention to allowing inducer-free and continuous gene expression as well as low production cost [15]. Native constitutive promoters have been widely employed for producing bio-based chemicals [16–18] and natural products [19–22] by tuning target gene expression in engineered yeasts. In E. coli, the conventional T7 promoter has always been used for heterologous protein expression by additional inducer IPTG, but the constitutive promoters showed better performance for production of natural and non-natural products, which are adapted to the growth of host cells. The native constitutive gap promoter was more suitable for the heterologous expression of the 4 cl and sts genes in E. coli than the inducible T7 promoter, resulting in high production of resveratrol [23]. The P L derivative promoters could constitutively drive target gene expression in E. coli to maximize the desired phenotypes and benefit for effective production of lycopene [24], 2,3-butanediol [25] and human growth hormone receptor antagonist [26]. In addition, chromosomal integration of the target gene would eliminate the use of plasmids in host cells and relieve the metabolic burden. Excellent examples were high-yielding production of artemisinic acid, a precursor of artemisinin, and lycopene in baking yeast [27, 28]. The plasmid-free E. coli strains could stablely produce astaxanthin [29], shikimic acid [30] and β-carotene [31].
In this study, E. coli BAK5 [12] was used as the start strain. Limited enzymatic reactions of SAA synthetic pathway from glucose in engineered E. coli were grouped into three modules as in previous work [12]. Modules 1 and 2 were integrated into the chromosome of strain BAK5, and strain BAK11 for overproducing l-tyrosine without any plasmids was constructed (Fig. 1b). The optimal promoter for driving module 3 was screened out by fine tuning constitutive expression, and integrated into chromosome of strain BAK11, a plasmid-free and inducer-free E. coli strain BKD13 for constitutive production of SAA was constructed (Fig. 1b). Finally, fed-batch fermentation was taken out and engineered strain BKD13 produced 5.6 g/L of SAA in 60 h. To our knowledge, this is the first report describing SAA production by engineered E. coli without addition of any inducers and antibiotics.
Conclusions
In this paper, we developed a constitutive SAA-overproducing E. coli strain by chromosomal engineering to overcome the drawbacks of plasmid-mediated expression systems. In order to streamline metabolic flux towards precursor l-tyrosine from glucose and eliminate the repression regulation of LacI, module 1 (P lacUV5 -aroG fbr -tyrA fbr -aroE) replaced mao-paa cluster of 17.7 kb and module 2 (P trc -ppsA-tktA-glk) replaced lacI gene in strain BAK5 by targeted integration and deletion. Furthermore, we screened the synthetic promoter 5tacs driving the expression of module 3 (hpaBC-d-ldh Y52A ) in one operon, which was further inserted at the position between nupG and speC. The plasmid-free and inducer-free E. coli strain BKD13 produced 5.6 g/L SAA from glucose at 60 h in a 5L fed-batch fermentation. Our work showed the opportunities for industrial production of SAA and its derivatives, like rosmarinic acid and salvianolic acids, as a good example without additional antibiotics nor inducers for engineered microbial fermentation.
Abbreviations
SAA:

salvianic acid A
IPTG:

isopropyl-β-d-thiogalactopyranoside
PEP:

phosphoenolpyruvate
4‐HPP:

4‐hydroxyphenylpyruvic acid
5′-UTR:

5′-untranslated region
hpaBC :

4-hydroxyphenylacetate 3-hydroxylase
d-ldh Y52A :

d-lactate dehydrogenase (Tyr 52 to Ala)
Declarations
Authors' contributions
LZ and GRZ designed research and experiments. LZ, QD and HYW carried out the experiments. LZ, ZNL and GZJ carried out the metabolite analysis and data processing. LZ, GZJ, ZNL and GRZ wrote the manuscript. All authors read and approved the final manuscript.
Acknowledgements
The authors are grateful for the financial support from the National Natural Science foundation of China (31570087, 21621004), the National High-Tech R&D Program of China (2012AA02A701), and the National Basic Research Program of China (2011CBA00800).
Competing interests
The authors declare that they have no competing interests.
Availability of data and materials
The material and data supporting their findings can be found in the main paper and the additional file.
Publisher's Note
Springer Nature remains neutral with regard to jurisdictional claims in published maps and institutional affiliations.
Open AccessThis article is distributed under the terms of the Creative Commons Attribution 4.0 International License (http://creativecommons.org/licenses/by/4.0/), which permits unrestricted use, distribution, and reproduction in any medium, provided you give appropriate credit to the original author(s) and the source, provide a link to the Creative Commons license, and indicate if changes were made. The Creative Commons Public Domain Dedication waiver (http://creativecommons.org/publicdomain/zero/1.0/) applies to the data made available in this article, unless otherwise stated.
Authors' Affiliations
(1)
Department of Pharmaceutical Engineering, School of Chemical Engineering and Technology, Tianjin University, Tianjin, China
(2)
Key Laboratory of Systems Bioengineering (Ministry of Education), Tianjin University, Tianjin, China
(3)
SynBio Research Platform, Collaborative Innovation Center of Chemical Science and Engineering (Tianjin), Tianjin, China
(4)
College of Chemical and Biological Engineering, Zhejiang University, Hangzhou, China
(5)
Yangtze River Pharmaceutical Group Co, Ltd., Taizhou, China