Regulation of carotenogenesis in the red yeast Xanthophyllomyces dendrorhous: the role of the transcriptional co-repressor complex Cyc8–Tup1 involved in catabolic repression
Microbial Cell Factories
2016
15:193
Received: 27 July 2016
Accepted: 10 November 2016
Published: 14 November 2016
Abstract
Background
The yeast Xanthophyllomyces dendrorhous produces carotenoids of commercial interest, including astaxanthin and β-carotene. Although carotenogenesis in this yeast and the expression profiles of the genes controlling this pathway are known, the mechanisms regulating this process remain poorly understood. Several studies have demonstrated that glucose represses carotenogenesis in X. dendrorhous, suggesting that this pathway could be regulated by catabolic repression. Catabolic repression is a highly conserved regulatory mechanism in eukaryotes and has been widely studied in Saccharomyces cerevisiae. Glucose-dependent repression is mainly observed at the transcriptional level and depends on the DNA-binding regulator Mig1, which recruits the co-repressor complex Cyc8–Tup1, which then represses the expression of target genes. In this work, we studied the regulation of carotenogenesis by catabolic repression in X. dendrorhous, focusing on the role of the co-repressor complex Cyc8–Tup1.
Results
The X. dendrorhous CYC8 and TUP1 genes were identified, and their functions were demonstrated by heterologous complementation in S. cerevisiae. In addition, cyc8 − and tup1 − mutant strains of X. dendrorhous were obtained, and both mutations were shown to prevent the glucose-dependent repression of carotenogenesis in X. dendrorhous, increasing the carotenoid production in both mutant strains. Furthermore, the effects of glucose on the transcript levels of genes involved in carotenogenesis differed between the mutant strains and wild-type X. dendrorhous, particularly for genes involved in the synthesis of carotenoid precursors, such as HMGR, idi and FPS. Additionally, transcriptomic analyses showed that cyc8 − and tup1 − mutations affected the expression of over 250 genes in X. dendrorhous.
Conclusions
The CYC8 and TUP1 genes are functional in X. dendrorhous, and their gene products are involved in catabolic repression and carotenogenesis regulation. This study presents the first report involving the participation of Cyc8 and Tup1 in carotenogenesis regulation in yeast.
Keywords
Catabolic repressionCyc8–Tup1 co-repressor complexCarotenogenesisTranscriptional regulation Xanthophyllomyces dendrorhous
Background
For decades, the carotenogenic yeast Xanthophyllomyces dendrorhous has been widely studied due to its natural ability to synthesize astaxanthin, a carotenoid of commercial interest with uses in the aquaculture, food, pharmaceutical and cosmetics industries [1, 2]. Over time, various X. dendrorhous isolates have been obtained from cold regions around the world. This yeast was originally isolated from tree exudates in mountainous regions of Japan and Alaska [3]; more recently, isolates have been obtained from the Argentinian Patagonia [4], the southern region of Chile [5] and the sub-Antarctic region [6].
Many studies have attempted to improve astaxanthin production in
X. dendrorhous
(reviewed in [
2
]), contributing to our current knowledge of the genetic control of carotenogenesis in this yeast (Fig.
1
). As in other non-photosynthetic eukaryotes, carotenoid synthesis in
X. dendrorhous
derives from the mevalonate pathway [
2
,
7
,
8
], which produces isopentenyl pyrophosphate (IPP). IPP is isomerized to dimethylallyl pyrophosphate (DMAPP) by the enzyme IPP isomerase, encoded by the
idi
gene [
9
]. Then, a molecule of DMAPP is sequentially condensed with three molecules of IPP to generate geranylgeranyl pyrophosphate (GGPP); these steps involve the prenyl transferase enzymes farnesyl pyrophosphate synthase and geranylgeranyl pyrophosphate synthase, encoded by the
FPS
and
crtE
genes, respectively [
10
]. Phytoene is the first carotenoid synthesized in the pathway, produced from GGPP by the bifunctional enzyme phytoene-β-carotene synthase (PBS, encoded by the
crtYB
gene) [
11
]. Then, phytoene is transformed to lycopene by phytoene desaturase (encoded by the
crtI
gene) [
12
]. Subsequently, both ends of lycopene are cyclized by PBS to produce β-carotene [
11
]. Finally, astaxanthin synthase (encoded by the
crtS
gene) introduces a keto group and a hydroxyl group to each of the β-carotene terminal rings to generate astaxanthin [
13
,
14
]. Because astaxanthin synthase is a cytochrome P450 enzyme, it requires cytochrome P450 reductase, which is encoded by the
crtR
gene in
X. dendrorhous
, as an electron donor for its catalysis [
15
].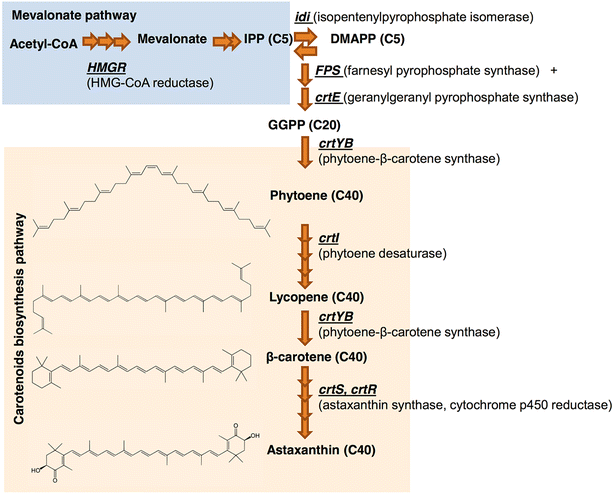 It is known that there is a relationship between the carbon source and the synthesis of carotenoids, but the molecular regulatory mechanisms involved in the X. dendrorhous carotenogenic pathway remain poorly understood. In cultures supplemented with glucose, carotenogenesis is induced only after the culture medium runs out of glucose, suggesting that carotenogenesis in X. dendrorhous is regulated by catabolic repression. Consistent with that hypothesis, the addition of glucose to cultures previously deprived of this sugar causes a complete inhibition of carotenoid synthesis and decreases in the transcript levels of the carotenogenic genes crtI, crtYB and crtS [16, 17]. Further, the promoter for crtS contains four consensus motifs for the binding of CreA [13], which is a negative regulator involved in catabolic repression in Aspergillus nidulans [18]. In addition, extracellular α-glucosidase and invertase activities were not detected in X. dendrorhous cultures when glucose was used as a carbon source, suggesting the catabolic repression of these enzymes [19, 20]. This indicates that this regulatory mechanism is operative in X. dendrorhous, as genes encoding glycosyl hydrolases are well known as targets of catabolic repression.
Catabolic repression has been widely studied in Saccharomyces cerevisiae, in which glucose has a repressive effect mainly at the transcriptional level for various groups of genes, with subsequent decreases in their expression products [21]. Glucose-repressed genes include those encoding proteins involved in the Krebs cycle, electron transport chain, glyoxylate cycle, uptake and metabolization of carbon sources alternative to glucose (such as the genes GAL, SUC and MAL) and gluconeogenesis. Additionally, some of the genes that encode high-affinity glucose transporters and many genes involved in the responses to various stresses are repressed by glucose [21].
In general, glucose repression in S. cerevisiae mainly depends on the subcellular localization of the regulator Mig1 (homologous to CreA in A. nidulans). At high glucose levels, the repressor Mig1 is dephosphorylated and localizes at the nucleus, where it recognizes and binds to specific regulatory sequences known as "Mig1 boxes" at the promoters of the target genes. Then, Mig1 recruits a co-repressor complex formed by Cyc8 and Tup1 that represses the transcription of the target genes. In the absence of glucose, Mig1 is phosphorylated by the Snf1 kinase complex, loses its interaction with the Cyc8–Tup1 complex, and is exported to the cytoplasm [22, 23]. In S. cerevisiae, the co-repressor complex Cyc8–Tup1 is considered a global transcriptional co-repressor because it regulates the expression of more than 180 genes, including those regulated by glucose. The proteins Cyc8 and Tup1 belong to highly evolutionarily conserved protein families, and similar repressors have been described in yeasts, worms, flies and mammals [24]. In S. cerevisiae, CYC8 and/or TUP1 knock-out mutations are not lethal but have pleiotropic effects causing diverse phenotypes, including slow growth, flocculation, sporulation and loss of certain aspects of glucose repression [24, 25]. Because the co-repressor complex does not bind directly to DNA, it is recruited to the different promoters by specific DNA-binding proteins. For example, genes repressed by glucose, induced by DNA damage or regulated by oxygen are recognized by the DNA-binding proteins Mig1, Crt1 and Rox1, respectively [24, 26].
Considering that catabolic repression is an important regulatory mechanism that is widely conserved among eukaryotes, and given that results from previous studies suggest that carotenogenesis in X. dendrorhous could be regulated by this mechanism, the aim of this work was to study the catabolic repression regulatory mechanism and carotenogenesis in X. dendrorhous, focusing on the role of the co-repressor complex Cyc8–Tup1.
Conclusions
The CYC8 and TUP1 genes from X. dendrorhous identified in this work are functional, and their gene products are involved in the transcriptional regulation of several groups of genes regulated by catabolic repression, including some genes involved in the synthesis of carotenoids and carotenogenesis precursors in this yeast.
Abbreviations
PBS:

phytoene-β-carotene synthase
IPP:

isopentenyl pyrophosphate
DMAPP:

dimethylallyl pyrophosphate
GGPP:

geranylgeranyl pyrophosphate
FPP:

farnesyl pyrophosphate
DEGs:

differentially expressed genes
RPKM:

reads per kilobase per million mapped reads
ORF:

open reading frame
MFS:

major facilitator superfamily
RP-HPLC:

reverse-phase liquid chromatography
IGS:

intergenic spacer
DNS:

dinitrosalicylic acid
MMv:

Vogel minimum medium
2DG:

2-deoxy-d-glucose
Declarations
Authors' contributions
PC performed most of the experiments and carried out the data analyses and interpretation. JA contributed to the study design and data interpretation. NB helped with S. cerevisiae heterologous complementation assays. SB helped with carotenoid extraction and analyses. DS helped to obtain transcriptomes from the strains. MF-L helped with the extracellular invertase activity assays. MB contributed to the study design. VC conceived the study and participated in its design and coordination. PC and JA wrote the manuscript. All authors read and approved the final manuscript.
Acknowledgements
Not applicable.
Competing interests
The authors declare that they have no competing interests.
Availability of data and materials
All data generated or analyzed during this study are included in this published article and its supplementary information files.
Funding
This work was supported by FONDECYT 1140504 and by a graduate scholarships CONICYT 21110252 to PC and MECESUP 2-UCH0604 to NB.
Open AccessThis article is distributed under the terms of the Creative Commons Attribution 4.0 International License (http://creativecommons.org/licenses/by/4.0/), which permits unrestricted use, distribution, and reproduction in any medium, provided you give appropriate credit to the original author(s) and the source, provide a link to the Creative Commons license, and indicate if changes were made. The Creative Commons Public Domain Dedication waiver (http://creativecommons.org/publicdomain/zero/1.0/) applies to the data made available in this article, unless otherwise stated.
Authors' Affiliations
(1)
Departamento de Ciencias Ecológicas, Facultad de Ciencias, Universidad de Chile, Santiago, Chile
(2)
Centro de Biología Molecular Severo Ochoa, Departamento de Biología Molecular (UAM-CSIC), Universidad Autónoma Madrid, Madrid, Spain