Systems metabolic engineering of Corynebacterium glutamicum for the production of the carbon-5 platform chemicals 5-aminovalerate and glutarate
Microbial Cell Factories
2016
15:154
Received: 29 July 2016
Accepted: 2 September 2016
Published: 13 September 2016
Abstract
Background
The steadily growing world population and our ever luxurious life style, along with the simultaneously decreasing fossil resources has confronted modern society with the issue and need of finding renewable routes to accommodate for our demands. Shifting the production pipeline from raw oil to biomass requires efficient processes for numerous platform chemicals being produced with high yield, high titer and high productivity.
Results
In the present work, we established a de novo bio-based production process for the two carbon-5 platform chemicals 5-aminovalerate and glutarate on basis of the lysine-hyperproducing strain Corynebacterium glutamicum LYS-12. Upon heterologous implementation of the Pseudomonas putida genes davA, encoding 5-aminovaleramidase and davB, encoding lysine monooxygenase, 5-aminovalerate production was established. Related to the presence of endogenous genes coding for 5-aminovalerate transaminase (gabT) and glutarate semialdehyde dehydrogenase, 5-aminovalerate was partially converted to glutarate. Moreover, residual l-lysine was secreted as by-product. The issue of by-product formation was then addressed by deletion of the lysE gene, encoding the l-lysine exporter. Additionally, a putative gabT gene was deleted to enhance 5-aminovalerate production. To fully exploit the performance of the optimized strain, fed-batch fermentation was carried out producing 28 g L−1 5-aminovalerate with a maximal space–time yield of 0.9 g L−1 h−1.
Conclusions
The present study describes the construction of a recombinant microbial cell factory for the production of carbon-5 platform chemicals. Beyond a basic proof-of-concept, we were able to specifically increase the production flux of 5-aminovalerate thereby generating a strain with excellent production performance. Additional improvement can be expected by removal of remaining by-product formation and bottlenecks, associated to the terminal pathway, to generate a strain being applicable as centerpiece for a bio-based production of 5-aminovalerate.
Keywords
Bio-nylonSynthetic biologyMetabolic engineeringPlatform chemicalLysine monooxygenaseHeterologous productionBio-economy
Background
Today's petrochemical industry is challenged by the ever-increasing demand for commodity chemicals, polymer materials and related compounds, which is additionally aggravated by the ever-decreasing accessibility of fossil resources as base material [
1
]. Hence, substantial effort has been made for providing alternative "green" routes to produce platform chemicals through microbial fermentation processes. Compounds of interest comprise organic acids [
2
] such as succinate [
3
–
5
], lactate [
6
], and itaconic acid [
7
], diamines including putrescine [
8
,
9
] and cadaverine [
10
–
14
] and diols [
15
–
18
], all being applicable as building blocks for bio-based plastics. In this regards, also 5-aminovalerate and glutarate are attractive carbon-5 building blocks for the production of nylon from renewable feedstocks [
19
,
20
]. By now,
Escherichia coli
has been in the focus of interest as platform for either de novo biosynthesis [
19
] of 5-aminovalerate and glutarate or for biotransformation [
20
–
22
] thereof from
l
-lysine. As 5-aminovalerate and glutarate are degradation products of the proteinogenic amino acid
l
-lysine, we choose the non-pathogenic Gram-positive soil bacterium
Corynebacterium glutamicum
, a well-established industrial
l
-lysine producer [
1
], as metabolic chassis for the production of these carbon-5 platform chemicals. Beyond the excellent availability of genetic tools [
23
], and knowledge of its physiology and large-scale fermentation [
24
,
25
], engineered
C. glutamicum
has only recently been established as centerpiece for the production of
l
-lysine-derived cadaverine within a pipeline towards the manufacturing of the fully bio-based polyamide PA5.10 [
13
]. In this work, the metabolic pathway from
l
-lysine towards 5-aminovalerate was reconstituted by stable genome-based implementation of the
Pseudomonas putida
KT2440 genes
davB
, encoding lysine monooxygenase, and
davA
, encoding 5-aminovaleramide amidase (Fig.
1
)—a strategy previously established for
E. coli
[
19
,
21
]. Glutarate production relied on an endogenous pathway (Fig.
1
). Though experimentally shown [
26
], full and unambiguous annotation of the genes coding for the required enzymes 5-aminovalerate transaminase (GabT) and glutarate semialdehyde dehydrogenase (GabD) is missing so far (Fig.
1
). We further engineered the basic producer by elimination of by-product formation and focusing the production flux towards 5-aminovalerate. Production was subsequently benchmarked in fed-batch fermentation.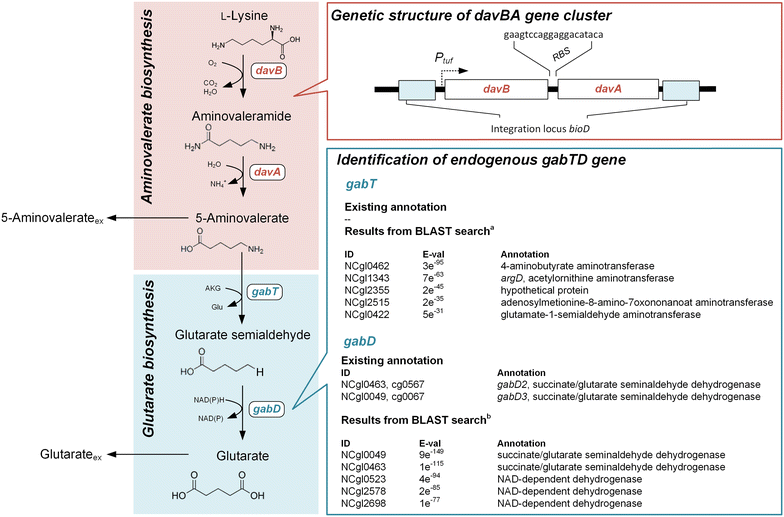 Discussion
In recent years, l-lysine-derived compounds, e.g. cadaverine [13, 28, 29], glutarate [19, 22, 26], 5-aminovalerate [20, 21] and pipecolic acid [30] have emerged as attractive platform building blocks, to establish bio-based production routes for chemicals and materials [31, 32]. This depicts an excellent possibility to employ existing l-lysine overproducers as starting point for re-engineering. Corynebacterium glutamicum is the major industrial workhorse for the production of l-lysine [1, 33] and—unlike P. putida [27] and E. coli [19]—it naturally misses catabolic reactions for degradation of l-lysine. l-lysine overproducing C. glutamicum strains are hence ideal metabolic chassis for establishing bio-based fermentation processes for these interesting compounds, as there are no side-reactions competing with the target product formation. In this work, we established a de novo production process for the carbon-5 platform chemicals 5-aminovalerate and glutarate on basis of C. glutamicum LYS-12 [34]. These are promising building blocks for bio-based polyamides and polyesters [19], when polymerized with appropriate counterparts such as caprolactame [20] and diamines [13], and beyond serve as platform chemicals [22].
Conclusion
In this work, we established C. glutamicum as production platform for the polyamide building blocks 5-aminovalerate and glutarate through genetically stable genome manipulation. Following the strategy of heterologous engineering of the 5-aminovalerate pathway from P. putida [19, 22, 26], combined with additional modifications that targeted by-product formation, we generated a strain with the highest de novo production performance concerning titer, yield and productivity. With the remaining issues on the in vivo activity of the davBA pathway, 5-aminovalerate export and glutarate production, we can immediately identify future engineering targets towards strain improvement. Further optimization can be expected applying systems metabolic engineering to unravel and circumvent additional and less obvious bottlenecks through iterative rounds of strain analysis, design and genetic engineering. Similar titer, yield and productivity as already achieved for l-lysine [34] and cadaverine [13, 57] production thus appear feasible to leverage performance of 5-aminovalerate to industrial efficiency. Moreover, the AVA-2 strain already builds an ideal basis for generating glutarate overproducing C. glutamicum strains.
Abbreviations
Ava:

5-aminovalerate
AKG:

α-ketoglutarate
bioD :

encoding gene of dithiobiotin synthetase
davA :

encoding gene of aminovaleramide amidase
davB :

encoding gene of lysine monooxygenase
gapT :

encoding gene of 5-aminovalerate transaminase
gabD :

encoding gene of glutarate semialdehyde dehydrogenase
Glt:

glutarate
Glu:

glutamate
Lys:

l-lysine
LysE, lysE :

lysine exporter and corresponding gene
MCS:

multiple cloning site
ORI:

origin of replication
PCR:

polymerase chain reaction
sacB :

encoding gene of levansucrase from Bacillus subtilis
tuf :

encoding gene of elongation factor tu
Declarations
Authors' contributions
CR constructed the strains and conducted cultivation experiments in shake flasks. GG and MK carried out fed-batch fermentation and analytics. JB performed strain and experimental design, and the enzyme activity studies. JB and CW conceived and structured the work, assessed the data and wrote the manuscript. All authors read and approved the final manuscript.
Acknowledgements
CW and MK acknowledge the financial support from the BMBF-Grant "Bio2Nylon" (No. 03V0757).
Competing interests
The authors declare that they have no competing interests.
Availability of data and materials
The dataset(s) supporting the conclusions of this article are all included within the article.
Ethics approval and consent to participate
Not applicable. The manuscript does not contain data collected from humans or animals.
Funding
CW and MK acknowledge the financial support from the BMBF-Grant "Bio2Nylon" (No. 03V0757). The funding body did not contribute to the design of the study, data collection, analysis, and interpretation, or writing of the manuscript.
Open AccessThis article is distributed under the terms of the Creative Commons Attribution 4.0 International License (http://creativecommons.org/licenses/by/4.0/), which permits unrestricted use, distribution, and reproduction in any medium, provided you give appropriate credit to the original author(s) and the source, provide a link to the Creative Commons license, and indicate if changes were made. The Creative Commons Public Domain Dedication waiver (http://creativecommons.org/publicdomain/zero/1.0/) applies to the data made available in this article, unless otherwise stated.
Authors' Affiliations
(1)
Institute of Systems Biotechnology, Saarland University, Saarbrücken, Germany