Genetic basis for hyper production of hyaluronic acid in natural and engineered microorganisms
Microbial Cell Factories
2016
15:119
Received: 24 February 2016
Accepted: 22 June 2016
Published: 1 July 2016
Abstract
Hyaluronic acid, or HA, is a rigid and linear biopolymer belonging to the class of the glycosaminoglycans, and composed of repeating units of the monosaccharides glucuronic acid and N-acetylglucosamine. HA has multiple important functions in the human body, due to its properties such as bio-compatibility, lubricity and hydrophilicity, it is widely applied in the biomedical, food, health and cosmetic fields. The growing interest in this molecule has motivated the discovery of new ways of obtaining it. Traditionally, HA has been extracted from rooster comb-like animal tissues. However, due to legislation laws HA is now being produced by bacterial fermentation using Streptococcus zooepidemicus, a natural producer of HA, despite it being a pathogenic microorganism. With the expansion of new genetic engineering technologies, the use of organisms that are non-natural producers of HA has also made it possible to obtain such a polymer. Most of the published reviews have focused on HA formulation and its effects on different body tissues, whereas very few of them describe the microbial basis of HA production. Therefore, for the first time this review has compiled the molecular and genetic bases for natural HA production in microorganisms together with the main strategies employed for heterologous production of HA.
Keywords
Hyaluronic acidHyaluron synthase Streptococcus zooepidemicus Bacillus subtillis Pichia pastoris Pasteurella multocida Escherichia coli
Background
Hyaluronic acid, also called hyaluronan or hyaluronate (HA), is considered an important glycosaminoglycans due to its varied physiological functions. This polymer is composed of disaccharide repetitions of glucuronic acid (UDP-GlcUA) and
N
-acetylglucosamine (UDP-GlcNAc), linked by β1 → 3 and β1 → 4 glycosidic bonds (Fig.
1
) [
1
,
2
]. In contrast to other glycosaminoglucans, HA is the only non-sulphated polymer, which allows the molecule to be rigid and straight [
1
]. It is produced in the plasma membrane of all mammalian cells, amphibians and bacteria [
3
] by integral membrane enzymes called hyaluronic acid synthases (HAS), which have several isoforms according to its producing organism.

In humans, HA is present in all organs and especially abundant in connective tissue [4]. HA reaches higher concentrations in the cartilage tissue in the vitreous humor [5], the synovial fluid of the joints [6] and in the umbilical cord [7] and is responsible for the maintenance of tissue homeostasis [8]. This polymer is directly involved in processes such as embryogenesis [9], inflammation [10], metastasis or tumor progression phenomenon [11], angiogenesis [12] and the healing process [13]. Another common feature of HA in eukaryotic organisms is that it confers a smooth aspect to the skin. It has been reported that with aging, HA production decreases, which results in the dehydration and loss of elasticity of the skin, contributing to the appearance of wrinkles [14].
The main characteristics of HA that makes it a very attractive molecule are: (1) high hygroscopicity; (2) viscoelastic nature; (3) high biocompatibility; (4) non-immunogenicity and (5) it does not generate toxic products when degraded. The use of HA has seen results in ophthalmic cosmetics [
15
], in surgery [
16
], as a drug delivery system [
17
], in rheumatology [
18
], in otolaryngology [
19
] and in urology [
20
]. The many applications of hyaluronic acid are illustrated in Fig.
2
. However, of all the previously mentioned applications, the use of HA is more frequent in the field of dermatology as dermal filler for the treatment of wrinkles. Lastly, in tissue engineering, HA is used as a mechanically and physically appropriate support for tissue that can be implanted in organisms without causing allergic reactions or immune responses [
21
].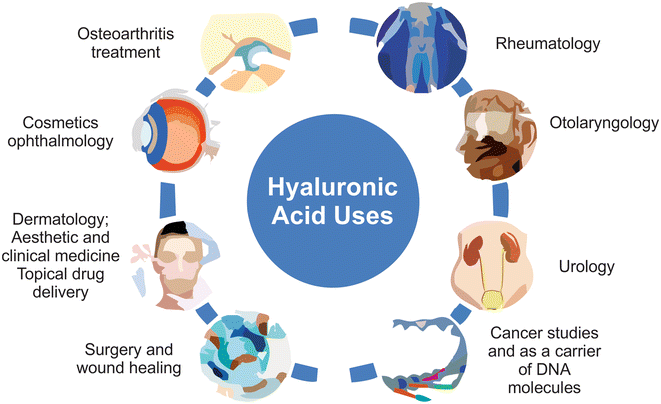 Together with the increased number of applications of hyaluronic acid, the market share tends to grow over the years. Currently, this polymer is valued at USD 1000–5000/kg depending on its purity and size [22]. According to a search conducted in 2014 by the intelligence company firm "Transparency Market Research", the marketing value of the HA in 2012 was USD 5.32 billion and should reach USD 9.85 billion by 2019. Initially, its commercialization was done exclusively by extraction from animal tissues in the early 1940s [23]. Nevertheless, the disadvantages of this methodology include the loss of HA by degradation caused by the activity of the endogenous hyaluronidase enzyme, harsh extraction conditions and high purification costs, since animal-derived HA could contain contaminants such as viruses [23]. Therefore, alternative routes for HA production have been developed. To date, commercial hyaluronic acid is mainly obtained by the market through microbial fermentation. The use of HA from microorganisms is feasible since it is non-immunogenic and therefore biocompatible due to its highly-conserved structure among different species [24].
In the early 80s, HA started to be produced using the bacteria
Streptococci
as a host cell. However, the genus
Streptococci
is known to possess several human pathogens, thus, the HA purification costs using this bacteria genus are elevated. Therefore, other microorganisms, natural producers or genetically engineered ones, have been considered for HA production. Ideally, a perfect microorganism for HA production should have GRAS status
(
generally regarded as safe
)
, not secrete any toxins and be able to produce the biopolymer continuously so it can reach at least 1 megadalton (MDa). The molecular weight (MW) and the purity of HA are indicative of its quality: polymers that have a greater MW (>0.5 MDa) have greater market value. From the microbial point of view, producing such a polymer is also a challenge because of its high metabolic energy cost. For instance, in order to produce a dimer of HA, three ATP molecules, two UTP molecules, two NAD
+
molecules, one molecule of Acetyl-CoA and one molecule of glutamine (counting the energy expended towards glycolysis) are necessary for the synthesis of the two precursors of HA (Fig.
3
).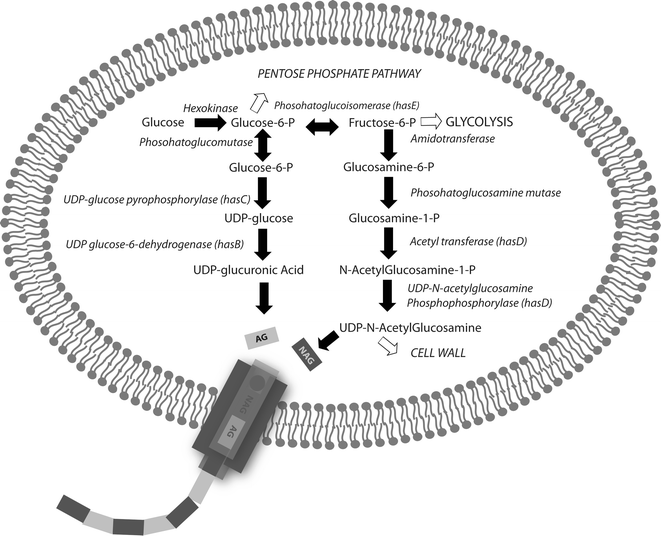 The increased interest in HA production is reflected by the increased number of publications and patents filed over the last years. A search performed in databases has shown that 2220 articles and patents were published between 2005 and 2010. This number increased about 2.5 times in the period from 2011 to 2015. Considering the constant and increased interest in HA qualities, this review is aimed at summarizing the basis of HA production in naturally producing organisms and in engineered strains for hyper production. Most published reviews have focused on HA formulation and its effects in different body tissues, whereas very few of them describe the microbial basis of HA production [25–28]. Therefore, this review has compiled the genetic and molecular bases used by the microorganisms that are currently known to produce hyaluronic acid together with the main strategies employed for heterologous production of HA.
Conclusions and perspectives
HA has innumerous biological uses in the human body, from signaling processes during embryonic development to wound healing. Furthermore, it is important for the treatment of arthritis and osteoarthritis. Additionally, it has high commercial value compared to extracellular polysaccharides obtained from other microorganisms.
Previously, HA used to be extracted from animal waste. Nowadays, it is being replaced by production through bacterial fermentation. However, the fact that the microorganisms that naturally produce HA are pathogenic has stimulated studies to obtain this biopolymer using non-pathogenic and industrially friendly microorganisms. Nevertheless, up to now there has been no heterologous host producing as much HA as the natural ones. However, this fact has not discouraged researchers from attempting to obtain an ideal host for the production of heterologous HA. Rather, the search for this organism has included a wide variety of organisms such as bacteria, yeast, plants and virus-infected algae.
Besides the importance of heterologous production of hyaluronic acid by GRAS microorganisms, the research involving this polymer should advance to overcome the challenges regarding the metabolic route of its production. For example: (1) the competition between hyaluronic acid synthesis and cell growth (cell wall biosynthesis) observed in all the producers; (2) the inversely proportional relationship between the high concentration production and high MW; (3) the limitation of the fermentation in the bioreactor when it reaches 10 g/L due to the high viscosity of the medium; (4) the control of the amount of has gene transcribed, that directly affects the production of hyaluronic acid and the health of the cell wall (which can make unviable cells); (5) the control and equilibrium of the amount of the both precursors necessary for hyaluronic acid synthesis, where it is previously described that low concentrations of N-acetylglucosamine causes an inhibition of the synthesis, (6) the co-production of molecules like lactic acid that inhibits cell growth due to lower pH, and, lastly, (7) the balance between the recycling of cofactors (ATP, UTP and NADH) available in the cell for the use in the biosynthetic processes. All these challenges require specific studies to increase the knowledge for the HA optimal production conditions.
Furthermore, the advances in genetic engineering tool, especially in the genome editing area should contribute for the development of novel strains over producing HA. Recently, CRISPR/Cas9 technology is attracting more space withint the scientific community [105]. After the first use, CRISP-CAS9 has been used in a wide range of microorganisms, including the bacteria Escherichia coli [106] and yeast Saccharomyces cerevisiae [107].
However, in literature, there are no reports of any use of CRISPR/Cas9 technology involving heterologous production of hyaluronic acid, perhaps by the very recent nature of the technology. All hyaluronic acid studies involve traditional technologies, such electroporation techiques, homologous recombination in yeast [45] and gene insertion via plasmid [81]. The possible use of CRISPR/Cas9 in the production of hyaluronic acid could generate some advantages, including: (1) gene insertion in specific regions, such close of strong promoters, (2) considerable increase efficiency of clones with has gene, (3) regulation of genic transcription through the inclusion of transcription factors and (4) repression of genes that act directly or indirectly by inhibiting the synthesis of hyaluronic acid.
Among the microorganisms studied in this review, the yeast P. pastoris has been a host with commercial potential to produce HA. This is due to the combination of its production reaching an output of 0.8–1.7 g/L with a MW from 1.2 to 2.5 MDa [45]. Therefore, further studies on heterologous production using P. pastoris as a host may allow for greater production yields.
It is worth emphasizing that the ideal molecular size of HA will depend on its application. For example, in order to promote the healing of skin wounds and venous leg ulcers and to manage chronic wounds, a high MW is needed, while in rheumatoid and osteoarthritis, the MW and concentration of synovial fluid-HA are reduced. Additionally, the production mode can interfere directly in the production yield. Therefore, considering a culturing process using two stages (growth and production) could increase HA production, because there is a competition of HA precursors, which are also required for cell wall synthesis, for example.
It is noteworthy that the elucidation of biosynthetic pathways for HA-producing microorganisms and the use of genetic engineering combined with the optimization of biotechnological processes certainly corroborate with the increase of such outcomes in the heterologous production of HA. Therefore, the future of HA production process will certainly be the association of metabolic engineering and process design strategies.
Abbreviations
HA:

hyaluronic acid
UDP-GlcUA:

uridine diphosphate glucuronic acid
UDP-GlcNAc:

uridine diphosphate N-acetylglucosamine
HAS:

hyaluronic acid synthases
GRAS:

generally regarded as safe
MDa:

megadalton
MW:

molecular weight
ATP:

adenosine triphosphate
UTP:

uridine triphosphate
NAD+ :

nicotinamide-adenine dinucleotide
Acetyl-CoA:

acetyl coenzyme A
pmHAS:

Pasteurella multocida hyaluronic acid synthase
Km:

Michaelis constant
Vmax :

maximum reaction velocity
Declarations
Authors' contributions
All authors participated in the preparation of this contribution. All authors have read and approved the final manuscript.
Acknowledgements
This work was supported by the National Council for Scientific and Technological Development of Brazil.
Competing interests
The authors declare that they have no competing interests.
Availability of data and materials
The datasets supporting the conclusions of this article are included within the article.
Funding
This work was supported by the National Council for Scientific and Technological Development of Brazil.
Open AccessThis article is distributed under the terms of the Creative Commons Attribution 4.0 International License (http://creativecommons.org/licenses/by/4.0/), which permits unrestricted use, distribution, and reproduction in any medium, provided you give appropriate credit to the original author(s) and the source, provide a link to the Creative Commons license, and indicate if changes were made. The Creative Commons Public Domain Dedication waiver (http://creativecommons.org/publicdomain/zero/1.0/) applies to the data made available in this article, unless otherwise stated.
Authors' Affiliations
(1)
Pós-Graduação em Ciências Genômicas e Biotecnologia, Universidade Católica de Brasília, Brasília, Brazil
(2)
Integra Bioprocessos e Análises, Campus Universitário Darcy Ribeiro, Brasília, Brazil
(3)
Grupo de Engenharia Metabólica Aplicada a Bioprocessos, Instituto de Ciências Biológicas, Universidade de Brasília, Brasília, Brazil