Optimization of yeast-based production of medicinal protoberberine alkaloids
Microbial Cell Factories
2015
14:144
Received: 23 June 2015
Accepted: 31 August 2015
Published: 16 September 2015
Abstract
Background
Protoberberine alkaloids are bioactive molecules abundant in plant preparations for traditional medicines. Yeast engineered to express biosynthetic pathways for fermentative production of these compounds will further enable investigation of the medicinal properties of these molecules and development of alkaloid-based drugs with improved efficacy and safety. Here, we describe the optimization of a biosynthetic pathway in Saccharomyces cerevisiae for conversion of rac-norlaudanosoline to the protoberberine alkaloid (S)-canadine.
Results
This yeast strain is engineered to express seven heterologous enzymes, resulting in protoberberine alkaloid production from a simple benzylisoquinoline alkaloid precursor. The seven enzymes include three membrane-bound enzymes: the flavin-dependent oxidase berberine bridge enzyme, the cytochrome P450 canadine synthase, and a cytochrome P450 reductase. A number of strategies were implemented to improve flux through the pathway, including enzyme variant screening, genetic copy number variation, and culture optimization, that led to an over 70-fold increase in canadine titer up to 1.8 mg/L. Increased canadine titers enable extension of the pathway to produce berberine, a major constituent of several traditional medicines, for the first time in a microbial host. We also demonstrate that this strain is viable at pilot scale.
Conclusions
By applying metabolic engineering and synthetic biology strategies for increased conversion of simple benzylisoquinoline alkaloids to complex protoberberine alkaloids, this work will facilitate chemoenzymatic synthesis or de novo biosynthesis of these and other high-value compounds using a microbial cell factory.
Keywords
AlkaloidPlant natural productMembrane proteinCytochrome P450 Saccharomyces cerevisiae
Background
Alkaloids are nitrogen heterocycle-containing metabolites derived from amino acids. Alkaloids have wide-ranging chemical structures and bioactivities. Benzylisoquinoline alkaloids (BIAs) are a structural class of l-tyrosine derived plant alkaloids, including morphinan, protoberberine, and benzophenanthridine alkaloids. Protoberberine alkaloids occur in at least thirteen families of flowering plants, with the barberry, moon seed, poppy, and buttercup families comprising the most researched natural producers of these molecules [1]. Chinese, Indian, Islamic, and Native American traditional medicines all use plants in these families. Protoberberine alkaloids possess many reported bioactivities, including amelioration of multiple sclerosis in a mouse model [2], mitochondrially-mediated arrest of cell proliferation [3], and decreased blood sugar and cholesterol in diabetic patients [4].
Obtaining BIAs directly from their natural producers limits our ability to investigate the medicinal properties of many individual molecules and develop alkaloid-based drugs with improved efficacy, safety, and pharmacodynamics [5, 6]. First, only molecules that accumulate in crop plants are accessible. For example, morphine-producing cultivars of opium poppy accumulate morphine and codeine, but not upstream intermediates such as salutaridine. The concentrations of molecules that do accumulate vary with geography and climate, cultivation and harvest methods, plant material storage and processing, and the portions of the plant used. Second, purifying a molecule of interest from plant material requires intensive mechanical and chemical processing. Third, natural bioactive molecules often lack appropriate functional groups for derivatization to enable structure–activity studies.
Current alternatives to plant-based production of BIAs are plant cell culture and chemical or chemoenzymatic synthesis. For example, berberine is commercially produced via plant cell culture [7]. However, due to differences in enzyme expression, the in planta alkaloid profile differs from the plant cell culture alkaloid profile, and many alkaloids cannot be produced in cell culture. Furthermore, plant cell culture strains take longer to develop and have limited productivity relative to common industrial microbes because plant cells have longer generation times and are more difficult to genetically modify. Chemical or chemoenzymatic synthesis of BIAs enables production of bioactive molecules or intermediates of interest in a controlled, plant source-independent manner, effectively eliminating the challenges described above. However, the chemical synthesis of BIAs, including protoberberine alkaloids, is often challenging due to the presence of chiral centers, fused ring systems, and regiochemistry of ring substitutions and oxidations. This chemical complexity requires step-intensive routes, reducing yields [8]. In contrast, biocatalysis enables stereo- and regio-selectivity. For example, a chemoenzymatic route to (S)-scoulerine and (R)-reticuline included berberine bridge enzyme (BBE) to catalyze berberine bridge formation and kinetically resolve the (R)-enantiomer of reticuline [9].
Heterologous expression of multi-step biosynthetic pathways in a microbial host enables fermentative production or conversion of complex molecules in a single vessel, increasing yield by eliminating intermediate isolation steps. Engineered Escherichia coli cultures produced (S)-reticuline from dopamine [10] and later from glycerol [11] at titers up to 34 mg/L and productivity up to 0.57 mg/L/h [12]. The production of the protoberberine alkaloid (S)-scoulerine was also reported using a coculture of the reticuline-producing E. coli and BBE-expressing S. cerevisiae [10]. The downstream protoberberine (S)-canadine was produced from rac-norlaudanosoline (tetrahydropapaveroline) by an engineered yeast strain expressing seven heterologous genes encoding enzymes from Thalictrum flavum, Papapver somniferum, and Arabidopsis thaliana [13]. As a eukaryotic host organism, S. cerevisiae can support the functional expression of membrane-bound enzymes such as the flavoenzyme BBE and the cytochrome P450 oxidoreductase (P450) canadine synthase (CAS). Yeast strains can be efficiently engineered by in vivo assembly of episomal and chromosomally-integrated constructs, due to robust endogenous homologous recombination machinery. Furthermore, fermentation with engineered yeast is a scalable platform for production of complex plant alkaloids [5].
Here, we report the first heterologous production of berberine and the optimization of the engineered biosynthetic pathway from
rac
-norlaudanosoline to (
S
)-canadine in yeast (Scheme
1
). The plant pathway includes three classes of membrane-associated enzymes: cytochrome P450 oxidorecuctase (P450), flavin-dependent oxidase, and cytochrome P450 reductase (CPR). We characterized P450 expression by fluorescence microscopy, optimized expression levels and stability via strain design and engineering, and used yeast codon-optimized enzymes from a variety of plant sources to increase protoberberine alkaloid titers. Media and culture condition optimization further increased titers. Overall, we increased the titer of (
S
)-canadine by greater than 70-fold relative to our previously reported strain, up to 1.8 mg/L, and were able to make berberine for the first time. A pilot scale 0.2-L bioreactor experiment resulted in titers of 0.7 mg/L canadine and 39 μg/L berberine. This (
S
)-canadine producing strain will enable heterologous biosynthesis of other protoberberine, berberine, and phthalide isoquinoline alkaloids for elucidating biosynthetic routes and, with further optimization, for industrial production.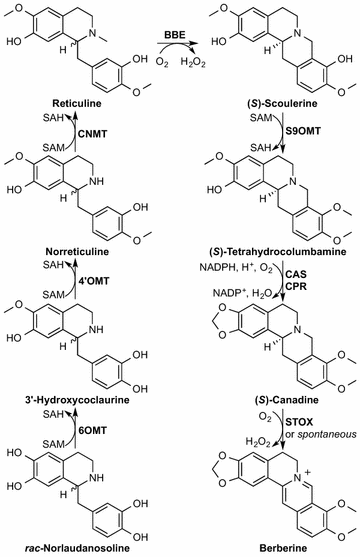 Conclusions
In this work, we optimized the reconstituted seven-enzyme pathway, including three types of membrane-bound enzymes, to convert the commercially available and synthetically accessible substrate rac-norlaudanosoline to the protoberberine alkaloid (S)-canadine and the medicinal compound berberine. We optimized this pathway by examining the effects of DNA copy number, enzymes from different plant sources, and culture conditions. Consistent with previous reports, we observed greater cytochrome P450 activity when expressed from 1 to 2 DNA copies with a glycolytic promoter [14]. Ultimately, the best yields were obtained by using enzymes from a variety of plant sources and combining YAC-, chromosome-, and high-copy plasmid-based expression. The strain and culture engineering resulted in an over 70-fold increase in the canadine titer relative to the original strain, and we demonstrated that similar titers could be achieved in a pilot scale bioreactor. (S)-canadine is useful as a precursor for a number of chiral alkaloids, including the phthalideisoquinoline alkaloid noscapine, a potential anticancer drug [41]. This work also describes the first heterologous production of berberine, which was produced at more than tenfold greater titer in the bioreactor than in shake flasks or culture tubes. Our combined metabolic engineering and synthetic biology approach for in vivo microbial reconstitution of alkaloid biosynthesis is a useful tool for biochemical discovery and fermentative production of complex, high-value molecules.
Methods
Chemicals, media, and cultivation
Difco yeast nitrogen base without amino acids and ammonium sulfate (YNB), Bacto peptone, Bacto yeast extract, Luria Broth (LB), LB agar, dextrose, and galactose were obtained from Becton, Dickinson and Company (BD). Kanamycin monosulfate, geneticin sulfate (G418), ampicillin, spectinomycin, amino acids, uracil, adenine hemisulfate, tris(hydroxymethyl)aminomethane hydrochloride, polysorbate 20 (Tween-20), and citric acid were obtained from EMD chemicals. 5-fluoroorotic acid (5-FOA) was obtained from Zymo Research. Formic acid, acetonitrile, NuPAGE 3-(N-morpholino)propanesulfonic acid (MOPS) sodium dodecyl sulfate (SDS) running buffer, and NuPAGE transfer buffer were obtained from Thermo Fisher Scientific. 1-(3,4-dihydroxybenzyl)-1,2,3,4-tetrahydroisoquinoline-6,7-diol hydrobromide (tetrahydropapaveroline or norlaudanosoline, NL) and berberine hydrochloride were obtained from Santa Cruz Biotechnology (SCBT). (S)-reticuline perchlorate was obtained from Specs and d,l-canadine was obtained from Apin Chemicals.
Escherichia coli strains were selected on LB agar plates with 50 mg/L kanamycin, 50 mg/L ampicillin, or 100 mg/L spectinomycin and grown in LB liquid media with the appropriate antibiotic. Yeast 10× drop out (DO) supplement was prepared as 0.2 % adenine hemisulfate, 0.2 % uracil, 1 % l-tryptophan, 1 % l-histidine hydrochloride, 1 % l-arginine, 1 % l-methionine, 0.2 % l-tyrosine, 1 % l-leucine, 1 % l-isoleucine, 1 % l-lysine hydrochloride, 1 % l-phenylalanine, 1 % l-glutamic acid, 1 % l-aspartic acid, 3 % l-valine, 4 % l-threonine, and 8 % l-serine with the desired selection component omitted. S. cerevisiae strains were selected on YNB-DO (0.17 % yeast nitrogen base, 0.5 % ammonium sulfate, 2 % dextrose, and 1× DO) agar or on YPAD (1 % yeast extract, 2 % peptone, 80 mg/L adenine hemisulfate, and 2 % dextrose) agar with 200 mg/L G418. Yeast were grown in selective YNB-DO media or in YPAD media.
Strains and plasmids
Escherichia coli strain TOP10 (Life Technologies) was used for cloning and amplification of plasmids. Plasmids were recovered using Econospin columns (Epoch Life Sciences) according to manufacturer's instructions. S. cerevisiae strain W303α was used as the base strain for all engineered strains (Table 1). Oligonucleotide primer sequences are provided in Additional file 2: Table S1. Oligonucleotides were synthesized by Integrated DNA Technologies (IDT) and the Stanford Protein and Nucleic Acid Facility. Heterologous gene sequences were cloned from previously published plasmids or downloaded from Genbank and codon optimized and synthesized by Life Technologies or IDT (Additional file 2: Table S2). PCRs were performed with PfuUltraII Fusion HS DNA polymerase (Agilent Technologies) for <2 kb fragments, Platinum Taq PCR SuperMix (Life Technologies) for 2–3 kb fragments and for site-directed mutagenesis, or Expand High Fidelity PCR system for >3 kb fragments (Roche Diagnostics) according to manufacturer's instructions. PCR products were purified by agarose gel extraction with Zymoclean gel DNA recovery kit (Zymo Research) according to manufacturer's instructions. Restriction enzymes, T4 DNA ligase, and deoxynucleotides were purchased from New England Biolabs.
Strains and plasmids used or constructed in this work are described in Table 1. Plasmids pCS3070–3072 and 3194–3197 were constructed by amplifying the insert with either a CACC 5′ overhang or 5′ and 3′ BP sequences and using the pENTR/D-TOPO cloning kit or Gateway BP clonase II and pDONR221 (Life Technologies), respectively, to create a Gateway entry vector. The insert was then cloned into a pAG destination vector obtained from Addgene [42] using Gateway LR clonase II (Life Technologies). Constructs were verified by sequencing through the inserted region (Elim Biopharmaceuticals). Plasmids were introduced into yeast by the lithium acetate/salmon sperm carrier DNA/polyethylene glycol transformation method [43].
Holding vectors were constructed by amplifying the backbone, including the promoter and terminator, and assembling with the insert via Gibson cloning [44]. Expression cassettes were amplified using primers with 15 bp overhangs for gap repair in yeast. 100 ng each of the PCR products and linearized pYES1L (Life Technologies) were introduced by electroporation into the desired yeast background strain to make constructs pCS3100, 3198, 3199, and 3200–3204 [18, 45]. Plasmids were isolated from yeast and amplified in E. coli as previously described.
Yeast chromosomal modifications were made using either disintegrators [46] or the microhomology gene disruption method [47]. For strains CSY1007 and CSY1010 the expression cassette was cloned from plasmid pCS3070 and pCS3196, respectively, into the KpnI–SphI restriction sites of plasmid pIS373 [46]. For strains CSY1024, the yCjCAS coding sequence was inserted between the TEF1 promoter and CYC1 terminator by LR recombination into plasmid pCS2641, which is pUG6 with the promoter and terminator cassette cloned in along with the Gateway recombination sites. The disintegrators or gene disruption cassettes were introduced into yeast by lithium acetate transformation [43]. All selection markers were rescued as previously described [46, 47]. For the disintegrators, this was done by diluting an overnight culture to OD600 ~0.4 and plating 250 μL of the cell suspension on YNB-DO agar with 1 mg/mL 5-FOA. For the microhomology integrations and knockouts, selection markers were rescued by loxP recombination. All modifications were verified by yeast colony PCR as previously described, with the exclusion of gelatin from buffers [48].
Confocal microscopy
Single colonies of freshly transformed yeast strains were streaked onto YNB-DO agar, grown for 24 h, and then inoculated into 3 mL of the appropriate YNB-DO media and grown in 16 × 150 mm glass culture tubes for 14 h at 30 °C in a shaking incubator at 260 rpm. Overnight cultures were back-diluted 1:2 in YNB-DO media and grown for an additional 2 h to OD600 ~2. 1 mL of the cell culture was pelleted and resuspended in 100 μL YNB-DO. 1 μL of the resuspended cells was mounted on 2 % low melting point agarose YNB-DO pads with a no. 1.5 coverslip sealed with nail polish. Live yeast were imaged with a Leica SP5 confocal upright microscope at the Stanford Cell Sciences Imaging Facility equipped with a 63×, NA 1.30 plan apochromat glycerine immersion objective. For fluorescence detection, the Argon laser 488 nm excitation was used with descanned Hybrid-GaAsP detection at 500–600 nm. Imaging was done with either no zoom or 4.5× zoom and 80–120 % gain to avoid saturation.
Yeast culture assays for protoberberine alkaloid production
Single colonies of freshly transformed yeast strains were streaked onto YNB-DO agar, grown for 24 h, and then inoculated into 3 mL of the appropriate YNB-DO media and grown in 16 × 150 mm glass culture tubes for 17 h at 30 °C in a shaking incubator at 260 rpm. Overnight cultures were back-diluted 1:20 into assay media composed of YNB-DO media with 2 mM norlaudanosoline HBr (NL) to a total volume of 500 μL in culture tubes. Cultures were grown for 96 h and then pelleted by 5 min centrifugation. The supernatant was analyzed by high performance liquid chromatography–tandem mass spectrometry (LC–MS/MS). The optimization assays were performed with 1 mM norlaudanosoline HBr in 125-mL flasks in a total volume of 12.5 mL assay media with 2 % galactose or 2 % dextrose used as the sugar, either no buffer or 60 mM citrate buffer pH 5.7 was added, and cultures were grown at 25 or 30 °C. To determine the canadine and berberine titers of the cultures, 1 mL of culture was pelleted and the supernatant was analyzed by LC–MS/MS as described below.
Analysis of protoberberine alkaloid production by high-performance liquid chromatography–tandem mass spectrometry (LC–MS/MS)
Yeast media supernatants and yeast cell extracts were analyzed by LC–MS/MS using an Agilent 1260 infinity binary pump HPLC and Agilent 6420 triple quadrupole mass spectrometer with an electrospray ionization source. Chromatography was performed with a Zorbax Eclipse Plus C18 column (2.1 × 50 mm, 1.8 μm, Agilent Technologies). Mobile phase A was water with 0.1 % formic acid (FA), phase B was acetonitrile with 0.1 % FA, and the flow rate was 0.4 mL/min at 40 °C. 5 μL samples were injected and separated with the following method: 10 % B for 0.1 min, 10–40 % B for 4.9 min, 40–98 % B for 1 min, held at 98 % B for 1 min, returned to 10 % B and re-equilibrate for 3 min. The LC eluent was directed to the MS for 1–5 min with ESI source gas temperature 350 °C, gas flow of 11 L/min, nebulizer pressure 40 PSI, capillary voltage of 4000 V, and Delta EMV (+) of 200. Compound identity was confirmed by comparing the retention time and product ion spectrum to an authentic standard when available or to published mass fragmentation spectra [
15
,
49
] using MassHunter Qualitative Analysis v. B.06 (Agilent Technologies). For quantification, the MS was used in MRM mode to monitor the transitions in Table
2
. These transitions were determined using the MassHunter Optimizer software with standards when available or with samples with high abundance and confirmed with literature. The data was analyzed using MassHunter Quantitative Analysis v. B.07 for QQQ (Agilent Technologies) to identify and integrate peaks with the qualifying and quantifying mass transitions and retention times (Table
2
). Where available, quantifier MRM peak areas were compared to a calibration curve of external standard peak areas to determine concentration.
Table 2
MRM transitions used to quantify alkaloids in LC–MS/MS analysis
Compound

Quantifier MRM transition

Qualifier MRM transition

Precursor → product ion

Fragmentor

Collision energy

Precursor → product ion

Fragmentor

Collision energy

Reticuline

330 → 192

120

19

330 → 137

120

31

Scoulerine

328 → 151

135

30

328 → 178

135

29

Tetrahydrocolumbamine

342 → 178

135

29

342 → 163

135

29

Canadine

340 → 176

135

29

340 → 149

135

25

Berberine

336 → 320

135

29

336 → 292

135

25
Batch and fed-batch fermentations of engineered yeast strains
Batch and fed-batch fermentations were conducted in a Biostat Q-plus bioreactor with 0.5-L univessels (Sartorius AG). Initial media was 0.2 L YNB-DO with 1 mM norlaudanosoline HBr and 60 mM citrate buffer, pH 5.7. Single colonies of freshly transformed yeast strains were streaked onto YNB-DO agar, grown for 24 h, and then inoculated into 3 mL of the appropriate YNB-DO media and grown in 16 × 150 mm glass culture tubes for 24 h at 30 °C in a shaking incubator at 260 rpm. Cultures were back-diluted 1:10 in 25 mL YNB-DO in 250-mL shake flasks and grown to OD 3.5–7, and then used to inoculate the bioreactor vessels to OD 0.3. Dissolved oxygen was calibrated at 100 % during 100 rpm stirring with 0.1 lpm air flow. Process parameters were 30 °C and 25 % dissolved oxygen controlled by stirring at 100–400 rpm. Fermentation was begun with no air flow, and air flow was increased to 0.1 lpm when stirring reached 400 rpm, 12–24 h. When stir rate dropped to 100 rpm and DO reached 80 %, air flow was turned off. Samples of ~1 mL were taken to measure OD600 and alkaloid concentrations. OD600 of diluted culture samples was measured in cuvettes by Nanodrop spectrophotometer. For fed-batch, feed was 10× YNB-DO media, and feeding was begun at 24 h at a rate of 20 mL/day, and continued for the remainder of the fermentation.
Declarations
Authors' contributions
SG and CDS conceived of the project, designed the experiments, analyzed the results, and wrote the manuscript. SG performed the experiments. All authors read and approved the final manuscript.
Acknowledgements
We thank Stanford Cell Sciences Imaging Facility for providing fluorescence microscopy access (Leica SP5, NIH Grant SIG Number: 1S10RR02557401) and training; Agilent Technologies for an award through their Global Academic Research Support Program; Y. Li, M. McKeague, K. Thodey, I. Trenchard, and Y.-H. Wang for discussions and feedback in the preparation of this manuscript. This work was supported by the National Institutes of Health (Grant to C.D.S., AT007886), National Science Foundation (Grant to C.D.S., CBET-1066100; fellowship to S.G.), Bill and Melinda Gates Foundation (grant to C.D.S., OPP1058690), and Stanford University (fellowship to S.G.).
Compliance with ethical guidelines
Competing interests The authors declare competing financial interests in the form of a pending patent application.
Open AccessThis article is distributed under the terms of the Creative Commons Attribution 4.0 International License (http://creativecommons.org/licenses/by/4.0/), which permits unrestricted use, distribution, and reproduction in any medium, provided you give appropriate credit to the original author(s) and the source, provide a link to the Creative Commons license, and indicate if changes were made. The Creative Commons Public Domain Dedication waiver (http://creativecommons.org/publicdomain/zero/1.0/) applies to the data made available in this article, unless otherwise stated.
Authors' Affiliations
(1)
Department of Chemistry, Stanford University, Stanford, USA
(2)
Department of Bioengineering, Stanford University, Stanford, USA
Copyright
© Galanie and Smolke. 2015