Genome engineering for improved recombinant protein expression in Escherichia coli
Shubhashree Mahalik

†

1,

Ashish K Sharma

†

1 and

Krishna J Mukherjee

1

Email author
Microbial Cell Factories
2014
13:177
Received: 8 October 2014
Accepted: 5 December 2014
Published: 19 December 2014
Abstract
A metabolic engineering perspective which views recombinant protein expression as a multistep pathway allows us to move beyond vector design and identify the downstream rate limiting steps in expression. In E.coli these are typically at the translational level and the supply of precursors in the form of energy, amino acids and nucleotides. Further recombinant protein production triggers a global cellular stress response which feedback inhibits both growth and product formation. Countering this requires a system level analysis followed by a rational host cell engineering to sustain expression for longer time periods. Another strategy to increase protein yields could be to divert the metabolic flux away from biomass formation and towards recombinant protein production. This would require a growth stoppage mechanism which does not affect the metabolic activity of the cell or the transcriptional or translational efficiencies. Finally cells have to be designed for efficient export to prevent buildup of proteins inside the cytoplasm and also simplify downstream processing. The rational and the high throughput strategies that can be used for the construction of such improved host cell platforms for recombinant protein expression is the focus of this review.
Keywords
Recombinant protein expression Escherichia coli Metabolic engineeringGenome engineering
Introduction
Host cell engineering has emerged as a powerful tool for designing microbial platforms targeted at improved metabolite production. Major successes in this area include improved production of isoprenoids, shikimic acid, isobutanol, amino acids, synthesis of artemesin, lycopene and many such metabolites [
1
-
7
]. The basic goal has been to redesign the complete pathway for the biosynthesis of these metabolites by simultaneously engineering multiple steps in the pathway. This has been achieved by a combination of many techniques such as gene knock-ins and knock-outs, promoter engineering, supplementing the expression of critical genes, enzyme engineering and modulation of the regulatory pathways. The commonly used strategies to enhance the metabolite flux through a pathway can be clubbed under the following categories a) Increase the flux through rate limiting steps in the pathway; b) Increase the supply of precursors; c) Block branched chain pathways which lead to by-product formation and d) Remove feedback controls in the pathway (Figure
1
).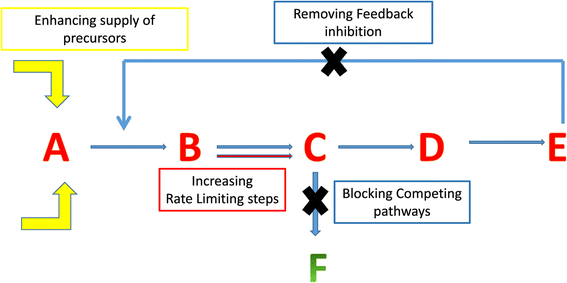 It is possible to extend the same philosophy with minor modifications to help in the design of hosts with improved recombinant protein expression capability. Just like the pathways in metabolite synthesis, recombinant protein expression also involves multiple steps viz. transcription, translation, folding and export. However unlike a typical metabolic pathway these steps are intricately linked to the cellular machinery with multiple host factors determining the flux through each step of the pathway. Hence the cellular physiology and its dynamics have a critical role in determining the overall flux through this pathway. Some important points that can be flagged by this approach are summarized as follows; traditional genetic engineering methods have mostly focused on improving the first step of this pathway i.e. transcription and hence the gains from improved vector design have tended to plateau over time. With strong promoters, the bottleneck in this pathway shifts to the translational step which needs to be up regulated to match the rates of transcription. Otherwise much of the gains of high rates of mRNA synthesis are offset by higher rates of mRNA degradation [
8
-
11
]. The supply of precursors which are critical to this pathway are the energy molecules like ATP, amino acids and nucleotides which can become the rate limiting factors in protein biosynthesis. Most importantly recombinant protein expression triggers a cellular stress response which feedback inhibits both growth and product formation, by lowering substrate uptake rates, down-regulating the ribosomal machinery and biosynthesis of ATP (Figure
2
). This has a critical impact on the sustainability of the flux through this pathway and typically specific product formation rates decline sharply within a few hours post induction. Since host cell protein synthesis utilizes the same cellular machinery it can be treated as a competing pathway. Thus one way to increase recombinant protein synthesis would be to uncouple growth from product formation, thus allowing the diversion of metabolic fluxes toward product formation. Finally an efficient export mechanism needs to be in place, otherwise there is a theoretical upper limit to which the recombinant protein can accumulate inside the cells. Moreover extracellular expression would significantly simplify downstream processing steps. The challenges associated with designing such host platforms using both rational as well as high throughput strategies is the primary focus of this review.

Conclusion
The complex linkages between cellular physiology and the multiple steps in recombinant protein synthesis makes the task of removing bottlenecks in this pathway a difficult exercise. However we now have a wealth of information from transcriptomic, proteomic and metabolomic studies on the cellular factors affecting this pathway as well the changes in flux to this pathway due to the cellular stress response. The data has been useful in rational design of host cells with better expression capabilities. Also the use of high throughput screening methods have allowed us to, reverse engineer these desired phenotypes, adding vastly to the repertoire of beneficial knock-ins and knock-outs. With the development of tools for genome scale engineering to generate multiple knock-ins and knock-outs we can now study the synergistic response of these changes which were earlier limited to one or two modifications. These could lead to major improvements in the design of host platform for high level recombinant protein expression.
Declarations
Acknowledgments
Financial support by Department of Biotechnology, Department of Science and Technology, Council of Scientific and Industrial Research, Government of India is deeply acknowledged.
Authors' Affiliations
(1)
School of Biotechnology, Jawaharlal Nehru University, New Delhi, India
Copyright
© Mahalik et al.; licensee BioMed Central. 2014
This is an Open Access article distributed under the terms of the Creative Commons Attribution License (http://creativecommons.org/licenses/by/4.0), which permits unrestricted use, distribution, and reproduction in any medium, provided the original work is properly credited. The Creative Commons Public Domain Dedication waiver (http://creativecommons.org/publicdomain/zero/1.0/) applies to the data made available in this article, unless otherwise stated.