Production of glycoprotein vaccines in Escherichia coli
Microbial Cell Factories
2010
9:61
Received: 23 April 2010
Accepted: 11 August 2010
Published: 11 August 2010
Abstract
Background
Conjugate vaccines in which polysaccharide antigens are covalently linked to carrier proteins belong to the most effective and safest vaccines against bacterial pathogens. State-of-the art production of conjugate vaccines using chemical methods is a laborious, multi-step process. In vivo enzymatic coupling using the general glycosylation pathway of Campylobacter jejuni in recombinant Escherichia coli has been suggested as a simpler method for producing conjugate vaccines. In this study we describe the in vivo biosynthesis of two novel conjugate vaccine candidates against Shigella dysenteriae type 1, an important bacterial pathogen causing severe gastro-intestinal disease states mainly in developing countries.
Results
Two different periplasmic carrier proteins, AcrA from C. jejuni and a toxoid form of Pseudomonas aeruginosa exotoxin were glycosylated with Shigella O antigens in E. coli. Starting from shake flask cultivation in standard complex medium a lab-scale fed-batch process was developed for glycoconjugate production. It was found that efficiency of glycosylation but not carrier protein expression was highly susceptible to the physiological state at induction. After induction glycoconjugates generally appeared later than unglycosylated carrier protein, suggesting that glycosylation was the rate-limiting step for synthesis of conjugate vaccines in E. coli. Glycoconjugate synthesis, in particular expression of oligosaccharyltransferase PglB, strongly inhibited growth of E. coli cells after induction, making it necessary to separate biomass growth and recombinant protein expression phases. With a simple pulse and linear feed strategy and the use of semi-defined glycerol medium, volumetric glycoconjugate yield was increased 30 to 50-fold.
Conclusions
The presented data demonstrate that glycosylated proteins can be produced in recombinant E. coli at a larger scale. The described methodologies constitute an important step towards cost-effective in vivo production of conjugate vaccines, which in future may be used for combating severe infectious diseases, particularly in developing countries.
Keywords
Specific Growth RateCarrier ProteinConjugate VaccineFeed SolutionShake Flask Culture
Background
In conjugate vaccines capsular or lipopolysaccharide (LPS) antigens of pathogenic bacteria are covalently bound to carrier proteins [
1
–
3
]. In contrast to isolated bacterial polysaccharides, conjugate vaccines induce a long-lasting T-lymphocyte dependent immunological memory [
4
,
5
]. Efficacy and safety of conjugate vaccines have been proven for several examples (reviewed by [
3
] and [
5
]). Most notably routine immunization of infants with conjugate vaccines against
Haemophilus influenzae
type B led to a fast and dramatic drop in respective disease incidents after implementation. State-of-the art production technologies for conjugate vaccines are complex, multi-step processes (Figure
1
). They involve (i) separate cultivation of bacterial strains producing the polysaccharide antigens and the carrier protein, (ii) separate purification of LPS and carrier protein, (iii) chemical cleavage of LPS polysaccharides from lipid A followed by a second purification step, (iv) chemical coupling of polysaccharides to the carrier protein, and (v) a third purification step for obtaining the final product [
1
,
2
]. At each step considerable losses occur, and due to the random nature of chemical coupling the final products are ill-defined. The processes are time-consuming and costly, and often large-scale cultivation of pathogenic bacteria is required for polysaccharide biosynthesis, making conjugate vaccines prohibitively expensive for vaccination campaigns in developing countries.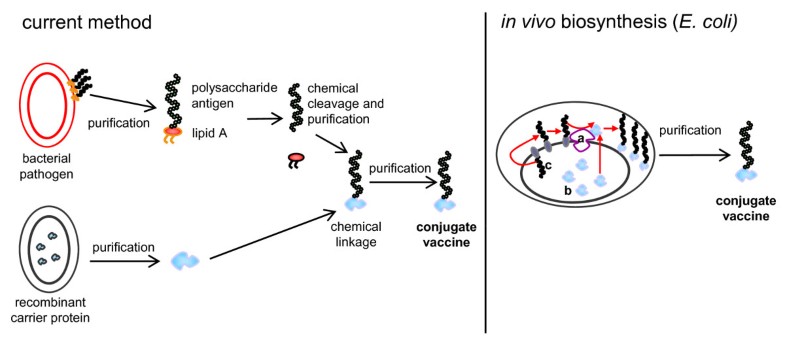 In recent years the notion that bacteria do not perform protein glycosylation has become obsolete [6–8]. After functional transfer of the general N-linked glycosylation system of Campylobacter jejuni into Escherichia coli it is now possible to produce polysaccharide-protein conjugates in a standard industrial prokaryotic expression host [8, 9]. It has been shown that diverse bacterial O antigen polysaccharides with an N-acetyl sugar at the reducing end can be transferred from undecaprenyl-pyrophosphate precursors to the periplasmic protein AcrA (originating from C. jejuni) in E. coli[9, 10]. Furthermore, the consensus sequence required for N-linked glycosylation by the oligosaccharyltransferase PglB of C. jejuni has been defined as D/E-X-N-Z-S/T (where X and Z can be any amino acid except proline) [11], making it possible to engineer specific glycosylation sites into proteins which are otherwise not glycosylated [12]. The PglB-based E. coli system has been suggested as a simple and cost-efficient method for in vivo production of conjugate vaccines. These conjugates were termed 'bioconjugates' to highlight the in vivo production process [9].
For achieving sufficient time-space yields of recombinant proteins produced with bacterial expression systems it is usually necessary to reach high final cell densities in bioprocesses. Although plasmid-free, wild-type E. coli can be grown to very high biomass concentrations of 100 g to 170 g cell dry weight per liter in fed-batch culture with defined mineral salts media [13, 14], to reach high titers of correctly folded recombinant proteins with plasmid-bearing strains remains a challenge.
In this work, we describe the establishment of an efficient and reproducible fed-batch process for the in vivo production of two novel glycoconjugates composed of the Shigella dysenteriae serotype 1 O antigen and carrier proteins AcrA of C. jejuni and exotoxin A of P. aeruginosa (EPA). The bioconjugates are potential vaccines against shigellosis.
Shigellosis is estimated to cause 163 illness episodes and 1 million deaths per year in poor countries, with children under the age of five being particularly affected [15, 16]. There is an urgent need for efficient multivalent vaccines to combat this disease [17]. Shigellosis is caused by four major Shigella species, S. dysenteriae, S. flexneri, S. boydii and S. sonnei. Although S. dysenteriae serotype 1 is not among the most common clinical isolates, it is desirable to include the respective polysaccharide antigen in multivalent vaccine formulations because the strain is associated with a high rate of case fatality, pandemic spread and multiple antibiotic resistance [15].
Discussion
The exploitation of protein glycosylation in recombinant E. coli promises to significantly simplify the production of conjugate vaccines (Figure 1). The scope of this technology benefits from the relaxed substrate specificity of the key enzyme PglB, as not only Campylobacter oligosaccharides (the natural substrates) are N-linked to the carrier protein AcrA but also several O antigens from other Gram-negative bacteria [9]. Our results show that S. dysenteriae type 1 oligosaccharides with the repeating unit →3)-α-L-Rhap-(1→3)-α-L-Rhap-(1→2)-α-D-Galp-(1→3)-α-D-Glcp NAc-(1→ [34] are another suitable substrate for PglB, resulting in periplasmic biosynthesis of AcrA-Shigella O1 glycoconjugates. Similarly to the efficiently transferred E. coli O7 polysaccharides [9], Shigella O1 repeating units contain an N-acetylglucosamine sugar at the reducing end which is α(1→3)-linked to galactose. Until now, all oligo- and polysaccharides which were successfully linked to carrier proteins had an N-acetyl-sugar moiety at the reducing end, presumably due to a participation of the acetyl group in the catalytic mechanism [10]. For the production of conjugate vaccines in E. coli it is desirable to have alternatives to AcrA as carrier protein. Here we show that engineered P. aeruginosa exotoxoid A (EPA) is also efficiently glycosylated in vivo with S. dysenteriae type 1 polysaccharides when expressed in the periplasm of recombinant, glycosylation-competent E. coli. EPA had been used successfully by others as immunogenic carrier protein in a chemically coupled conjugate vaccine against Shigella flexneri type 2a [2].
Overexpression of recombinant proteins in E. coli is often associated with negative effects on host physiology, reflected in a reduced specific growth rate, reduced respiratory capacity, increased levels of alarmones and upregulated stress defence genes [35–38]. In our study we observed a considerable metabolic burden already in uninduced cells. This could be alleviated by including complex supplements in the medium. In spite of optimal, surplus nutrient supply in batch and fed-batch culture, growth was strongly inhibited after induction of oligosaccharyltransferase PglB. Growth inhibition presumably was due to stress caused by aggregated, misfolded proteins [38]. PglB is an integral membrane protein [9] and such proteins are prone to inclusion body formation and often severely affect cell physiology when overexpressed in recombinant E. coli[39]. Reduced inducer concentrations and/or lower cultivation temperature in many cases improve the expression of correctly folded "problematic" recombinant proteins [28, 29, 40]. However, in our case no significant improvements could be obtained with these strategies. The vector pEXT21 used for PglB expression is a low copy number plasmid. When fully induced with 1 mM IPTG, expression levels are as low as for a high copy number, pBR322-derived plasmid induced with only 20 μM IPTG [21]. In our experiments the use of 50, 20 and 5 μM IPTG should have reduced the expression level of PglB by 25, 60 and 90%, respectively [21]. This further reduction did not seem to have an additional positive effect compared to the reduced expression level already achieved by using the low copy number vector.
The results obtained in this study demonstrate the suitability of a vector combination with independent, tight control of PglB and carrier protein expression for efficient glycoconjugate production with E. coli. P BAD is well-known for its tight repression [31] while P tac is prone to leaky expression if LacI repressor levels are too low [41]. In our case, with the gene for LacI present on the pEXT21-derived plasmid, no expression was detectable in the absence of inducers for both promoters (Figures 3 and 4C).
Several novel aspects of the E. coli in vivo system for glycoprotein production became apparent. First, the delayed appearance of glycoconjugates on immunoblots compared to the carrier proteins indicates that N-glycosylation was the rate-limiting step, assuming that polysaccharide precursors were not limiting. Second, slight differences in cultivation conditions such as presence of an additional carbon source or specific growth rate at induction had an unexpectedly strong effect on the efficiency of glycosylation, but carrier protein synthesis remained unaffected. Pre-induction growth rates have been shown to influence the yields of recombinant proteins in other studies [42, 43], but mostly only one protein had to be expressed. A systematic analysis of how cell physiology influences the efficiency of glycosylation would be of high practical relevance, but was without the scope of this study.
In this work it was demonstrated for the first time that glycosylated proteins can be produced in recombinant E. coli at a larger scale in fed-batch culture. We used a semi-defined glycerol medium and a simple pulse feed strategy. Such a design had been used successfully by others in E. coli processes, e.g., for the production of bovine growth hormone [44]. It is clear that the time-space-yields for glycoconjugates produced in E. coli are still low compared to unmodified, cytoplasmic recombinant proteins for which productivities up to 0.2 g L-1 h-1 and final yields of several grams per litre can be reached [43–46]. Yet, it has to be taken into account that the amounts of glycoconjugate needed per vaccination are rather low (25-100 μg, [2, 47]). Most likely, the yields of glycoconjugates in E. coli can be further increased using the following strategies: First, additional process modifications might lead to more complete glycosylation of carrier proteins. Second, alternative E. coli host strains could be tested, e.g., "Walker" strains which are known for improved membrane protein expression [48]. Third, if metabolic bottlenecks for glycosylation such as precursor supply could be identified, it would be possible to improve host strains accordingly by molecular engineering. Fourth, functional expression and/or catalytic efficiency of PglB could be improved by protein engineering. Finally, the sequence context of glycosylation sites in carrier proteins could be further optimized e.g., by creating surface-exposed loops with higher flexibility [12].
Conclusions
This study shows how conjugate vaccines can be produced in recombinant E. coli in a simple and cost-efficient way superior to state-of-the-art chemical coupling technologies. The potential of the in vivo process is underlined by the successful coupling of O antigen polysaccharides of the important intestinal pathogen Shigella dysenteriae to two different carrier proteins. By using appropriate growth and induction conditions in fed-batch culture it was possible to increase the productivity for in vivo synthesis of conjugate vaccines by a factor of 40 compared to shake flask culture, facilitating an economically viable production.
Declarations
Acknowledgements
We thank Irène Donzé and Luzia Wiesli for technical assistance and Christian Bollinger and Michael Fairhead for critically reading the manuscript.
Authors' Affiliations
(1)
Empa, Swiss Federal Laboratories for Materials Testing and Research, Laboratory for Biomaterials, St. Gallen, Switzerland
(2)
GlycoVaxyn AG, Grabenstrasse 3, Schlieren, Switzerland
Copyright
© Ihssen et al; licensee BioMed Central Ltd. 2010
This article is published under license to BioMed Central Ltd. This is an Open Access article distributed under the terms of the Creative Commons Attribution License (http://creativecommons.org/licenses/by/2.0), which permits unrestricted use, distribution, and reproduction in any medium, provided the original work is properly cited.