Directed evolution of a cellobiose utilization pathway in Saccharomyces cerevisiae by simultaneously engineering multiple proteins
Microbial Cell Factories
2013
12:61
Received: 27 January 2013
Accepted: 3 June 2013
Published: 26 June 2013
Abstract
Background
The optimization of metabolic pathways is critical for efficient and economical production of biofuels and specialty chemicals. One such significant pathway is the cellobiose utilization pathway, identified as a promising route in biomass utilization. Here we describe the optimization of cellobiose consumption and ethanol productivity by simultaneously engineering both proteins of the pathway, the β-glucosidase (gh1-1) and the cellodextrin transporter (cdt-1), in an example of pathway engineering through directed evolution.
Results
The improved pathway was assessed based on the strain specific growth rate on cellobiose, with the final mutant exhibiting a 47% increase over the wild-type pathway. Metabolite analysis of the engineered pathway identified a 49% increase in cellobiose consumption (1.78 to 2.65 g cellobiose/(L · h)) and a 64% increase in ethanol productivity (0.611 to 1.00 g ethanol/(L · h)).
Conclusions
By simultaneously engineering multiple proteins in the pathway, cellobiose utilization in S. cerevisiae was improved. This optimization can be generally applied to other metabolic pathways, provided a selection/screening method is available for the desired phenotype. The improved in vivo cellobiose utilization demonstrated here could help to decrease the in vitro enzyme load in biomass pretreatment, ultimately contributing to a reduction in the high cost of biofuel production.
Keywords
Cellobiose utilizationβ-glucosidaseCellodextrin transporterDirected evolutionProtein engineeringPathway engineeringPathway optimizationPathway libraries
Background
The saccharification of lignocellulosic biomass into fermentable sugars is recognized as one of the most expensive operations in biofuel process economics [1, 2]. Hydrolysis of the polysaccharide constituents of biomass into simple sugars requires a diverse set of enzymes, namely endoglucanases (EC 3.2.1.4), exoglucanases (EC3.2.1.91), and β-glucosidases (EC 3.2.1.21) [3]. In vitro endo- and exoglucanases collectively break down cellulose into cellobiose, a β-1,4-glucose disaccharide. Then, β-glucosidases hydrolyze cellobiose into two glucose monomers, which are subsequently fermented by the cell. To lessen the need of these in vitro hydrolytic enzymes, researchers have investigated the use of cellobiose itself as a fermentable sugar [4]. Reducing the price of this in vitro enzyme pretreatment would lower the cost of biofuel production and make biofuels more economically competitive with petroleum-derived fuels [1, 2].
Three main strategies for heterologous cellobiose utilization have recently been developed. The first strategy involves cell-surface display of extracellular β-glucosidases [4–8]. In this strategy, the cellobiose is hydrolyzed extracellularly and then the glucose is transported into the cell and metabolized. A second strategy, the phosphorolytic pathway, relies on heterologous expression of a cellodextrin transporter and a cellobiose phosphorylase [9–11]. The cellobiose is transported into the cell via the cellodextrin transporter and the intracellular phosphorylase cleaves the disaccharide with an inorganic phosphate, producing a glucose molecule and an α-glucose-1-phosphate, which is quickly metabolized. The hydrolytic pathway is a third strategy, which involves heterologous expression of a cellodextrin transporter and an intracellular β-glucosidase [12–14]. After being transported into the cell by the cellodextrin transporter, the intracellular cellobiose is hydrolyzed by the β-glucosidase into two glucose molecules, which are then metabolized by the cell. Though each strategy has its own advantages, no method is as efficient as glucose assimilation, which is one of the most rapid sugar utilization rates. Therefore, further engineering is required to improve the cellobiose utilization rates to rival glucose consumption. The hydrolytic cellobiose utilization pathway has recently been investigated by our laboratory for optimization through combinatorial transcriptional engineering [15]. Though this method and other transcriptional engineering techniques have been successful in optimizing metabolic pathways [15–18], optimal gene expression cannot overcome the inherent inefficiencies of the proteins within the pathway [19]. Therefore, we sought to apply protein engineering strategies to improve the pathway performance.
Engineering proteins within a pathway has shown to be very successful in improving titer of the desired product [20]. Often these methods tend to isolate the protein from the pathway and engineer it independently from other enzymes within the pathway. In this study, we have investigated a complementary strategy for pathway engineering, wherein we simultaneously modify multiple proteins within the context of the pathway and cellular metabolism. One of the advantages of this strategy is it can identify a mutant pathway with an increased and balanced flux. Engineering pathways with a balanced flux remains a large challenge in metabolic and pathway engineering [17, 18, 21–25]. By simultaneously screening mutants of all pathway proteins, mutants are not just chosen for a high protein activity, but instead are selected based on an optimized flux and balanced protein activity through the pathway. This method is also advantageous for its simple and efficient library creation which can generate mutations in each protein, allowing for a comprehensive exploration of the potential diversity of the pathway, possibly identifying mutations which could synergistically increase the pathway flux. This approach can be widely applicable to any system where a high-throughput screening/selection method for the desired phenotype is available. The implementation of this directed evolution strategy could further enhance researchers' abilities to optimize pathways, offering a new avenue for metabolic engineering strategies to include pathway-scale approaches for protein engineering.
Here we report the first example of simultaneously engineering two proteins, β-glucosidase (gh1-1) [GenBank Accession number XM_951090] and cellodextrin transporter (cdt-1) [GenBank Accession number XM_958708], in
Saccharomyces cerevisiae
for biofuel production (Figure
1
). Through directed evolution, key mutations in both proteins synergistically improved the overall cellobiose utilization by 49% and ethanol productivity by 64%. These mutations were directly linked to improved activity or altered substrate specificity of the proteins. In addition to demonstrating improved cellobiose utilization for ethanol production, our results supplement recent research in β-glucosidase substrate specificity studies [
26
–
29
] and transporter engineering work [
11
,
30
–
33
].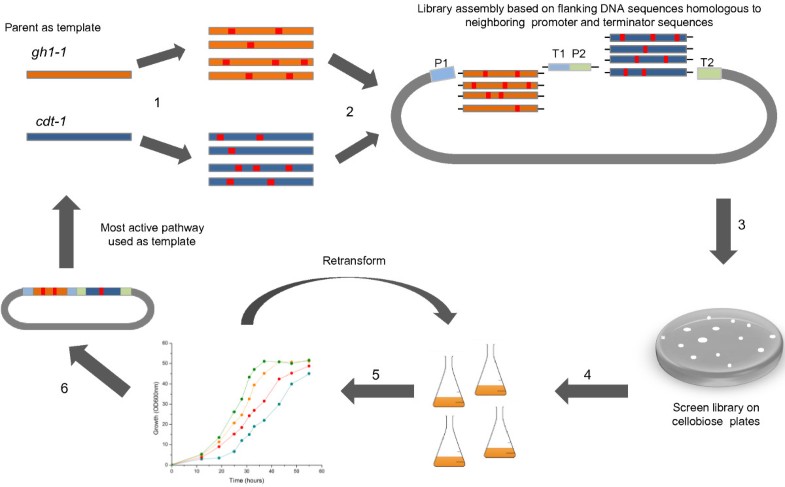 Discussion
Efficient production of biofuels and specialty chemicals hinges on optimization of the metabolic pathways associated with the desired product. In this endeavor, a variety of successful pathway optimization methods, mainly based on transcriptional engineering, have been developed [15–18, 41–44]. Though successful, these methods are unable to overcome inefficiencies based on innate enzyme characteristics such as Vmax and Km, therefore protein engineering strategies must also be applied [19]. To improve these properties, often the enzymes are removed from the pathway context and engineered in vitro or in vivo for the highest activity. Engineering each enzyme independently can be arduous and there is no guarantee the engineered enzyme will reduce the bottleneck when it is reinstated into the pathway. We are introducing a new approach to combine pathway and protein engineering, involving the evolution of all proteins within the pathway simultaneously. Through this strategy, no a priori information about pathway bottlenecks or enzymes is required for the directed evolution. Mutant proteins of the pathway are not chosen for high activity, but instead interrogated as a whole for a balanced, increased activity and flux which is demonstrated by an improved pathway phenotype. This combinatorial mutagenesis library strategy allows for a comprehensive exploration of the pathway potential diversity, which could identify unexpected synergistic effects [42, 45]. Recent advances in large-scale library creation with high efficiency have made the multi-protein library a possibility [15, 36, 46–48]. Our study illustrates an in vivo library creation for simultaneous engineering of multiple proteins in a pathway through directed evolution in S. cerevisiae. To the best of our knowledge, there has been only one example of mutagenesis of multiple proteins through directed evolution, which was illustrated in Escherichia coli for arsenate resistance [49]. This strategy has not been widely implemented and has not been applied to other systems. Our work optimizes a sugar utilization pathway for increased metabolite production with a simple one-step assembly method, allowing for quick and efficient rounds of evolution. This represents the first example of pathway optimization through multiple protein engineering in S. cerevisiae.
The final optimized pathway (R2) increased cellobiose consumption by 49% and ethanol productivity by 64%. Characterization of the strains expressing the mutations which conferred these improved phenotypes illustrated that the highest specific growth rates on cellobiose were achieved only when the β-glucosidase L173H mutation is present. In the cellodextrin transporter, the most significant mutation was the C82S mutation. It was shown that the optimized pathway involved an overall increase of protein activity: the β-glucosidase had an increased specificity towards cellobiose and the cellodextrin transporter exhibited a higher overall activity.
The β-glucosidase from glycoside hydrolase family 1 (GH1) contains the standard (α/β)-barrel structure of the enzyme family. The active site is located in a deep cleft formed by the connection loops at the C-terminus of the β-sheets of the TIM barrel with negatively charged residues surrounding the bottom of the active site [28]. The conserved catalytic residues of the GH1 family involve the catalytic acid/base Glu 166 and the nucleophile Glu 377, which cleave the glycosidic bond via the common double displacement mechanism [26]. This mechanism acts on β-1,4-linked glucose derivatives; the enzyme is promiscuous, being active towards a range of substrates with varying affinities [28]. In this study, the wild-type GH1-1 β-glucosidase enzyme exhibited an innate substrate preference for p-NPG over cellobiose. The mutation L173H shifted the substrate specificity towards cellobiose. Homology modeling suggested the H173 residue could have a direct hydrogen bond with the hydroxyl group of the C1 atom of the cellobiose (Figure 4c), which was not predicted with the wild-type β-glucosidase. It is possible that this new hydrogen bond could increase the affinity of the enzyme for cellobiose by firmly keeping the substrate in place during hydrolysis, a hypothesis previously established by studies in substrate recognition for the β-glucosidase family [26, 29]. There has been significant interest in substrate specificity of the GH1 family, which is suggested to occur via an extensive network of polar interactions with well-ordered water molecules and enzyme-substrate bonding [26–29]. A specific study of interest involved a β-glucosidase from Trichoderma reesei [GenBank Accession number AB003110.1] which was recently investigated to identify critical residues within the substrate entrance region [27]. Through rational design, substitutions at residue 172 were shown to improve substrate recognition, thermostability, and enzyme activity. This β-glucosidase has a 73% sequence identify to the GH1-1 enzyme studied here. Sequence alignment and structural modeling predicted this residue to be in the same position as the L173 residue from this work, corroborating the importance of this residue position. The H23L mutation is hypothesized to be an overall activity enhancer, with only slightly improved enzyme activity towards both substrates p-NPG and cellobiose. H23 is located on the periphery of the enzyme, distant from the active site (Figure 4a).
Engineering sugar transporters has recently been shown to greatly enhance pathway productivity [11, 30], a result also illustrated here. In our directed evolution effort, the combined D433G and C82S mutations of the cellodextrin transporter increased the specific activity by 60% compared to the wild-type. The specific activity is directly proportional to the Vmax of the transporters, which is the protein property that has been most often enhanced by sugar transporter engineering [11, 30]. It is probable that this property is the most likely to be improved due to the screening conditions, which were performed at saturating conditions. The cellodextrin transporter model predicted that the D433G mutation is located on a large outside loop. It is possible that this loop could have been causing a steric hindrance for the mass transfer of cellodextrin to the transporter, which could have been alleviated by the altered loop structure associated with this mutation. The C82S mutation, which conferred the highest increase in activity, is predicted to be located in the first transmembrane helix (Figure 5). The location in the helix and the increased activity suggest that this mutation could be directly associated with cellobiose interactions or the protein complex stability. Young et al. investigated directed evolution of xylose transporters and identified mutations which tended to cluster around the first transmembrane helix [30], a similar finding to this study.
Conclusions
Cellobiose utilization has recently become a significant consideration in economical biofuel production. Efficient utilization could decrease the expensive in vitro enzyme load in biomass pretreatment. We successfully optimized the hydrolytic cellobiose utilization pathway through a new directed evolution strategy: simultaneously engineering multiple proteins within the context of the pathway. The optimized pathway involved a β-glucosidase mutant with an increased specificity towards cellobiose and a cellodextrin transporter mutant with an increased overall activity. By applying directed evolution to the entire pathway, engineered proteins can be found which synergistically improve the phenotype either through a balanced flux of the pathway or through overall protein activity improvement. Simultaneous multi-protein engineering is expected to expand researchers' abilities to optimize biosynthetic metabolic pathways.
Abbreviations
p-NPG:

p-nitrophenyl β-D-glucopyranoside
p-NP:

-nitrophenol
gcdw:

Gram cell dry weight.
Declarations
Acknowledgement
This work was supported by the Energy Biosciences Institute. DTE acknowledges a National Science Foundation Graduate Research Fellowship. Ryan Cobb is acknowledged for assistance with the molecular modeling. Dr. George Schmitz is appreciated for helpful discussions. The Roy J. Carver Biotechnology Center (CBC) is acknowledged for use of the flow cytometer. Jiazhang Lian is also acknowledged for his help in the cellodextrin transporter assays.
Authors' Affiliations
(1)
Department of Chemical and Biomolecular Engineering, Institute for Genomic Biology, University of Illinois-Urbana Champaign, Urbana, USA
(2)
Energy Biosciences Institute, Urbana, USA
(3)
Department of Molecular and Cellular Biology, University of Illinois at Urbana-Champaign, Urbana, USA
(4)
Departments of Chemistry, Biochemistry, and Bioengineering, University of Illinois at Urbana-Champaign, Urbana, USA
Copyright
© Eriksen et al.; licensee BioMed Central Ltd. 2013
This article is published under license to BioMed Central Ltd. This is an Open Access article distributed under the terms of the Creative Commons Attribution License (http://creativecommons.org/licenses/by/2.0), which permits unrestricted use, distribution, and reproduction in any medium, provided the original work is properly cited.