Real-time monitoring of the sugar sensing in Saccharomyces cerevisiae indicates endogenous mechanisms for xylose signaling
Microbial Cell Factories
2016
15:183
Received: 29 May 2016
Accepted: 14 October 2016
Published: 24 October 2016
Abstract
Background
The sugar sensing and carbon catabolite repression in Baker's yeast Saccharomyces cerevisiae is governed by three major signaling pathways that connect carbon source recognition with transcriptional regulation. Here we present a screening method based on a non-invasive in vivo reporter system for real-time, single-cell screening of the sugar signaling state in S. cerevisiae in response to changing carbon conditions, with a main focus on the response to glucose and xylose.
Results
The artificial reporter system was constructed by coupling a green fluorescent protein gene (yEGFP3) downstream of endogenous yeast promoters from the Snf3p/Rgt2p, SNF1/Mig1p and cAMP/PKA signaling pathways: HXT1p/2p/4p; SUC2p, CAT8p; TPS1p/2p and TEF4p respectively. A panel of eight biosensors strains was generated by single copy chromosomal integration of the different constructs in a W303-derived strain. The signaling biosensors were validated for their functionality with flow cytometry by comparing the fluorescence intensity (FI) response in the presence of high or nearly depleted glucose to the known induction/repression conditions of the eight different promoters. The FI signal correlated with the known patterns of the selected promoters while maintaining a non-invasive property on the cellular phenotype, as was demonstrated in terms of growth, metabolites and enzyme activity.
Conclusions
Once verified, the sensors were used to evaluate the signaling response to varying conditions of extracellular glucose, glycerol and xylose by screening in 96-well microtiter plates. We show that these yeast strains, which do not harbor any recombinant pathways for xylose utilization, are lacking a signaling response for extracellular xylose. However, for the HXT2p/4p sensors, a shift in the flow cytometry population dynamics indicated that internalized xylose does affect the signaling. These results suggest that the previously observed effects of this pentose on the S. cerevisiae physiology and gene regulation can be attributed to xylose and not only to a lack of glucose.
Keywords
Saccharomyces cerevisiae BiosensorSugar sensingSignalingXyloseGFPcAMP/PKASnf3p/Rgt2pSNF1/Mig1pFlow cytometry
Background
Baker's yeast Saccharomyces cerevisiae can grow naturally in a variety of niches, ranging from plants and ripening fruit to soil and insect guts, that are diverse in nutrient type and content [1, 2]. The cellular uptake and metabolism of carbon sources in this yeast are regulated by a complex network of sensing and signaling cascades which allow the cells to recognize and respond to variations in the environmental carbon availability and to reprogram the phosphorylation and metabolite patterns and transcription levels accordingly [3–6]. Despite its broad variability in sensing and utilizing different carbon sources, wild type S. cerevisiae cannot efficiently utilize pentoses such as xylose and arabinose, and although endogenous genes for xylose utilization are present in the genome, they are inadequately expressed to support growth [7]. In addition, this yeast exhibits strong carbon catabolite repression on metabolism of alternative carbon sources when cultivated on glucose, its favored carbon source [6]. S. cerevisiae has become a eukaryotic model organism for studies in this field, and the signaling responses to glucose and other alternative fermentable carbon sources such as sucrose, maltose and galactose in this yeast are well-known [3, 6]. The signaling response to xylose, however, is not.
By virtue of its robustness, manageability and high genetic manipulability, S. cerevisiae has become an imperative protagonist in industrial bioprocesses and is a promising host for production of value-added chemicals from lignocellulosic biomass [8, 9]. However, a major research challenge in establishing lignocellulosic biomass as a sustainable feedstock for this yeast is that the xylose stream cannot yet be fully valorized—which is a particular issue as xylose is the second most abundant sugar in lignocellulosic hydrolysates [8, 9]. Although S. cerevisiae has been successfully engineered for pentose utilization by introduction of exogenous pathways from other yeasts [10–12], growth rates and productivity are significantly lower on this sugar compared with glucose and thus not industrially competitive [9]. In fact, the recombinant strains, despite being successfully engineered to utilize xylose, do not seem to recognize this carbon source as a fermentable sugar, as has been implied in multiple studies [13–19]. Taken together, these advances suggest something is lacking in the sensing and signaling of xylose in S. cerevisiae, and that this is a plausible bottleneck that has to be overcome in order to improve productivity of e.g. ethanol from xylose.
Sugar sensing in
S. cerevisiae
is governed by three cross-talking signaling pathways (Fig.
1
): the Snf3p/Rgt2p pathway senses extracellular hexoses and induces transcription of an array of hexose transporters (
HXT1
-
17
) [
3
,
20
,
21
]; the SNF1/Mig1p pathway (here represented by
SUC2
and
CAT8
) is a conveyor of catabolite repression by internalized glucose [
6
], and regulates induction of alternative carbon sources (including e.g. ethanol, glycerol and galactose) during glucose depletion by a not entirely elucidated interaction with Hexokinase isoenzyme 2 (Hxk2p; see Fig.
1
) [
22
–
24
]; finally, the cAMP/PKA pathway responds to both internalized and external glucose through the Ras1p/2p paralogs or the Gpr1p/Gpa2p complex, respectively, and in accordance to this regulates the environmental stress response, cell cycle progression and homeostasis (here assessed by the
TPS1/2
genes) [
5
,
25
]. Together, these pathways have evolved to support growth on versatile niches [
2
,
3
]; consequently,
S. cerevisiae
gene expression is highly regulated by carbon-source dependent promoters (for a review see [
26
]).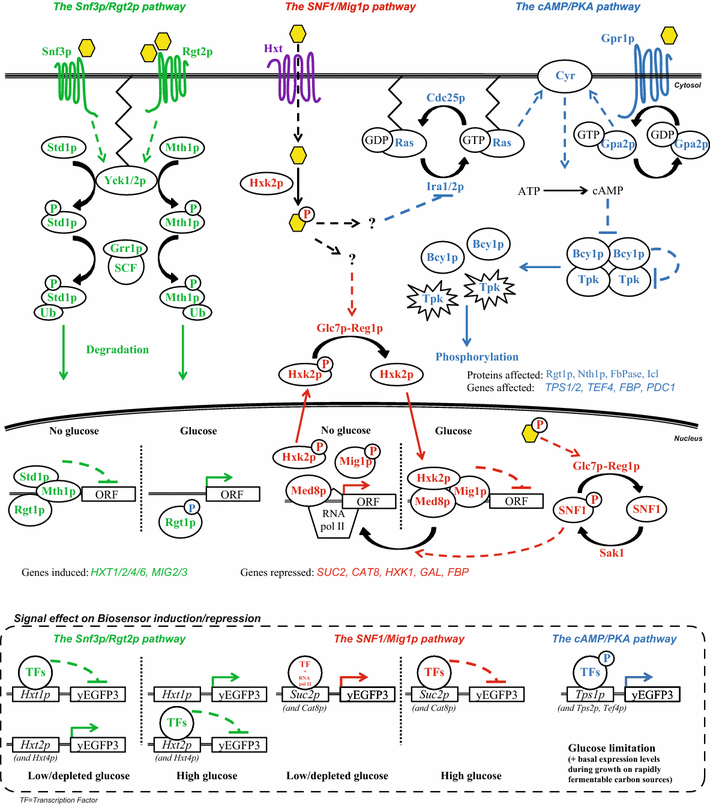 In this study, we utilized a Green Fluorescent Protein (GFP) to design a panel of biosensors that allow for real-time single-cell evaluation of the sugar signaling state in S. cerevisiae using flow cytometry, which in turn comes with the possibility of detecting and analyzing population heterogeneities. Here, the promoter regions from eight genes (HXT1p/2p/4p; SUC2p, CAT8p; TPS1p/2p, TEF4p) under control by the Snf3/Rgt2, Snf1/Glc7 and RAS-cAMP-PKA pathways respectively were coupled to the established yeast reporter gene yEGFP3 (yeast enhanced green fluorescent protein) [27] and were introduced in S. cerevisiae. Due to the non-invasive and heritable features of the small and inert GFP molecule [28], fluorescent protein biosensors have become a highly applied tool within the field of yeast biology [29–35]. The glucose repressed JEN1 promoter (under control of the SNF1 complex) has previously been used as a biosensor to detect different concentrations of glucose based on GFP-intensity [36]; however, this study did not focus on any S. cerevisiae sensing of other sugars than glucose.
Despite recent attempts at resolving the Gordian knot of xylose sensing in S. cerevisiae by heterologous expression of bacterial xylose-responsive transcription regulators (XylRs) [37, 38], as well as engineering of carbon catabolite repression, by e.g. deletion of MIG1/2, in recombinant xylose utilizing strains [39], little is still known about how or even if xylose is sensed by this yeast. To our knowledge, the current study is the first time a fluorescent biosensor has been implemented to monitor the hexose-pentose signaling state of this yeast. Determining the position(s) in the cascade where the signal differentiates for xylose and glucose will allow us to find novel engineering targets for improving xylose uptake and utilization in S. cerevisiae.
Results
Design and construction of the yeast biosensor strains
A panel of eight S. cerevisiae sugar-responsive biosensor strains were constructed by coupling select promoters from the three main sugar sensing pathways in this yeast (Snf3p/Rgt2p, SNF1/Mig1p and cAMP/PKA; Fig. 1) with a green fluorescent protein (GFP) gene followed by genomic integration (one biosensor/strain). The biosensor expression cassettes were produced by cloning of endogenous S. cerevisiae promoters circa 1 kb upstream from the HXT1/2/4, SUC2, CAT8, TPS1/2 and TEF4 genes in front of the yEGFP3 cassette [27] in the YIplac211 vector [50] (cf. Additional file 1: Figure S2). The promoter length was roughly based on the known binding motifs of these regions (Additional file 1: Table S2). The promoters were chosen for their known interactions with said pathways (Table 2) [3, 6], and/or based upon changes in their transcriptomics profiles in deletion mutant strains, compared to the wild type [64].
In vivo recombination and double homologous integration of nested DNA fragments [51] was used to integrate the biosensor cassettes in single-copy in the TMB3700 strain, that in turn was derived from S. cerevisiae W303-1A (Table 1). In addition to the eight biosensor strains, a ninth strain was integrated with an empty YIp211 plasmid (i.e. lacking yEGFP3 and promoter) and was used as a negative control in order to measure the cellular auto-fluorescence at the GFP emission wavelength.
Validation of the induction/repression patterns of the sugar signaling biosensors
In order to allow for assessment of the S. cerevisiae signaling response to xylose, the response of the eight biosensors were first validated on high (20 g/L) and low (1 g/L) glucose by comparing the fluorescence intensity (FI) with the already well documented induction/repression patterns of the eight promoters (Table 2). Flow cytometry was used to measure the FI at a single-cell level; this methodology was chosen for the biosensor protocols since it allows for identification of possible population heterogeneities (subpopulations) and can later on be used with cell sorting experiments (i.e. by FACS: fluorescence-activated cell sorting); the non-pooled, single-cell approach of this methodology will therefore be able to generate data that complements traditional pooled-sample strategies like transcriptomics and RT-qPCR. KHPthalate buffer was added to the culture media to minimize pH stress on the cell, as stress conditions are known to induce/repress TPS1p/2p and TEF4p (Table 2).
The negative control strain TMB3711 (no GFP-cassette) was used to identify the cellular auto-fluorescence at the GFP emission wavelength over time (Additional file
1
: Figure S4) and was used to establish a mean, time-independent FI baseline for the biosensor strains (Figs.
2
,
3
). Also evident from Additional file
1
: Figure S4, is that the (size normalized) auto-fluorescence does not change neither during true growth (glucose 20 g/L) nor during carbon starvation (glucose 1 g/L). To account for the fact that larger cells display a higher fluorescence than smaller ones, all FI signals were normalized to cell size using the Knijnenburg morphology correction model for Matlab [
57
], resulting in improved Gaussian distributions in the FI histograms. An example of the look of the FI histograms before and after normalization is available in Additional file
1
: Figure S3.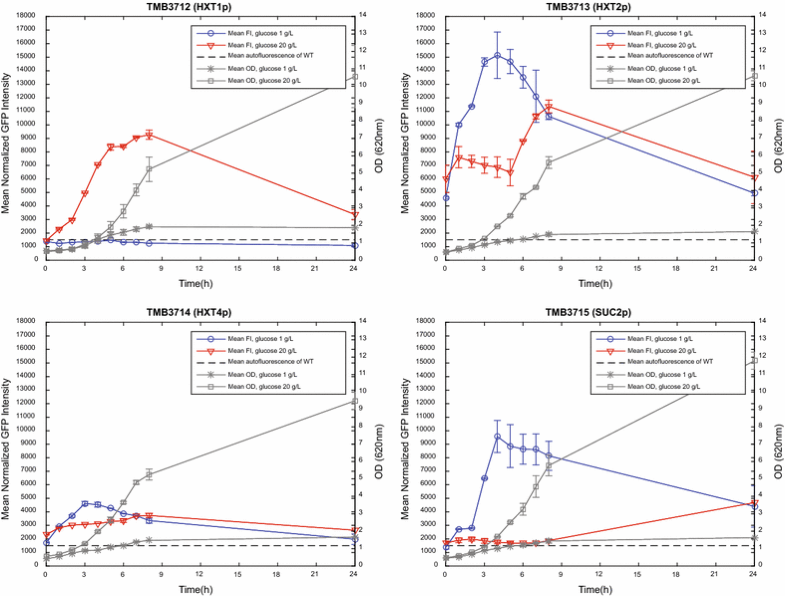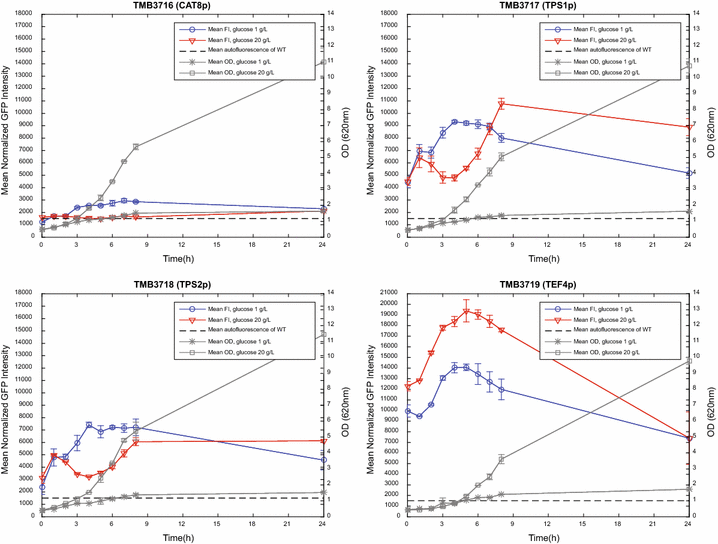 By comparing the FI curves from the different conditions in Figs. 2, 3 with the known physiological outcomes for the corresponding strain and condition (listed in Table 2) it was found that the fluorescent response of the TMB3712-3718 biosensor constructs correlated with the reported induction/repression conditions from literature. This shows that GFP constructs such as these are indeed conceivable systems for monitoring the signaling state of the yeast cell. As was expected, the growth profiles (OD; Figs. 2, 3) and maximum specific growth rates (µmax; Additional file 1: Table S3) were similar between the nine strains, which corroborates that the physiology of these strains was unaffected by the integration of the biosensor cassettes. Furthermore, the metabolite profiles of extracellular glucose, glycerol, acetate and ethanol were also tantamount across the panel of strains (Additional file 1: Figure S5), showing that the integration of the sensor constructs did not interfere with the central metabolism. It was found that approximately 7 g/L remained in the 20 g/L glucose cultures after 8 h, which would still be high enough not to alter the induction/repression pattern (Table 2). Full carbon depletion occurred between 8 h and 24 h (Additional file 1: Figure S5).
TMB3719, however, proved to be very challenging to repress during the pre-culture, as this promoter (TEF4p) is known to be repressed by stress conditions (Table 2). Attempts were made with high glucose (40 g/L for 12 h) and respiratory conditions (Ethanol 3% v/v; 48 and 72 h) before settling on glucose 20 g/L for 24 h. Although this proved to be a more stressful, and thus more repressing, condition than in the other attempts, the sensor was still highly induced at 0 h (Fig. 3).
To further validate that the observed GFP response indeed reflects the signaling patterns in these strains during high and low glucose conditions, and, more importantly, to ensure that the second promoter copy present in the genome after integration of the biosensor plasmids did not affect the endogenous expression, the transient mRNA levels were assessed with an RT-qPCR assay. Since the genetic construct, integration locus and plasmid copy number (double homologous integration) was identical for all the biosensor strains, except for the promoter region preceding the
yEGFP3
cassette, mRNA profile validation was performed for one biosensor strain (TMB3715;
SUC2p
) and the negative control strain (TMB3711).
SUC2
was chosen the since it encodes an enzyme (invertase) that can be easily assayed (which is not the case for many of the other biosensor genes, e.g. the hexose transporters); thus
SUC2
was used as a model to validate the biosensor construct versus the native gene on both the transcript and protein level—with respect to the integration locus of the cassette and the promoter copy number (one endogenous, one in the biosensor cassette). It was found that there was no significant difference in expression profile for the endogenous
SUC2
gene between the two strains and that the profile of the endogenous
SUC2
matched the one of the
SUC2p
-
yEGFP3
construct in TMB3715 (Fig.
4
). This demonstrated that (1) the integration of the biosensor cassette did not alter the transcription phenotype despite there being two copies of the promoter in the genome (one endogenous, and one in the sensor construct; here:
SUC2p
), (2) that the observed (cumulative) increase in GFP signal (Fig.
2
) was reciprocal to the transient GFP-transcript pulse (Fig.
4
) and (3) that the chosen integration locus (
CAN1
) resulted in lower fold expression levels than the endogenous
SUC2
but that this did not obstruct the functionality of the sensor. It should be noted that though the behavior of
SUC2p
cannot be superimposed on that of the other promoters of this study, the correlation of Figs.
2
,
3
with Table
2
have already given good indications to the functionality of all eight biosensors of this study.

Finally, to fully ascertain that the biosensor constructs truly were non-invasive, the phenotype of the SUC2p-yEGFP3 strain was also assessed on the protein level by benchmarking the enzymatic activity of invertase (the protein product of SUC2) in TMB3715 to that of the negative control TMB3711. The endpoint invertase activity in cell extracts did not differ significantly between the two strains when cultivated in 1 g/l (inducing conditions for SUC2/invertase) (Additional file 1: Figure S6). Assay saturation (equivalent to 500 mM glucose without sucrose [62]) was reached in the samples from 2.5 to 3 h of cultivation, and therefore marked the end of the assay.
It should be noted that it is easy to follow the build-up of GFP in our biosensor system, but that the post-peak signal should preferably only be used for trends. This can be attributed to the facts that gene expression at that time will undergo a growth phase coupled shift [65] and that the fluorescent half-life of the yeast yEGFP3 protein is circa 7.5 h [66]. Alternative GFP cassettes with significantly lower half-life (34 min) exist [66], but is out of the question for the current study due to the invasive properties of the ATP-dependent degradation process [67] of the alternative GFP construct.
Screening of the signaling response to xylose and other carbon sources
Once verified, the biosensor strains were used to screen for the signaling response on a panel of different carbon sources with a main focus on different combinations of xylose. To accomplish this, a protocol for microtiter plate screening was developed based on the Accuri C6 flow cytometer autosampler. Data analysis was again performed with our custom in-house Matlab and Python scripts and Knijenburg model [
57
] (cf.
Methods section
), producing a high-throughput in silico pipeline from data acquisition to post-data analysis. For each condition in this dataset, the fold change from the 0 h sample of the same condition was calculated in order to enable comparisons between conditions and to facilitate the overview of the microtiter plate data (Table
3
; Additional file
1
: Table S4).
Table 3
Results of the microtiter-plate screening of the biosensors strains on glucose, xylose and a co-culture thereof, given in terms of FI fold induction
Strain

Glucose 5 g/La

Xylose 50 g/L + Gluc. 5 g/L

Xylose 50 g/Lb

3 h

6 h

3 h

6 h

3 h

6 h

TMB3711 (No GFP)

1.00 ± 0.010

0.92 ± 0.056

1.04 ± 0.010*

1.02 ± 0.041 *

0.79 ± 0.017

0.78 ± 0.023

TMB3712 (HXT1p)

1.21 ± 0.016

1.23 ± 0.013

1.48 ± 0.011*

1.70 ± 0.011 *

0.83 ± 0.015

0.84 ± 0.010

TMB3713 (HXT2p)

1.10 ± 0.264

1.34 ± 0.11

1.37 ± 0.26

2.01 ± 0.55*

0.89 ± 0.039

0.89 ± 0.046

TMB3714 (HXT4p)

1.77 ± 0.058

2.47 ± 0.22

2.15 ± 0.31*

3.45 ± 0.62*

1.08 ± 0.25

1.31 ± 0.51

TMB3715 (SUC2p)

0.98 ± 0.15

3.51 ± 0.75

1.13 ± 0.10

5.15 ± 0.62*

0.95 ± 0.12

1.06 ± 0.21

TMB3716 (CAT8p)

0.98 ± 0.002

1.14 ± 0.039

1.08 ± 0.037*

1.13 ± 0.037

0.82 ± 0.003

0.84 ± 0.018

TMB3717 (TPS1p)

0.74 ± 0.051

1.23 ± 0.075

0.70 ± 0.048

0.77 ± 0.047*

0.92 ± 0.006

0.91 ± 0.029

TMB3718 (TPS2p)

0.85 ± 0.026

1.61 ± 0.084

0.95 ± 0.076*

1.05 ± 0.032*

0.85 ± 0.012

0.85 ± 0.026

TMB3719 (TEF4p)

1.35 ± 0.013

1.46 ± 0.010

1.28 ± 0.018*

1.42 ± 0.0032

0.87 ± 0.012

0.96 ± 0.010
Glucose 1 g/L and 20 g/L displayed the same trend in the microtiter plates as in the previous shake flask cultivations (calculated as the fold change from the 0 h baseline; Additional file 1: Figure S7). This demonstrates that the scale-down to microtiter plate cultures did not affect the biosensor signal, while conserving the reproducibility of the assay. It can however be noted that the microplate 0 h-measurement of the TPS1p/2p sensors rather seem to reflect the 1 h-point of the shake flask cultures; due to the behavior of the FI pattern in the 1–6 h interval for these two sensors (Fig. 3), a different fold change response direction was therefore found in the microtiter plate experiment compared to the shake flasks (Additional file 1: Figure S7).
Xylose has in previous studies commonly been supplied to engineered S. cerevisiae strains in high concentration (50 g/L) in order to improve the uptake rate, as only unspecific pentose transporters exists in this species [12, 68]. Consequently, 50 g/L xylose was used to screen the strains for any signaling response to this pentose sugar. Xylose did not elicit any significant response in any of the strains (Table 3) and the fold change at 3 and 6 h (compared to the signal at 0 h) was comparable to true carbon starvation as was assessed using YNB-KHPthalate medium without any added carbon source (Additional file 1: Table S4).
It has previously been observed that the xylose uptake can be improved by co-substrate cultures with low concentrations of glucose [69]. In order for the glucose to quickly be consumed, but not start out low enough to induce the biosensors strains known to be induced by 1 g/L glucose (Table 2), a xylose (50 g/L) and glucose (5 g/L) co-culture was evaluated, as well as glucose 5 g/L alone in order to be able to distinguish between pentose and hexose effect. It was found that for the biosensors based on hexose transporter promoters (TMB3712-3714), this co-substrate cultivation resulted in a slightly higher fold-change than glucose 5 g/L alone (Table 3). In fact, it was found that the xylose–glucose co-culture was significantly different from the glucose 5 g/L results for 13 out of the 18 measured time points in Table 3, showing that the higher fold change in the co-substrate cultures was not an effect of the glucose alone, but of the presence of both sugars (Table 3). The xylose that was used in the study had a reported Lot purity of 99.7%, and it is therefore unlikely that the response from the high-affinity transporters is caused by low levels of contaminating sugars. To confirm this, the xylose stock solution that was used throughout this study was analyzed by HPLC, and no other peaks than the expected xylose peak were found (Limit-of-detection: 0.8 g/L).
On the same note, co-substrate cultures of xylose (50 g/L) and glycerol (3% v/v) was used to assess the effect of xylose during respiratory growth. Since it has been hypothesized that xylose exhibits a "non-fermentable carbon source"—response in S. cerevisiae [13, 14, 17], evaluation of the sugar signaling during respiratory conditions was performed. However, neither glycerol alone nor in co-culture with xylose, resulted in any major induction fold change throughout the course of the screening (Additional file 1: Table S4).
In order to determine if xylose could have any dose-dependent effect on the cellular signaling, all strains were also evaluated in microtiter plates with xylose concentrations ranging from 25 up to 100 g/L. The analysis time was also extended from 6 h to 9 h to fully assure that any possible lag in the sensor signal would not interfere with the results. For most reporter genes the fluorescence intensity fold-changes again showed unremarkable patterns (Additional file
1
: Table S5); the
HXT
sensors, however, consistently displayed higher fold change levels than the remaining biosensors. Furthermore, a study of the raw, non-normalized fluorescence data, revealed that while TMB3712 (
HXT1p
) only showed one, well-defined, fluorescence population (Additional file
1
: Figure S8), strains TMB3713 and TMB3714 (
HXT2p
and
HXT4p
, respectively) showed two distinct fluorescence subpopulations (Fig.
5
). These two subpopulations were neither visible at the start of the experiment, nor did they appear for cultivations in YNB-KHPthalate only.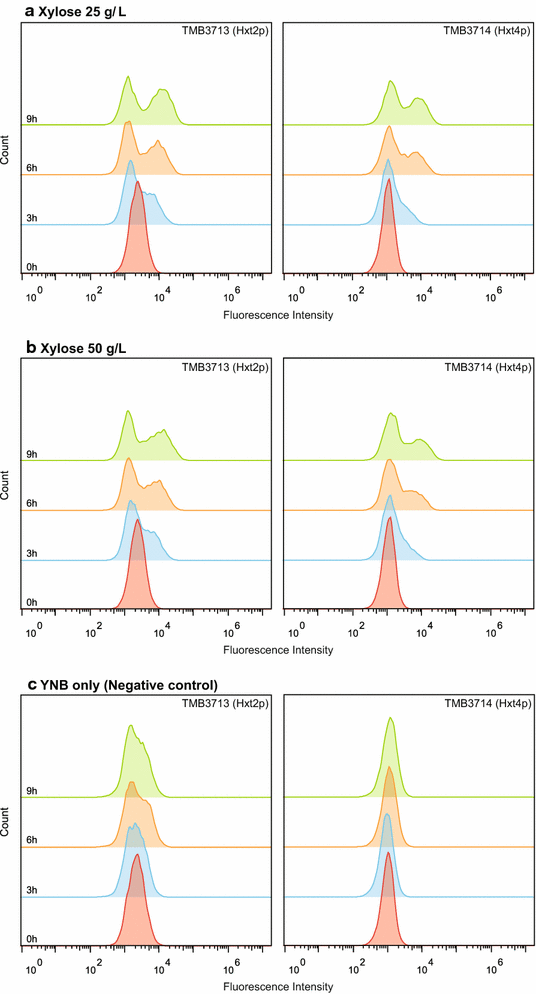 In order to evaluate the potential induction characteristics of the two populations, the FI histograms were manually gated and geometric means were calculated for the lower and higher intensity populations, respectively. The intensity values were then compared to the mean intensity of the starting population at 0 h (Table
4
). These estimations, along with Fig.
5
, made it evident that the percentage of fluorescence events belonging the higher intensity population increased over time and that this percentage was slightly higher for TMB3713 (
HXT2p
) independent on sampling point (Table
4
). After 3 h in xylose 25 g/L the higher intensity populations for TMB3713 and TMB3714 had reached fold-changes of 2.69 ± 0.10 and 4.40 ± 0.10 respectively (Table
4
), which was comparable to the induction achieved by glucose 1 g/L during the same time period (3.62 ± 0.130 and 4.27 ± 0.50, respectively; Additional file
1
: Table S4).
Table 4
Population heterogeneities for the hexose transporter-based biosensors during xylose cultivations
Strain

Population

FI fold changes (25 g/L xylose)

FI fold changes (50 g/L xylose)

3 h

6 h

9 h

3 h

6 h

9 h

TMB3712 (HXT1p)

Single

1.24 ± 0.17

1.10 ± 0.10

1.00 ± 0.32

1.26 ± 0.36

1.23 ± 0.26

1.13 ± 0.31

% of total population

100

100

100

100

100

100

TMB3713 (HXT2p)

High FI

2.69 ± 0.10

3.90 ± 0.28

5.16 ± 0.060

3.23 ± 0.21

3.70 ± 0.020

4.52 ± 0.082

% of total population

36 ± 0.1

43 ± 6.1

51 ± 2.1

32 ± 4.1

42 ± 0.5

49 ± 2.1

Low FI

0.66 ± 0.004

0.58 ± 0.031

0.58 ± 0.004

0.71 ± 0.018

0.60 ± 0.017

0.58 ± 0.030

% of total

64 ± 0.1

57 ± 6.1

49 ± 2.1

68 ± 4.1

58 ± 0.5

51 ± 2.1

TMB3714 (HXT4p)

High FI

4.40 ± 0.10

6.39 ± 0.15

7.76 ± 0.10

5.29 ± 1.22

6.01 ± 0.26

8.14 ± 0.024

% of total population

19 ± 3.3

37 ± 3.2

42 ± 2.7

13 ± 8.3

29 ± 1.8

35 ± 0.2

Low FI

1.02 ± 0.004

1.04 ± 0.007

1.21 ± 0.012

1.11 ± 0.11

1.07 ± 0.047

1.15 ± 0.068

% of total population

8.1 ± 3.3

63 ± 3.2

58 ± 2.7

87 ± 8.3

71 ± 1.8

65 ± 0.2
Discussion
Extracellular xylose is not in itself sensed by S. cerevisiae
Over the years, transcriptomics, metabolomics and metabolic flux analysis studies have uncovered the unusual cellular response that xylose assimilation triggers in S. cerevisiae. Several significant differences between xylose and glucose on the regulation of the central carbon metabolism have been highlighted in the past, including: catabolite repression patterns [70], respiratory metabolism during oxygen limited cultivations with xylose as the sole carbon source (as opposed to the expected respiro-fermentative metabolism) [19]; expression of respiratory pathway genes on xylose during anaerobiosis [13, 71]; a decrease in the concentration of glycolysis- and pentose phosphate pathway-related precursor metabolites when shifting from glucose to xylose [17]; and an accumulation of aromatic amino acids in yeast cultivated on xylose, that was comparable to the response of starving cells [18, 72]. Taken together, these results have hinted towards a major issue in the xylose sensing and recognition of S. cerevisiae, and we believe that this issue is likely to be a cause of the current bottleneck(s) hindering efficient yeast valorization of lignocellulosic material.
The current study has indicated that endogenous mechanisms for xylose signaling do exist in S. cerevisiae and that this signal does not seem to originate from sensing of extracellular xylose. Most of our biosensors remained unresponsive to xylose, regardless of it being presented to the cell as a sole carbon source or together with other, fermentable or non-fermentable, carbon sources. These findings would indicate that, for the majority of its carbon sensing pathways, wild type non-xylose utilizing S. cerevisiae cannot sense extracellular xylose, but would rather sense the lack of fermentable carbon sources (previously suggested in e.g. [16]). However, as will be discussed below, we hypothesize that this is not necessarily the fact for internalized xylose.
Flow cytometry illuminates otherwise unseen population heterogeneities on xylose
A key feature of the chosen methodology is that is allows for the assessment of sugar sensing population heterogeneities through the means of flow cytometry. Since all strains (and therefore all cells in each measured population) have been engineered to have one single copy of the biosensor, any occurrence of subpopulations can be considered to be of true physiological relevance. When a consistently higher mean FI was discovered for the HXT1/2/4 biosensors in the xylose titer dataset (Additional file 1: Table S5), we traced the effect down to the population distribution level; this allowed us to identify subpopulations expressing significantly higher amounts of GFP in non-growing TMB3713 (HXT2p) and TMB3714 (HXT4p) incubated with 25–100 g/L xylose (Fig. 5; Table 4 highlights the results of the 25 and 50 g/L cultivations). This heterogeneous population distribution on the FI channel would have gone undetected with conventional fluorimetry or transcriptomics, where only population averages are considered (i.e. methods that will detect changes in average signal, but cannot identify subpopulations). In both the TMB3713 and TMB3714 strains, the higher of the two FI populations showed FI fold-changes (Fig. 5; Table 4) comparable to the induction patterns found for 1 g/L glucose (Additional file 1: Table S4), the condition considered to yield the highest induction for these gene targets. Despite the slightly higher mean FI of TMB3712 (HXT1p; Additional file 1: Table S5), this strain did not display any subpopulations during these conditions (Additional file 1: Figure S8).
The presence of these fluorescent subpopulations allowed us to surmise a few of the characteristics of this apparent xylose sensing effect. We hypothesize that this sensing requires xylose to be transported into the cell. Out of the two sensors controlling HXT1/2/4 induction, Snf3p and Rgt2p, the former has been reported to be glucose repressed while the latter is expressed at low levels regardless of glucose or xylose concentrations [14, 20, 73], indicating that during incubation with xylose all cells would have the same probability of sensing the extracellular xylose at any specific time point. Were the xylose sensing only contingent on recognition at the cell membrane, all cells would be equally susceptible to induction and the fluorescence profiles would remain single-population, but this is not the case in the current results for TMB3713-3714. Another factor weighing into this conclusion is that none of the Snf3p/Rgt2p pathway regulated genes showed any split FI-histogram populations under glucose conditions (data not shown). We therefore hypothesize that at least one component of the natural Snf3p/Rgt2p signaling pathway is missing for xylose, and this missing piece is likely to be the system for extracellular recognition.
During the pre-cultivations, the biosensor strains were grown in conditions that were repressing towards their particular gene target. In the case of TMB3713 (HXT2p) and TMB3714 (HXT4p), a high glucose content (40 g/L for 12 h) was used as the repressing condition. While this condition will repress the high-affinity hexose transporters, low-affinity transporters such as HXT1 will be in an induced stage at the end of the pre-culture/start of the xylose incubation. Although these low-affinity transporters have been reported to have an affinity for xylose so low that they cannot support growth of otherwise xylose-utilizing yeast strains [74], it is known that they do have some transport capacity for this pentose [75]. It is therefore possible that the Hxt1p membrane transport protein, or any of the other glucose induced transporter proteins, are present on the cell membrane when the yeast cells are transferred from the glucose 40 g/L pre-culture to the xylose-containing media. From here—and this is the core of the present hypothesis—a stochastic event decides whether or not the cell will take up the xylose (via the expressed hexose transporters). For the subpopulation in which this event occurred, the internalized xylose molecules were then able to induce/derepress the HXT2/4 genes, as was demonstrated by the population distributions observed in Fig. 5.
Partial derepression of high-affinity hexose transporter genes for S. cerevisiae was also found in a transcriptomics study by Salusjarvi et al. [14], comparing expression profiles while metabolizing xylose or in different states of catabolite repression. Although the authors also suggest a potential xylose effect on the Snf3/Rgt2 pathway, their study cannot differentiate between sensing of extracellular or intracellular xylose, especially since xylose was confirmed to be taken up and metabolized. In contrast, our study focused on the inherent effect of xylose—and not its metabolites—on native yeast, as well as elucidating the population heterogeneities obscured by transcriptomic approaches.
Conclusions
Through this study, we have generated and validated a panel of in vivo biosensors that allows for rapid assessment of the sugar signaling state of the S. cerevisiae cell. Furthermore, this study has, to our knowledge, demonstrated that extracellular xylose itself does not trigger a regulatory response, as the current results imply that the previously reported respiratory response on xylose is due to the lack of glucose and is not an effect of the presence of extracellular xylose. Furthermore, the results of the current study indicate for the first time a cellular mechanism for recognition of internalized xylose in S. cerevisiae; however, future work dedicated to this hypothesis is required in order to fully ascertain this. Accordingly, this creates a strong impetus for metabolic engineering of the sugar signaling pathways as the next logical step in order to improve xylose utilization and valorization in this yeast.
Abbreviations
FI:

fluorescence intensity
GFP:

green fluorescent protein
ORF:

open reading frame
YNB:

yeast nitrogen base
Declarations
Authors' contributions
DB participated in the design of the study, constructed the strains and drafted the initial manuscript. DB and FT designed and performed the flow cytometry analyses and enzymatic assay. CB participated in the design of the study, and together with DB performed the molecular biology experiments, wrote the custom scripts and finalized the manuscript. FT designed and performed the microtiter plate screening setup and the RT-qPCR gene-expression analysis. MGG conceived the study and revised the manuscript. All authors read and approved the final manuscript.
Acknowledgements
We want to thank Magnus Carlquist for fruitful discussions on experimental design for flow cytometry and enzymatic assays, Johannes Hedman for valuable input on RT-qPCR assay design and Peter Rådström for critical reading of the manuscript.
Competing interests
The authors declare that they have no competing interests.
Availability of data and materials
The datasets supporting the conclusions of this article are available in the FlowRepository repository (https://flowrepository.org/) with accession numbers FR-FCM-ZZRA, FR-FCM-ZZRB, FR-FCM-ZZRC, FR-FCM-ZZRD and FR-FCM-ZZRE. The custom Matlab and Python scripts are available in Supporting Information S2 and at the authors' Github repository (https://github.com/tmbyeast/Flow-cytometry-tools).
Funding
This work was financially supported by the Swedish National Energy Agency (Energimyndigheten, Project No. P35350-1). The funders had no role in the design of the study, collection, analysis, and interpretation of data or writing of the manuscript.
Open AccessThis article is distributed under the terms of the Creative Commons Attribution 4.0 International License (http://creativecommons.org/licenses/by/4.0/), which permits unrestricted use, distribution, and reproduction in any medium, provided you give appropriate credit to the original author(s) and the source, provide a link to the Creative Commons license, and indicate if changes were made. The Creative Commons Public Domain Dedication waiver (http://creativecommons.org/publicdomain/zero/1.0/) applies to the data made available in this article, unless otherwise stated.
Authors' Affiliations
(1)
Applied Microbiology, Department of Chemistry, Lund University, Lund, Sweden