Genome-wide Escherichia coli stress response and improved tolerance towards industrially relevant chemicals
Microbial Cell Factories
2016
15:176
Received: 17 May 2016
Accepted: 3 October 2016
Published: 13 October 2016
Abstract
Background
Economically viable biobased production of bulk chemicals and biofuels typically requires high product titers. During microbial bioconversion this often leads to product toxicity, and tolerance is therefore a critical element in the engineering of production strains.
Results
Here, a systems biology approach was employed to understand the chemical stress response of Escherichia coli, including a genome-wide screen for mutants with increased fitness during chemical stress. Twelve chemicals with significant production potential were selected, consisting of organic solvent-like chemicals (butanol, hydroxy-γ-butyrolactone, 1,4-butanediol, furfural), organic acids (acetate, itaconic acid, levulinic acid, succinic acid), amino acids (serine, threonine) and membrane-intercalating chemicals (decanoic acid, geraniol). The transcriptional response towards these chemicals revealed large overlaps of transcription changes within and between chemical groups, with functions such as energy metabolism, stress response, membrane modification, transporters and iron metabolism being affected. Regulon enrichment analysis identified key regulators likely mediating the transcriptional response, including CRP, RpoS, OmpR, ArcA, Fur and GadX. These regulators, the genes within their regulons and the above mentioned cellular functions therefore constitute potential targets for increasing E. coli chemical tolerance. Fitness determination of genome-wide transposon mutants (Tn-seq) subjected to the same chemical stress identified 294 enriched and 336 depleted mutants and experimental validation revealed up to 60 % increase in mutant growth rates. Mutants enriched in several conditions contained, among others, insertions in genes of the Mar-Sox-Rob regulon as well as transcription and translation related gene functions.
Conclusions
The combination of the transcriptional response and mutant screening provides general targets that can increase tolerance towards not only single, but multiple chemicals.
Keywords
BiochemicalsChemical stressToleranceSystems biologyTranscription analysisTn-seq E. coli
Background
The finite supply of fossil fuels and their environmental impact has stimulated the development of alternative biobased solutions for production of chemicals derived from the petrochemical industry [1–3]. This industry relies on the conversion of fossil fuels into a limited number of chemicals that serve as building blocks for the production of a wealth of other chemicals. Likewise, a shift to a widespread biobased chemical production will result in the generation of building blocks employed as precursors for the production of other chemicals [4]. Several potential building blocks have been proposed and include organic acids, amino acids, sugar alcohols, aldehydes and organic solvents, while commodity chemicals of interest include, among others, biofuels and polymer precursors [4–6]. The microbial production of such building blocks and commodity chemicals necessitates high titers to be economically sustainable. However, high titer poses a challenge for the microorganisms, as product toxicity is a likely consequence. Accordingly the development of efficient production strains has to be accompanied by engineering strains with high product tolerance [7, 8]. In addition to product toxicity, inhibitors present in biomass feedstock constitute another hindrance for microbial biomass conversion [9, 10].
Several strategies for engineering improved chemical tolerance exist that address the problem from different angles. One is improved chemical tolerance by rational engineering employing e.g. systems biology to understand the stress condition. Other strategies utilize mutant library screening, e.g. transposon or plasmid based, or natural selection by evolution to identify targets that improve tolerance [7, 11]. In E. coli these strategies have been employed towards a variety of chemicals, including but not limited to the investigation of the transcriptional response towards butanol [12], isobutanol [13], acetate [14], octanoic acid [15], produced free fatty acids (FFAs) [16] and furfural [17]. Rational engineering attempts include improving tolerance towards butanol [18, 19], produced FFAs [20], and furfural [21, 22], while screening strategies have been employed towards butanol [23], acetate [24], and furfural stresses [25]. Evolution based selection strategies have been implemented towards butanol [26–30], isobutanol [31–33], acetate [34, 35], octanoic acid [36], serine [37] and succinic acid stresses [38]. Commonly, tolerance identification strategies are performed with exogenous addition of chemical with the rationale that most chemicals will have a cellular impact by diffusion, transport or membrane interaction. Moreover high extracellular titers are needed for an economically viable production.
In this work a combination of systems biology and screening approaches were employed to identify potential targets for improving chemical tolerance in E. coli. A thorough investigation of the chemical stress responses to 12 chemicals, including future building blocks and commodity chemicals, was undertaken to find shared features of the different transcriptional responses these chemicals impose on E. coli. To this end shared enrichments of functional and regulatory gene sets were identified. These genes are part of the chemical stress response and therefore candidates for tolerance engineering. In addition, a transposon mutant library sequencing analysis (Tn-seq) was carried out with the aim of identifying target genes conferring a tolerance improvement towards the selected chemicals. The inclusion of 12 chemicals in this study enabled the identification of targets that improve tolerance towards not just a single chemical but towards groups of chemicals with shared properties.
Discussion
In the present study two strategies were pursued to elucidate chemical tolerance mechanisms in E. coli. One entailed finding shared features of the transcriptional chemical stress response that can be applied as a guide for rational tolerance engineering towards multiple chemicals while the other involved transposon mutant library screening for genetic tolerance determinants. Understanding the transcriptional response of E. coli can provide clues to enable rational tolerance engineering.
Widely altered gene expression was observed when cells were exposed to the 12 selected chemicals. This was especially true for organic solvent (butanol, butyrolactone, 1,4-butanediol, furfural) and acid (acetate, itaconic, levulinic and succinic acid) chemical stresses and these conditions share expression changes in many general functional categories such as energy metabolism, iron metabolism as well as transport and stress mechanisms (Fig.
5
). Notably, the upregulation of anaerobic respiration and fermentation genes constitute a general feature of organic solvent and acid conditions. The functional outcome of increased anaerobic respiration is periplasmic proton generation and thus a likely increase of the proton gradient for energy generation [
45
]. The upregulation of electron transport chain components for organic solvent conditions should provide the same effect, while the upregulation of glycolysis and pentose phosphate pathway genes would also increase energy generation. This response during organic solvent stress could be due to an increased cellular maintenance energy caused by these chemicals.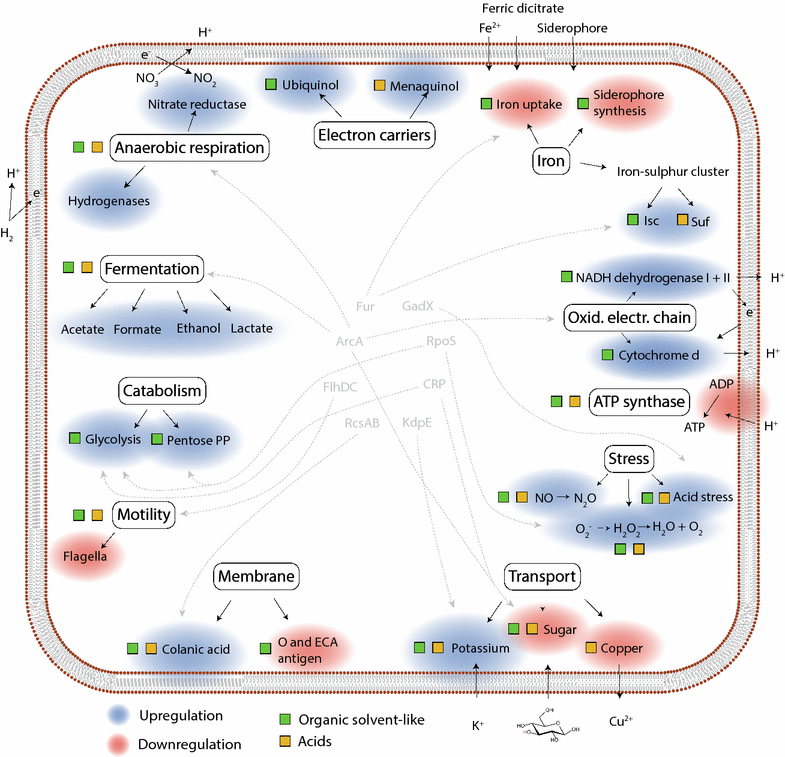 Many of the genes of anaerobic respiration and energy metabolism are known to be regulated by ArcA and previous studies on butanol and isobutanol stress in E. coli [12, 13] also identified ArcA as involved in the stress response. Correspondingly, the regulatory footprint of changed ArcA activity was evident here during butanol stress, and while the ArcA regulon was enriched in the other organic solvent conditions, the footprint was less apparent. The physiological cause during isobutanol stress was hypothesized to be quinone malfunction due to membrane perturbation leading to ArcA activation [13]. The same phenomenon appears to be present for the butanol condition based on the differential expression of the ArcA regulon. The other three organic solvent conditions also had increased expression of oxidative electron transport chain genes, but only few ArcA-regulated genes with differential expression in the expected direction. Thus the oxidative electron chain gene upregulations here are possibly not ArcA mediated and could instead be a more direct effect of membrane perturbation and possible quinone malfunction. The overall likely effect of the respiration and energy metabolism gene upregulations for both organic solvent and acid conditions is an increase in the proton gradient. For organic solvent conditions this could be a means to counter the reduced membrane potential caused by membrane perturbation while for acid conditions it could counter reduced proton motive force caused by cytoplasmic acidification [46]. The presence of weak organic acids in the medium can lead to intracellular acidification by diffusion of undissociated acid [47] while the reduced or possibly lost proton gradient for organic solvents would correspond to a lower intracellular pH that is likely to mediate the observed acid stress response.
For organic solvent conditions iron metabolism is also affected (Fig. 5), where iron uptake systems are downregulated likely by Fur activation. This was also previously observed during isobutanol stress [13] and explained by a reduced occurrence of the Fenton reaction, as quinone failure causes less superoxide to be created through respiration. This ultimately leads to increased Fe2+ concentration and Fur activation resulting in iron uptake-system downregulation. Consequently reduced iron (Fe3+) availability is a likely effect of organic solvent stress. Fur activation could also provide an explanation for the upregulation of the isc iron–sulphur cluster assembly system. The suf iron–sulphur cluster assembly system which is upregulated in acid conditions can conversely be induced by oxidative stress [48]. The observed upregulation of sodC and katE genes in these conditions supports the induction of oxidative stress in acid conditions.
Apart from iron transport, other transport mechanisms are affected, among these sugar transport and copper transport. CRP is a known regulator of the sugar transport genes and could mediate this. However, it could also be a growth rate related effect in the stress conditions, leading to a reduced glucose uptake demand, although this does not correspond well with the upregulation of glycolysis in organic solvent conditions. The cusABCF copper transport genes are downregulated in acid and amino acid conditions. CusR is the cognate regulator responding to copper concentration while the Cus transporter mediates periplasmic Cu+ efflux, having a role in alleviating copper toxicity under mainly anaerobic conditions [49]. The underlying reason for the downregulation of the transporter here is unclear. Upregulation of colanic acid synthesis genes is present for organic solvent and acid conditions. Colanic acid is a negatively charged extracellular polysaccharide loosely associated with the outer membrane and is required for biofilm structure in E. coli [50, 51]. Apart from this, it is generally only produced during stressful conditions providing an explanation of its upregulation here. It has been shown to confer increased acid and osmotic stress resistance [52–54] and could thus contribute towards increased tolerance.
Altered activity of some of the functions shown in Fig. 5 was previously associated with increased fitness during butanol stress. Increased external iron concentration and increased expression of iron transport genes (fepA, feoA) or siderophore synthesis genes (entC, entD) improved E. coli butanol tolerance [26, 28, 55]. Consequently, increasing iron availability appears to improve fitness. As mentioned, the Fur-mediated downregulation of iron-uptake mechanisms likely leads to intracellular iron depletion. As this is the case for all organic solvent conditions, this strategy should therefore prove advantageous under conditions other than butanol stress. Genes related to another main function in Fig. 5, anaerobic respiration, have also been identified. Upregulation of nitrate reductase two genes were found in a CRP engineered strain with improved butanol tolerance [32] while overexpression of hyaF also improved fitness during isobutanol stress [23]. Accordingly, a more systematic approach towards increasing respiration could increase organic solvent tolerance in E. coli, likely by increasing energy generation through an improved proton gradient. A potential risk is a lower yield in a production scenario, however this might be outweighed by improved survival or cellular state. Another strategy could be increasing membrane protein expression to account for the apparent membrane effects during many chemical stresses, analogous to the method of improving osmotic stress tolerance [56]. Moreover, the CRP engineered strain with improved isobutanol tolerance displayed increased expression of acid stress resistance genes (glutamate decarboxylase and acid fitness island) [32], further implicating these in butanol tolerance. Overall, the above findings substantiate that several of the functions outlined in this study are targets for rational tolerance engineering. Apart from those mentioned it includes the identified significantly enriched regulators, their regulon members together with the presented functional gene categories.
The enriched and depleted genes obtained by Tn-seq provide a list of gene deletions that potentially confer either increased or reduced fitness in a given chemical stress. Although Tn-seq involves mutant generation by transposon insertion, the functional outcome is generally equivalent to a gene deletion as only insertions within protein coding regions are included during the analysis. There are in total 294 enriched gene-insertions and 336 depleted gene-insertions in the 12 conditions, and thus at least 294 gene deletions that potentially increase the fitness in one or more chemical stress conditions. A number of these have been experimentally verified and display a range of growth rate increases from 8 to 60 %. In general the genes belong to diverse functional classes and a large fraction have unknown or scarcely known function. Yet, some (marB, rob, acrR) relate to the Mar-Sox-Rob regulon that is involved in e.g. organic solvent tolerance and superoxide resistance and is regulated by the three transcription factors MarA, SoxS and Rob [44, 57, 58]. The enriched insertions in marB (Byr, Furf, Deca, Suc, Ser) would lead to upregulation of marA and hence the Mar-Sox-Rob regulon [59]. Interestingly it is not the principal marA repressor, marR, which is enriched. In contrast, the enrichment of rob in the butanol condition abolishes any rob-mediated activation of the regulon, corresponding with the finding of increased isobutanol tolerance for acrAB and marCRAB deletion mutants [13]. The acrAB and tolC genes encoding an efflux pump are part of the Mar-Sox-Rob regulon [60]. Another transcriptional repressor of acrAB is AcrR which was found to be enriched in decanoic acid, geraniol and acetate conditions, indicating that upregulation of this efflux pump confers increased tolerance here. This was previously shown for geraniol [61] and loss-of-function of acrAB has also been implicated in reduced tolerance toward decanoic acid and other free fatty acids [20]. Although the efflux pump is associated with increased organic solvent tolerance (e.g. hexane and octane), acrR is not enriched in any of the four organic solvent conditions here, likely a result of their much lower octanol–water partition coefficient as compared to n-alkanes, decanoic acid and geraniol.
Among the enriched genes with high fold changes or presence in multiple conditions are also many related to RNA or DNA processes. Examples of the enriched genes include srmB (helicase, ribosomal association), cspC (antiterminator activity, thought to stabilize rpoS mRNA), rraA (Rnase E inhibitor), dusB (5,6 dihydrouridine modification in tRNA, possible ROS and stress regulator), greA (release stalled polymerase), rpsT (S20 ribosomal protein), pnp (mRNA degradation, minimizes oxidatively damaged RNA) and rlmH (23S rRNA pseudouridine methyltransferase). For most, the beneficial effect is not immediately intuitive, however many of these gene deletions would be expected to result in broad effects on transcription and translation processes. It is likely that many chemicals in this study elicit defects in transcription and translation, as was found for ethanol stress [62]. The inactivation of the brnQ gene provides the largest growth rate increase (60 %) and is enriched in threonine, succinic acid and butyrolactone conditions, although the latter could not be experimentally verified. It constitutes a branched chain amino acid transporter (LIV-II). Threonine is known to be a substrate of the LIV-I transport system [63] and based on the present findings possibly the LIV-II system as well, as its inactivation increases fitness during threonine stress. The most depleted gene insertion (ompA) is depleted in nine conditions (organic solvents, three acids and two membrane-intercalating conditions) revealing its relevance during chemical stress. Its overexpression could possibly provide a general tolerance mechanism towards many chemicals.
To be certain of the fitness effects of specific gene deletions, further experimental testing is required. Yet, by testing the fitness effect by measuring growth rate changes for 35 gene deletion mutants enriched in Tn-seq the majority of these conferred a fitness increase. In reality the proportion of fitness increasing gene deletions could be higher as a growth rate assay is a relatively insensitive assay. Employing a survival or competition assay might provide additional experimental verification. Further, in a production scenario a mere reduction of stress, without an effect on growth rate, could improve production. Additionally, as the Keio collection was employed for experimental verification, strain differences exist between the Tn-seq (K-12 MG1655) and growth rate experiments (K-12 BW25113). Some fitness enhancing mutations are likely not shared between these two genotypes.
A comparison of the RNA-seq and Tn-seq results showed no general overrepresentation of Tn-seq significant genes among the RNA-seq significant genes nor the presence of any direction-wise overrepresentation. This is not unexpected as each method provides information on different parameters, specifically transcriptional change or gene fitness. Further the chemical stresses represented here do not generally represent natural stresses encountered by E. coli in the environment, except for acetate and to some extent the acids. Although only 25 % of Tn-seq significant genes overlapped with corresponding RNA-seq significant genes for acetate conditions, most were enriched in the same direction. The general discrepancy does not imply that the methods provide conflicting results but rather that the two methods are complementary and each provide different levels of insight and targets for tolerance improvement. Consequently utilizing both approaches will increase the prospects for successful tolerance engineering.
Conclusions
The selection of 12 chemicals in this study enables the identification of general targets that can improve tolerance towards not just a single but a suite of chemicals. This potentially also includes chemicals with similar properties to those presented here. The transcriptional response of E. coli towards the 12 chemicals identified several functions that could be targeted by rational engineering, among these anaerobic respiration and fermentation genes for organic solvents and acids. In particular, improving the proton motive force for maintaining efficient energy utilization is an important parameter in both conditions. Further, engineering of stress responses such as oxidative stress and acid resistance systems could improve tolerance, while for organic solvents iron metabolism provides another engineering target. Some of the regulons with perturbed expression for several chemical stresses include ArcA, CRP, RpoS, OmpR, Fur and GadX and altering these could likewise enhance beneficial or eliminate detrimental expression changes. In the other approach of genome-wide screening of transposon mutants, the substantial number of enriched mutants (294) that were identified provides a hit-list for further study. Some of the target genes, such as those related to the Mar-Sox-Rob regulon, are known to be stress-related, however those associated with transcription and translation processes have so far received less attention in a chemical stress context and warrants further examination. Overall the two approaches have yielded different targets and therefore provide complementary information for engineering improved tolerance.
Abbreviations
FFA:

free fatty acids
Tn-seq:

transposon sequencing
Byr:

hydroxy-γ-butyrolactone
Furf:

furfural
Ita:

itaconic acid
Lev:

levulinic acid
Ser:

l-serine
Suc:

succinic acid
Thre:

threonine
Ace:

acetate
But:

butanol
Diol:

1,4-butanediol
Ger:

geraniol
Deca:

decanoic acid
ECA:

enterobacterial common antigen
CRP:

catabolite repression protein
Declarations
Authors' contributions
MHR and ATN conceived the study. MHR and PV carried out experiments and RL provided experimental guidance. MHR performed data analysis. MHR, ATN and KL drafted the manuscript while RL and PV helped revise the manuscript. All authors read and approved the final manuscript.
Acknowledgements
We thank Anna Koza for providing expert Tn-seq sequencing, Pernille Smith for help with Keio collection propagation and Markus Herrgard for inspiration with RNA-seq analysis.
Competing interests
The authors declare that they have no competing interests.
Availability of data and supporting materials
Complete differential gene expression data for each chemical stress condition compared to the control condition are available in Additional file 1. Complete data sets for enrichment or depletion of gene transposon mutants under chemical stress conditions are available in Additional file 2. Additional file 3 contains boxplots of Tn-seq and RNA-seq significant gene distributions.
Funding
The work was funded by the Novo Nordisk Foundation. The funders had no role in study design, data collection and interpretation, or the decision to submit the work for publication.
Open AccessThis article is distributed under the terms of the Creative Commons Attribution 4.0 International License (http://creativecommons.org/licenses/by/4.0/), which permits unrestricted use, distribution, and reproduction in any medium, provided you give appropriate credit to the original author(s) and the source, provide a link to the Creative Commons license, and indicate if changes were made. The Creative Commons Public Domain Dedication waiver (http://creativecommons.org/publicdomain/zero/1.0/) applies to the data made available in this article, unless otherwise stated.
Authors' Affiliations
(1)
Novo Nordisk Foundation Center for Biosustainability, Technical University of Denmark, Hørsholm, Denmark