Production of para-aminobenzoic acid from different carbon-sources in engineered Saccharomyces cerevisiae
Microbial Cell Factories
2016
15:89
Received: 21 January 2016
Accepted: 11 May 2016
Published: 26 May 2016
Abstract
Background
Biological production of the aromatic compound para-aminobenzoic acid (pABA) is of great interest to the chemical industry. Besides its application in pharmacy and as crosslinking agent for resins and dyes pABA is a potential precursor for the high-volume aromatic feedstocks terephthalic acid and para-phenylenediamine. The yeast Saccharomyces cerevisiae synthesises pABA in the shikimate pathway: Outgoing from the central shikimate pathway intermediate chorismate, pABA is formed in two enzyme-catalysed steps, encoded by the genes ABZ1 and ABZ2. In this study S. cerevisiae metabolism was genetically engineered for the overproduction of pABA. Using in silico metabolic modelling an observed impact of carbon-source on product yield was investigated and exploited to optimize production.
Results
A strain that incorporated the feedback resistant ARO4 K229L and deletions in the ARO7 and TRP3 genes, in order to channel flux to chorismate, was used to screen different ABZ1 and ABZ2 genes for pABA production. In glucose based shake-flaks fermentations the highest titer (600 µM) was reached when over-expressing the ABZ1 and ABZ2 genes from the wine yeast strains AWRI1631 and QA23, respectively. In silico metabolic modelling indicated a metabolic advantage for pABA production on glycerol and combined glycerol-ethanol carbon-sources. This was confirmed experimentally, the empirical ideal glycerol to ethanol uptake ratios of 1:2–2:1 correlated with the model. A 13C tracer experiment determined that up to 32 % of the produced pABA originated from glycerol. Finally, in fed-batch bioreactor experiments pABA titers of 1.57 mM (215 mg/L) and carbon yields of 2.64 % could be achieved.
Conclusion
In this study a combination of genetic engineering and in silico modelling has proven to be a complete and advantageous approach to increase pABA production. Especially the enzymes that catalyse the last two steps towards product formation appeared to be crucial to direct flux to pABA. A stoichiometric model for carbon-utilization proved useful to design carbon-source composition, leading to increased pABA production. The reported pABA concentrations and yields are, to date, the highest in S. cerevisiae and the second highest in a microbial production system, underlining the great potential of yeast as a cell factory for renewable aromatic feedstocks.
Keywords
pABAPhenylethanolAromaticsYeastGlycerolEthanol
Background
Significance of bio-derived aromatic feedstocks for chemical industry
Microbial metabolic pathways give rise to many compounds that can potentially substitute currently petroleum based chemicals with bio-derived ones or replace them with bio-based alternatives. Using metabolic engineering these capabilities are already being exploited to create new organisms that use abundant and renewable feedstocks to efficiently produce an expanding spectrum of valuable chemicals [1–3]. Recent advances in metabolic engineering of Saccharomyces cerevisiae have shown that systems and synthetic biology tools nowadays allow rational construction of capable production strains [4–6]. In particular aromatics have great potential for bio-based production as the shikimate pathway gives rise to a wealth of aromatics and derived compounds, with diverse applications in different industries, including the chemical one [7–12].
The shikimate pathway intermediate para-aminobenzoic acid (pABA) is one of these aromatics with versatile applicability, it is already being used use as crosslinking agent for resins and dyes, as a precursor in the pharmaceutical industry and as a therapeutic itself (e.g. for the drug POTABA®). However it has so far not been applied as bulk feedstock for large scale application in the plastic and fibre industry, likely because it is not price-competitive compared to other precursors that are readily available from chemical synthesis. This may change once a competitive bio-based production has been established: It has recently been demonstrated that pABA can be chemically converted to terephthalic acid [13] making it a potential bio-feedstock for polyethylene terephthalate (PET) production. PET is used for packaging as well as clothing and recently also in the auto industry [14]. The global market volume for PET packaging was nearing 16 Mt valued at 48.1 billion USD in 2014 [15]. This is expected to rise to 19.9 Mt and 60 billion USD in 2019 [15]. The global market volume for bio-based PET exceeded 540 kt in 2012 and is expected to rise sharply till 2020, with a doubling in 2015 and a tripling in 2016 in respect to 2014. While current bio-based PET is claimed to be up to 30 % sustainable [16] in fact only the monoethylene glycol share of the copolymer is derived from renewable feedstocks, while the terephthalic acid component, the major part of PET by volume and cost, is still petroleum based. Therefore industrial interest to develop a fully sustainable PET product is high and substantial investments are being made in order to establish bio-based terephthalic acid production [14, 17, 18].
pABA may also be chemically converted to para-phenylenediamine (e.g. via Kochi- or Hunsdiecker reaction followed by nucleophilic substitution), which is (besides terephthalic acid) the second building block of the aramid fibre Kevlar®. Global demand for these materials, which combine high strength with low weight as well as chemical and heat resistance properties, was estimated to 74.5 kt in 2014 and is expected to rise to 110 kt in 2020 with an estimated value of 4.7 billion USD [19].
Aromatic compounds derived from yeast shikimate pathway
pABA is naturally produced by yeast as an intermediate in the shikimate pathway, the central metabolic route leading to formation of the aromatic amino acids phenylalanine, tyrosine and tryptophan [
20
]. The pathway is simplistically reproduced in Fig.
1
: The intermediates of glycolysis and pentose phosphate pathway, phosphoenol pyruvate (PEP) and erythrose 4-phosphate (E4P), respectively, enter the pathway through a series of condensation and redox reactions that yield the intermediate shikimate. Shikimate is subsequently converted to the central branch point metabolite chorismate under ATP hydrolysis and introduction of a second PEP. Outgoing from chorismate the aromatic amino acids and pABA are synthesised, the latter being a precursor for folate metabolism [
21
]. The synthesis of pABA comprises two key enzymes encoded by the genes
ABZ1
and
ABZ2
: The gene product of
ABZ1
(aminodeoxychorismate synthase) transfers an amino-group from glutamine to the
para
-position of chorismate, thus forming glutamate and 4-amino-4-deoxychorismate. The gene product of
ABZ2
(aminodeoxychorismate lyase) then cleaves the ester-bond between the ring and the C3-body releasing pyruvate and pABA.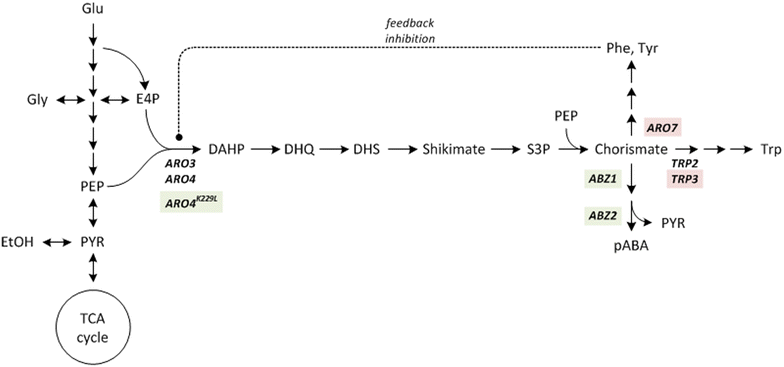 Regulation of the shikimate pathway in S. cerevisiae is manifold [22] and yet to be fully understood. It is tightly controlled by its end-products, foremost by inhibition of its initial step by phenylalanine and tyrosine [23]. However a point mutation in the ARO4 gene (leading to a changed amino acid sequence, ARO4 K229L ) has been reported that makes the gene product largely resistant to feedback inhibition [23].
Despite the biosynthesis route to pABA being present in S. cerevisiae, common laboratory strains like S288c and CEN.PK derived ones, suffer a growth deficit if pABA is omitted from media, supposedly due to reduced functionality of the ABZ1 gene [24]. In the comparative study that examined this, it was also found that the wine yeast EC1118 carries a more functional version of this gene [24]. In fact, a previous study on pABA production in S288c showed that overproduction could be achieved using the ABZ1 gene from the wine yeast AWRI1631, which is identical to the one of EC1118 [9]. The study identified yeast as suitable host, with regard to in silico determined theoretical maximum yields (0.53 g/gGlucose) and in vivo toxicity limits (50 % growth rate reduction at 0.62 g/L) [9]. However, the production was moderate (250 µM), raising the question, if ABZ2 might be currently limiting pABA production in yeast. Recently overproduction was reported in E. coli (4.8 g/L) where also the choice of the bacterial analogues to ABZ1 and ABZ2 (pabA & pabB/pabAB and pabC) was shown to be crucial [25].
In the present study overproduction of pABA in S. cerevisiae from different carbon-sources is improved using genetic engineering and metabolic modelling. In particular the metabolic bottleneck to pABA formation from chorismate and the use of glycerol as an alternative carbon-source were investigated. Glycerol is a by-product of both the biodiesel and the bioethanol industries and is considered an inexpensive and sustainable feedstock that does not directly compete with resources of food industry [26, 27]. In this study a mixed glycerol-ethanol (GLY/ETH) feed with a high glycerol-share was used to maximize pABA production and yield.
Conclusions
The observed titer of 1.6 mM pABA is the highest in S. cerevisiae reported to date and the second highest in a biological system. This demonstrates the potential of S. cerevisiae as a microbial cell factory for aromatics. It could also be shown that the variability in different ABZ1 and ABZ2 sequences of sequenced yeast strains has great impact on pABA production. Further this study demonstrates the potential of metabolic engineering when rationally making use of metabolic modelling and genetic engineering: As predicted by modelling it could be shown that production of pABA from a combined glycerol-ethanol carbon-source was more efficient than from glucose. The benefits are twofold: On the one hand stoichiometry allowed a higher yield (as predicted by modelling); on the other hand kinetic limitations (that otherwise result in flux overflow) were reduced resulting in increased selectivity for the desired compound pABA and reduction of the overflow metabolite PEA. This allowed a more than sixfold increase in product titer and almost eightfold increase in yield over the previous benchmark [9]. In the future enhancing glycerol uptake and metabolization should help to increase the pABA yield and titer.
Abbreviations
AAA:

aromatic amino acids
CDM:

chemically defined medium
DAHP:

3-deoxy-d-arabino-heptulosonate-7-phosphate
DHS:

3-dehydroshikimate
DHQ:

3-dehydroquinate
E4P:

erythrose-4-phosphate
EMA:

elementary mode analysis
ETH:

ethanol
GLC:

glucose
GLY:

glycerol
LOD:

level of detection
OD660 :

optical density at 660 nm
ORF:

open reading frame
pABA:

para-aminobenzoic acid
PEA:

phenyl ethanol
PEP:

phosphoenolpyruvate
PET:

polyethylene terephthalate
pHBA:

para-hydroxybenzoic acid
PHE:

phenylalanine
PPY:

phenyl pyruvate
S3P:

shikimate-3-phosphate
SFL:

summed fractional labelling
TRP:

tryptophan
TYR:

tyrosine
Declarations
Authors' contributions
NJHA designed the study, constructed the strains and conducted the experiments. NJHA acquired, analysed and interpreted the data and drafted the manuscript. GW served as advisor and specialist for molecular biology and yeast research. JOK conceived the project, helped to design the experiments, coordinated the study and critically revised the manuscript. All authors read and approved the final manuscript.
Acknowledgements
This study was funded by the Australian Research Council (DE120101549). We acknowledge the services of Metabolomics Australia for the analysis of metabolite concentrations and 13C enrichments, especially Dr. Manuel Plan and Dr. Panagiotis Chrysanthopoulos. Further we acknowledge the technical assistance of Mr. Nicolas Lekieffre in conducting fermentations. Introduction of qPCR techniques to NJHA by Stacey Andersen is also greatly appreciated.
Competing interests
The authors declare that they have no competing interests.
Open AccessThis article is distributed under the terms of the Creative Commons Attribution 4.0 International License (http://creativecommons.org/licenses/by/4.0/), which permits unrestricted use, distribution, and reproduction in any medium, provided you give appropriate credit to the original author(s) and the source, provide a link to the Creative Commons license, and indicate if changes were made. The Creative Commons Public Domain Dedication waiver (http://creativecommons.org/publicdomain/zero/1.0/) applies to the data made available in this article, unless otherwise stated.
Authors' Affiliations
(1)
Centre for Microbial Electrochemical Systems (CEMES), The University of Queensland, Brisbane, Australia
(2)
Advanced Water Management Centre (AWMC), The University of Queensland, Brisbane, Australia
(3)
School of Science and Technology, University of New England, Armidale, Australia