Genome-scale metabolic network reconstruction and in silico flux analysis of the thermophilic bacterium Thermus thermophilus HB27
Microbial Cell Factories
2014
13:61
Received: 14 February 2014
Accepted: 17 April 2014
Published: 28 April 2014
Abstract
Background
Thermus thermophilus, an extremely thermophilic bacterium, has been widely recognized as a model organism for studying how microbes can survive and adapt under high temperature environment. However, the thermotolerant mechanisms and cellular metabolism still remains mostly unravelled. Thus, it is highly required to consider systems biological approaches where T. thermophilus metabolic network model can be employed together with high throughput experimental data for elucidating its physiological characteristics under such harsh conditions.
Results
We reconstructed a genome-scale metabolic model of T. thermophilus, i TT548, the first ever large-scale network of a thermophilic bacterium, accounting for 548 unique genes, 796 reactions and 635 unique metabolites. Our initial comparative analysis of the model with Escherichia coli has revealed several distinctive metabolic reactions, mainly in amino acid metabolism and carotenoid biosynthesis, producing relevant compounds to retain the cellular membrane for withstanding high temperature. Constraints-based flux analysis was, then, applied to simulate the metabolic state in glucose minimal and amino acid rich media. Remarkably, resulting growth predictions were highly consistent with the experimental observations. The subsequent comparative flux analysis under different environmental conditions highlighted that the cells consumed branched chain amino acids preferably and utilized them directly in the relevant anabolic pathways for the fatty acid synthesis. Finally, gene essentiality study was also conducted via single gene deletion analysis, to identify the conditional essential genes in glucose minimal and complex media.
Conclusions
The reconstructed genome-scale metabolic model elucidates the phenotypes of T. thermophilus, thus allowing us to gain valuable insights into its cellular metabolism through in silico simulations. The information obtained from such analysis would not only shed light on the understanding of physiology of thermophiles but also helps us to devise metabolic engineering strategies to develop T. thermophilus as a thermostable microbial cell factory.
Keywords
Thermus thermophilus ThermophileGenome-scale metabolic modelConstraints-based flux analysisEthanol
Background
Thermus thermophilus is a gram-negative, obligate aerobic bacterium, representing one of the best-studied thermophiles. It usually colonizes the terrestrial volcanic hot springs (grows optimally between 65 and 72°C) and was originally isolated from a Japanese thermal spa [1]. In addition to the ability of surviving at such high temperatures, T. thermophilus is resistant to other stress such as harsh chemical conditions [2]. These properties motivated researchers to extract or isolate numerous proteins from T. thermophilus, making it as a model organism in structural genomics with significant industrial potential [3–6]. For example, several thermostable proteins are already used in commercial processes, including the DNA polymerase in PCR techniques, α-amylases and glucose isomerases in starch processing, esterases, lipases and proteases in organic synthesis, and xylanases in paper and pulp manufacturing [7, 8]. Moreover, T. thermophilus is being recognized as a potential microbial cell factory for the low cost ethanol fermentation from lignocellulosic waste materials since it can grow by utilizing most of the C5/C6 carbon sources at relatively high temperatures, i.e. 70–80°C, thus reducing the energy costs: no cooling step is required following enzymatic hydrolysis, rendering it easier to distil subsequent fermentations [9].
Despite enormous potentials for biotechnological applications, the current knowledge on the unique cellular physiology of T. thermophilus is very limited; to date, the production of distinctive carotenoid molecules [10] and the use of adaptive protein synthesis strategies [11] are only two notable traits unravelled at the molecular level. Such limited studies are mostly due to the technical difficulties in cultivating and analysing thermophilic microbes; cell culture experiments require high amount of energy to maintain the optimal growth conditions. Hence, it is indeed required to develop more systematic approaches for improving our understanding of T. thermophilus cellular behaviour. In this regard, constraints-based in silico metabolic modeling and analysis can be considered as one of the promising techniques to characterize the physiological behaviour and metabolic states of an organism upon various environmental/genetic changes as they systematically capture the genotype-phenotype relationships from the entire genome information [12, 13]. As a result, several genome-scale metabolic models (GSMMs) are now available for describing the metabolic organization of various organisms including Escherichia coli[14], Bacillus subtilis[15], Saccharomyces cerevisiae[16], Pichia pastoris[17], Corynebacterium glutamicum[18], Ralstonia eutropha[19], Pseudomonas aeruginosa[20], and even for multicellular eukaryotes such as Mus musculus[21] and Homo sapiens[22]. Moreover, with the availability of several conveniently accessible constraints-based modeling software tools [23], these models have been largely utilized to postulate various strain improvement strategies [17–19, 24, 25]. Thus, the development of T. thermophilus GSMM based on the currently available biochemical and genomic information and its subsequent in silico analysis enables us to elucidate its unique metabolic behaviour.
In thermophilic microbes regard, there have been only a few initial attempts to model their cellular metabolisms. First, an in silico model of Thermotoga maritima was presented, covering its central metabolism along with the 3D structures of all the enzymes accounted in the network [26]. Recently, the genome-scale metabolic model of thermophilic archeon, Sulfolobus solfataricus, was also developed, and used to describe its autotrophic growth in bicarbonate via hydroxypropionate-hydroxybutyrate cycle under aerobic conditions [27]. However, both models are not mature enough to explain the molecular mechanisms of high temperature adaptations as they do not consider the detailed biosynthetic machinery of biomolecules which help them to retain the integrity of their cell wall membranes. Therefore, in this work, we reconstructed the genome-scale metabolic model of T. thermophilus based on the genome annotation of HB27 wild-type strain [28] for investigating unique characteristics of thermophilic microbes. Additionally, the model was functionally characterized by gene essentiality studies to identify essential genes for cellular growth while growing in both glucose minimal and amino acid supplemented complex media.
Discussion
Thermophilic microbes represent a unique class of organisms with a distinct cell wall assembly that enables them to maintain the cellular membrane integrity even at very high temperatures. It is reported that many thermophilic organisms, including T. maritima and S. solfataricus, synthesize ether lipids from long chain dicarboxylic fatty acids and fatty alcohols [43]. However, Thermus sp. do not synthesize ether lipids but produce unique carotenoid molecules such as thermozeaxanthin and thermobizeaxanthin, and embed them in the lipid bi-layer to attain the required cellular membrane fluidity at high temperatures [10]. In this regard, i TT548 completely captures all the biosynthetic pathways of thermozeaxanthins, in addition to the metabolic routes of other biomass precursors such as amino acids, nucleotides and lipids. Similarly, i TT548 also contains the unique biosynthetic pathways of several unusual polyamines which help in stabilizing the nucleotide strands and proteins synthesis at high temperatures. It has been earlier reported that T. thermophilus is unique in polyamine synthesis: even the extreme thermophiles such as S. solfataricus produces relatively shorter polyamines [36]. Collectively, these results clearly show the detailed metabolic coverage of i TT548 of thermophiles when comparing with its preceding GSMMs.
Furthermore, this work includes a prudently drafted biomass equation that is specific to thermophiles, especially
Thermus
sp. As mentioned earlier, the comparative analysis of
T. thermophilus
and
E. coli
biomass compositions have highlighted significant differences between amino acid and fatty acid compositions. Noticeably, the
T. thermophilus
biomass analysis revealed that the concentration of some of the thermolabile amino acids such as threonine and histidine are substantially lesser than
E. coli
whereas the proline concentration is much higher. It should be highlighted that these observations are in good agreement with earlier reports which suggested the selective usage of amino acid residues as one of the key adaptive strategy employed by thermophiles [
44
,
45
]. Arguably, the cellular compositions in thermophilic microbes may change depending on growth temperature; the current biomass equation was derived based on compositional analysis of
T. thermophilus
grown at 70°C. In order to clarify the temperature dependent compositional change in biomass, we measured amino acid compositions in
T. thermophilus
at 45°C. Their comparison with compositional data at 70°C clearly indicated that there is no significant difference in both individual and overall amino acid concentrations (Figure
6
A). Similarly, we also compared the fatty acid compositions between 40°C and 70°C using the data from literature [
30
]. Very interestingly, unlike amino acid comparison, fatty acid compositions, both overall and individual were much lower at 40°C (Figure
6
B). Although we were not able to make a complete comparison between low and high growth temperatures since no data was available on other cellular constituents such as peptidoglycans and thermotolerant carotenoids at low temperature range, we can still hypothesize that thermophiles are most likely to adjust their biomass composition selectively to better adapt to the growth environment. Therefore, the use of appropriate biomass equations for simulating the cellular growth in corresponding temperature ranges is crucial for reliable prediction.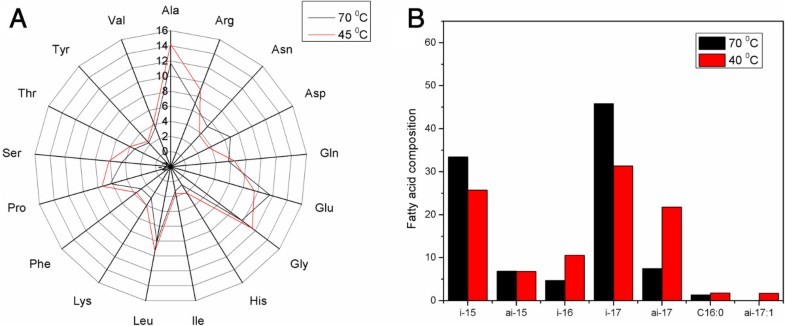 The gene deletion analyses of i TT548 have revealed several interesting traits about the function of deleted genes with respect to overall cellular metabolism of T. thermophilus. Among them, the most notable is the relatively high percentage of essential genes when compared to E. coli (23% to that of 13%), possibly due to the smaller Open Reading Frames (ORF) content (only 2,263 as compared to 4,623) despite possessing all the necessary modules for the cell to be viable at high temperatures. Furthermore, this observation also highlights the fact that since T. thermophilus thrives at higher temperatures than most other microbes, its fitness might be relatively less competitive with more rigid network organization. Interestingly, the gene essentiality analyses also indicated that the carotenoids metabolism is functionally quite fragile since almost all of its genes are essential for cellular growth. However, it should be noted that the gene deletion analysis results are sensitive to several parameters such as in silico medium setup and biomass composition. In this regard, the current biomass composition is obtain from T. thermophilus at optimum growth temperatures, i.e. 70°C, and thus the gene deletion results of the current study are only applicable to this condition.
Conclusions
We presented the genome-scale metabolic network of T. thermophilus, i TT548, the first ever representing thermophiles, containing 548 unique genes, 796 reactions and 635 unique metabolites. As a unique feature of T. thermophilus, i TT548 contains necessary metabolic pathways for synthesizing several unique carotenoids and polyamines which help them in habituating high temperatures. The reconstructed metabolic model was subsequently validated with the batch culture experiments on glucose minimal and complex medium where the in silico growth predictions of the i TT548 were in good agreement with the observed experimental results. The comparative flux analysis between minimal and complex media highlighted that the consumption and utilization of branched chain amino acids directly in the relevant fatty acids anabolic pathways, thus resulting in higher growth rates in the rich medium. A gene essentiality study was also conducted through in silico simulation studies in both minimal and complex media, highlighting a very high percentage of lethal genes in comparison with E. coli, suggesting that the metabolic backbone of T. thermophilus could to be quite rigid. Overall, the metabolic network presented in the current study is expected to be a significant contribution towards systems analysis of thermophiles where the metabolic model can be utilized along with high throughput datasets for the better understanding of organism.
Methods
Microorganism and culture conditions
T. thermophilus HB27 strain was used as a model organism. For fermentation in complex medium, a single colony was cultivated overnight at 70°C with 150 rpm in 5 mL of the TM medium [46], and the culture was transferred to a 500 mL baffled-flask containing 100 mL of TM broth. In case of cultivation in defined glucose minimal medium, the overnight seed grown at 70°C with 150 rpm in 5 mL of the TM medium was then transferred to a 500 mL baffled-flask containing 100 mL of defined minimal medium (DMM) with 0.6% (w/v) glucose and cultivated for 24 hours. Then, 5 mL of flask culture in DMM was inoculated to 100 mL of fresh DMM. During fermentations, cell growth was monitored by measuring the optical density at 600 nm. The dry cell weight (DCW) was then estimated by a predetermined conversion factor of 0.34.
Analytical methods
Concentrations of glucose, organic acids and ethanol in the culture broth were measured by high performance liquid chromatography (HPLC) (Waters, Milford, MA) equipped with an HPX-87H column (Bio-Rad, Hercules, CA), a dual λ absorbance detector. The collected samples were centrifuged at 14,000 g and 4°C for 5 min and the supernatant was analyzed with the column using 5 mM sulfuric acid as a mobile phase at 0.6 mL-1 min. Concentrations of amino acids were determined by gas chromatograph/mass spectrophotometer (GC/MS) (Agilent, Santa Ciara, CA) equipped with an HP-5MS column (Agilent), as previously reported [47]. In brief, the samples were centrifuged, dried and derivatized with methyl-N-t-butyldimethylsilyl-trifluoro-acetamide (MBDSTFA) in DMF at 80°C for 30 min. After centrifugation at 14,000 g for 5 min, the supernatant was injected to GC/MS in split injection mode (1:10 split ratio).
Metabolic network reconstruction
The genome-scale metabolic network of T. thermophilus HB27 was reconstructed using the published genome annotation [28] and the information collected from various biological and genomic databases on the basis of the established procedure [48]. First, an initial draft model was constructed by compiling the annotated metabolic genes and their corresponding biochemical reactions from KEGG [49] and MetaCyc [50]. Then, these reactions were corrected for any elemental imbalances and mapped with appropriate genes to devise proper gene-protein-reaction (GPR) relationships. Additionally, some spontaneous as well as non-gene-associated reactions including metabolite transport were also incorporated into the model based on the physiological evidence from literature and databases. The connectivity of the draft network was then checked using the GapFind algorithm to find the gaps [51]. The identified missing links were filled either by introduction of sink reactions to allow for material exchange between the cell and its surrounding environment or by adding reactions from other similar microbes to close the knowledge gaps.
Biomass composition
Cellular biomass composition is an important prerequisite for the in silico flux analysis, especially during the exponential growth phase, where the primary cellular objective is to maximize growth. Amino acid composition of T. thermophilus HB27 was estimated by hydrolyzing the cell pellets with 6 N HCl for 24 h at 130°C, and subsequently analysing the hydrolysates using HPLC equipped with UV-detector and C18 column. Cell wall and lipid compositions were obtained from previous publications on Thermus sp. [30, 31, 35, 52]. The overall DNA and RNA composition was assumed to be same as E. coli[14] since no data was available on Thermus sp. The individual weights of nucleotides in the DNA and RNA were calculated based on the reported G + C content of 69.4% [28]. Detailed information on biomass composition calculations could be found in Additional file 3.
Constraints-based flux analysis
We implemented constraints-based flux analysis to simulate the
T. thermophilus
metabolism under varying environmental conditions. The biomass reaction was maximized to simulate the exponential growth phase as described elsewhere [
53
–
55
]. Mathematically, the optimization problem, i.e. maximization of biomass subjected to stoichiometric and capacity constraints, can be formulated as follows:
where S ij refers to the stoichiometric coefficient of metabolite i involved in reaction j, v j denotes to the flux or specific rate of metabolic reaction j, and represent the lower and upper limits on the flux of reaction j, respectively; and Z corresponds to the cellular objective as a linear function of all the metabolic reactions where the relative weights are determined by the coefficient c j . In this study, the constraints-based flux analysis problems were solved using COBRA toolbox [56].
Flux variability analysis
As constraints-based flux analysis is an optimization based technique, it is often possible to have multiple flux distributions attaining the same physiological state. Therefore, in order to confirm the plausibility of internal metabolic fluxes simulated in minimal and complex media by flux analysis, we performed the flux variability analysis (FVA) to identify the possible range of all fluxes while simulating a particular phenotypic state. Mathematically, the optimization problem specific to FVA can be represented as follows:
where Z obj denotes the value of objective calculated by flux analysis and n is the number of fluxes. The upper range of fluxes is identified by maximizing the objective whereas the lower range is obtained by minimizing the same. In this study, the FVA was implemented using COBRA toolbox.
Gene deletion analysis
Gene deletion simulations were performed by maximizing the cellular biomass while constraining flux through the corresponding reaction(s) to be zero via the GPR relationships under defined nutrient uptake rates. In case of glucose minimal medium, only glucose was fueled as carbon source. On the other hand, glucose, trehalose and amino acids such as valine, leucine and isoleucine were supplied as carbon source based on the complex media based on nutrient consumption profile. The simulation results were subsequently analyzed to identify the essential genes where a gene is classified to be essential if the resulting cell growth prediction for the corresponding mutant is less than or equal to 5% of wild-type. Note that all the gene deletion analysis in this study was performed using COBRA toolbox.
Declarations
Acknowledgements
This work was supported by the National University of Singapore, Biomedical Research Council of A*STAR (Agency for Science, Technology and Research), Singapore, Korea Research Foundation (KRF- 2010–0009169), Republic of Korea, and a grant from the Next-Generation BioGreen 21 Program (SSAC, No. PJ009520), Rural Development Administration, Republic of Korea.
Authors' Affiliations
(1)
Department of Food Science & Engineering, Ewha Womans University, Seodaemun-gu, Korea
(2)
Department of Chemical and Biomolecular Engineering, National University of Singapore, Singapore, Singapore
(3)
Bioprocessing Technology Institute, Agency for Science, Technology and Research (A*STAR), Singapore, Singapore
(4)
Global Top5 Research Program, Ewha Womans University, Seodaemun-gu, Korea
Copyright
© Lee et al.; licensee BioMed Central Ltd. 2014
This article is published under license to BioMed Central Ltd. This is an Open Access article distributed under the terms of the Creative Commons Attribution License (http://creativecommons.org/licenses/by/4.0), which permits unrestricted use, distribution, and reproduction in any medium, provided the original work is properly credited. The Creative Commons Public Domain Dedication waiver (http://creativecommons.org/publicdomain/zero/1.0/) applies to the data made available in this article, unless otherwise stated.