Metabolic engineering of Escherichia coli to optimize melanin synthesis from glucose
Microbial Cell Factories
2013
12:108
Received: 13 August 2013
Accepted: 5 November 2013
Published: 13 November 2013
Abstract
Background
Natural aromatic polymers, mainly melanins, have potential and current applications in the cosmetic, pharmaceutical and chemical industries. The biotechnological production of this class of compounds is based on tyrosinase-dependent conversion of L-tyrosine and other aromatic substrates into melanins. The purpose of this work was to apply metabolic engineering for generating Escherichia coli strains with the capacity to synthesize an aromatic polymer from a simple carbon source.
Results
The strategy was based on the expression in E. coli of the MutmelA gene from Rhizobium etli, encoding an improved mutant tyrosinase. To direct the carbon flow from central metabolism into the common aromatic and the L-tyrosine biosynthetic pathways, feedback inhibition resistant versions of key enzymes were expressed in strains lacking the sugar phosphotransferase system and TyrR repressor. The expressed tyrosinase consumed intracellular L-tyrosine, thus causing growth impairment in the engineered strains. To avoid this issue, a two phase production process was devised, where tyrosinase activity was controlled by the delayed addition of the cofactor Cu. Following this procedure, 3.22 g/L of melanin were produced in 120 h with glucose as carbon source. Analysis of produced melanin by Fourier transform infrared spectroscopy revealed similar characteristics to a pure eumelanin standard.
Conclusions
This is the first report of a process for producing melanin from a simple carbon source at grams level, having the potential for reducing production cost when compared to technologies employing L-tyrosine as raw material.
Keywords
MelaninL-tyrosineTyrosinaseMetabolic engineering Escherichia coli
Background
Melanins constitute a diverse class of aromatic polymers synthesized by organisms from most biological groups [1]. The biological functions of this class of compounds are various and mainly related to protection from environmental stresses [2]. Eumelanin, a common type of melanin, is synthesized from L- tyrosine by copper containing enzymes called tyrosinases (monophenol monooxygenase EC 1.14.18.1). Using molecular oxygen, these enzymes catalyze the hydroxylation of L-tyrosine to L-dihydroxyphenylalanine (cresolase activity) and its subsequent oxidation to dopachrome (catecholase activity). Dopachrome non-enzymatically oxidizes and polymerizes to form eumelanin [3].
The characterization of melanins has revealed properties having potential industrial applications. Melanins can act as UV absorbers, amorphous semiconductors, cation exchangers, X-ray and γ-ray absorbers [2, 4]. Therefore, there is considerable interest in the development of biotechnological processes for the production of these polymers. Production of melanins has been achieved in liquid cultures of naturally melanogenic and also with recombinant microorganisms [5–7]. The expression in Escherichia coli of heterologous genes encoding tyrosinases from Streptomyces antibioticus or Rhizobium etli has resulted in the generation of strains capable of transforming L-tyrosine or other substrates into melanins [7–9]. Production processes based on these recombinant microorganisms consist in the bioconversion of supplemented L-tyrosine into melanin in cultures with minimal or complex media.
Metabolic engineering of E. coli and other bacterial species has been applied to the generation of strains that overproduce L-tyrosine, employing simple sugars as raw material [10, 11]. These strains have the potential for total synthesis of melanin if they also expressed a tyrosinase activity. Recently, a method was developed to enable correlation of melanin production with the amount of L-tyrosine synthesized by engineered strains that express a tyrosinase from R. etli, thus demonstrating the feasibility of melanin production from glucose in E. coli[12]. However, since this method was developed for screening purposes, melanin formation from glucose was only verified by visual inspection in Petri dishes.
An strategy for generating a melanin production strain can be divided in two steps: First, metabolic engineering must be applied to increase carbon flow into the L-tyrosine biosynthetic pathway. A second step involves the expression of a gene encoding a tyrosinase to a level sufficient for transforming L-tyrosine into melanin. The general strategy for generating L-tyrosine microbial production strains involves genetic modifications to redirect carbon flow from central metabolism into the common aromatic pathway by expressing a feedback insensitive version of the enzyme 3-deoxy-D-
arabino
-heptulosonate 7-phosphate (DAHP) synthase (Figure
1
). Redirection of carbon flow from the common aromatic pathway into the L-tyrosine biosynthetic pathway can be accomplished by expressing genes encoding feedback insensitive versions of enzymes chorismate mutase (CM) and prephenate dehydrogenase (PDH) [
10
,
11
]. Additional modifications aimed at strain performance improvements include increasing the availability of the precursors phosphoenolpyruvate (PEP) and D-erythrose 4-phosphate (E4P), that are condensed by DAHP synthase in the first step of the common aromatic pathway (Figure
1
). It is known that PEP consumption by the PEP:sugar phosphotransferase system (PTS) during glucose import limits the yield in the synthesis of aromatic compounds in
E. coli
[
13
,
14
]. Therefore, with the aim of avoiding PEP consumption during glucose import,
E. coli
mutant strains lacking PTS activity have been generated where glucose is internalized by the galactose permease (GalP) and phosphorylated by glucokinase (Glk) using ATP as the phosphate donor [
15
]. These mutant
E. coli
strains, having a PTS
-
glucose
+
phenotype, display higher aromatics yield from glucose when compared to a wild type PTS
+
strain [
16
]. Further improvement of L-tyrosine
E. coli
production strains has been achieved by deleting the gene coding for TyrR. This protein is a transcriptional regulator that represses transcription of several genes encoding enzymes that participate in L-tyrosine synthesis [
11
,
17
]. TyrR inactivation in a strain modified for L-tyrosine production increased 1.7-fold the specific rate of production for this amino acid [
18
].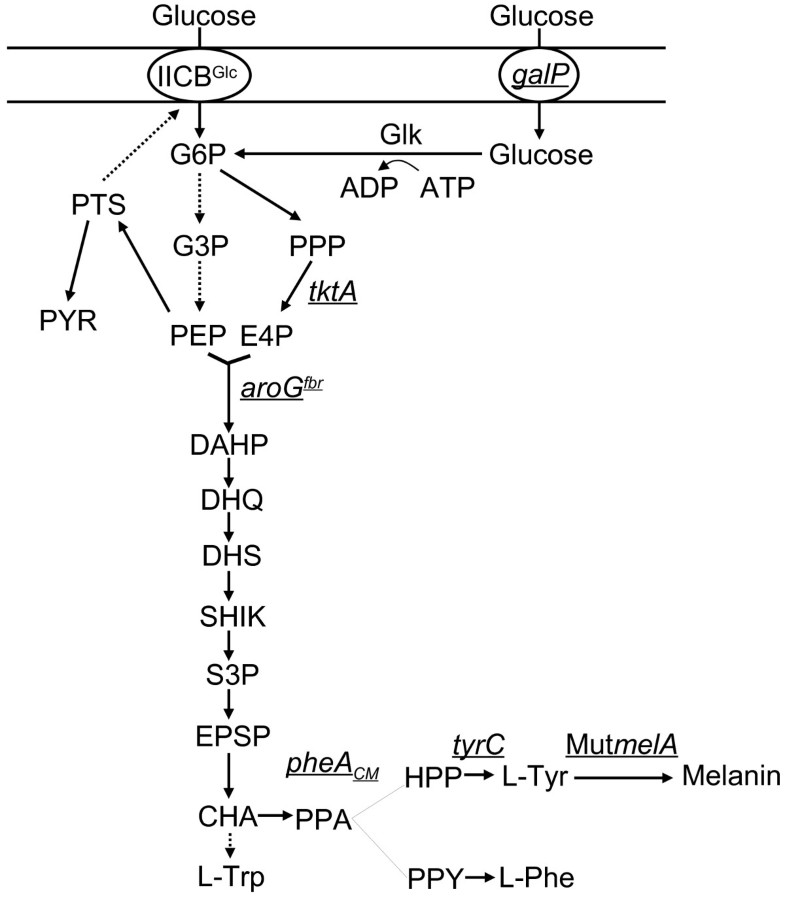 An E. coli strain that produces L-tyrosine from a simple carbon source can be transformed to a melanin producer by expressing a gene coding for a tyrosinase. In principle, this strain should enable the development of a biotechnological process for melanin production. However, as previously reported, the generation of a production strain and a fermentation process for melanin production involves several specific challenges. As shown by several groups, melanin production occurs only when cells enter the stationary phase [8, 9, 12]. It is not yet known what factors limit melanin production in the earlier growth phases. It has also been determined that tyrosinase from R. etli is rapidly inactivated at 37°C, therefore, melanin production cultivations must be performed at 30°C, a temperature not optimal for fast growth of E. coli. Finally, the processes involved in melanin formation during its production in a recombinant bacterium are still not known. It is not clear how the melanin precursors exit the cell and whether they polymerize in the periplasm, the external medium or both compartments. Furthermore, melanin precursors are reactive species that could form covalent bonds with other cellular metabolites; therefore, the resulting aromatic polymer could display a chemical composition different from melanin derived from pure L-tyrosine.
In the present work, metabolic engineering and fermentative process strategies were applied to overcome some of the challenges involved in the production of an aromatic polymer similar to melanin in E. coli. This work was based on developing E. coli strains engineered for L-tyrosine production as a platform to express a gene encoding an improved mutant version of a tyrosinase from R. etli. By employing a two-phase production strategy, a final melanin titer of 3.22 g/L was generated in bioreactor cultures with glucose as carbon source.
Conclusions
The various types of melanins are natural products having a wide range of potential applications as multifunctional polymers. The bioconversion of pure L-tyrosine or complex media components to melanin has been the basis for the biotechnological production of this type of polymer [7]. These efforts have resulted in the production of melanin at grams level, with the highest value reported as 6 g/L [9]. In the present study, up to 3.22 g/L of melanin were produced from glucose by employing an engineered strain and a production process based on delayed tyrosinase activation. These results constitute the basis for improvement regarding production cost over previous technologies, when considering the lower cost of glucose, when compared to L-tyrosine.
This work is the first example where engineered E. coli strains and a fermentative process resulted in the production, at grams scale, of an aromatic polymer from glucose with very similar chemical composition to a eumelanin standard. This production process should facilitate further research on the kinetics of melanin formation and the search for potential applications for this type of polymer.
Declarations
Acknowledgments
We thank Georgina Hernandez-Chavez and Mercedes Enzaldo for her technical assistance. This work was supported by grant 177568-Z from CONACYT.
Authors' Affiliations
(1)
Departamento de Ingeniería Celular y Biocatálisis, Instituto de Biotecnología, Universidad Nacional Autónoma de México, Cuernavaca,, México
(2)
Laboratorio de Biología Integrativa de Plantas y Microorganismos, Unidad Académica de Ciencias Biológicas, Universidad Autónoma de Zacatecas, México
(3)
Departamento de Ingeniería Química, UNICAT, Facultad de Química, Universidad Nacional Autónoma de México, México, México
Copyright
© Chávez-Béjar et al.; licensee BioMed Central Ltd. 2013
This article is published under license to BioMed Central Ltd. This is an open access article distributed under the terms of the Creative Commons Attribution License (http://creativecommons.org/licenses/by/2.0), which permits unrestricted use, distribution, and reproduction in any medium, provided the original work is properly cited.