Isobutyraldehyde production from Escherichia coli by removing aldehyde reductase activity
Microbial Cell Factories
2012
11:90
Received: 14 April 2012
Accepted: 3 June 2012
Published: 25 June 2012
Abstract
Background
Increasing global demand and reliance on petroleum-derived chemicals will necessitate alternative sources for chemical feedstocks. Currently, 99% of chemical feedstocks are derived from petroleum and natural gas. Renewable methods for producing important chemical feedstocks largely remain unaddressed. Synthetic biology enables the renewable production of various chemicals from microorganisms by constructing unique metabolic pathways. Here, we engineer Escherichia coli for the production of isobutyraldehyde, which can be readily converted to various hydrocarbons currently derived from petroleum such as isobutyric acid, acetal, oxime and imine using existing chemical catalysis. Isobutyraldehyde can be readily stripped from cultures during production, which reduces toxic effects of isobutyraldehyde.
Results
We adopted the isobutanol pathway previously constructed in E. coli, neglecting the last step in the pathway where isobutyraldehyde is converted to isobutanol. However, this strain still overwhelmingly produced isobutanol (1.5 g/L/OD600 (isobutanol) vs 0.14 g/L/OD600 (isobutyraldehyde)). Next, we deleted yqhD which encodes a broad-substrate range aldehyde reductase known to be active toward isobutyraldehyde. This strain produced isobutanol and isobutyraldehyde at a near 1:1 ratio, indicating further native isobutyraldehyde reductase (IBR) activity in E. coli. To further eliminate isobutanol formation, we set out to identify and remove the remaining IBR s from the E. coli genome. We identified 7 annotated genes coding for IBRs that could be active toward isobutyraldehyde: adhP, eutG, yiaY, yjgB, betA, fucO, eutE. Individual deletions of the genes yielded only marginal improvements. Therefore, we sequentially deleted all seven of the genes and assessed production. The combined deletions greatly increased isobutyraldehyde production (1.5 g/L/OD600) and decreased isobutanol production (0.4 g/L/OD600). By assessing production by overexpression of each candidate IBR, we reveal that AdhP, EutG, YjgB, and FucO are active toward isobutyraldehyde. Finally, we assessed long-term isobutyraldehyde production of our best strain containing a total of 15 gene deletions using a gas stripping system with in situ product removal, resulting in a final titer of 35 g/L after 5 days.
Conclusions
In this work, we optimized E. coli for the production of the important chemical feedstock isobutyraldehyde by the removal of IBRs. Long-term production yielded industrially relevant titers of isobutyraldehyde with in situ product removal. The mutational load imparted on E. coli in this work demonstrates the versatility of metabolic engineering for strain improvements.
Keywords
Synthetic BiologyIsobutyric AcideutEIsobutyraldehydeChemical Feedstock
Background
The dependence on finite petroleum and natural gas resources as well as their potential environmental impact has generated interest in exploring renewable sources for replacements. This has more notably been applied to the areas of transportation fuels. However, less attention has been paid to the chemical feedstock industry. Currently, 99% of chemicals and their derivatives come from petroleum and natural gas [1]. In 2004, the petrochemical industry consumed 4 quadrillion BTUs (British thermal units) of petroleum and natural gas for feedstock use to produce thousands of chemicals [1]. These chemicals are essential to the synthesis of plastics, rubbers, and pharmaceutical compounds that play a major role in our standard of living.
Synthetic biology has made large progress constructing pathways for the production of various biofuels [2–5]. Recently, these efforts have expanded to address the need for replacement of our current petrochemical feedstocks with renewable sources [6–13]. Much like in the production of advanced biofuels, synthetic biology offers a potential platform for the production of non-natural chemical feedstocks from simple sugars. This work aims to demonstrate the feasibility of producing chemical feedstocks from microorganisms by engineering Escherichia coli to produce isobutyraldehyde.
Isobutyraldehyde is used as both a fragrance and flavor additive. It is also used to produce plasticizers, isobutyric acid, and isobutanol, which is a precursor to the rubber polyisobutylene. Isobutyraldehyde is currently synthesized from petroleum derived propylene, carbon monoxide, and hydrogen [14]. In terms of microbial production and purification, its high volatility (172 mm Hg at 25°C) may enable less costly purification and facilitate in situ product removal for long-term fermentation.
Atsumi
et al.
have previously shown that 2-ketoisovalerate generated from L-valine biosynthesis can serve as precursors for the Ehrlich degradation pathway [
15
] to isobutanol (Figure
1
) [
5
]. In this pathway, 2-ketoisovalerate is converted to isobutyraldehyde using a keto acid decarboxylase (KDC) and then reduced to isobutanol with an isobutyraldehyde reductase (IBR). In 2010, Atsumi
et al.
evaluated the native aldehyde reductase YqhD for its ability to convert isobutyraldehyde to isobutanol in
E. coli
[
16
]. It was discovered that a strain lacking overexpression of
IBR
was still able to produce the same amount of isobutanol as a strain overexpressing
ADH2
(
Saccharomyces cerevisiae
)
.
It was determined that YqhD in
E. coli
was responsible for most of IBR activity in isobutanol production. However, even with deletion of
yqhD
on the
E. coli
chromosome, the engineered strain was still able to produce isobutanol. It indicates that
E. coli
has one or several additional IBRs. Thus, here, we systematically removed possible
IBR
s from the
E. coli
chromosome to increase isobutyraldehyde production and reduce isobutanol formation.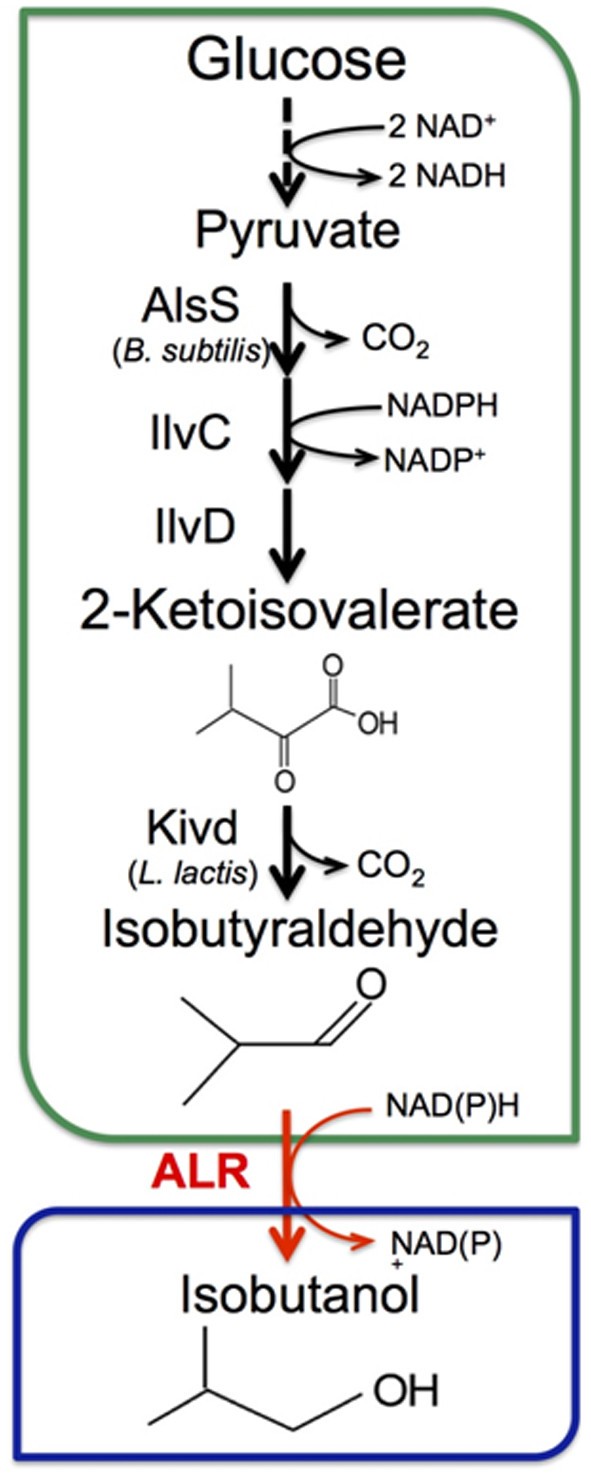 Results and discussion
As a starting point, E. coli strain JCL260 was used to assess initial isobutyraldehyde production. This strain was previously optimized for isobutanol production [5, 17], by deleting adhE, ldhA, fnr, frdAB, pta, and pflB. The isobutyraldehyde pathway was constructed by using the previously described genes alsS, ilvC, ilvD, and kivd[5, 18].
To assess the initial production, pGR03 (alsS ilvC, and ilvD) and pSA129 (kivd) were introduced into JCL260. This strain produced only 0.14 g/L/OD600 isobutyraldehyde, and as high as 1.45 g/L/OD600 isobutanol after 24 hours. This roughly 1:10 ratio is likely the result of one or several IBR s including yqhD on the E. coli genome [16]. As a result, we first deleted yqhD. This strain produced ~0.7 g/L/OD600 of isobutyraldehyde and ~0.4 g/L/OD600 isobutanol in our condition. This result indicates one or more additional IBR s exist on the E. coli genome.
IBR activity can be catalyzed by the alcohol dehydrogenase (ADH)/aldehyde reductase class of enzyme. Thus, in order to decrease isobutanol production, we searched the E. coli genome sequence using the EcoCyc comprehensive database [19] for other ADH-like enzymes. We identified seven candidate IBR s (adhP, eutG, yiaY, yjgB, betA, fucO, and eutE). Due to either the characterized ADH functions or the conserved ADH-like domain sequences of the above-mentioned genes, we hypothesized that these had the highest probability of having IBR activity. Additionally, no other ADH type enzymes were found. AdhP is a well-characterized NADH-dependent ethanol dehydrogenase [20]. EutG is an NADH-dependent alcohol dehydrogenase involved in ethanolamine utilization, and is suspected to be an ethanol dehydrogenase [21–23]. The enzymes EutG, YiaY, BetA, and EutE were previously utilized or removed to produce C4-C10 alcohols [24]. FucO has also been well characterized as a L-lactaldehyde and 1,2-propanediol oxidoreductase [25]. YjgB is a putative Zn-dependent aldehyde reductase [26]. With seven candidate genes identified, we set out to efficiently identify which (if any) of these enzymes were active toward isobutyraldehyde in order to improve isobutyraldehyde production and reduce isobutanol formation.
Conclusions
In this work, we demonstrated the renewable production of isobutyraldehyde, an important chemical feedstock, from E. coli. We identified AdhP, EutG, YjgB, and FucO as isobutyraldehyde reductases, while YiaY, BetA, and EutE were not active toward isobutyraldehyde. With in situ product removal, we achieved a total isobutyraldehyde production of 35 g/L after 5 days. This industrially relevant titer represents a yield of 45% of the theoretical maximum. However, after the second day, isobutanol formation began to increase markedly, suggesting upregulation of yet additional IBR(s) in E. coli.
The lingering presence of isobutanol indicates that additional IBRs still exist in E. coli which we have yet to identify. In this work, we evaluated genes more specifically annotated or characterized as alcohol dehydrogenases. It is possible that other non-specific oxidoreductases are contributing to IBR activity in the cell. E. coli contains more than a dozen other putative, less specifically annotated, NAD(P)H dependent oxidoreductases. Going forward, applying transcriptome analysis, bioinformatics, and other methods may uncover the remaining IBR(s). Further exploration and elimination of these reductases will be required to improve the long-term production stability of this strain.
Methods
Reagents
Rapid Ligation Kit was purchased from Roche. All other enzymes were purchased from New England Biolabs (Ipswich, MA). All synthetic oligonucleotides were ordered from Integrated DNA Technologies (Coralville, IA). DNA sequencing services were done by Davis Sequencing (Davis, CA). Zymo DNA Clean and Concentrator kit and Gel Recovery kit (Zymo Research, Irvine, CA) were used to purify all PCR products. Isobutanol and Isobutyraldehyde were purchased from Sigma Aldrich (St. Louis, MO). 1-pentanol was purchased from Acros Organics (Belgium).
Media
Overnight cultures were grown in 5 mL Luria Broth (LB) containing appropriate antibiotics. Antibiotic concentrations were as follows: Kanamycin (50 μg/mL), Chloramphenicol (40 μg/mL), Ampicillin 100 (μg/mL), Tetracycline (20 μg/mL). Production was carried out with M9 medium containing 5 g/L yeast extract, ~50 g/L glucose, and 1000-fold dilution of A5 trace metal mix (2.86 g H3BO3, 1.81 g MnCl2⋅4H2O, 0.222 g ZnSO4 ⋅7H2O, 0.39 g Na2MoO4⋅2H2O, 0.079 g CuSO4⋅5H2O, 49.4 mg Co(NO3)2⋅6H2O per liter water).
Gene deletions
All gene deletions were carried out by P1 transduction [37] with the aid of strains from the Keio collection [29], except for eutE. To delete eutE, the method developed by Datsenko and Wanner [27] was used due to its proximity to eutG. The deleted fragments were verified by PCR and sequencing. All strains used in this study are listed in Table 1.
Plasmid construction, cloning, and transformations
To construct pGR03, first pSA69 [5] was digested with AatII and SacI, and treated with Antarctic phosphatase. Then the chloramphenicol resistance gene was taken from pZA31-luc [28] by digestion with AatII and SacI. The two fragments were gel purified, ligated, and introduced into E. coli XL-1 blue strain.
All other plasmids (pAL156-158, pAL162, pAL213-215, pAL217-223) were constructed using sequence and ligation-independent cloning (SLIC) [
38
]. In general, primers for inserts (GR147-154, GR188-193, GR219-GR232) were designed with ~25 bp priming to the target gene and a 20–25 bp 'linker' to target vector. All candidate
IBR
s were amplified by PCR from
E. coli
JCL16 genome DNA. Plasmids were verified by colony PCR, by digestion with restriction enzymes, and by sequencing. All plasmids and oligonucleotides are listed in Table
1
and Table
2
, respectively.
| Primer | Sequence 5' → 3' |
| --- | --- |
| GR180 | TCTAGAGGCATCAAATAAAACGAAAGGCTC |
| GR181 | GGTATATCTCCTGCATGCTTATGATTTATTTTG |
| GR219 | GCATGCAGGAGAAAGGTCACatgaaggctgcagttgttacgaagg |
| GR220 | TTTTATTTGATGCCTCTAGAttagtgacggaaatcaatcaccatg |
| GR221 | GCATGCAGGAGAAAGGTCACatgcaaaatgaattgcagaccgcgc |
| GR222 | TTTTATTTGATGCCTCTAGAttattgcgccgctgcgtacaggccg |
| GR223 | GCATGCAGGAGAAAGGTCACatggcagcttcaacgttctttattc |
| GR224 | TTTTATTTGATGCCTCTAGAttacatcgctgcgcgataaatcgcc |
| GR225 | GCATGCAGGAGAAAGGTCACatgtcgatgataaaaagctatgccg |
| GR226 | TTTTATTTGATGCCTCTAGAtcaaaaatcggctttcaacaccacg |
| GR227 | GCATGCAGGAGAAAGGTCACAtgcaatttgactacatcattattg |
| GR228 | TTTTATTTGATGCCTCTAGAtcattttttcgctctcaccggcatc |
| GR229 | GCATGCAGGAGAAAGGTCACatgatggctaacagaatgattctga |
| GR230 | TTTTATTTGATGCCTCTAGAttaccaggcggtatggtaaagctct |
| GR231 | GCATGCAGGAGAAAGGTCACatgaatcaacaggatattgaacagg |
| GR232 | TTTTATTTGATGCCTCTAGAttaaacaatgcgaaacgcatcgact |
| GR145 | GGTACCTTTCTCCTCTTTAATGAA |
| GR146 | TAATGACTCTAGAGGCATCAAATAA |
| GR147 | ATTCATTAAAGAGGAGAAAGGTACCatgaaggctgcagttgttacgaagg |
| GR148 | TTATTTGATGCCTCTAGAGTCATTAttagtgacggaaatcaatcaccatg |
| GR149 | ATTCATTAAAGAGGAGAAAGGTACCatgcaaaatgaattgcagaccgcgc |
| GR150 | TTATTTGATGCCTCTAGAGTCATTAttattgcgccgctgcgtacaggccg |
| GR151 | ATTCATTAAAGAGGAGAAAGGTACCatggcagcttcaacgttctttattc |
| GR152 | TTATTTGATGCCTCTAGAGTCATTAttacatcgctgcgcgataaatcgcc |
| GR153 | ATTCATTAAAGAGGAGAAAGGTACCatgtcgatgataaaaagctatgccg |
| GR154 | TTATTTGATGCCTCTAGAGTCATTAtcaaaaatcggctttcaacaccacg |
| GR188 | ATTCATTAAAGAGGAGAAAGGTACCAtgcaatttgactacatcattattggtg |
| GR189 | TTATTTGATGCCTCTAGAGTCATTAtcattttttcgctctcaccggcatc |
| GR190 | ATTCATTAAAGAGGAGAAAGGTACCatgatggctaacagaatgattctgaac |
| GR191 | TTATTTGATGCCTCTAGAGTCATTAttaccaggcggtatggtaaagctc |
| GR192 | ATTCATTAAAGAGGAGAAAGGTACCatgaatcaacaggatattgaacaggtg |
| GR193 | TTATTTGATGCCTCTAGAGTCATTAttaaacaatgcgaaacgcatcgact |
Vector was amplified from pSA138 with GR180 and GR181, and digested with DpnI to reduce background associated from plasmid template. Primers (GR219 and GR221 for adhP, GR221 and GR222 for eutG, GR223 and GR224 for yiaY, GR225 and GR226 for yjgB, GR227 and GR228 for betA, GR229 and GR230 for fucO, and GR231 and GR232 for eutE) were used to amplify each gene from E. coli JCL16 genome DNA and cloned with SLIC onto the pSA138 vector fragment.
Vector was amplified from pZE12-luc with GR145 and GR146, and digested with DpnI to reduce background associated from plasmid template. Primers (GR147 and GR148 for adhP, GR149 and GR150 for eutG, GR151 and GR152 for yiaY, GR153 and GR154 for yjgB, GR188 and GR189 for betA, GR190 and GR191 for fucO, and GR192 and GR193 for eutE) were used to amplify each gene from E. coli JCL16 genome DNA and cloned with SLIC onto the pZE12-luc vector fragment.
Screw-cap tube production
For isobutyraldehyde production test, 1% (vol/vol) of the overnight culture was inoculated in 5 mL production media in 15 mL screw-cap culture tubes and grown at 37°C in a rotary shaker (250 RPM) until OD600 ~0.4, then induced with 1 mM isopropyl-β-D-thio-galactoside (IPTG) and allowed to produce for 24 hours after induction. Screw-cap tubes were tightly sealed to prevent evaporation of isobutyraldehyde.
Aldehyde reductase activity assay
The plasmids pZE12-luc, pAL162, pAL156-158, and pAL213-214 were introduced into AL626. The strains were grown to OD600 value of ~0.4 in 5 mL LB medium at 37°C, followed by adding 1 mM IPTG. Protein overexpression was performed at 37°C for 4 h. Then 1.8 mL of cells were centrifuged at 13,000 RPM for 10 minutes, resuspended in 300 μL BugBuster Protein Extraction Reagent (Novagen, San Diego, CA, USA), and incubated at room temperature for 20 min for cell lysis. The samples were centrifuged for 20 min, 16,000 g, at 4°C. Supernatants were taken for enzyme assays. ADH activities were measured by following the reduction of acetaldehyde or isobutyraldehyde with NADH or NADPH at 340 nm at 37°C using a Synergy H1 Hybrid Plate Reader from BioTek Instruments, Inc. (Winooski, VT). The assay mixture contained 25 mM acetaldehyde or isobutyraldehyde, 50 mM 3-(N-morpholino)propanesulfonic acid (MOPS) buffer (pH 7.0), 0.2 mM Tris-Cl (pH 7.00), 0.2 mM NAD(P)H, and 12.5 mM potassium phosphate buffer (pH 7.5). One unit of activity is defined as the oxidation of 1 μmol of NAD(P)H per minute per mg protein. Protein concentrations were measured using 5x Advanced Protein Assay Reagent (Cytoskeleton Inc., Denver, CO) by diluting 5μL of cell extract in 1 mL of 1x Advanced Protein Assay Reagent and measuring the OD590 of the mixture. Bovine Serum Albumin (BSA) from NEB was used to prepare a standard curve.
Gas stripping apparatus
Rubber stoppers were used to cap the culture flask and water flask. Two holes were made in each rubber stopper where small, customized, metal pipes were inserted. All flasks, traps, and condensers were connected with clear, flexible, chemical resistant, plastic tubing (Tygon tubing). Air flow rate was set to 3 cc/min with a flow regulator. Trap bottles were filled with 600 mL of water. Culture volume and water flask volume were both 100 mL. Culture was initially grown at 37°C until OD600 ~0.4, then 1 mM IPTG was added and the temperature was quickly brought down to 30°C for the remainder of the experiment. When trap bottles were collected for samples, 200 mL water was washed down each condenser to rinse any product into the trap bottles. Final trap volume was determined with a 1000 mL graduated cylinder.
GC analysis
Concentrations of all products, except glucose, were analyzed by Gas Chromatography equipped with a flame ionization detector (FID). The GC system is a Shimadzu GC-2010 with an AOC-20 S auto sampler and AOC-20i Auto Injector. The column used was a DB-Wax capillary column (30 m length, 0.32-mm diameter, 0.50-μm film thickness) from Agilent Technologies. GC oven temperature was initially held at 40°C for 3 minutes, then increased at a rate of 45°C min-1 until 235°C and held for 3 min. Injector temperature was held at 225°C and FID detector was held at 330°C. Injection volume was 0.5 μL, injected at a 15:1 split ratio. Helium was used as the carrier gas. 1-pentanol was used as internal standard.
Glucose quantification and growth measurements
Glucose was measured using a Sucrose, Fructose, and Glucose kit from Megazyme International Unlimited. Glucose assays and Optical densities (OD) were measured at 340 nm and 600 nm, respectively, with a Genesis 10 S UV–vis Spectrophotometer (Thermo Scientific).
Declarations
Acknowledgements
This work was supported by University of California, Davis Startup Funding to SA. G.M.R. is supported by a Sloan fellowship. We are grateful to Iara M.P. Machado, Tony Pan and Oliver G. Hernaez for experimental assistance.
Authors' Affiliations
(1)
Department of Chemistry, University of California, Davis, USA
References
McFarlane J, Robinson S: Survey of Alternative Feedstocks for Commodity Chemical Manufacturing. 2007, [http://info.ornl.gov/sites/publications/files/Pub8760.pdf], Oak Ridge National LaboratoryGoogle Scholar
Keasling JD: Manufacturing molecules through metabolic engineering. Science. 2010, 330: 1355-1358. 10.1126/science.1193990View ArticleGoogle Scholar
Zhang F, Rodriguez S, Keasling JD: Metabolic engineering of microbial pathways for advanced biofuels production. Curr Opin Biotechnol. 2011, 22: 775-783. 10.1016/j.copbio.2011.04.024View ArticleGoogle Scholar
Rodriguez GM, Atsumi S: Synthetic Approach to Produce C3-C6 Alcohols from Microorganisms. Curr Chem Biol. 2012, 6: 32-41. 10.2174/187231312799984420.Google Scholar
Atsumi S, Hanai T, Liao JC: Non-fermentative pathways for synthesis of branched-chain higher alcohols as biofuels. Nature. 2008, 451: 86-89. 10.1038/nature06450View ArticleGoogle Scholar
Nakamura CE, Whited GM: Metabolic engineering for the microbial production of 1, 3-propanediol. Curr Opin Biotechnol. 2003, 14: 454-459. 10.1016/j.copbio.2003.08.005View ArticleGoogle Scholar
Keasling JD: Synthetic biology for synthetic chemistry. ACS Chem Biol. 2008, 3: 64-76. 10.1021/cb7002434View ArticleGoogle Scholar
Shanmugam KT, Ingram LO: Engineering biocatalysts for production of commodity chemicals. J Mol Microbiol Biotechnol. 2008, 15: 8-15. 10.1159/000111988View ArticleGoogle Scholar
Villela Filho M, Araujo C, Bonfa A, Porto W: Chemistry based on renewable raw materials: perspectives for a sugar cane-based biorefinery. Enzyme Res 2011. 2011, 654596-Google Scholar
Yim H, Haselbeck R, Niu W, Pujol-Baxley C, Burgard A, Boldt J, Khandurina J, Trawick JD, Osterhout RE, Stephen R, et al: Metabolic engineering of Escherichia coli for direct production of 1, 4-butanediol. Nat Chem Biol. 2011, 7: 445-452. 10.1038/nchembio.580View ArticleGoogle Scholar
Zhang K, Woodruff AP, Xiong M, Zhou J, Dhande YK: A synthetic metabolic pathway for production of the platform chemical isobutyric acid. ChemSusChem. 2011, 4. 10.8-1070.View ArticleGoogle Scholar
Thakker C, Martinez I, San KY, Bennett GN: Succinate production in Escherichia coli. Biotechnol J. 2012, 7: 213-224. 10.1002/biot.201100061View ArticleGoogle Scholar
Lee S, Kim B, Park K, Um Y, Lee J: Synthesis of Pure meso-2, 3-Butanediol from Crude Glycerol Using an Engineered Metabolic Pathway in Escherichia coli. Appl Biochem Biotechnol. 2012, 166: 1801-1813. 10.1007/s12010-012-9593-zView ArticleGoogle Scholar
SIDS Initial Assessment Report: ISOBUTANAL CAS N°: 78-84-2.Organization for Economic Cooperation and Development (OECD),1996,[http://www.inchem.org/documents/sids/sids/78842.pdf]
Sentheshanmuganathan S, Elsden SR: The mechanism of the formation of tyrosol by Saccharomyces cerevisiae. Biochem J. 1958, 69: 210-218.View ArticleGoogle Scholar
Atsumi S, Wu TY, Eckl EM, Hawkins SD, Buelter T, Liao JC: Engineering the isobutanol biosynthetic pathway in Escherichia coli by comparison of three aldehyde reductase/alcohol dehydrogenase genes. Appl Microbiol Biotechnol. 2010, 85: 651-657. 10.1007/s00253-009-2085-6View ArticleGoogle Scholar
Atsumi S, Cann AF, Connor MR, Shen CR, Smith KM, Brynildsen MP, Chou KJ, Hanai T, Liao JC: Metabolic engineering of Escherichia coli for 1-butanol production. Metab Eng. 2008. 10. 305-311.View ArticleGoogle Scholar
Atsumi S, Higashide W, Liao JC: Direct photosynthetic recycling of carbon dioxide to isobutyraldehyde. Nat Biotechnol. 2009, 27: 1177-1180. 10.1038/nbt.1586View ArticleGoogle Scholar
Keseler IM, Collado-Vides J, Santos-Zavaleta A, Peralta-Gil M, Gama-Castro S, Muniz-Rascado L, Bonavides-Martinez C, Paley S, Krummenacker M, Altman T: EcoCyc, et al: a comprehensive database of Escherichia coli biology. Nucleic Acids Res. 2011, 39: D583-590. 10.1093/nar/gkq1143View ArticleGoogle Scholar
Shafqat J, Hoog JO, Hjelmqvist L, Oppermann UC, Ibanez C, Jornvall H: An ethanol-inducible MDR ethanol dehydrogenase/acetaldehyde reductase in Escherichia coli: structural and enzymatic relationships to the eukaryotic protein forms. Eur J Biochem. 1999, 263: 305-311. 10.1046/j.1432-1327.1999.00323.xView ArticleGoogle Scholar
Penrod JT, Roth JR: Conserving a volatile metabolite: a role for carboxysome-like organelles in Salmonella enterica. J Bacteriol. 2006, 188: 2865-2874. 10.1128/JB.188.8.2865-2874.2006View ArticleGoogle Scholar
Brinsmade SR, Paldon T, Escalante-Semerena JC: Minimal functions and physiological conditions required for growth of Salmonella enterica on ethanolamine in the absence of the metabolosome. J Bacteriol. 2005, 187: 8039-8046. 10.1128/JB.187.23.8039-8046.2005View ArticleGoogle Scholar
Stojiljkovic I, Baumler AJ, Heffron F: Ethanolamine utilization in Salmonella typhimurium: nucleotide sequence, protein expression, and mutational analysis of the cchA cchB eutE eutJ eutG eutH gene cluster. J Bacteriol. 1995, 177: 1357-1366.Google Scholar
Dellomonaco C, Clomburg JM, Miller EN, Gonzalez R: Engineered reversal of the beta-oxidation cycle for the synthesis of fuels and chemicals. Nature. 2011, 476: 355-359. 10.1038/nature10333View ArticleGoogle Scholar
Montella C, Bellsolell L, Perez-Luque R, Badia J, Baldoma L, Coll M, Aguilar J: Crystal structure of an iron-dependent group III dehydrogenase that interconverts L-lactaldehyde and L-1, 2-propanediol in Escherichia coli. J Bacteriol. 2005, 187: 4957-4966. 10.1128/JB.187.14.4957-4966.2005View ArticleGoogle Scholar
Riley M, Abe T, Arnaud MB, Berlyn MK, Blattner FR, Chaudhuri RR, Glasner JD, Horiuchi T, Keseler IM, Kosuge T, et al: Escherichia coli K-12: a cooperatively developed annotation snapshot–2005. Nucleic Acids Res. 2006, 34: 1-9. 10.1093/nar/gkj405View ArticleGoogle Scholar
Datsenko KA, Wanner BL: One-step inactivation of chromosomal genes in Escherichia coli K-12 using PCR products. Proc Natl Acad Sci U S A. 2000, 97: 6640-6645. 10.1073/pnas.120163297View ArticleGoogle Scholar
Lutz R, Bujard H: Independent and tight regulation of transcriptional units in Escherichia coli via the LacR/O, the TetR/O and AraC/I1-I2 regulatory elements. Nucleic Acids Res. 1997, 25: 1203-1210. 10.1093/nar/25.6.1203View ArticleGoogle Scholar
Baba T, Ara T, Hasegawa M, Takai Y, Okumura Y, Baba M, Datsenko KA, Tomita M, Wanner BL, Mori H: Construction of Escherichia coli K-12 in-frame, single-gene knockout mutants: the Keio collection. Mol Syst Biol. 2006, 2: E1-E11.View ArticleGoogle Scholar
Sulzenbacher G, Alvarez K, Van Den Heuvel RH, Versluis C, Spinelli S, Campanacci V, Valencia C, Cambillau C, Eklund H, Tegoni M: Crystal structure of E.coli alcohol dehydrogenase YqhD: evidence of a covalently modified NADP coenzyme. J Mol Biol. 2004, 342: 489-502. 10.1016/j.jmb.2004.07.034View ArticleGoogle Scholar
Shiroguchi K, Jia TZ, Sims PA, Xie XS: Digital RNA sequencing minimizes sequence-dependent bias and amplification noise with optimized single-molecule barcodes. Proc Natl Acad Sci U S A. 2012. 10.: 1347-1352.View ArticleGoogle Scholar
Jarboe LR: YqhD: a broad-substrate range aldehyde reductase with various applications in production of biorenewable fuels and chemicals. Appl Microbiol Biotechnol. 2011, 89: 249-257. 10.1007/s00253-010-2912-9View ArticleGoogle Scholar
Inokuma K, Liao JC, Okamoto M, Hanai T: Improvement of isopropanol production by metabolically engineered Escherichia coli using gas stripping. J Biosci Bioeng. 2010, 110: 696-701. 10.1016/j.jbiosc.2010.07.010View ArticleGoogle Scholar
Baez A, Cho KM, Liao JC: High-flux isobutanol production using engineered Escherichia coli: a bioreactor study with in situ product removal. Appl Microbiol Biotechnol. 2011, 90: 1681-1690. 10.1007/s00253-011-3173-yView ArticleGoogle Scholar
Hagemeyer HJ, De Croes GC: The chemistry of isobutyraldehyde and its derivatives. 1953, Tennessee Eastman Co, KingsportGoogle Scholar
Atsumi S, Wu TY, Machado IM, Huang WC, Chen PY, Pellegrini M, Liao JC: Evolution, genomic analysis, and reconstruction of isobutanol tolerance in Escherichia coli. Mol Syst Biol. 2010, 6: 449-View ArticleGoogle Scholar
Thomason LC, Costantino N, Court DL: E. coli genome manipulation by P1 transduction. Curr Protoc Mol Biol. 2007, Chapter 1 (Unit 1): 17-Google Scholar
Li C, Wen A, Shen B, Lu J, Huang Y, Chang Y: FastCloning: a highly simplified, purification-free, sequence- and ligation-independent PCR cloning method. BMC Biotechnol. 2011, 11: 92- 10.1186/1472-6750-11-92View ArticleGoogle Scholar
Copyright
© Rodriguez and Atsumi; licensee BioMed Central Ltd. 2012
This article is published under license to BioMed Central Ltd. This is an Open Access article distributed under the terms of the Creative Commons Attribution License (http://creativecommons.org/licenses/by/2.0), which permits unrestricted use, distribution, and reproduction in any medium, provided the original work is properly cited.