Modulation of endogenous pathways enhances bioethanol yield and productivity in Escherichia coli
Microbial Cell Factories
2012
11:145
Received: 9 July 2012
Accepted: 29 October 2012
Published: 4 November 2012
Abstract
Background
E. coli is a robust host for various genetic manipulations and has been used commonly for bioconversion of hexose and pentose sugars into valuable products. One of the products that E. coli make under fermentative condition is ethanol. However, availability of limited reducing equivalence and generation of competing co-products undermine ethanol yield and productivity. Here, we have constructed an E. coli strain to produce high yield of ethanol from hexose and pentose sugars by modulating the expression of pyruvate dehydrogenase and acetate kinase and by deleting pathways for competing co-products.
Results
The availability of reducing equivalence in E. coli was increased by inducing the expression of the pyruvate dehydrogenase (PDH) operon under anaerobic condition after replacement of its promoter with the promoters of ldhA, frdA, pflB, adhE and gapA. The SSY05 strain, where PDH operon was expressed under gapA promoter, demonstrated highest PDH activity and maximum improvement in ethanol yield. Deletion of genes responsible for competing products, such as lactate (ldhA), succinate (frdA), acetate (ack) and formate (pflB), led to significant reduction in growth rate under anaerobic condition. Modulation of acetate kinase expression in SSY09 strain regained cell growth rate and ethanol was produced at the maximum rate of 12 mmol/l/h from glucose. The resultant SSY09(pZSack) strain efficiently fermented xylose under microaerobic condition and produced 25 g/l ethanol at the maximum rate of 6.84 mmol/l/h with 97% of the theoretical yield. More importantly, fermentation of mixture of glucose and xylose was achieved by SSY09(pZSack) strain under microaerobic condition and ethanol was produced at the maximum rate of 0.7 g/l/h (15 mmol/l/h), respectively, with greater than 85% of theoretical yield.
Conclusions
The E. coli strain SSY09(pZSack) constructed via endogenous pathway engineering fermented glucose and xylose to ethanol with high yield and productivity. This strain lacking any foreign gene for ethanol fermentation is likely to be genetically more stable and therefore should be tested further for the fermentation of lignocellulosic hydrolysate at higher scale.
Keywords
Escherichia coli Endogenous pathwaysPromoter engineeringPyruvate dehydrogenaseAcetate kinaseEthanol
Background
We are largely dependent upon fossil fuels for fulfilling our energy requirement [1]. Fuels from renewable sources, such as agricultural and forest residues, hold promise in reducing our dependence on fossil fuel without competing with food. The agricultural and forestry waste mostly consist of lignocellulose, which is made-up of highly structured cellulose surrounded by hemicellulose and lignin [2]. In principle, it is possible to breakdown lignocellulose into the monosaccharides and ferment them into ethanol. However, cost associated with this process is a major hurdle in terms of commercial application [3]. One of the key advancement in the economy of ethanol production from lignocellulosic biomass will be to efficiently ferment both hexose and pentose sugars released after hydrolysis of lignocellulose into ethanol. Unfortunately, the conventional microorganisms used for ethanol fermentation, e.g., Saccharomyces cerevisiae and Zymomonas mobilis, do not have the capability to utilize pentose sugars [4]. Attempts have been made to transfer genes for pentose degradation pathway from other organisms into S. cerevisiae[5] and Z. mobilis[6]. However, the disadvantages associated with foreign gene expression at large scale like instability, toxicity, containment, etc., prevent its wide usage. Escherichia coli, on the other hand, has the ability to ferment both hexose and pentose sugars and is being used to produce ethanol by various genetic manipulation [4]. The genetic manipulation of E. coli that does not involve introduction of foreign gene has been attempted with some successes and these technologies certainly have advantages in the long-term genetic stability of the engineered strain [7, 8].
Under anaerobic condition,
E. coli
produces ethanol through a pathway that involves pyruvate formate lyase (PFL), which converts pyruvate into acetyl-CoA and formate (Figure
1
) [
9
]. However, this pathway is not redox balanced because in the process of metabolizing one mole of glucose into ethanol, four moles of NADH are consumed while only two moles of NADH are produced (Reaction (i)-(iii)).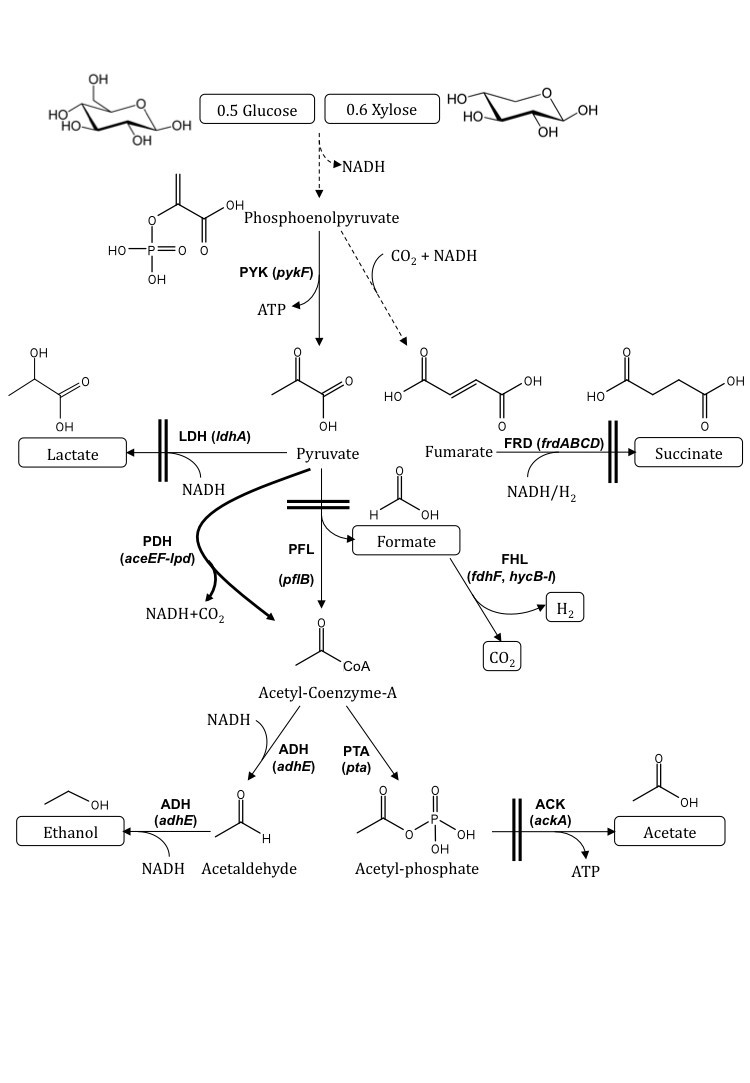 This redox imbalance would negatively impact the yield of ethanol. However, there is an alternate pathway exists where converting glucose into ethanol or butanol is a redox balance process. Here pyruvate in converted into acetyl-CoA and CO
2
via pyruvate dehydrogenase complex (PDH) and in the process one molecule of NADH is produced (Reaction (iv)) [
10
].
However, expression of PDH is repressed under anaerobic condition and remains active in the aerobically growing cells [10]. To activate the expression of PDH under anaerobic condition, the promoter of PDH should be replaced with the one that is highly active under anaerobic condition. One such study showed that replacing PDH promoter with PFL promoter has enhanced the expression of PDH under anaerobic condition and increased the yield of ethanol [8]. However, ethanol productivity was significantly lower in this study indicating sub-optimal flux through the PDH pathway.
In the study reported here, we have performed a systematic study of PDH expression under anaerobic condition by replacing its promoter with a number of promoters of the genes that are expressed at high level under anaerobic condition. A novel promoter-PDH operon combination was selected based on higher PDH enzyme activity and bioalcohol production and deletion mutants were generated to stop carbon flow to the competing byproducts. With the knowledge gained from the growth rate of various deletion mutants, we found a new way to improve cell growth and ethanol productivity by modulating expression of acetate kinase in the engineered cells. We further demonstrate that the engineered E. coli strain grown under microaerobic condition utilized xylose with the yield higher than reported before [7, 8]. Furthermore, to our knowledge we show for the first time fermentation of mixture of glucose and xylose into ethanol by the engineered E. coli strain without having any foreign gene for the ethanol production.
Conclusions
We replaced promoter of pyruvate dehydrogenase operon (PDH) in E. coli with promoters of various genes expressed under anaerobic condition and shown that PDH expression and ethanol yield was maximum under anaerobic condition when its promoter was replaced with gapA promoter. Deletion of pathways for competing products further increased the ethanol yield. However, there was significant drop in cell growth rate. Modulating expression of acetate kinase helped restoring the cell growth rate and improved ethanol productivity significantly. Microaerobic condition further improved the growth rate of the cells on both glucose and xylose. The strain reported here following engineering of endogenous pathway is likely to be genetically more stable and call for further study to evaluate ethanol production from hydrolysate of lignocellulosic biomass.
Declarations
Acknowledgements
We are thankful to Dr. Ramon Gonzalez for providing pZSblank plasmid. The study was supported by the financial grants from Department of Biotechnology and Department of Science and Technology, Government of India. NM was supported by the fellowship from Council of Scientific and Industrial Research.
Authors' Affiliations
(1)
Synthetic Biology and Biofuel Group, International Centre for Genetic Engineering and Biotechnology (ICGEB), Aruna Asaf Ali Marg, New Delhi, India
(2)
Centre for Biotechnology, Jamia Hamdard, New Delhi, India
Copyright
© Munjal et al.; licensee BioMed Central Ltd. 2012
This article is published under license to BioMed Central Ltd. This is an Open Access article distributed under the terms of the Creative Commons Attribution License (http://creativecommons.org/licenses/by/2.0), which permits unrestricted use, distribution, and reproduction in any medium, provided the original work is properly cited.