Modification of genetic regulation of a heterologous chitosanase gene in Streptomyces lividans TK24 leads to chitosanase production in the absence of chitosan
Microbial Cell Factories
2011
10:7
Received: 23 November 2010
Accepted: 10 February 2011
Published: 10 February 2011
Abstract
Background
Chitosanases are enzymes hydrolysing chitosan, a β-1,4 linked D-glucosamine bio-polymer. Chitosan oligosaccharides have numerous emerging applications and chitosanases can be used for industrial enzymatic hydrolysis of chitosan. These extracellular enzymes, produced by many organisms including fungi and bacteria, are well studied at the biochemical and enzymatic level but very few works were dedicated to the regulation of their gene expression. This is the first study on the genetic regulation of a heterologous chitosanase gene (csnN106) in Streptomyces lividans.
Results
Two S. lividans strains were used for induction experiments: the wild type strain and its mutant (ΔcsnR), harbouring an in-frame deletion of the csnR gene, encoding a negative transcriptional regulator. Comparison of chitosanase levels in various media indicated that CsnR regulates negatively the expression of the heterologous chitosanase gene csnN106. Using the ΔcsnR host and a mutated csnN106 gene with a modified transcription operator, substantial levels of chitosanase could be produced in the absence of chitosan, using inexpensive medium components. Furthermore, chitosanase production was of higher quality as lower levels of extracellular protease and protein contaminants were observed.
Conclusions
This new chitosanase production system is of interest for biotechnology as only common media components are used and enzyme of high degree of purity is obtained directly in the culture supernatant.
Keywords
ChitosanStreptomycesGlcNHeterologous HostPalindromic Sequence
Background
Chitosan, a partly N-deacetylated form of chitin, is naturally found in the cell walls of fungi, especially in Zygomycetes (Mucor sp., Rhizopus sp.), and in the green algae Chlorophyceae (Chlorella sp.) [1–3]. Chitosan, is a polysaccharide made of β-1,4-linked D-glucosamine (GlcN) units with a variable content of N-acetyl-D-glucosamine units. Chitosan is produced at industrial scale by alkaline deacetylation of chitin, originating mainly from crustacean shells [4]. This polysaccharide, almost unique among natural polymers for its amino groups that remain positively charged in mild acidic solutions, is the subject of numerous works oriented towards its numerous emerging applications in medicine, agriculture, dietetics, environment protection and several other fields [5–7]. Chitosan is also a valuable source of GlcN, a neutraceutical used as a therapeutic agent in osteoarthritis [8]. Many properties of chitosan, especially in biological applications are dependent on its molecular weight, i.e. on its degree of polymerization. The very short derivatives of chitosan - the chito-oligosaccharides are of particular interest, due to their increased solubility in aqueous solutions and their specific biological activities [9, 10].
To obtain chitosan chain of varying degrees of polymerization, several chemical and physical techniques were investigated [11–13]. Enzymatic techniques with either free or immobilized chitinase or chitosanase enzymes are also intensively studied [14–16]. Chitosanase production has been found in many microorganisms, bacteria or fungi. The enzymes so far characterized at the primary sequence level belong to seven families of glycoside hydrolases: GH3, GH5, GH7, GH8, GH46, GH75 and GH80 [17–24]. While these enzymes are endo-hydrolases, their mechanism could potentially be transformed into exo-type by protein engineering as shown for the GH46 chitosanase from Bacillus circulans MH-K1 [25]. Chitosan can be also hydrolyzed by enzymes acting by an exo-mechanism generating GlcN monomers [26, 27]. The chitosanases from Streptomyces have been widely studied in various aspects of structure-function relationships [28 and references cited herein]. Usually, these chitosanases are produced in the heterologous host Streptomyces lividans via the multi-copy vector pFD666 [29]. However, very few works have been dedicated to the regulation of chitosanase gene expression in the native and/or heterologous hosts. Most studies were limited to the follow up of chitosanase production in various culture media [30, 31].
The present report is the first study dedicated to the optimization of gene expression of a chitosanase in a heterologous host. The chitosanase gene under study, csnN106 has been cloned from the Kitasatospora sp. N106 strain (formerly Nocardioides sp. N106) [32]. The chitosanase CsnN106 is highly similar to other GH46 family chitosanases at the structural and biochemical level [33]. The strain N106 was among the most active chitosanolytic strains isolated through an extensive screening of soil samples [32, 34].
In our previous work we observed that an efficient production of CsnN106 chitosanase in Streptomyces lividans TK24 was strictly dependent on the addition of chitosan or its derivatives to the culture medium [35] indicating that this foreign gene is still subjected to some kind of chitosan-dependent regulation in the heterologous host. However, the addition of chitosan as a component in any culture medium is not without problems due to the well known anti-microbial properties of this polysaccharide [9, 10] which can slow down the bacterial growth.
Here, we show that the expression of the heterologous gene csnN106 in S. lividans is regulated at the transcriptional level. This led us to engineer a new expression system which does not require anymore the presence of chitosan or its derivatives as inducers of enzyme production.
Results
The rationale of genetic constructions
The integrative plasmid pHM8aBΔM [36, 37], was used in studies involving the regulation of gene csnN106 expression. The csnN106 gene was present in a single copy in the genome, avoiding the regulatory interference brought by multi-copy plasmids.
By primer extension, we determined the start site for mRNA transcribed from
csnN106
(Figure
1
and Figure
2A
), defining the probable -35 and -10 boxes of the promoter of
csnN106
as TTGCGC and TTCAAT with a spacer of 18 nucleotides (shown in blue on Figure
2A
). To test another promoter, described as a "strong" promoter by Labes
et al
. [
38
], the original -35 and -10 boxes of
csnN106
gene were substituted with the two tandemly arrayed and overlapping promoters of the
Streptomyces ghanaensis
phage I19, taking the respective transcription start sites as reference (Figure
2A
).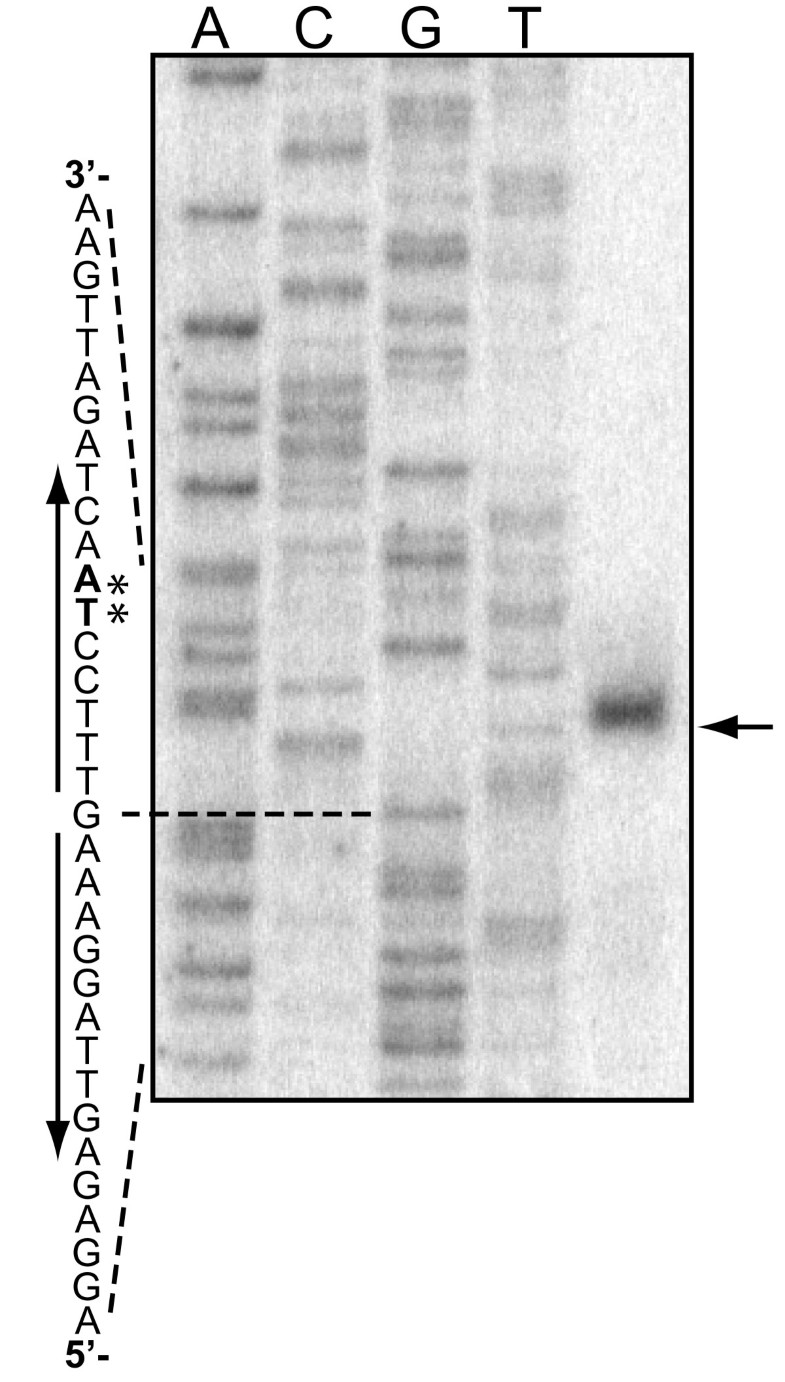 A palindromic sequence overlaps the transcriptional start site of csnN106 (Figure 2A). Highly similar sequences are also present upstream from the coding sequences of chitosanase genes found in other genomes of actinomycetes, displaying a clear consensus (Figure 2B). Previous gel retardation experiments have shown an interaction between a protein present in partially purified cell extract from Kitasatospora sp. N106 and a short DNA segment including the palindromic sequence [39]. Competition tests with mutated oligonucleotides allowed determining the bases which were critical for the interaction with the regulatory protein in vitro (Figure 2B) [39]. For the present study, two most important base pairs in the right half of the palindromic sequence were mutated (while keeping intact the original -10 and -35 promoter boxes) and introduced upstream from the csnN106 coding sequence, resulting in a third version of this heterologous gene. These three genes were introduced in two hosts: Streptomyces lividans TK24 (the host used so far in most works involving actinobacterial chitosanase studies) and a mutant harbouring an in-frame deletion in csnR gene (ΔcsnR, formerly described as Δ2657 h by Dubeau et al. [37]). The csnR gene (SSPG_04872, according to GenBank annotation) is coding for the transcriptional regulator of the endogenous chitosanase gene (Dubeau, M.-P., Poulin-Laprade, D., Ghinet, M. G., Brzezinski, R.: Characterization of CsnR, the transcriptional repressor of the chitosanase gene of Streptomyces lividans, submitted), a protein belonging to the ROK family created by Titgemeyer et al. [40].
Crude extracts prepared from the cells of both strains cultivated in the presence of chitosan oligosaccharides (a mixture of GlcN and chitosan oligomer) were used in gel retardation experiments using a
32
P-labelled oligonucleotide including the palindromic sequence from
csnN106
as a probe. A shift in mobility was observed with the extract from the wild type strain but not with
ΔcsnR
mutant (Figure
3
). The CsnR protein from
S. lividans
binds then efficiently the palindromic sequence of the heterologous
csnN106
gene.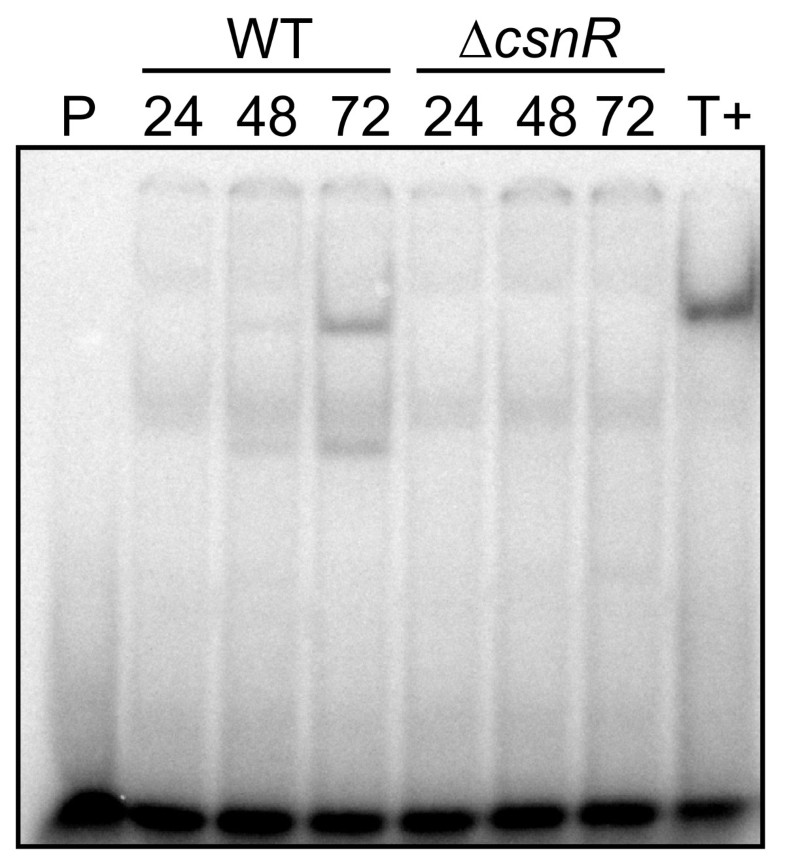 Regulation of csnN106 chitosanase gene expression in the heterologous host
To investigate the regulation of the
csnN106
gene in
S. lividans
, various versions of the heterologous chitosanase gene have been cloned into derivatives of the integrative vector pHM8a. The wild-type and
ΔcsnR
strains of
S. lividans
, harbouring integrated variants of the
csnN106
gene were cultivated in minimal media with either mannitol or a mix of chitosan oligosaccharides as carbon source. Samples of culture supernatants were collected after various incubation times and chitosanase activity and dry mycelia mass were measured. Figure
4
shows the chitosanase activities (expressed as Units/mg of dry mass to normalize with culture growth) attained after 16 h. The induction ratio is calculated dividing the activity obtained in the presence of chitosan oligosaccharides by that obtained in mannitol medium. Combining the host genotype, the chitosanase gene promoter and the palindromic sequence in their wild type forms resulted in the highest induction ratio (12.8x) indicating the extent of negative regulation of the
csnN106
gene in the heterologous host. When the
csnR
gene was deleted or when the operator of
csnN106
gene was mutated, the difference among activities produced in the presence and in the absence of chitosan became not significant or of low significance, resulting in low values of induction ratios (2.5 - 3.9), due essentially to derepression of chitosanase production in mannitol medium. The expression of the chitosanase gene with the phage-type promoter followed a similar pattern. Overall however, the phage-type promoter did not direct higher chitosanase production levels and was not included in further studies.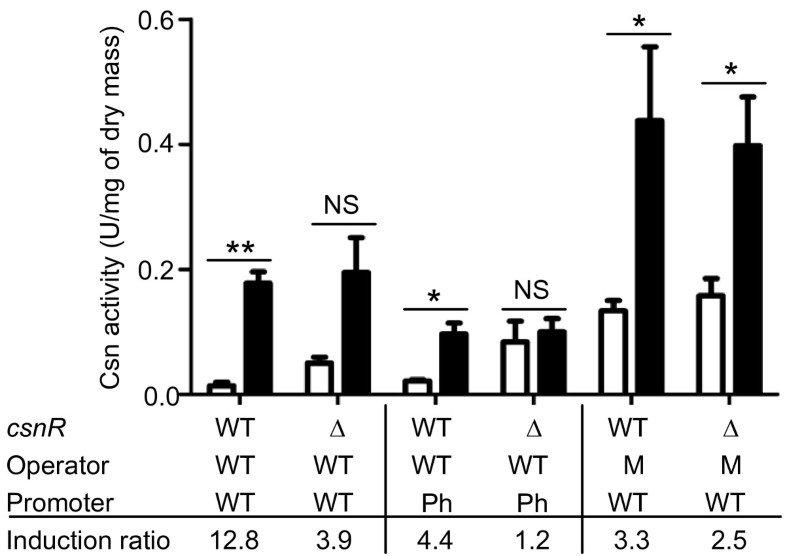 Globally, these results indicate that the palindromic sequence and the csnR gene function as a negative regulation system of the csnN106 gene in the heterologous S. lividans host. This mode of regulation is very similar to the one exerted on the endogenous chitosanase gene (csnA) of S. lividans TK24 (Dubeau et al., submitted).
Chitosanase production in the absence of chitosan or derivatives
In our previous work, efficient production of chitosanase by either native or recombinant actinobacterial strains was strictly dependent on the addition of chitosan or derivatives (GlcN or chitooligosaccharides) in the culture media. The regulatory derepression, observed in the S. lividans ΔcsnR host harbouring the chitosanase gene with the mutated operator sequence raised the possibility to produce chitosanase in the absence of such inducers, using only inexpensive media components. Testing various concentrations of malt extract, salt formulations and methods of inoculation allowed obtaining routinely activities in the range of 10 - 12 units per ml and, in the best case, up to 24 units per ml (not shown). Protease activity was also highly dependent on medium composition and type of inoculum. Addition of magnesium ions was found to be essential to promote efficient chitosanase production (and low level of protease), while the microelements of the M14 M medium could be omitted (not shown).
In previous work, chitosanase production was performed with
S. lividans
TK24 harbouring
csn
genes originating from various bacterial species cloned in multicopy plasmids [
35
]. To compare the new gene/host combination with the former ones, we cloned the
csnN106
gene (with a wild type operator) into the multicopy vector pFDES [
28
] and introduced it in the wild type host. In parallel, the same plasmid but with the mutated operator has been introduced into the
ΔcsnR
host. Chitosanase production by these two strains has been compared with that directed by the
csnN106
gene (with the mutated operator) on a derivative of the integrative vector pHM8a in the
ΔcsnR
host. Three media formulations were tested: a medium containing malt extract as main nutrient source, a medium with chitosan flakes and GlcN, often used in our previous work, and a medium with more expensive components, GlcN and chitosan oligomers, used in basic research for the induction of chitosanase gene expression (Figure
4
). On Figure
5
only the 72 h time point is presented, as chitosanase level was maximal around this time point and then remained stable or slightly decreased. The culture in medium with chitosan flakes and GlcN gives the best chitosanase level for the strain keeping intact both partners of the regulatory interaction (Figure
5A
). However, cultures in media with chitosan gave much higher levels of extracellular proteases (Figure
5B
). The
ΔcsnR
host harbouring the chitosanase gene on a integrative vector produced equivalent enzyme activities in the malt extract medium and in the chitosan flakes medium (Figure
5A
), confirming the possibility to produce chitosanase in the absence of any chitosan derivative, with a much lower level of extracellular proteases (Figure
5B
). Furthermore, the analysis of total extracellular proteins by SDS-PAGE revealed that there were less contaminant proteins in the malt extract medium than in the chitosan flakes medium (Figure
5C
). In
ΔcsnR
host there was no particular advantage to use the multicopy plasmid over the integrative vector, the latter being more advantageous as it did not require the addition of any antibiotic to the medium. The
ΔcsnR
host seems to be particularly useful for the inexpensive production of almost pure chitosanase in stable, low-protease conditions.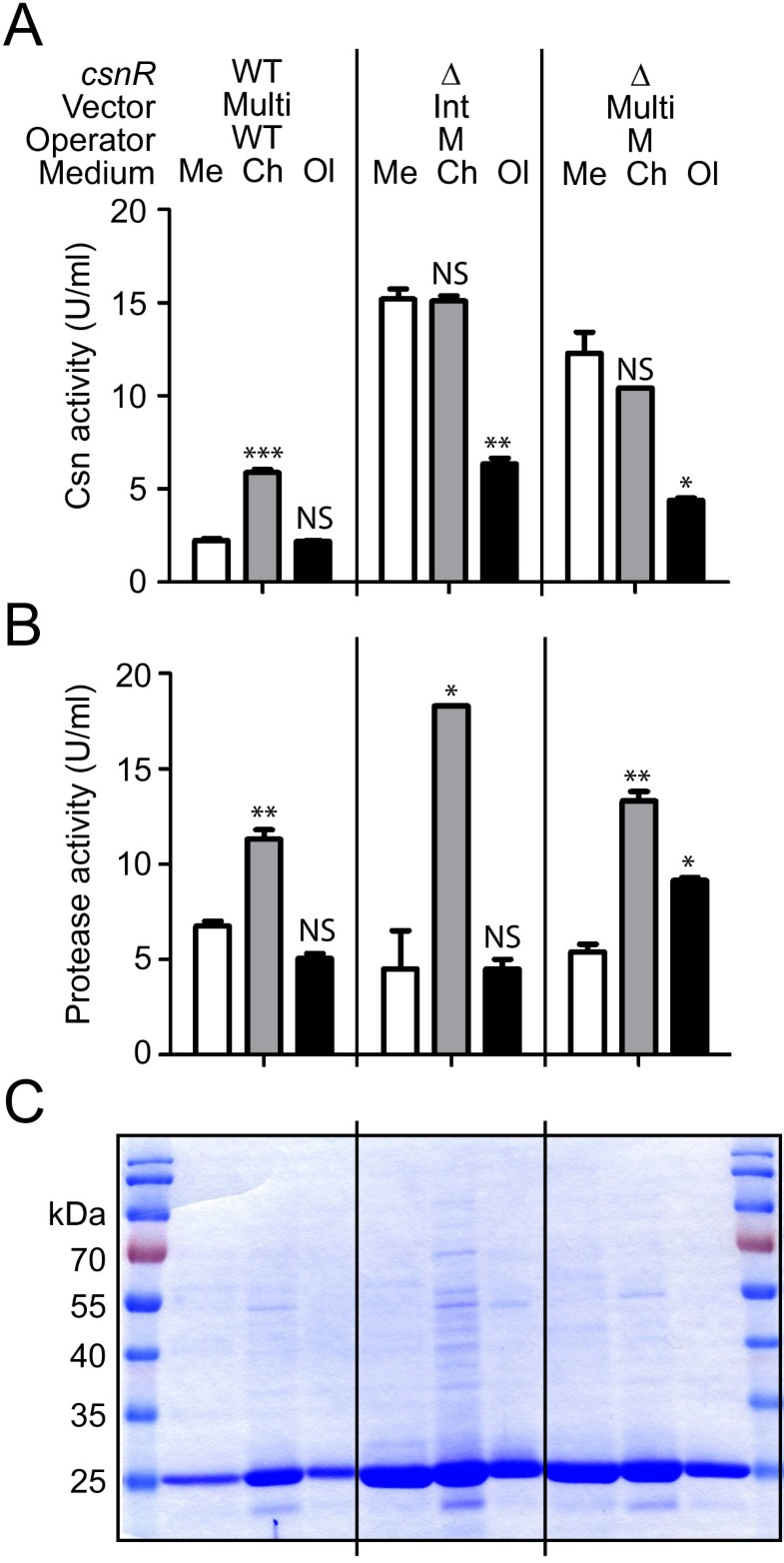 Discussion
This report is the first study dedicated to the genetic regulation of a heterologous chitosanase gene in S. lividans. We have shown that CsnR regulates negatively the expression of csnN106 gene. Deletion of csnR or mutations in the operator sequence of csnN106 resulted in the derepression of expression in the absence of inducer molecules. However, even in the derepressed gene/host combination, some residual induction by chitosan derivatives was still observed. This could be due to a regulator responding directly to the presence of chitosan or indirectly, through a stress pathway resulting from the interaction between chitosan and the cell. A complex transcriptomic response has been observed after contact with chitosan in cells of Staphylococcus aureus[41] and Saccharomyces cerevisiae[42].
One usual way to change the genetic regulation of a given gene is done by promoter replacement. In our earlier work, testing three different promoters from streptomycetes did not led to the improvement of chitosanase production [43]. In this work, we decided to replace only the -35 and -10 boxes from csnN106 promoter sequence while conserving all the remaining segments. Despite the use of a promoter considered as strong [38], this substitution did not result in better chitosanase production. For reasons that remain unclear, the chitosanase expression was less efficient for a total of four different hybrid gene constructions when the protein coding sequence of Csn was separated from its native upstream segment. This could result from a lower stability of mRNAs transcribed from these hybrid genes, but this remains to be investigated.
Masson et al. [35] optimized a chitosanase production medium for the CsnN174 production in the heterologous host S. lividans. They showed that the addition of malt extract to the chitosan medium was beneficial for enzyme production. We then based our media formulations on malt extract in our attempts to produce chitosanase with the new gene/host combination in the absence of chitosan. We have shown that equivalent, and sometimes higher chitosanase levels can be obtained without the addition of chitosan to the culture medium. Interestingly, the new medium/host combination resulted in much lower levels of contaminant proteins in the supernatant. Finally, in earlier culture media formulations including chitosan flakes, a raise of extracellular protease activity at later culture stage could often result in a rapid loss of chitosanase activity [35]. The new medium/host combination provides a substantial improvement, as protease levels are much lower, resulting in stable chitosanase production.
Conclusions
The chitosanase production system based on a new medium/host combination was shown to be at least as efficient as the former one without the necessity to include chitosan or derivatives into the culture medium. Extensive optimization of culture parameters will probably lead to much higher chitosanase activities. For biotechnology, the new host will be of interest for large scale chitosanase production as only inexpensive media components can be used. For basic research, it will be particularly useful for the introduction of carbon or nitrogen isotopes into the chitosanase molecule, originating from defined sources such as 13C-glucose or 15NH4Cl and for the production of highly pure chitosanase proteins for crystallography. This will contribute to a further advance in structure-function studies of chitosanases.
Declarations
Acknowledgements
The authors thank Édith Sanssouci for providing the pFDES vector and Dr. Tamo Fukamizo for helpful discussions. This work was supported by a Discovery grant from Natural Science and Engineering Research Council (NSERC) of Canada to RB. M-PD is the recipient of doctoral student fellowships from NSERC and Fonds québécois de recherche sur la nature et les technologies.
Authors' Affiliations
(1)
Centre d'Étude et de Valorisation de la Diversité Microbienne, Département de Biologie, Faculté des Sciences, Université de Sherbrooke, (Québec), Canada
Copyright
© Dubeau et al; licensee BioMed Central Ltd. 2011
This article is published under license to BioMed Central Ltd. This is an Open Access article distributed under the terms of the Creative Commons Attribution License (http://creativecommons.org/licenses/by/2.0), which permits unrestricted use, distribution, and reproduction in any medium, provided the original work is properly cited.