A review on Lactococcus lactis: from food to factory
Microbial Cell Factories
2017
16:55
Received: 13 November 2016
Accepted: 28 March 2017
Published: 4 April 2017
The Erratum to this article has been published in Microbial Cell Factories 2017 16:139
Abstract
Lactococcus lactis has progressed a long way since its discovery and initial use in dairy product fermentation, to its present biotechnological applications in genetic engineering for the production of various recombinant proteins and metabolites that transcends the heterologous species barrier. Key desirable features of this gram-positive lactic acid non-colonizing gut bacteria include its generally recognized as safe (GRAS) status, probiotic properties, the absence of inclusion bodies and endotoxins, surface display and extracellular secretion technology, and a diverse selection of cloning and inducible expression vectors. This have made L. lactis a desirable and promising host on par with other well established model bacterial or yeast systems such as Escherichia coli, Salmonella cerevisiae and Bacillus subtilis. In this article, we review recent technological advancements, challenges, future prospects and current diversified examples on the use of L. lactis as a microbial cell factory. Additionally, we will also highlight latest medical-based applications involving whole-cell L. lactis as a live delivery vector for the administration of therapeutics against both communicable and non-communicable diseases.
Keywords
Lactococcus lactis Heterologous proteinsRecombinant proteinsExpression systemsSecretionSurface displayMicrobial cell factory
Background
Despite the common association of Lactococcus lactis with dairy products, the bacterium was originally isolated from plants where it was believed to be dormant, and only became active and multiplied in the gastrointestinal tract after being consumed by ruminants [1]. Originating from the streptococcus genus and re-classified into the Lactococcus genus in 1985, L. lactis is divided into three subspecies namely L. lactis subsp. lactis, L. lactis subsp. cremoris, and L. lactis subsp. hordniae [2]. Phenotypically, it is classified as a gram-positive, spherical, homolactate, non-sporulating, and facultative anaerobic gut bacteria with hundreds of strains and biovariants published to date [3, 4].
Lactococcus lactis
has been used for centuries in the fermentation of food especially cheese, yoghurt, sauerkraut and the like, thereby rendering it's generally recognized as safe (GRAS) status by the Food and Drug Administration (FDA). Apart from imparting flavour,
L. lactis
being a lactic acid bacteria (LAB) also produces acid which preserves food. Some strains further enhances this preservation property with the production of bacteriocins, thus reinforcing its role in the food industry. Other than its important function in food,
L. lactis
has become the model LAB when it comes to genetic engineering. Several factors including its small-sized fully sequenced genome (2.3 Mbp), and the development of successfully compatible genetic engineering tools such as cloning and expression systems with customizable options, have rendered it a desirable model. Over the past two decades,
L. lactis
has vastly extended its application from food to being a successful microbial cell factory (Fig.
1
a), and on many occasions, acting as a gram-positive alternative to
Bacillus subtilis
and
Lactobacillus plantarum
, or its gram-negative counterpart,
Escherichia coli
(Fig.
1
b) [
5
].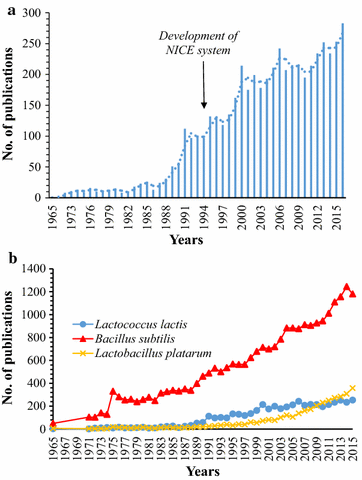 This review will cover the many aspects of L. lactis as a cell factory for an immense range of products as well as its role as a vehicle for delivery of therapeutics into the gastrointestinal system. It is to be used as an overview of the enormously extended biotechnological role that L. lactis has so far acquired, indicating other relevant and niche areas involving L. lactis where applicable.
The lactococcal molecular toolbox
Expression systems
One of the reasons L. lactis has emerged to become a successful microbial cell factory system is due to the wealth of genetic knowledge available spanning at least four fully sequenced lactococcal strains [6] and many existing expression systems. Various constitutive and inducible expression systems have been developed for L. lactis as screening of promoters using reporter genes such as beta-galactosidase are a commonly used strategy in developing novel lactococcal expression systems [7, 8]. P45 and P32 are commonly used as constitutive lactococcal promoters, but stronger promoters are still being discovered and developed to improve the system [9].
In most cases, inducible promoters are preferred over constitutive promoters as they provide better control to the user. There are various lactococcal inducible systems such as P(Zn)zitR and Zirex system which are both regulated based on zinc availability where the former and latter are repressed and induced by the presence of zinc, respectively [10]. Other inducible promoters are PA170 which is induced by a decrease in pH during transition of culture to stationary phase thus making it autoinducible [11, 12] and P xylT which is induced by xylose [13]. However, without doubt, the most successful lactococcal expression system to date is the nisin controlled gene expression (NICE) system developed by Kuipers and colleagues in 1995. Nisin is a 34-amino acid anti-microbial peptide whose biosynthesis is encoded by a cluster of 11 genes. Of the 11 genes, nisR and nisK regulate expression of the nisin genes. NisK is a histidine-protein kinase which resides in the cytoplasmic membrane and acts as a receptor for the nisin molecule. Upon reception of nisin, it activates nisR via phosphorylation, which in turn induces transcription of two promoters in the nisin gene cluster: PnisA and PnisF [14].
The host L. lactis NZ9000 is a derivative of the nisin-negative MG1363 strain with the nisR and nisK genes inserted into its chromosome [15]. When a gene of interest is placed downstream the PnisA promoter on a plasmid, expression of that gene can be induced by introduction of sub-inhibitory amounts of nisin (0.1–5.0 ng/ml). The most commonly used expression plasmid is pNZ8048 [15], which enables a gene insertion in the NcoI site overlapping the ATG start codon, allowing direct cloning of the gene fused to the nisA start codon [16]. Other commonly used strains and plasmids of the NICE system are reviewed in "10 years of NICE in L. lactis" [16]. Many of these NICE® plasmids and compatible host strains developed by NIZO Food Research (Netherlands) are now commercially available, with many derivatives being established using NIZO systems including a system for TA-cloning, designated pNZ-T to facilitate restriction enzyme independent cloning [17].
Secretion strategies
Secretion of heterologous proteins are mostly preferred compared to intracellularly expressed proteins due to advantages such as simpler purification steps, higher yields, and better target interactions [18]. In view of this, it is also advantageous to employ the secretion system when developing L. lactis as a host for heterologous protein production [19]. In addition, gram-positive bacteria have a monolayer cell wall that permits direct secretion into the extracellular environment in comparison to E. coli where secreted proteins are mostly stuck in the periplasm [20]. Furthermore, L. lactis only possesses a single extracellular housekeeping protease, HrtA, thereby reducing the chances of secreted heterologous proteins being degraded [21, 22].
Signal peptides (SPs) are N-terminal extensions of a protein which signals the host to target the protein towards the extracellular region by translocation across the cytoplasmic membrane and cell wall. While the sequence of SPs are vastly diversed, they display a common tripartite structure which includes the positively charged N-terminus, the hydrophobic H-region and the negatively charged cleavage region at the C-terminus [23]. In L. lactis, there is only one majorly secreted protein which is Usp45, whose function is still unknown [19]. Nevertheless, the native lactococcal Usp45 SP is the most successful SP used thus far for secretion in L. lactis, and was recently engineered through a series of mutations to further increase its secretion efficiency (SE) by 51% [24]. More recently, we have isolated a novel signal peptide, SPK1 from Pediococcus pentasaceus, with the ability to secrete heterologous proteins with efficiencies comparable to Usp45 in L. lactis [25]. When SPK1 was used to secrete β-cyclodextrin glucanotransferase, although secretion efficiency was higher than USP45, total yield was found to be lower [26], thus demonstrating the complex effects brought upon by SPs, not only on the secretion of heterologous proteins, but on total protein yield as well.
Apart from SPs, past literature have reported several other strategies which have proven to improve SE in L. lactis including the use of synthetic LEISSTCDA propeptide sequence (SPs are followed by a propeptide sequence which is cleaved after translocation to produce the mature protein) [23], and the use of a hrtA mutant strains (the only reported cell surface proteolytic housekeeping gene) [22]. In another strategy, it was shown that the secretion yield of some heterologous proteins can be improved in L. lactis when co-expressed with B. subtilis PrsA protein, which is a surface anchored protein with chaperon-like functions and have been shown to decrease degradation of exported proteins [27].
Surface display systems
The thick and rigid cell wall of gram-positive bacteria as well as the lack of an outer membrane envelope has made them suitable for the cell surface display of proteins. Displaying proteins on bacterial cell wall allows the bacteria to act as carriers of proteins, especially antigens, and allow interaction of displayed proteins with targeted environments. There are five different types of protein anchors described in lactic acid bacteria; (1) transmembrane anchors: (2) lipoprotein anchors which binds to the cell membrane; (3) LPXTG-type cell wall anchoring domains; (4) AcmA-repeats anchor domain; (5) S-layer protein attachments which are bound to cell wall components [28].
In L. lactis, the most commonly used method for surface display of proteins is through the LPXTG sorting signal of surface-associated proteins which are recognized by the sortase enzyme, and covalently bound to the cell wall. In this method, the anchoring mechanism relies on the sortase activity as this membrane-anchored enzyme cleaves the sorting signal of the target protein at its pentapeptide motif (LPXTG) and promotes covalent anchoring of the target protein to the cell wall [29, 30]. However, non-covalent binding of cell surface proteins using lysin motifs (LysM) are also alternatively used, with the LysM of the autolysin AcmA being the most common [31]. More interestingly, non-covalent binding of antigens/proteins using AcmA has been shown to allow trans surface display, where proteins are displayed from the outside of L. lactis host cells, as we have previously shown [32]. Using this method, expression of heterologous proteins can be performed in a non-lactococcal host (e.g. E. coli), purified and bound non-covalently to the lactococcal cell wall simply by mixing the purified heterologous proteins to lactococcal cell cultures. More importantly, this enables the lactococcal cells to carry heterologous proteins without being genetically modified, a method which have also been demonstrated with Newcastle disease virus hemagglutinin-neuraminidase (HN) protein for specific targeting of breast cancer cells [33]. In addition, eukaryotic proteins which require post-translational modifications can also be expressed in eukaryotic hosts, and subsequently attached to L. lactis for delivery [34]. A variation of this method uses GEM (gram-positive enhancer matrix) particles which are killed non-recombinant lactococcal cells devoid of most intact cell wall components and intracellular materials. Antigens fused to streptococcal protein anchor enable them to be docked onto the peptidoglycan of GEM particles, which was also shown to elicit an immune response in nasally immunized mice [35]. A similar approach was also employed recently for subtilisin QK-2 using GEM [36]. The drawback of this system, however, is that the lactococcal cells are merely a carrier of the displayed protein, not a factory producing the proteins, thus repeated introduction of proteins displayed on lactococcal cells may be needed.
Lactococcus lactis as a cell factory
Challenges and future prospects
While manipulations involving L. lactis enables various heterologous genes to be expressed, its yield is very much case-dependant, with lesser problems when it comes to closely related organisms such as Streptococcus spp., Enterococcus spp., Staphylococcus spp. and low-GC Lactobacillus spp. However, the greatest obstacle still revolves around its codon usage and/or distribution of rarely used codons [16, 150]. Additionally, gram protein per litre secretion in the microaerophilic Lactococcus spp. is still generally less robust when compared to the aerobically growing B. subtilis. Previously, genes encoding toxic gene products typically resulted in unsuccessful cloning attempts, further challenging the already-low transformation rate, but this was overcome by incorporating the nisA promoter in single copy on the chromosome [151, 152].
Following up on the use of NICE system, controlling the consistency of dosages and delivery of therapeutic molecules is also difficult to predict with L. lactis owing to the loosely controlled stability and small intestinal absorption of nisin, which ultimately influences the pharmacokinetics and pharmacodynamics interplay [69]. Another challenge involves the fine balance between switching from homolactic to mixed-acid fermentation in L. lactis which remains unresolved to-date [153], and elucidating this may vastly improve the potential of L. lactis as a cell factory.
In spite of limited systematic studies available on the acquired antibiotic resistance especially from food due to L. lactis designated GRAS status, a study documenting multiple drug efflux proteins attributing resistance to ethidium bromide was discovered in L. lactis subsp. lactis MG1363 [154]. Since much of the use for L. lactis as a cell factory involves ingestion or uptake into the host, there lies a risk for horizontal transfer of these efflux pumps to other commensal or potentially pathogenic bacteria. In other words, transit of L. lactis through the GIT which is frequently exposed to antibiotics may cause susceptible gene exchange with the surrounding flora, potentially leading to antibiotic resistant strains. In addition, release of chloramphenicol resistant pNZ-harbouring L. lactis strains into the environment is also a grave concern.
Therefore, it is imperative that guidelines mandating the management of L. lactis as a cell factory be put in place, especially for new strains, that conform to pre-marketing safety profiling and post-marketing follow-up to determine their acceptability [155]. Many lactococcal system developments have also incorporated food-grade markers in place of antibiotic resistance markers so as to maintain the GRAS status of L. lactis [156]. Alternatively, much consideration should be given on privileged aspects whereby recombinant L. lactis should be used. Examples include basis of delivered molecule, persistence of strain, robustness of the expression system, composition of different molecule subtypes and delivery to specific eukaryotic cells [157]. While its long history and safe use may be somewhat arguable, oftentimes, modifications to the final engineered product may bring about unexpected consequences [158], which also explains why only a few cell factories involving L. lactis have actually entered human trials.
When it comes to cancer vaccines, new knowledge and advancements in immunomodulation and microencapsulation technology of live lactococcal delivery vectors coupled with the richness of gut-associated lymphoid tissues (GALTs) have consequently opened up a gateway in exploiting future vaccination efforts via an oral-mucosal route, where we predict future research efforts being streamlined towards the lactococcal-based production of recombinant tumour antigens, especially against gastrointestinal malignancies over the next decade. In essence, this approach slingshots the practical use of peptide-based vaccines by overcoming its existing shortcomings such as its poor plasma stability and systemic half-life when administered in vivo.
Conclusions
Lactococcus lactis have come a long way from being a food bacterium to a microbial cell factory for the production of industrially important products with potentially great bio-economic value, especially in the medical field. In spite of its limitations, there is still much room for improvement of the lactococcal system as a microbial cell factory since its molecular toolbox is still relatively limited compared to those available for E. coli. An expansion of said toolbox would be akin to opening a Pandora's box, thus allowing further potential especially in terms of genetic and metabolic engineering to overcome limitations highlighted above.
Abbreviations
MEP:

2-C-methyl-d-erythritol-4-phosphate
4CL:

4-coumarate-CoA ligase
ADH:

alcohol dehydrogenase
ALS:

alpha-acetolactate synthase
CEA:

carcinoembryonic antigen
CTB:

cholera toxin B
DSS:

dextran sulfate sodium
EHEC:

enterohemorrhagic Escherichia coli
ECM:

extracellular matrix
FnbpA:

fibronectin-binding protein A
FDA:

Food and Drug Administration
GABA:

gamma-amino butyric acid
GIT:

gastrointestinal tract
GMO:

genetically modified organism
GEM:

gram-positive extracellular matrix
GRAS:

generally regarded as safe
GAPDH:

glyceraldehyde 3-phosphate dehydrogenase
GTP:

guanosine triphosphate
GALT:

gut-associated lymphoid tissue
Hsp:

heat shock protein
HA:

hemagglutinin
HN:

hemagglutinin-neuraminidase
HIV:

human immunodeficiency virus
IBV:

infectious bronchitis virus
IBD:

inflammatory bowel disease
IGF-I:

insulin-like growth factor I
IFN:

interferon
IL:

interleukin
KDEL:

Lys–Asp–Glu–Leu
KRAS:

Kirsten rat sarcoma viral oncogene homolog
LDH:

lactate dehydrogenase
LAB:

lactic acid bacteria
LLO:

listeriolysin O
LysM:

lysine motif
MVA:

mevalonate pathway
NOX:

NADPH oxidase
NDV:

Newcastle disease virus
NADH:

nicotinamide adenine dinucleotide dehydrogenase
NICE:

nisin-controlled gene expression
NP:

nucleoprotein
PLA:

polylactic acid
PCV:

porcine circovirus
PDH:

pyruvate dehydrogenase
PFL:

pyruvate-formate-lyase
SE:

secretion efficiency
SP:

signal peptides
SOD:

superoxide dismutase
Th:

T-helper
TGF-β1:

transforming growth factor beta 1
T1D:

type-1 diabetes
Declarations
Authors' contributions
AAS contributed to the review on cloning and expression systems, LILA contributed to the review on therapeutic and vaccine products, LSHE contributed to the review on industrial products and compounds, while RAR provided insights on challenges and future prospects of L. lactis. All authors read and approved the final manuscript.
Acknowledgements
Not applicable.
Competing interests
The authors declare that they have no competing interests.
Availability of data and materials
The datasets supporting the review are included within the article.
Funding
This study was supported by a grant from the Ministry of Higher Education (MOHE) through the Fundamental Research Grant Scheme (FRGS/1/2014/SG05/UCSI/03/1) and the Ministry of Science Technology and Innovation (MOSTI) (02-02-22-SF0011).
Publisher's Note
Springer Nature remains neutral with regard to jurisdictional claims in published maps and institutional affiliations.
Open AccessThis article is distributed under the terms of the Creative Commons Attribution 4.0 International License (http://creativecommons.org/licenses/by/4.0/), which permits unrestricted use, distribution, and reproduction in any medium, provided you give appropriate credit to the original author(s) and the source, provide a link to the Creative Commons license, and indicate if changes were made. The Creative Commons Public Domain Dedication waiver (http://creativecommons.org/publicdomain/zero/1.0/) applies to the data made available in this article, unless otherwise stated.
Authors' Affiliations
(1)
Department of Microbiology, Faculty of Biotechnology & Biomolecular Sciences, University Putra Malaysia, Serdang, Malaysia
(2)
Functional Food Research Group, Department of Biotechnology, Faculty of Applied Sciences, UCSI University, Kuala Lumpur, Malaysia
(3)
Perdana University-Royal College of Surgeons in Ireland, Perdana University, Serdang, Malaysia
(4)
Department of Cell & Molecular Biology, Faculty of Biotechnology & Biomolecular Sciences, University Putra Malaysia, Serdang, Malaysia