The path to next generation biofuels: successes and challenges in the era of synthetic biology
Microbial Cell Factories
2010
9:3
Received: 24 September 2009
Accepted: 20 January 2010
Published: 20 January 2010
Abstract
Volatility of oil prices along with major concerns about climate change, oil supply security and depleting reserves have sparked renewed interest in the production of fuels from renewable resources. Recent advances in synthetic biology provide new tools for metabolic engineers to direct their strategies and construct optimal biocatalysts for the sustainable production of biofuels. Metabolic engineering and synthetic biology efforts entailing the engineering of native and de novo pathways for conversion of biomass constituents to short-chain alcohols and advanced biofuels are herewith reviewed. In the foreseeable future, formal integration of functional genomics and systems biology with synthetic biology and metabolic engineering will undoubtedly support the discovery, characterization, and engineering of new metabolic routes and more efficient microbial systems for the production of biofuels.
Keywords
XyloseEthanol YieldMetabolic EngineeringSynthetic BiologyButanol Production
Introduction
The increased use of fossil fuels has caused greenhouse gas emissions and created undesirable damage to the environment. Current instability of oil supplies and the continuous fluctuation of prices have further ignited widespread interest in alternative energy sources. These factors, which revolve around economical, environmental, and geopolitical issues, are central to current interest in renewable energy sources [1].
An entire branch of biotechnology, referred to as "white biotechnology"[2], embraces the bioproduction of fuels and chemicals from renewable sources. These technologies use living cells and enzymes to synthesize products that are easily (bio)degradable, require less energy and create less waste during their production or use than those produced from fossil resources.
While the concept of biofuels was conceived in the 1970s when the world faced a large-scale oil crisis, recent advances in synthetic biology [3, 4], metabolic engineering [4–7], and systems biology [8, 9] have generated a renewed interest in the production of biofuels. Microbial factories for the synthesis of biofuels and amenable to industrial applications are being constructed by assembling natural and de novo pathways that re-direct carbon to the desired products [10–16]. Gene expression is modulated to fine-tune microbial metabolism for optimal production and proteins engineered to acquire new catalytic activities or to improve native properties [17–19]. "omics" technologies have been developed to analyze and model systems in a holistic manner and address complex questions about the functioning of native and synthetic networks in microbial cells [20]. New sequencing technologies (NST) enabling quick identification and analysis of genomic variations such as single nucleotide polymorphisms (SNPs), copy number variations (CNVs), translocations, and insertions and deletions [21, 22], are being instrumental to understand complex microbial environments, uncover diversity and characterize the genetic makeup of various species of microorganisms [23] that could hold promise for generating biofuels. Continuing efforts in the last decades in the field of metabolic engineering have paved the way to the engineering of efficient synthetic pathways for the production of biofuels [4, 6, 7, 11].
Because of its abundance and renewable nature, biomass has the potential to offer diverse supplies of reliable, affordable, and environmentally sound biofuels to replace fossil fuels. Given the complexity of biomass in terms of chemical composition, a conventional bioprocess for fuels production entails several steps such as collection of biomass, feedstock deconstruction to obtain biomass constituents (e.g., monosaccharides, fatty acids, etc.) and their conversion to biofuels (Fig.
1
).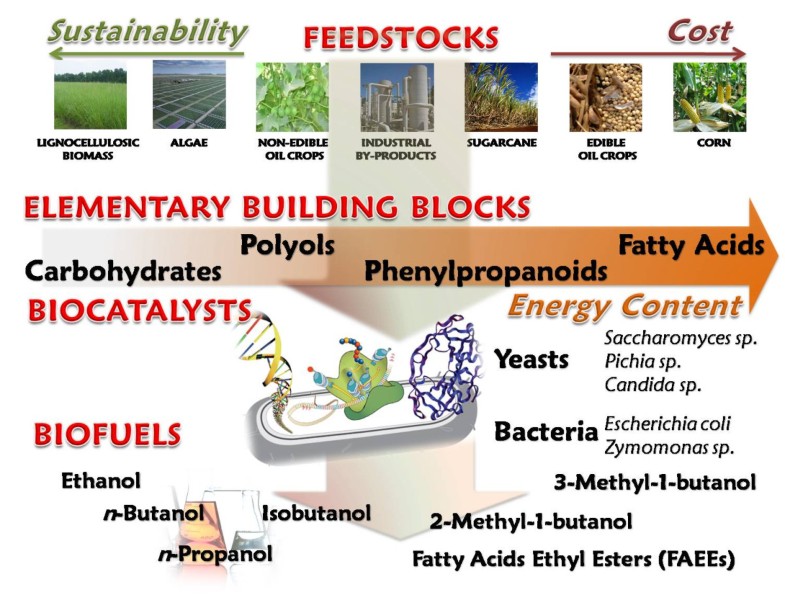 This review will focus on the role of metabolic engineering and synthetic biology as enabling technologies for the production of alcohol biofuels (i.e. ethanol and butanol). Although great efforts have been devoted to development of gaseous biofuels as well as the exploitation of the side-streams generated by the utilization of biomass for biofuels production (biorefinery concept), these topics are beyond the scope of this review and have been discussed elsewhere [24–26].
Declarations
Acknowledgements
This work was supported by grants from the U.S. National Science Foundation (EEC-0813570, CBET-0645188, and BES-0331388/BES-0601549) and the National Research Initiative of the U.S. Department of Agriculture Cooperative State Research, Education and Extension Service (2005-35504-16698).
Authors' Affiliations
(1)
Department of Chemical and Biomolecular Engineering, Rice University, Houston, USA
(2)
Department of Applied Chemistry and Material Science, University of Bologna, Italy
(3)
Department of Bioengineering, Rice University, Houston, USA
Copyright
© Dellomonaco et al; licensee BioMed Central Ltd. 2010
This article is published under license to BioMed Central Ltd. This is an Open Access article distributed under the terms of the Creative Commons Attribution License (http://creativecommons.org/licenses/by/2.0), which permits unrestricted use, distribution, and reproduction in any medium, provided the original work is properly cited.