Overexpression and simple purification of the Thermotoga maritima 6-phosphogluconate dehydrogenase in Escherichia coli and its application for NADPH regeneration
Microbial Cell Factories
2009
8:30
Received: 30 March 2009
Accepted: 04 June 2009
Published: 04 June 2009
Abstract
Background
Thermostable enzymes from thermophilic microorganisms are playing more and more important roles in molecular biology R&D and industrial applications. However, over-production of recombinant soluble proteins from thermophilic microorganisms in mesophilic hosts (e.g. E. coli) remains challenging sometimes.
Results
An open reading frame TM0438 from a hyperthermophilic bacterium Thermotoga maritima putatively encoding 6-phosphogluconate dehydrogenase (6PGDH) was cloned and expressed in E. coli. The purified protein was confirmed to have 6PGDH activity with a molecular mass of 53 kDa. The k cat of this enzyme was 325 s-1 and the K m values for 6-phosphogluconate, NADP+, and NAD+ were 11, 10 and 380 μM, respectively, at 80°C. This enzyme had half-life times of 48 and 140 h at 90 and 80°C, respectively. Through numerous approaches including expression vectors, hosts, cultivation conditions, inducers, and codon-optimization of the 6pgdh gene, the soluble 6PGDH expression levels were enhanced to ~250 mg per liter of culture by more than 500-fold. The recombinant 6PGDH accounted for >30% of total E. coli cellular proteins when lactose was used as a low-cost inducer. In addition, this enzyme coupled with glucose-6-phosphate dehydrogenase for the first time was demonstrated to generate two moles of NADPH per mole of glucose-6-phosphate.
Conclusion
We have achieved a more than 500-fold improvement in the expression of soluble T. maritima 6PGDH in E. coli, characterized its basic biochemical properties, and demonstrated its applicability for NADPH regeneration by a new enzyme cocktail. The methodology for over-expression and simple purification of this thermostable protein would be useful for the production of other thermostable proteins in E. coli.
Keywords
XylitolXylose ReductaseXylitol ProductionRare CodonThermophilic Microorganism
Background
Enzyme-based biocatalysis has become an attractive alternative to chemical catalysis because of its higher reaction selectivity and more modest reaction conditions [1, 2]. But most enzymes are not suitable for industrial applications due to their relatively poor stability and biocatalyst re-use. The former can be addressed by protein engineering [3–5], enzyme immobilization [6, 7], utilization of stable enzymes from extremophilic microorganisms [8, 9], or their combinations [10–12]. The latter can be solved through enzyme immobilization [6, 7]. For example, immobilized thermostable glucose isomerase has been used in the food industry to convert glucose to fructose at ~60°C for several months before its deactivation [10].
Discovery and utilization of thermoenzyme from (hyper)thermophilic microorganisms is of great interest for numerous applications. Thermotoga maritima is an anaerobic, rod-shaped eubacterium, originally isolated from geothermally heated marine sediment at Valcano, Italy. It has an optimum growth temperature of ~80°C [13]. T. maritima is regarded as an invaluable source of intrinsically thermostable enzymes [14, 15]. The open reading frame (ORF) TM0438 was annotated to be a 6-phosphogluconate dehydrogenase (6PGDH, E.C.1.1.1.44) [16], but its biochemical function has not yet been confirmed.
E. coli is a common prokaryotic microorganism for genetic manipulation and for the production of recombinant proteins because of its fast cell growth in inexpensive media, rapid accumulation of cellular mass, amenability to high cell-density fermentation, simple scale-up, and relatively simple protein purification [17]. But E. coli often produces recombinant protein in the form of insoluble, inactive inclusion bodies. It is estimated that less than 20% of the ORFs in other genomes are likely to be expressed as soluble active proteins in E. coli [18]. A number of approaches have been explored to improve the expression of soluble recombinant proteins in E. coli. With regard to the expression vector, the heterologous protein could be fused with a protein-folding partner (e.g. thioredoxin, cellulose-binding module) [19–21] or with a secretory protein fragment (e.g. outer-membrane protein A) that aids protein folding in a less-reducing periplasmic environment [17]. Expression hosts can be chosen according to different approaches, such as (i) mitigating codon bias in a host containing a second plasmid expressing the E. coli rare tRNA genes [22], (ii) enhancing protein folding in a host co-expressing folding modulators, such as chaperons [17, 23], (iii) decreasing formation of disulfide bond in some special host's cytoplasm [24], and (iv) repressing basal expression of a toxic protein in a host with a repressor [25]. In addition, cultivation conditions, such as expression temperature, medium composition, timing of induction, inducer concentration, and inducer type, can be optimized for over-expression of a soluble protein [26, 27]. Recently, synthetic codon-optimized genes have been more adapted for heterologous protein expression [28–30]. But over-expression of soluble heterologous proteins, especially for hyperthermophilic ones, in E. coli still remains on a trial-and-test stage [22, 31, 32].
6-phosphogluconate dehydrogenase is responsible for converting 6-phosphogluconate to ribulose-5-phosphate and CO2, along with one NADPH generation from NADP+ [33–35]. Thermostable 6PGDH has some potential applications, such as generation of high-yield hydrogen from sugars [36, 37] and biosynthesis of chiral alcohols. For the production of a third generation biofuel – hydrogen, utilization of thermostable enzymes would increase production rates and stabilize the enzyme at elevated temperature [12, 36, 37]. Biosynthesis of chiral alcohols mediated by enzymes requires low-cost regeneration of NAD(P)H [38–41]. Glucose-6-phosphate dehydrogenase (G6PDH) has been applied to generate one NADPH per glucose-6-phospahte [38, 42, 43]. The combination of G6PDH and 6PGDH may double NADPH yield from costly glucose-6-phosphate, but no such study has been reported.
In this study, we cloned the ORF TM0438 encoding a putative T. maritima 6PGDH and purified and characterized the enzyme. Using different approaches, we increased its expression levels in E. coli from hardly-detectable to more than 250 mg per liter of culture. Also, we demonstrated that two moles of NADPH per mole of glucose-6-phosphate were generated by using an enzyme cocktail containing G6PDH and 6PGDH.
Discussion
The ORF TM0438 was confirmed to encode a hyperthermophilic 6PGDH. Through different approaches (expression vectors, hosts, cultivation conditions, inducer type, and gene sequence), we increased expression levels of the soluble
T. maritima
6PGDH from nearly-undetectable to more than 250 mg per liter of the LB-grown culture, as summarized in Figure
8
. Several lessons were learned from this study. (A) The codon bias between the rare codon-rich
wt6pgdh
gene and the expression host
E. coli
was the largest cause for its low expression. It can be addressed (i) mainly by a codon-optimized synthetic gene (Figure
5
) or (ii) partially by using
E. coli
BL21(DE3)-RIL (Figure
1
). (B) The
C. thermocellum
CBM tag enhanced
T. maritima
6PGDH folding more efficiently than did thioredoxin (Figure
1D
vs
Figure
1B
). (C) Decreasing cultivation temperature and/or inducer concentration possibly decreased formation of inclusion body. But it was not necessary for the expression of the codon-optimized
6pgdh
gene (Figure
5
). (D) The 6PGDH was induced by a low level of IPTG or lactose. Low-cost lactose was highly recommended because it was used as the carbon source for supporting cell growth and protein synthesis (low cost plus high protein yield). (E) More than 30% of the
E. coli
cellular protein was soluble
T. maritima
6PGDH after numerous approaches. (F) Heat precipitation was effective to obtain relatively pure thermostable enzymes (Figure
5B
), suggesting that feasibility of ultra-low-cost mass production of this thermostable enzyme.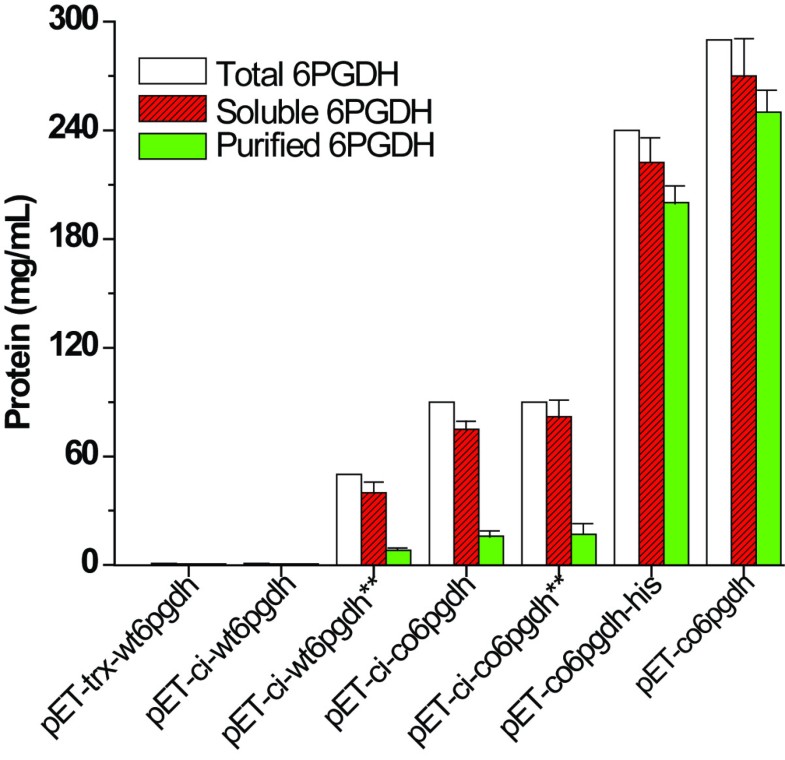 Few studies have been conducted pertaining to cloning and characterization of 6-phosphogluconate dehydrogenase [47, 48]. The T. maritima 6PGDH is the most thermostable 6PGDH characterized so far, with half-life times of 48 h and ~140 h at 90°C and 80°C, respectively. This enzyme was far more thermostable than the Bacillus stearothermophilus 6PGDH with a half-life time of about 15 min at 70°C [49]. The hyper-thermostability of T. maritima 6PGDH makes it possible to simplify its purification by heat precipitation, different from most protein purification technologies, such as chromatography or adsorption/desorption [19, 44]. Heat precipitation is becoming a popular protein purification protocol for hyper-thermostable proteins [50, 51].
NAD(P)H enzymatic regeneration can be conducted by combining a number of enzyme/substrates, for example, glucose dehydrogenase [52], formate dehydrogenase/formate [53], phosphate dehydrogenase/phosphite [46], G6PDH/glucose-6-phosphate [42, 43, 54], and so on. Starting from G6PDH and glucose-6-phosphate, the addition of 6PGDH doubled NADPH yield to two NADPH per glucose-6-phosphate, resulting in 1.8-fold xylitol production as compared to G6PDH alone (Figure 7). This new enzyme cocktail would make the NADPH regeneration from glucose-6-phosphate more economically feasible.
High expression levels of T. maritima 6PGDH in E. coli (> 30% of total cellular protein), simple purification by heat precipitation and its hyper-thermostability suggest great potential for decreasing protein costs associated with its production, separation, and use. Although costly LB medium was used for production of 6PGDH in flasks on a laboratory scale, the production cost of 6PGDH is anticipated to decrease greatly by using low-cost lean medium plus high-cell-density fermentation in bioreactors. This highly-thermostable 6PGDH would be invaluable for high-yield generation of hydrogen from polysaccharides and water mediated by cell-free synthetic pathway biotransformation (SyPaB) [12, 36, 37].
Conclusion
In conclusion, we over-expressed more than 250 mg of T. maritima 6PGDH per liter of culture through numerous approaches, characterized its basic biochemical properties, and demonstrated its applicability for high-yield NADPH regeneration. This hyper-thermostable 6PGDH was easily purified by heat precipitation. The methodology for over-expression and simple purification of this thermostable protein would be useful for the production of other thermostable proteins in E. coli.
Declarations
Acknowledgements
This work was supported to YHPZ mainly by the Air Force Office of Scientific Research (FA9550-08-1-0145) and partially by ICTAS. We thank Dr. Huiming Zhao for providing plasmid pET26b-xr containing a xylose reductase gene.
Authors' Affiliations
(1)
Biological Systems Engineering Department, Virginia Polytechnic Institute and State University, Blacksburg, USA
(2)
Institute for Critical Technology and Applied Sciences (ICTAS) Virginia Polytechnic Institute and State University, Blacksburg, USA
(3)
DOE BioEnergy Science Center (BESC), Oak Ridge, USA
Copyright
© Wang and Zhang; licensee BioMed Central Ltd. 2009
This article is published under license to BioMed Central Ltd. This is an Open Access article distributed under the terms of the Creative Commons Attribution License (http://creativecommons.org/licenses/by/2.0), which permits unrestricted use, distribution, and reproduction in any medium, provided the original work is properly cited.