Enzymes: An integrated view of structure, dynamics and function
Microbial Cell Factories
2006
5:2
Received: 08 November 2005
Accepted: 12 January 2006
Published: 12 January 2006
Abstract
Microbes utilize enzymes to perform a variety of functions. Enzymes are biocatalysts working as highly efficient machines at the molecular level. In the past, enzymes have been viewed as static entities and their function has been explained on the basis of direct structural interactions between the enzyme and the substrate. A variety of experimental and computational techniques, however, continue to reveal that proteins are dynamically active machines, with various parts exhibiting internal motions at a wide range of time-scales. Increasing evidence also indicates that these internal protein motions play a role in promoting protein function such as enzyme catalysis. Moreover, the thermodynamical fluctuations of the solvent, surrounding the protein, have an impact on internal protein motions and, therefore, on enzyme function. In this review, we describe recent biochemical and theoretical investigations of internal protein dynamics linked to enzyme catalysis. In the enzyme cyclophilin A, investigations have lead to the discovery of a network of protein vibrations promoting catalysis. Cyclophilin A catalyzes peptidyl-prolyl cis/trans isomerization in a variety of peptide and protein substrates. Recent studies of cyclophilin A are discussed in detail and other enzymes (dihydrofolate reductase and liver alcohol dehydrogenase) where similar discoveries have been reported are also briefly discussed. The detailed characterization of the discovered networks indicates that protein dynamics plays a role in rate-enhancement achieved by enzymes. An integrated view of enzyme structure, dynamics and function have wide implications in understanding allosteric and co-operative effects, as well as protein engineering of more efficient enzymes and novel drug design.
Keywords
Enzyme CatalysisProtein DynamicActivation Energy BarrierInternal ProteinTransition State Theory
Introduction
Microbial cell factories operate as a collection of efficient molecular machines. The success of these factories depends on the efficiency of a particular class of biomolecules – protein enzymes. Enzymes are responsible for catalyzing reactions in a variety of biological processes in all living cells. It is well known that enzymes are highly efficient catalysts as they can accelerate reactions by as many as 17 orders of magnitude [
1
,
2
]. The factors that enable enzymes to provide the large enhancement of reaction rates; however, still remain a matter of discussion [
3
,
4
]. For more than a century, the activity of enzymes has been related to their structure; the "lock-and-key" and "induced-fit" hypotheses have suggested that the structural interactions between enzymes and the substrates play a role in enzyme catalysis [
5
,
6
]. Such a view is incomplete as it fails to explain allosteric and cooperative effects, as well as the detailed mechanism of the large rate-enhancement achieved by enzymes. Enzymes catalyze reactions on a wide range of time-scales, which are similar to the time-scales for various events of internal protein dynamics, raising the question whether dynamics and enzyme catalysis are interrelated or not (see Figure
1
) [
7
–
12
]. It is known that protein dynamics plays a role in many aspects of enzyme function, including substrate/cofactor binding or release. Its connection to the substrate turnover step, however, has been challenging to ascertain.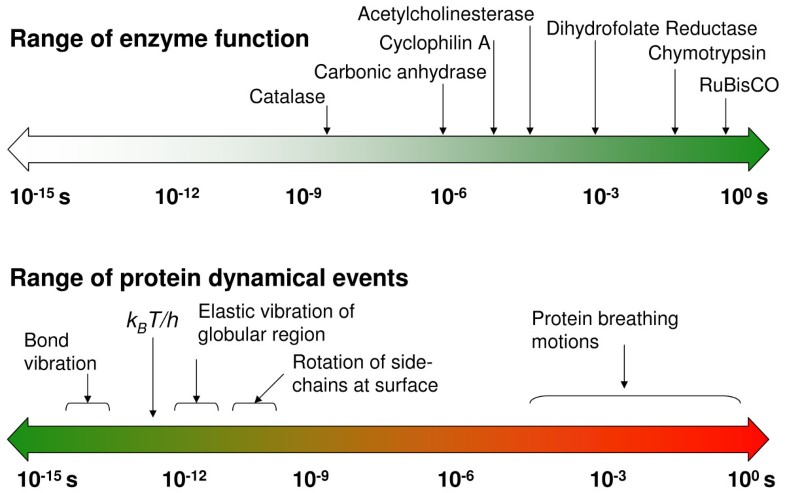 An integrated view of protein structure, dynamics, and function is emerging, where proteins are considered as dynamically active machines and internal protein motions are closely linked to function such as enzyme catalysis. Currently there is wide interest, both from experimental and computational groups, in investigating this interconnection. A number of investigations have provided fascinating details about the movement of protein parts and their involvement in enzyme function. Techniques such as X-ray crystallography and small-angle scattering [13, 14], NMR studies [15–17], hydrogen-deuterium exchange [18], neutron scattering [19], biochemical and mutational analysis [7, 20, 21] have provided vital clues at individual time-scales; however, the detailed understanding of protein dynamics requires information over a broad range of time-scales. Moreover, the hydration-shell and bulk solvent fluctuations have been suggested to impact protein dynamics, and therefore, protein function [22, 23]. Theoretical studies and computational modeling are playing a vital role in investigating the link between protein dynamics, solvent fluctuations and enzyme catalysis at multiple time-scales [8, 10–12].
In this review, we describe recent biochemical and theoretical/computational studies that have investigated the link between protein dynamics and enzyme catalysis. In particular, we describe the recent investigations of the peptidyl-prolyl cis/trans isomerization activity of the enzyme cyclophilin A, followed by a discussion on similar evidence from other enzyme reactions, namely the hydride transfer reactions catalyzed by dihydrofolate reductase and by liver alcohol dehydrogenase. There are wide implications of understanding the interconnection between protein structure, dynamics and function such as enzyme catalysis. It is known that enzymes catalyzing the same reactions belong to a protein "fold" family, where the overall characteristic shape of the protein is similar. Also, enzymes catalyzing mechanistically similar reactions often belong to the same super-family of protein fold. The benefits of better understanding of enzyme "folds" and dynamics include the possibility of improving the efficiency of microbial factories by engineering of enzymes, as well as designing new enzymes with novel functionalities. Further, there are medical implications of allosteric and cooperative effects for enzyme activity in novel drug design.
Cyclophilin A
A number of factors make CypA an attractive system for investigating the link between internal protein dynamics and enzymatic activity; it is a small protein and does not require metal ions or cofactors for PPIase activity and it catalyzes peptide bond isomerization in a wide variety of substrates. Further, there is also biomedical interest in CypA; cyclophilins are of interest as drug targets because of their likely involvement in the broad spectrum, anti-infective activities of cyclosporin A and non-immunosuppressive derivatives thereof [32, 33]. In addition, Gag-encoded capsid protein (CA) from human immunodeficiency virus type 1 (HIV-1), is a naturally occurring biologically relevant substrate for CypA [16]. The protein-protein complex between CypA and CA has been the subject of many experimental studies [16, 34–37]. There is medical interest in CypA-CA complex, as incorporation of CypA is required for infectious activity of HIV-1 [38, 39].
NMR studies of CypA performed by Kern and coworkers, have suggested a link between internal protein dynamics and substrate isomerization step [15, 16]. The studies were based on 15N spin relaxation investigations of small peptide substrate as well as two-dimensional (2D) 1H-15N heteronuclear exchange studies of the N-terminal of capsid protein (CAN) from HIV-1. In these studies, conformational fluctuations within the active-site of CypA were detected on the time-scale of the reaction (hundreds of microseconds) and the rates of conformational dynamics were found to be strongly correlated with the substrate isomerization step. Several active-site and surface loop regions showed motions only in the presence of substrate, these regions included the residues: Arg55, Lys82, Leu98, Ser99, Ala101, Asn102, Ala103, and Gly109. Based on these studies, the authors proposed a reaction mechanism for PPIase activity of CypA, where the isomerization step takes place with a rate constant of about 9000 s-1, and motions of the protein coincide with the rate of substrate turnover step. CypA residue Arg55 is a major contributor to catalysis [40], for which the observed changes in backbone conformation are likely to be coupled with motions of the catalytically essential side chain.
Structural analysis of the active-site along the course of reaction indicates the role of important hydrophilic (Arg55 and Asn102) and hydrophobic (Phe60, Phe113, Leu122 and His126) residues of CypA in stabilization of the substrate peptide. The target proline from substrate remains essentially fixed in the hydrophobic pocket formed by CypA residues, while the carbonyl oxygen atom of the preceding substrate residue rotates 180°. Quantum mechanical modeling of the active-site indicates single bond character for the peptide bond near the TS. The results from theoretical modeling were found to be in agreement with the reaction mechanism proposed on the basis of crystallographic studies [37]. This mechanism requires minimum deviation from the ground state crystal structure and displays single bond character for the peptide bond near TS. Dynamical fluctuations of the enzyme backbone in certain regions (CypA 101–104) were found to impact the nature of interactions between the enzyme and substrate, therefore, alter the nature of peptide bond during the course of reaction mechanism.
Computational modeling has identified a variety of internal protein dynamical events linked to CypA enzyme activity, ranging from femtosecond (10-15 s) to microsecond and longer (> 10-6 s) time-scales. On one side of this range there are fast motions, occurring at femtosecond-nanosecond time-scales, consisting of harmonic movements of bonds, angles and a few atoms. These motions are commonly referred to as vibrations. On the other side of this range there are concerted conformational fluctuations occurring on the microsecond (and longer) time-scale. These slower motions or conformational fluctuations, which have been previously referred to as breathing motions, span a large part of the protein. Normal mode analysis is a computational technique that has been commonly used to obtain information regarding the dynamical motions in proteins. This technique provides information about dynamics at several time-scales for a particular protein conformation (present at a local minimum). Normal mode analysis is not suitable for obtaining the slow protein motions occurring at the time-scale of the reaction due to the large changes in protein conformations involved. Another computational technique, known as quasi-harmonic analysis, can be used to calculate vibrational modes from a collection of conformations or system snapshots [44]. Quasi-harmonic analysis of CypA-substrate conformations along the entire reaction pathway provided protein vibrational modes representing conformational fluctuations at the time-scale of the reaction (microsecond-millisecond time-scale). These computed slow protein vibrational modes show concerted motions over a large region of the protein, the backbone in several regions of the protein and side-chains of the many residues (especially on the surface) show large displacements. In CypA, a subset of these modes was found to be coupled to the reaction; 3 protein vibrational modes with the largest coupling to the catalytic step show displacements in several conserved residues in the active-site as well as in other parts of the enzyme structure. Note, these conserved vibrational modes are different from random thermal fluctuations observed in the biomolecules.
Other enzymes: dihydrofolate reductase and liver alcohol dehydrogenase
Experimental and computational investigations have revealed the impact of protein dynamics on catalysis in other enzyme systems. Experimental and computational studies of the enzyme dihydrofolate reductase (DHFR) have indicated a link between protein dynamical events and the substrate turnover step of hydride transfer. X-ray crystallography has demonstrated changes in orientation of surface loops along different sub-states along the reaction pathway [51]. Similarly, the surface loop conformations have been linked to the catalytic step by NMR studies [20]. Theoretical and computational studies using hybrid quantum-mechanical and molecular mechanics (QM/MM) methodology have discovered a network of coupled promoting motions [8, 52, 53]. Similar to the network of protein vibrations in CypA described above, the network in DHFR is also formed by interconnection of residues and crucial interactions ranging from surface regions all the way to active-site. Changes in hydrogen-bonds and crucial interactions along the reaction profile have been observed similar to those present during catalysis by CypA. An important discovery by the computational methods was the identification of the residue Ile14 as a dynamical contributor to catalysis. Recently, the importance of this residue in the catalytic step has been confirmed by NMR studies [54]. The presence of this DHFR network has been confirmed by investigations from several research groups [55, 56]. Investigations of DHFR have provided evidence that changing the enzyme structure leads to changed dynamics and, therefore, change in function [21, 53, 57]. Mutation of a single surface residue, more than 12 Å away from active site, changes the dynamics and leads to a rate reduction by a factor of 163.
Liver alcohol dehydrogenase (LADH) is another enzyme where dynamical motions of the protein residues have been linked to the catalytic step. Detailed biochemical and computational studies have identified conserved active-site residue Val203, whose motion are a key player in altering the active-site chemical environment to promote the reaction [58–63].
Conclusion
In this review, we have presented recent developments that continue to support an emerging integrated view of protein structure, dynamics and function such as enzyme catalysis. The success of microbial cell factories depends on optimal performance of molecular machines inside the cell. Enzymes perform their function with remarkable efficiency, as they increase the reaction rate by many orders of magnitude. Until recently, enzymes (and proteins in general) were considered static assemblies; however, recent investigations continue to provide evidence which indicate that enzymes are dynamically active assemblies. Detailed experimental and theoretical/computational investigations of enzyme CypA suggest that the internal protein motions are a designed part of the protein structure and contribute to its function of catalyzing peptidyl-prolyl cis/trans isomerization. Supporting evidence from other systems (DHFR and LADH) indicates that the interconnection between structure, dynamics and function is present in other enzymes as well.
The overall emerging picture of protein dynamics, solvent fluctuations and enzyme function based on recent insights is depicted in Figure
9
. Along with structural interactions, internal motions at fast time-scales control the chemical environment of the active-site favoring the catalytic step to proceed to the product state. The thermodynamical fluctuations of the hydration-shell and bulk solvent provide energy to overcome the activation energy barrier (in cases where no other source of energy is available). The flexible surface loop regions of the enzyme show dynamical coupling with the solvent. This dynamical coupling allows the transfer of energy from the solvent to the surface regions of the enzyme. This energy is eventually transferred to the active-site through networks of motions or vibrations. The slower conformational fluctuations in the networks (at time-scale of the reaction) alter the enzyme-substrate interactions such that more reaction trajectories cross TS barrier to reach the product state successfully.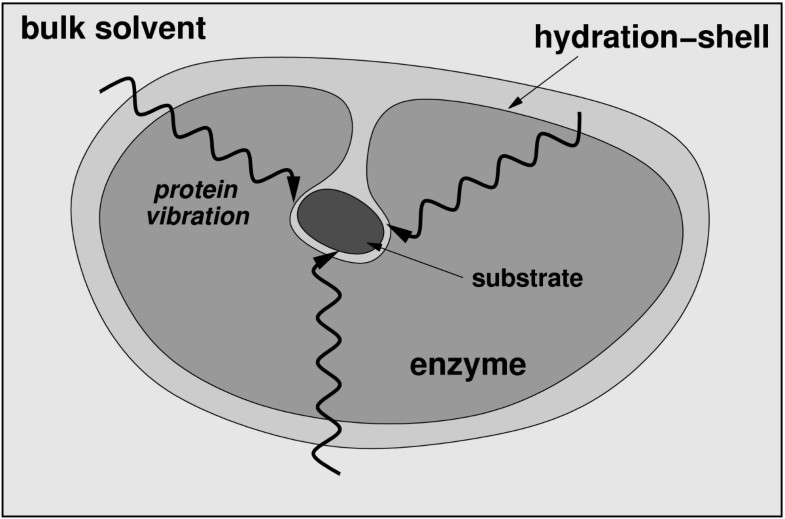 The integrated view is supported by evidence from investigations of many other proteins and enzymes as well [64–66]. Sequence analysis with thermodynamic mapping have indicated long range energetic coupling in proteins [67]; slow conformational fluctuations could possibly be the mechanism of energy transfer over long ranges in protein structure and, therefore, provide insights into understanding allosteric effects. Simulations have already revealed that energy can be transferred between specific vibrational modes in a protein [68, 69]. It is also interesting to note that designing active-site mimics of the enzymes is difficult and change in enzyme structure far away from the active-site leads to slow or inactive enzymes. The integrated view offers a possible explanation, as the distal regions of the enzyme contribute to catalysis through dynamical coupling with the solvent and by transferring the required energy to the active-site. Therefore, this integrated view has wide implications in enzyme chemistry, protein engineering and drug design. Manipulation of enzyme catalyzed reactions may be possible; for example, laser pulse has already been used to initiate an enzyme reaction involving thermally excited protein dynamics (molecular motions on picosecond time-scale) [70]. On the basis of better understanding of enzyme structure, dynamics and function it may be possible to design more efficient enzymes or enzymes with novel functionalities. Further, the understanding of allosteric and cooperative effects could help in designing better and novel drugs.
List of abbreviations
κ:

transmission coefficient
ΔG‡:

activation energy barrier (energy difference between reactant and the activated state)
CA:

capsid protein from HIV-1
CAN:

N-terminal of capsid protein
CypA:

cyclophilin A
DHFR:

dihydrofolate reductase
HIV-1:

human immunodeficiency virus type 1
LADH:

liver alcohol dehydrogenase
NMR:

nuclear magnetic resonance
PPIase:

peptidyl-prolyl cis/trans isomerase
TS:

transition state
TST:

transition state theory
Declarations
Acknowledgements
PKA would like to thank Dr. Brahma Ghosh for feedback on the manuscript.
Authors' Affiliations
(1)
Computational Biology Institute, and Computer Science and Mathematics Division, Oak Ridge National Laboratory, Tennessee, USA
Copyright
© Agarwal; licensee BioMed Central Ltd. 2006
This article is published under license to BioMed Central Ltd. This is an Open Access article distributed under the terms of the Creative Commons Attribution License (http://creativecommons.org/licenses/by/2.0), which permits unrestricted use, distribution, and reproduction in any medium, provided the original work is properly cited.