Potential use of sugar binding proteins in reactors for regeneration of CO2 fixation acceptor D-Ribulose-1,5-bisphosphate
Microbial Cell Factories
2004
3:7
Received: 08 May 2004
Accepted: 02 June 2004
Published: 02 June 2004
Abstract
Sugar binding proteins and binders of intermediate sugar metabolites derived from microbes are increasingly being used as reagents in new and expanding areas of biotechnology. The fixation of carbon dioxide at emission source has recently emerged as a technology with potentially significant implications for environmental biotechnology. Carbon dioxide is fixed onto a five carbon sugar D-ribulose-1,5-bisphosphate. We present a review of enzymatic and non-enzymatic binding proteins, for 3-phosphoglycerate (3PGA), 3-phosphoglyceraldehyde (3PGAL), dihydroxyacetone phosphate (DHAP), xylulose-5-phosphate (X5P) and ribulose-1,5-bisphosphate (RuBP) which could be potentially used in reactors regenerating RuBP from 3PGA. A series of reactors combined in a linear fashion has been previously shown to convert 3-PGA, (the product of fixed CO2 on RuBP as starting material) into RuBP (Bhattacharya et al., 2004; Bhattacharya, 2001). This was the basis for designing reactors harboring enzyme complexes/mixtures instead of linear combination of single-enzyme reactors for conversion of 3PGA into RuBP. Specific sugars in such enzyme-complex harboring reactors requires removal at key steps and fed to different reactors necessitating reversible sugar binders. In this review we present an account of existing microbial sugar binding proteins and their potential utility in these operations.
Keywords
Dihydroxyacetone PhosphatePhosphoglycerate MutasePhosphoglycerate DehydrogenaseSugar Binding ProteinDihydroxyacetone Kinase
Review
Rapid industrialization has led to a dramatically accelerated consumption of fossil fuels with a consequent increase in atmospheric levels of the greenhouse gas carbon dioxide (CO2). This sustained increase of atmospheric CO2 has already initiated a chain of events with negative ecological consequences [1–3]. Failure to reduce these greenhouse gas emissions will have a catastrophic impact upon both the environment and the economy on a global scale [4, 5]. The reduction has to be brought about by global concerted effort by all countries in order to be effective and meaningful.
At one end of the spectrum – that of generation and utilization of energy resulting in generation of carbon dioxide – hydrocarbons serve as intermediaries for energy storage. Hydrocarbons are not energy by themselves but store energy in their bonds, which is released during combustion. They are thus intermediates for obtaining stored bond energy within them and carbon dioxide is emitted as a consequence of combustion to extract this stored energy. In recent times hydrogen has received renewed attention as the potential replacement for hydrocarbons [6–10]. However, hydrogen too is an intermediary for obtaining stored bond energy. Recent reports suggest that hydrogen as intermediary may not be entirely free from problems. Also, the problems from use of hydrogen as fuel are yet to be fully realized or foreseen [11, 12]. In all these endeavors a key question, that whether the hydrocarbons will be still retained as intermediaries in energy utilization and the problem of air pollution caused as a result of their combustion can be technologically ameliorated, has not been looked in as much detail as perhaps it should have been. This can possibly be achieved by contained handling of carbon dioxide. The contained handling and fixation of CO2 can be achieved biotechnologically, chemically or by a combination of both.
Sugar binding proteins derived from microbial and other sources have been used for various applications such as diagnostics and affinity purification [13, 14], however they have not been used in environmental biotechnological applications. The possibility of their potential application in environmental biotechnology and review of a few potential candidates is presented here.
The methods in environmental biotechnology that enables efficient capture [
15
] and fixation of CO
2
at emission source/site into concatenated carbon compounds has been pioneered by our group [
16
–
19
]. The first part in the biocatalytic carbon dioxide fixation is the capture of gaseous CO
2
. We have pioneered novel reactors employing immobilized carbonic anhydrase for this purpose [
15
]. Subsequent to capture the carbon dioxide becomes solublized (as carbonic acid or bicarbonate). After adjustment of pH using controllers and pH-stat the solution is fed to immobilized Rubisco reactors [
18
] where acceptor D-Ribulose-1,5-bisphosphate (RuBP) after CO
2
fixation is converted into 3-phosphoglycerate [
16
,
17
]. However, inasmuch as the recycling of acceptor RuBP is central to continuous CO
2
fixation, we have invented a novel scheme (Figure
1
), which proceeds with no loss of CO
2
(unlike cellular biochemical systems) in 11 steps in a series of bioreactors [
20
]. This scheme is very different from generation of RuBP from D-glucose for start-up process [
21
] and employing 11 steps in different reactors requiring large volume and weight. The linear combination of reactors with large volume and weight are unsuitable for use with mobile CO
2
emitters leaving only the stationary source of emission to be controlled using this technology [
17
]. To circumvent these problems we have devised a new scheme presented in Figure
2
[
22
]. Based on this scheme, we have designed enzymes as functionally interacting complexes/interactomes or successive conversion in radial flow with layers of uniformly oriented enzymes in concentric circle with axial collection flow system for three enzymes in first reactor for the scheme presented in Figure
2
. The four reactors harboring enzymatic complexes/mixtures replace the current 11 reactors. This leads to a faster conversion rate and requires less volume and material weight. However, 4 sugar moieties [3-phosphoglyceraldehyde (3PGAL), Dihydroxyacetone phosphate (DHAP), Xylulose-5-phosphate (X5P) and Ribulose-1, 5-bisphosphate (RuBP)] must be separated at four key steps, as illustrated in Figure
2
. In figure
2
, using four symbols with solid for bound state and empty for released state, for potential binders: plus for 3PGA, circle for DHAP, cylinder for X5P and box for RuBP, the possible place for utility of these binders have been depicted. In the course of this review, we will consider the availability of enzymatic proteins and non-enzymatic proteins that would be potentially useful as specific binders for these sugar molecules. With a recombinant mutant enzyme we illustrate that such an approach has potential to be used as an
in-situ
reversible binding matrix for sugar binding and release.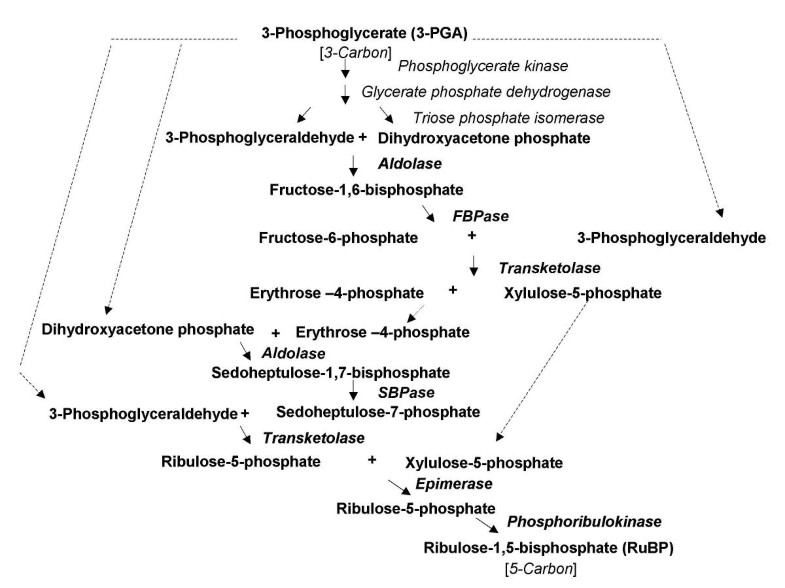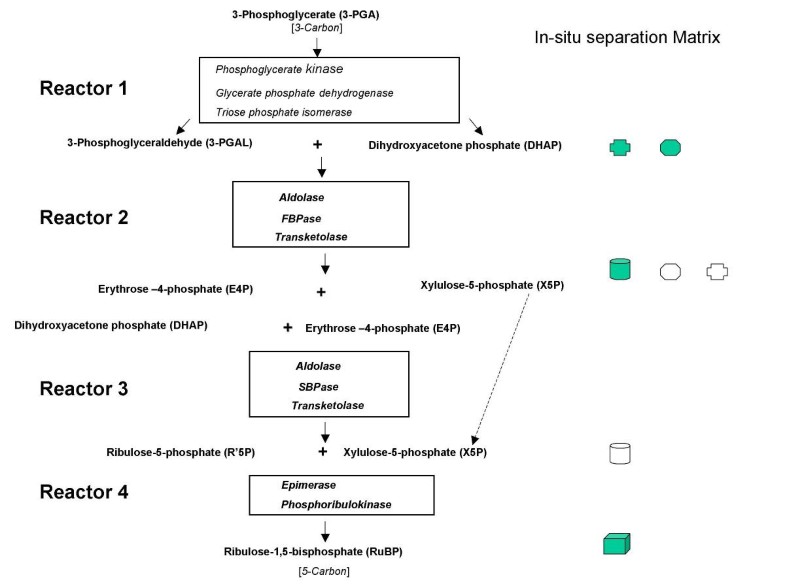 Conclusion
The enzyme-mutants lacking catalytic activity represent an important group of proteins that could be used for development of sugar-binding proteins reversible with respect to physicochemical parameters such as pH or salt concentration. Nevertheless, the non-enzymatic proteins also represent a suitable repertoire of such potential scaffolds, which could be used for development as sugar-binding proteins to be used in reactors for simultaneous separation of sugars that would be used in subsequent conversion steps. We have developed a RuBP production scheme from 3PGA [16, 17] and also a de novo RuBP production scheme from D-glucose [21] for continuous CO2 fixation and for start-up of the fixation respectively employing series of reactors. Both systems for production of RuBP will benefit from specific sugar binders but besides their use in environmental biotechnology, they will find application in diagnostics, separation technologies and also as research reagents.
Declarations
Acknowledgements
We thank Dr. Paramita Ray for help with literature search and Dr. Surabhi Choudhuri for her comments on the manuscript.
Authors' Affiliations
(1)
Department of Biotechnology, Haldia Institute of Technology, Haldia, India
(2)
Environmental Biotechnology Division, ABRD Company LLC, Cleveland, USA
(3)
Department of Ophthalmic Research, Cleveland Clinic Foundation, Cleveland, USA
Copyright
© Mahato et al; licensee BioMed Central Ltd. 2004
This article is published under license to BioMed Central Ltd. This is an Open Access article: verbatim copying and redistribution of this article are permitted in all media for any purpose, provided this notice is preserved along with the article's original URL.