Carbon source dependent promoters in yeasts
Microbial Cell Factories
2014
13:5
Received: 1 October 2013
Accepted: 16 December 2013
Published: 9 January 2014
Abstract
Budding yeasts are important expression hosts for the production of recombinant proteins.
The choice of the right promoter is a crucial point for efficient gene expression, as most regulations take place at the transcriptional level. A wide and constantly increasing range of inducible, derepressed and constitutive promoters have been applied for gene expression in yeasts in the past; their different behaviours were a reflection of the different needs of individual processes.
Within this review we summarize the majority of the large available set of carbon source dependent promoters for protein expression in yeasts, either induced or derepressed by the particular carbon source provided. We examined the most common derepressed promoters for Saccharomyces cerevisiae and other yeasts, and described carbon source inducible promoters and promoters induced by non-sugar carbon sources. A special focus is given to promoters that are activated as soon as glucose is depleted, since such promoters can be very effective and offer an uncomplicated and scalable cultivation procedure.
Keywords
LactisPichia PastorisRecombinant Protein ProductionGlucose RepressionHexose Transporter
Introduction
Recombinant protein production in yeast has represented, in the last thirty years, one of the most important tools of modern biotechnology. The possibility to express a high amount of a single protein, separated from its original context, allowed major leaps forward in the understanding of many cellular functions and enzymes. However, since every host has its specific genetic system, species-specific tools have been established for each individual host/vector combination. In particular, promoters drive the transcription of the gene of interest and therefore are key parts of efficient expression systems to produce recombinant proteins. Furthermore expression of enzyme cascades and whole heterologous or synthetic pathways fully relies on a tool box of promoters with different sequence and properties.
Typically, there are two major choices concerning transcription of a gene of interest: inducible or constitutive promoters. The decision for one of these alternatives depends on the specific requirements of a bioprocess and the properties of the target protein to be produced. Constitutive expression, performed by a range of very strong promoters like P GAP (glycerinaldehyde-3-phosphate dehydrogenase) [1], P PGK1 (3-Phosphoglyceratekinase) [2] or P TEF1 (translation elongation factor) [3] from Saccharomyces cerevisiae is not always preferable, since recombinant proteins can have a toxic effect on their host organism at constantly high expression level.
Controllable gene expression can be achieved with inducible and derepressed promoters. Most of these inducible promoters are responsive to catabolite repression or react to other environmental conditions, such as stress, lack or accumulation of essential amino acids, ion concentrations inside the cell and others [4–6]. For practical applications, carbon source dependent promoters have the main advantage in the segregation of the host growth phase from the protein production phase, allowing maximizing growth before inducing a potentially burdening expression phase. Very recently, Da Silva & Srikrishnan have summarized important tools for controlled gene expression and metabolic engineering in S. cerevisiae, such as useful vectors, promoters and the procedure of chromosomal integration of recombinant genes [7].
In order to categorize a large amount of information, and due to its practical importance, in this review we describe the various promoters according to their basic behavior in relation to carbon sources. This includes the most essential regulatory elements and mechanisms of carbon source regulation as described by the main chapters of this review: glucose repression in yeast and promoters which are either induced by simple de-repression or induced by carbohydrates or other non sugar carbon sources.
Wherever possible, special emphasis is given on the applicability of individual promoters in different hosts and application spectra for industrial protein synthesis. Figure
1
gives an overview of the particular target promoters described within this work and their localization in the yeast cell metabolism.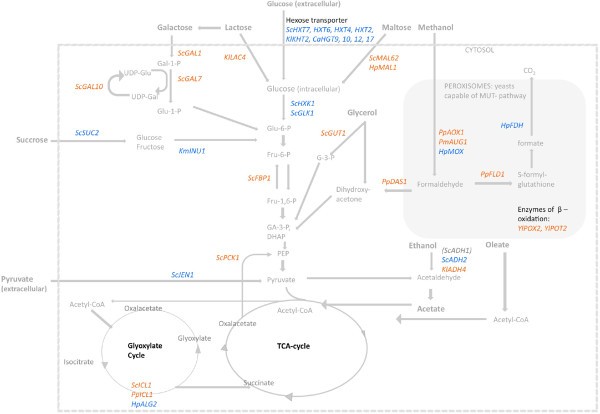 Conclusions
This review describes the current state of art for a set of potential promoters for controlled protein synthesis, out of several yeasts. Especially in case of inducible promoters, the presented genetic tools are already well established, with several examples now summarized within this work. Nevertheless, also some less popular promoters show interesting features, which might be enhanced by promoter engineering: such a technique, despite its potential, is not yet very common for promoter improvements.
Generally, any gene subjected to derepression at low glucose concentrations, opens up the potential of carrying a strong promoter sequence. Referring to transcriptome analysis covering 31% of the genome [140, 141], about 163 genes from S. cerevisiae were upregulated at glucose-limited conditions. Many of these genes are still poorly characterized, and their function is not known yet. For instance, YGR243 promoter from S. cerevisiae was already introduced as an interesting promoter tool [39], whereupon P YGR243 could easily keep up with P HXK1 .
A comprehensive knowledge of promoter elements is also helpful in terms of the development of synthetic promoters, since this field of research is relatively new, but gained increased popularity within the last ten years. Sequences of strong natural promoters are combined, and transcription factor binding sites are deleted or amplified with the objective of obtaining a new, more convenient promoter sequence [142].
Very recently, Blazeck and colleagues presented a set of synthetic yeast promoters by assembling very strong transcriptional enhancing elements (coming from CLB2, CIT1, GAL1, respectively) with the core of a particular promoter. The essential finding was a direct proportion between the number of additional UAS and promoter activity [143]. Interestingly, most yeast promoter studies are still focused on endogenous promoters and rarely on heterologous applications or fully orthogonal systems.
A broad knowledge of different potentials of promoter elements paves the way for creating a comprehensive promoter tool box and facilitates protein synthesis for appropriate applications.
Declarations
Acknowledgements
This work has been supported by the Federal Ministry of Economy, Family and Youth (BMWFJ), the Federal Ministry of Traffic, Innovation and Technology (bmvit), the Styrian Business Promotion Agency SFG, the Standortagentur Tirol and ZIT–Technology Agency of the City of Vienna through the COMET-Funding Program managed by the Austrian Research Promotion Agency FFG and European Union Seventh Framework Programme (FP7/2007-2013) under grant agreement n° 289646.
Authors' Affiliations
(1)
Austrian Centre of Industrial Biotechnology, Graz, Austria
(2)
Institute of Molecular Biotechnology, Technical University Graz, Graz, Austria
Copyright
© Weinhandl et al.; licensee BioMed Central Ltd. 2014
This article is published under license to BioMed Central Ltd. This is an Open Access article distributed under the terms of the Creative Commons Attribution License (http://creativecommons.org/licenses/by/2.0), which permits unrestricted use, distribution, and reproduction in any medium, provided the original work is properly cited. The Creative Commons Public Domain Dedication waiver (http://creativecommons.org/publicdomain/zero/1.0/) applies to the data made available in this article, unless otherwise stated.