Two-component systems in Streptomyces: key regulators of antibiotic complex pathways
Microbial Cell Factories
2013
12:127
Received: 24 September 2013
Accepted: 16 December 2013
Published: 19 December 2013
Abstract
Streptomyces, the main antibiotic-producing bacteria, responds to changing environmental conditions through a complex sensing mechanism and two-component systems (TCSs) play a crucial role in this extraordinary "sensing" device.
Moreover, TCSs are involved in the biosynthetic control of a wide range of secondary metabolites, among them commercial antibiotics. Increased knowledge about TCSs can be a powerful asset in the manipulation of bacteria through genetic engineering with a view to obtaining higher efficiencies in secondary metabolite production. In this review we summarise the available information about Streptomyces TCSs, focusing specifically on their connections to antibiotic production.
Keywords
Streptomyces Two-component systemsAntibiotic productionSecondary metabolism
Introduction
Microorganisms included in the genus Streptomyces are Gram-positive bacteria that inhabit soil niches, thus facing ever changing environmental conditions and nutrient scarcity [1]. Along evolution, this challenging environment has pushed the genus Streptomyces towards complex adaptive responses. Among them, two-component systems (TCSs) are the most important transduction signal mechanism in bacteria, allowing the translation of these rapid environmental or nutritional changes into a regulatory readout [2, 3]. Typically, TCSs comprise a membrane-bound histidine kinase (HK), which senses specific environmental stimuli, and a cognate regulator (RR), which mediates the cellular response, mainly through the transcriptional regulation of target genes [4].
Bacteria belonging to the genus
Streptomyces
harbour a high number of TCSs in comparison with other bacterial genera, probably due to the changing environment that these organisms must inhabit. As an example, the genome sequence of the model
S. coelicolor
has revealed an unprecedented proportion of regulatory genes (approximately 12.3% of the total ORFs); [
5
,
6
]. Table
1
summarizes the number of TCSs in all
Streptomyces
species sequenced at the time of writing (P2CS:
http://www.p2cs.org
).
Table 1
Number of histidine kinases, response regulators and mis-Predicted TCS proteins present in the Streptomyces species sequenced to date*
| Organism | Histidine | Response | Mis-Predicted |
| --- | --- | --- | --- |
| | Kinase (HK) | Regulator (RR) | TCS protein** |
| Streptomyces bingchenggensis BCW-1 | 125 | 117 | 7 |
| Streptomyces scabeiei 87.22 | 108 | 95 | 2 |
| Streptomyces violaceusniger Tu 4113 | 106 | 99 | 1 |
| Streptomyces coelicolor A3(2) | 100 | 87 | 1 |
| Streptomyces avermitilis MA-4680 | 91 | 72 | 2 |
| Streptomyces griseus NBRC 13350 | 83 | 80 | 0 |
| Streptomyces sp. Sirex AA-E | 76 | 73 | 2 |
| Streptomyces flavogriseus ATCC33331 | 74 | 64 | 1 |
| Streptomyces cattleya NRRL 8057 | 63 | 59 | 0 |
| Streptomyces hygroscopicus 5008 | 61 | 75 | 5 |
The competitiveness of these bacteria for resources is also increased due to the production of a large number of secondary metabolites with different activities such as fungicides, cytostatics, modulators of the immune response, and plant growth effectors [1, 7]. Henceforth, all these compounds will be grouped under the name "antibiotics" in order to simplify the review. Almost half of all known antibiotics are produced by actinomycetes, mostly Streptomyces[1, 8, 9], including two-thirds of the clinically useful antibiotics [10]. For example, S. coelicolor produces three chromosomally encoded antibacterial compounds: actinorhodin (ACT), undecylprodiginine (RED) and calcium dependent antibiotic (CDA). More recently, a yellow pigment (yCPK) associated with a type I polyketide synthase cluster (cpk) has also been described [11, 12]. However, its genome contains the information necessary to potentially encode more than twenty secondary metabolites, most of them as yet undetected. Many silenced pathways have been observed in all the Streptomyces genomes sequenced to date, indicating the high biosynthetic potential of these organisms [13, 14].
Antibiotic production responds to stress situations (mainly nutrient starvation) in coordination with primary metabolic responses [15]. Accordingly, Streptomyces needs to finely modulate such production, depending mostly on the primary metabolic flux and availability of both nutrients and precursors for these antibiotics [16].
Such a complex network of antibiotic regulation is controlled at two main levels. At the lower level, the cluster-situated regulators (CSRs), located within the antibiotic biosynthetic clusters, can modulate the antibiotic biosynthetic genes of the cluster in which they are included, and according to recent data they can also regulate the expression of genes located distant from them [
17
]. So far, in
S. coelicolor
five CSRs have been elucidated: ActII-ORF4 [
18
], RedD/RedZ [
19
,
20
], KasO (also designated CpkO) [
21
] and CdaR [
22
], which are responsible for the biosynthesis of ACT, RED, yCPK and CDA respectively. At the upper level, pleiotropic regulators have been shown to control the production of more than one antibiotic. In
Streptomyces
, the most abundant pleiotropic regulators are the TCSs, a significant fraction of which regulates antibiotic production and morphological differentiation. (Orphan regulators such as RedZ with a role in antibiotic production have also been described but we will just focus here in "traditional TCS" with a cognate histidine kinase). TCSs regulators can act by direct binding to CSRs promoters or can act indirectly, through other regulatory pathways. Only a few binding sequences of
S.coelicolor
TCSs regulators to CSRs promoters have been described to date. These binding motifs are shown in Figure
1
.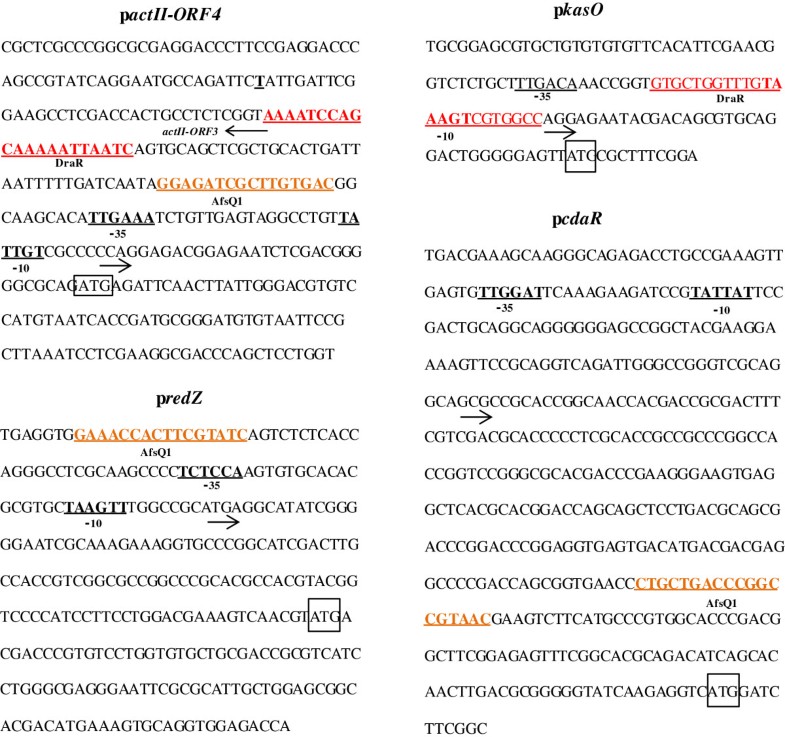 Broadening our knowledge of the involvement of TCSs in the regulation of antibiotic synthesis can contribute to the rational design of new hyper-producer host strains through genetic manipulation of these complex systems. Moreover, strategies involving TCSs can be used to unveil new antimicrobial molecules that are not produced under laboratory conditions. Some excellent broadly-based reviews regarding general antibiotic regulation in Streptomyces[15, 16, 25–28] and describing TCSs in Streptomyces[29] have been published. Here, we summarise current knowledge regarding the involvement of TCS in antibiotic biosynthesis in the model streptomycete S. coelicolor, describing how each TCS affects antibiotic biosynthesis and providing some examples of their present applications and their possibilities for the future improvement of antibiotic production and discovery.
To date, the activating signals of most TCSs remain unknown. In light of the available knowledge about the signal triggering the system, we shall divide the review between TCSs with known signals and TCSs whose signals have not been studied and/or that remain unknown. TCSs with unknown signals will in turn be divided between TCSs that regulate the production of a single antibiotic, TCSs that regulate the production of more than one antibiotic, and the regulators responsible for controlling antibiotic production and morphological differentiation. In order to facilitate our understanding of this complex network of interactions, Figure
2
shows updated information regarding which of the
S. coelicolor
TCSs plays a role in the production of each antibiotic and how these regulatory processes work.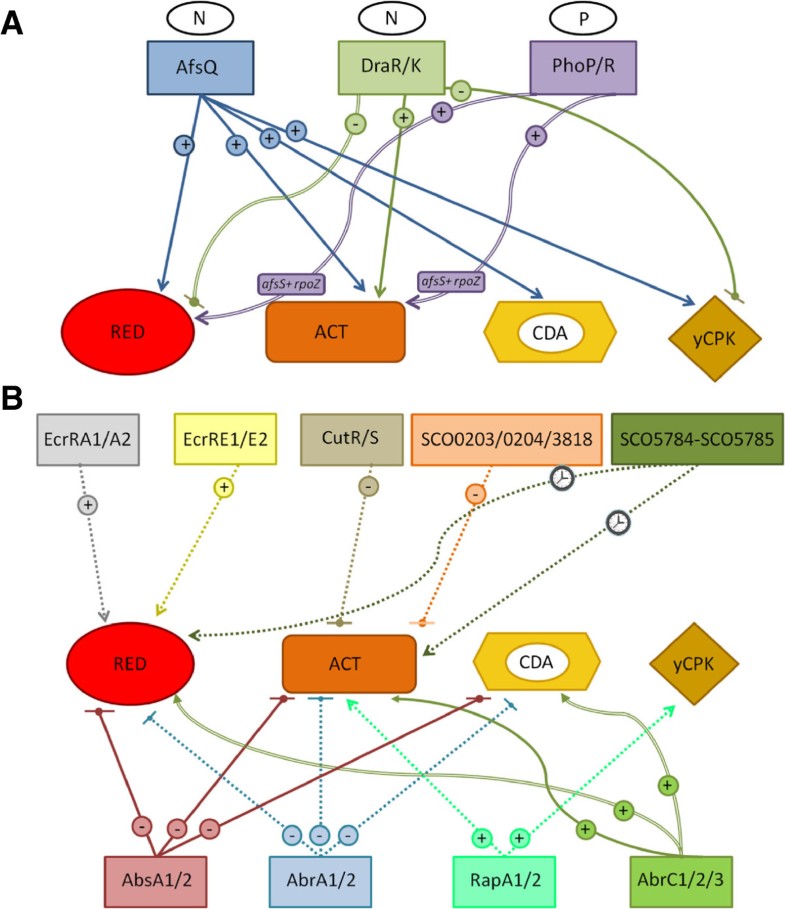 Review
TCSs with known activating signals
Coupling nitrogen availability and antibiotic production: the AfsQ1/2 and DraR/K systems
The AfsQ1/Q2 system was initially identified due to the ability of a S. coelicolor fragment containing afsQ1 to confer the capacity to produce pigmented antibiotics when introduced into a plasmid in S. lividans, whose antibiotic gene clusters are usually silenced in most culture conditions [30]. Nevertheless, a deletion mutant of the S. coelicolor afsQ1 and afsQ2 genes (ΔafsQ1/Q2) failed to produce any phenotype when cultivated in rich medium [30], although when grown on defined minimal medium with glutamate as the only carbon source the ΔafsQ1/Q2 mutant showed a decrease in ACT, RED and CDA, antibiotic production [31], indicating the different roles of this system, depending on the culture medium. The complementation of the S. coelicolor double mutant with the regulator (afsQ1) did not restore ACT production, pointing to AfsQ2 kinase as the only phosphorus donor of the response regulator. Although the real signal has not been determined experimentally, a nutritional signal -either an intermediate of nitrogen metabolism or the C/N/P ratio- might act as the trigger of the system.
Regarding the target genes of the AfsQ1 regulator, electrophoretic mobility shift assays (EMSAs) and quantitative RT-PCR (qRT-PCR) experiments revealed that AfsQ1 activates antibiotic biosynthesis by interacting directly with the CSR-genes actII-ORF4, cdaR, and redZ. Moreover, different AfsQ1 binding motifs in the cdaR, redZ and actII-ORF4 promoter regions have been described using Dnase I footprinting assays (Figure 1) [23, 31]. AfsQ1 also activates sigQ, a putative sigma factor that, by acting as a negative regulator of antibiotic production, (sigQ deletion leads to an increase in antibiotic levels) might play a role as an antagonist for the AfsQ1/Q2 system [23].
AfsQ1-binding sequences have been found within the cpkA/cpkD intergenic region and deletion of afsQ1/Q2 led to a substantial reduction of the yellow pigment yCPK [23]. The sequences have also been located in genes with roles in morphological development and carbon, nitrogen and phosphate metabolism, indicating that AfsQ1/Q2 responds to nitrogen excess not only by regulating antibiotic production but also by coordinating the C/N/P balance in the cell through the regulation of genes involved in nitrogen assimilation and phosphorus and carbon uptake [32].
The role of the DraR/K system in the regulation of antibiotics biosynthesis was elucidated in a screening of the TCS gene deletion library using minimal medium (MM) supplemented with different nitrogen sources [24], suggesting an interconnection between the role of AfsQ1/2 and DraR/K in response to nutritional signals.
Deletion of draR/K (and similarly ∆draR and ∆draK single mutants) resulted in a reduction in ACT levels but led to the overproduction of RED when grown in high nitrogen concentrations (mainly glutamine). An increase in the yellow pigment (yCPK) in ΔdraR/K was also observed under the same culture conditions, indicating that the TCS might act as a repressor for RED and yCPK biosynthesis under these circumstances. Thus, the DraR/K system was the first TCS identified that acts differentially in antibiotic biosynthesis in S. coelicolor: it is an activator of ACT and a repressor of RED and yCPK. Scanning electronic microscopy revealed that this TCS was also related to morphological differentiation [24].
qRT-PCR assays confirmed that the deletion of draK/R originates a decrease in the expression of actII-ORF4, the CSR of ACT, and an increase in the expression of kasO, the CSR of yCPK. EMSAs assays with the DraR regulator revealed the direct interaction of the DraR regulator with the upstream regions of actII-ORF4 and kasO through the binding of an 11 bp consensus motif defined using DNase I footprinting assays (Figure 1). In contrast, the increase in RED production observed in the double mutant is not related to a higher expression in redD, the CSR of RED production [24].
Since AfsQ1/Q2, the TCS described above, had a similar pattern of nitrogen-dependent regulation [31], a double mutant ΔdraR/∆afsQ1 was constructed to study the possible coordination between both TCSs in the activation of actII-ORF4. The actII-ORF4 transcript was significantly decreased in the double mutant (ΔdraR/∆afsQ1) as compared with the single mutant (ΔdraR), indicating a possible additive effect between the two systems in the regulation of actII-ORF4 in glutamate-based medium [24].
Similarly to AfsQ1/Q2, the signal that activates the DraR/K system might be a common intermediate generated during nitrogen metabolism or changes in the C/N ratio under the stress of higher concentrations of nitrogen [32]. Further studies addressing the biochemical and biophysical properties of the extracellular sensory domain of DraK have recently shown that conformational changes in this particular domain occur depending on the pH. This change may be involved in signal transduction processes in DraR/DraK TCS [33]. The recent crystallization of the extracellular sensory domain of DraK might provide new clues to unravel the structure and sensing mechanism of DraK kinase [34].
Coordinating phosphate availability and antibiotic production: The PhoP/R system
The TCS PhoP/R is the major signal transduction system for phosphate control in Streptomyces. Under phosphate limitation conditions, this TCS plays an important role, activating pathways for phosphate scavenging and controlling the transition to the stationary phase and secondary metabolism [35, 36]. Its involvement in the control of primary and secondary metabolism in response to phosphate availability was first described in Streptomyces as a result of the search for similarities in the S. lividans genome with the Pho regulon of Escherichia coli and Bacillus subtilis[37–40]. Under inorganic phosphate limitation, deletion of the gene regulator phoP (ΔphoP) in S. coelicolor resulted in a lower and delayed production of ACT and RED. However, EMSA assays did not reveal any binding of PhoP to the promoter regions of the CSRs actII-ORF4 and redD, suggesting an indirect regulation of antibiotic production [41].
In silico analysis looking for PHO boxes, the target sequences of the PhoP regulator [42, 43], detected a putative binding sequence in the upstream region of the afsS gene, previously described as an activator of both ACT and RED in S. coelicolor[44]. Interestingly, the PhoP-binding sequence determined by footprinting analysis coincided with the binding region previously reported as the binding region of the AfsR regulator that originates competition between both regulators [45]. Luciferase reporter experiments also confirmed that the PhoP regulator not only competes with the AfsR regulator but also acts as a transcriptional repressor of afsS. Additional EMSA assays revealed a reciprocal regulation between both regulators due that AfsR is able to bind the phoRP promoter [41]. In addition, it has been shown that PhoP binds to the promoter of the polymerase omega factor gene rpoZ, required for the biosynthesis of ACT and RED [46]. These data suggest that PhoP indirectly regulates antibiotic production through AfsS and RpoZ. Briefly, PhoR phosphorylates PhoP when phosphate concentrations decrease, and activated PhoP finally produces afsS repression and rpoZ activation, yielding an overall positive regulatory effect on antibiotic production in S. coelicolor[46].
TCSs with unknown activating signals
Conclusions
As discussed above, in recent decades important advances have been made in deciphering the role of TCSs in the regulation of S. coelicolor antibiotic production and some examples of applied knowledge have been described briefly. The emergence of an increasing number of antibiotic-resistant strains has made antibiotic research one of the main priorities in biomedical investigations. Here we have shown how antibiotic production can be improved and how the discovery of new antibiotics can be achieved using on-going research into TCSs. More work needs to be done to study new TCSs in Streptomyces, the connexions between them, and at the same time the whole regulatory system of these interesting microorganisms.
Declarations
Acknowledgements
This work of our laboratory is funded by: Spanish Comisión Interministerial de Ciencia y Tecnología (CICYT) [GEN2003-20245-C09-02]; Junta de Castilla y León (JCyL) [SA072A07, CSI099A12-1]; Spanish Ministerio de Ciencia e Innovación (MICINN) [BFU2010-17551] and Fundación Ramón Areces institutional funding to the IBFG. We thank Sylvia Muñoz for her technical support with figures. S. R. had a JAE-predoctoral grant from the CSIC. H.R. had a postdoctoral fellowship from Botín Foundation. Nicholas Skinner is thanked by the English corrections.
Authors' Affiliations
(1)
Instituto de Biología Funcional y Genómica (IBFG)/Departamento de Microbiología y Genética, Consejo Superior de Investigaciones Científicas (CSIC)/Universidad de Salamanca, Salamanca, Spain
Copyright
© Rodríguez et al.; licensee BioMed Central Ltd. 2013
This article is published under license to BioMed Central Ltd. This is an Open Access article distributed under the terms of the Creative Commons Attribution License (http://creativecommons.org/licenses/by/2.0), which permits unrestricted use, distribution, and reproduction in any medium, provided the original work is properly cited. The Creative Commons Public Domain Dedication waiver (http://creativecommons.org/publicdomain/zero/1.0/) applies to the data made available in this article, unless otherwise stated.