The fast milk acidifying phenotype of Streptococcus thermophilus can be acquired by natural transformation of the genomic island encoding the cell-envelope proteinase PrtS
Microbial Cell Factories
2011
10(Suppl 1):S21
Published: 30 August 2011
Abstract
Background
In industrial fermentation processes, the rate of milk acidification by Streptococcus thermophilus is of major technological importance. The cell-envelope proteinase PrtS was previously shown to be a key determinant of the milk acidification activity in this species. The PrtS enzyme is tightly anchored to the cell wall via a mechanism involving the typical sortase A (SrtA) and initiates the breakdown of milk casein into small oligopeptides. The presence or absence of PrtS divides the S. thermophilus strains into two phenotypic groups i.e. the slow and the fast acidifying strains. The aim of this study was to improve the milk acidification rate of slow S. thermophilus strains, and hence optimise the fermentation process of dairy products.
Results
In the present work, we developed for the first time a strategy based on natural transformation to confer the rapid acidification phenotype to slow acidifying starter strains of S. thermophilus. First, we established by gene disruption that (i) prtS, encoding the cell-envelope proteinase, is a key factor responsible for rapid milk acidification in fast acidifying strains, and that (ii) srtA, encoding sortase A, is not absolutely required to express the PrtS activity. Second, a 15-kb PCR product encompassing the prtS genomic island was transfered by natural transformation using the competence-inducing peptide in three distinct prtS-defective genetic backgrounds having or not a truncated sortase A gene. We showed that in all cases the milk acidification rate of transformants was significantly increased, reaching a level similar to that of wild-type fast acidifying strains. Furthermore, it appeared that the prtS-encoded activity does not depend on the prtS copy number or on its chromosomal integration locus.
Conclusion
We have successfully used natural competence to transfer the prtS locus encoding the cell-envelope proteinase in three slow acidifying strains of S. thermophilus, allowing their conversion into fast acidifying derivatives. The efficient protocol developed in this article will provide the dairy industry with novel and optimised S. thermophilus starter strains.
Keywords
Lactic Acid BacteriumAcidification RateBromocresol PurpleStarter StrainNatural Competence
Introduction
Lactic acid bacteria (LAB) are widely used as starter cultures in the manufacture of dairy products due to their efficient utilisation of milk constituents, principally lactose and caseins. Their capacity to produce lactic acid as the main metabolic end-product of lactose fermentation is of major economic importance, since acidification inhibits the growth of spoilage organisms. Previous studies highlighted a link between the presence of an efficient casein proteolytic system and fast growth and acidification rate of LAB in milk [1]. Casein breakdown is initiated by the cell-envelope proteinases (CEPs) and the resulting oligopeptides are then transported into the cell where they are further hydrolysed by a set of various intracellular peptidases [2, 3]. LAB possess generally only one CEP, but some strains of Lactobacillus delbrueckii subsp. bulgaricus present two or more CEP-encoding genes [4–6]. Similar to many surface proteins such as adhesins, CEPs generally contain a C-terminal LPXTG motif and are anchored to the cell wall via a mechanism involving the typical sortase A (SrtA) in Gram-positive bacteria [3, 7]. Transpeptidation of LPXTG proteins by the membrane-bound SrtA involves two steps: (i) a cleavage reaction inside the LPXTG motif, and (ii) covalent attachment of the processed and exported N-terminal form to the pentapeptide chain of one peptidoglycan repetition unit [8, 9].
S
treptococcus thermophilus
is a thermophilic LAB which is considered as the second most important industrial dairy starter culture after
Lactococcus lactis
[
10
]. The CEP from
S. thermophilus
, PrtS, is a LPXTG-containing serine proteinase of the subtilisin family, similar to the cell envelope protease from other LAB [
7
,
11
,
12
]. In monoculture, PrtS is essential for rapid growth of
S. thermophilus
in milk and therefore confers a competitive advantage compared to PrtS-deficient strains [
1
]. However despite its relevant role for growth in milk, only 21 strains among the 135 strains of the INRA historical collection displayed a high level of proteinase activity, indicating that this characteristic is not common in this species [
13
]. Since
S. thermophilus
is generally found in mixed cultures, growth of PrtS-deficient strains relies on the use of oligopeptides released by other LAB such as
L. delbrueckii
subsp.
bulgaricus
,
Lactobacillus helveticus
or
L. lactis
[
1
]. However, during the last 10 years, this important metabolic trait for milk adaptation was drastically selected by the dairy industry, resulting in a strong increase of PrtS
+
strains in industrial dairy products [
14
,
15
]. These probably result from the attractive technological implications associated with PrtS
+
strains, such as optimal development in milk containing high protein content, rapid milk acidification, and acceleration of cheese ripening. Recently, Delorme and co-workers showed that in
S. thermophilus
,
prtS
is located in a 15-kb genomic island that was probably acquired by horizontal gene transfer [
13
]. Indeed, this region which consists of three open reading frames (ORF) present upstream of
prtS
is flanked by tandem repeats of IS elements (Fig.
1
).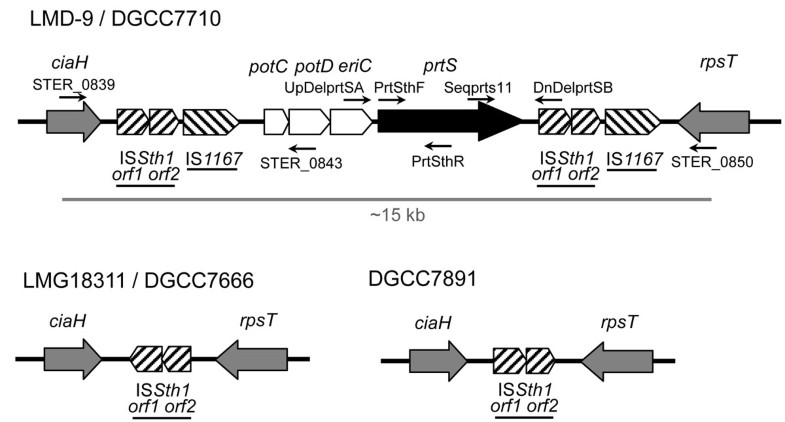 Besides the fast acidifying phenotype, some S. thermophilus strains harbour other industrially relevant phenotypes such as texturing properties, bacteriocins production, and phage resistance. However, these features are rarely found together in a single starter strain. Our objective was to develop a strategy to transfer the rapid acidification phenotype in different genetic backgrounds. In a first step, we defined the minimum genetic information associated with this phenotype by investigating the contribution of PrtS and Sortase A. In a second step, we took advantage of competence to transfer prtS from the fast-acidifying strain DGCC7710 into three different slow strains. The PrtS-positive transformants were characterised at the genetic level by PCR mapping and at the phenotypic level by performing proteinase plate assays and monitoring milk acidification.
Conclusion
To our knowledge, we performed for the first time a stable and fully functional transfer of the prtS locus in PrtS-deficient backgrounds of S. thermophilus. By comparing the PrtS+ derivative transformants isolated in this study to (i) natural fast and slow acidifying isolates and (ii) prtS and srtA mutants, we have ultimately shown that PrtS is the most relevant trait responsible for rapid milk acidification. In monoculture, acquisition of a proteolytic system capable of producing short oligopeptides from the casein matrix fulfils thus optimally the nutritional requirements of S. thermophilus in milk. The housekeeping sortase A is not required for full PrtS activity and optimal milk acidification. However, we can not exclude that it could be required in other culturing conditions or for the anchorage and activity of others putative sortase substrates. In absence of sortase A, it is probable that most of active PrtS proteins remain anchored in the cell membrane through their C-terminal hydrophobic domain (downstream of the LPXTG motif). Further studies would be required to fully explore the relation between the SrtA protein and its PrtS substrate in S. thermophilus.
The PrtS+ phenotype was previously reported to be only present in a few strains of S. thermophilus. However, since a decade the proportion of strains isolated from industrial dairy products displaying this phenotype has sharply increased, indicating a significant interest of the food industry for this infrequent adaptation [11–15]. The transfer protocol developed in this work is applicable to all transformable S. thermophilus strains, provided the insertion sites for prtS island i.e. ISSth1 or IS1167 elements are present in their genome. It will thus provide the dairy industry with novel and improved starter strains of S. thermophilus, which performed better under fermentation processes and may have a non-Genetically Modified Microorganisms (GMM) status according to the European Legislation [20, 30].
List of abbreviations used
CEP:

Cell-Envelope Proteinases
FSDA:

Fast Slow Difference Agar
GMM:

Genetically Modified Microorganisms
IS:

Insertion Sequence
LAB:

Lactic Acid Bacteria
ORF:

Open Reading Frames
PCR:

Polymerase Chain Reaction
WT:

Wild type.
Declarations
Acknowledgements
This research was carried out with financial support from Danisco and FNRS. L. F. is postdoctoral researcher at FNRS. P. Hols. is research associate at FNRS.
This article has been published as part of Microbial Cell Factories Volume 10 Supplement 1, 2011: Proceedings of the 10th Symposium on Lactic Acid Bacterium. The full contents of the supplement are available online at http://www.microbialcellfactories.com/supplements/10/S1.
Authors' Affiliations
(1)
Biochimie et Génétique Moléculaire Bactérienne, Institut des Sciences de la Vie, Université catholique de Louvain, Louvain-la-Neuve, Belgium
(2)
Danisco France SAS, Dangé-Saint-Romain, France
Copyright
© Dandoy et al; licensee BioMed Central Ltd. 2011
This article is published under license to BioMed Central Ltd. This is an open access article distributed under the terms of the Creative Commons Attribution License (http://creativecommons.org/licenses/by/2.0), which permits unrestricted use, distribution, and reproduction in any medium, provided the original work is properly cited.