Modifications of the metabolic pathways of lipid and triacylglycerol production in microalgae
Microbial Cell Factories
2011
10:91
Received: 1 June 2011
Accepted: 2 November 2011
Published: 2 November 2011
Abstract
Microalgae have presented themselves as a strong candidate to replace diminishing oil reserves as a source of lipids for biofuels. Here we describe successful modifications of terrestrial plant lipid content which increase overall lipid production or shift the balance of lipid production towards lipid varieties more useful for biofuel production. Our discussion ranges from the biosynthetic pathways and rate limiting steps of triacylglycerol formation to enzymes required for the formation of triacylglycerol containing exotic lipids. Secondarily, we discuss techniques for genetic engineering and modification of various microalgae which can be combined with insights gained from research in higher plants to aid in the creation of production strains of microalgae.
Keywords
MicroalgaeErucic AcidLipid BodyFatty Acid BiosynthesisCetane Number
Introduction
In the past decade, the price of crude oil has ranged from 20 dollars a barrel to nearly 170 dollars a barrel. The volatile price, expected depletion and increase in atmospheric greenhouse gases due to oil combustion provide impetus to develop alternative energy sources. Biofuels have served as sources of energy from the beginning of human history, but the start of the industrial revolution led to a reliance on fossil energy due to its prevalence and high energy yields compared to the majority of bioenergy [1]. Establishing energy independence in coordination with the increasing costs for liquid fuels have renewed interest by the government, industry and academia in renewable liquid fuels to replace petroleum.
Biofuels can be solids, liquids or gasses so long as they are derived directly from biological sources. The most common solid biofuel is lignified cellulose (wood) that can be burned for energy. Liquid and gaseous biofuels generally require more refining, and include bioethanol, biodiesel, and engine-combustible hydrocarbons as well as methane from anaerobic digestion. The aforementioned liquid biofuels offer significant potential to augment or replace petroleum gasoline for transportation purposes. Currently ethanol dominates the biofuel market and may be produced by a variety of methods, primarily heterotrophic fermentation of sugars purified from biomass feedstocks [2]. Biodiesel, and other hydrotreated biofuels, are derived mainly from vegetable oil feedstocks (lipids) [3].
The lipids used for biofuels have important physiological roles in plants, including energy storage, structural support as membranes, and intercellular signaling [4]. Storage lipids differ from both structural and signaling lipids in that they are mainly composed of glycerol esters of fatty acids, also known as triacylglycerol (TAG). These lipids are generally stored in a compartment specialized for lipid storage, the lipid body. This compartment is found in most oleaginous plant cells, and is used to store a variety of TAG molecules depending on the species [5]. Vascular plants store large amounts of lipids in seeds, and provide energy for growth during germination. The lipid content, and fatty acid composition of oilseeds varies. Environmental changes or human manipulation, such as breeding or genetic engineering have been used to change lipid content and composition [6]. Although less common, some species like Simmondsia chinensis accumulate storage lipids as waxes rather than as TAG. Regardless of the final storage type, de novo fatty acid biosynthesis in plants occurs exclusively in the stroma of plastids, whereas, with the exception of plastidial desaturation and a few complex lipid biosyntheses, most modifications of fatty acyl residues and TAG synthesis from acyl chains are localized in the lumen of the endoplasmic reticulum (ER) [6]. In addition to TAGs, plants also contain membrane lipids. These, unlike TAGs, remain highly conserved in both identity and quantity to maintain normal plant physiology.
Ethanol and biodiesel is primarily derived from plant sources, often food crops, because the established scale of food crops made them a convenient source of biomass necessary to produce biofuel on a commercial scale. However, an increasing demand for biofuel feedstocks has negatively impacted food markets, and raised a global "food vs. fuel" controversy. Furthermore, the land and fresh water requirements for growing crops, and the long growth-to-harvest periods limit the expansion of plant based biofuel industries to the amount of arable land. In contrast, unicellular algae require smaller amounts of land that does not need to be arable, have faster growing cycles, contain a higher percentage of oil, and have been proposed to be a better solution to the food vs. fuel debate. Therefore, significant attention has been focused on algae as a next generation feedstock for biofuel production [7]. It has been proposed that a fuel only based approach to biodiesel production from algae is unlikely to be feasible with current yields based on economic modeling of production facilities. As a result, attention must be paid to genetic manipulations in order to harness the ability of algae to make high quality fuel, but also potentially to serve as a factory for the production of other value added products such as protein therapeutics [8, 9]. In light of this and studies on selection pressure for photosynthetic efficiency in native vs. bioreactor environments, it seems genetic modification is likely to provide the key to unlocking the feasibility of algal production strains [10].
Several research papers and reviews have been published presenting the recent progress in plant lipid biosynthesis and related industrial applications [4, 11–14]. In this review, we discuss lipid biosynthesis and regulation in plants and algae; the state of genetic manipulation in plants to modify lipid biosynthesis; and the possible impacts of manipulation on biodiesel production from algae and future studies.
Biosynthesis of Triacylglycerol (TAG) in Plants
A general scheme of plant TAG biosynthesis is broadly discussed in the textbook "Plant Lipid Biosynthesis: Fundamentals and Agricultural Application" and other review articles, as shown in Figure
1
. The TAG pathway begins with the basic fatty acid precursor, acetyl-CoA, and continues through fatty acid biosynthesis, complex lipid assembly, and saturated fatty acid modification, until finally reaching TAG formation and storage [
15
].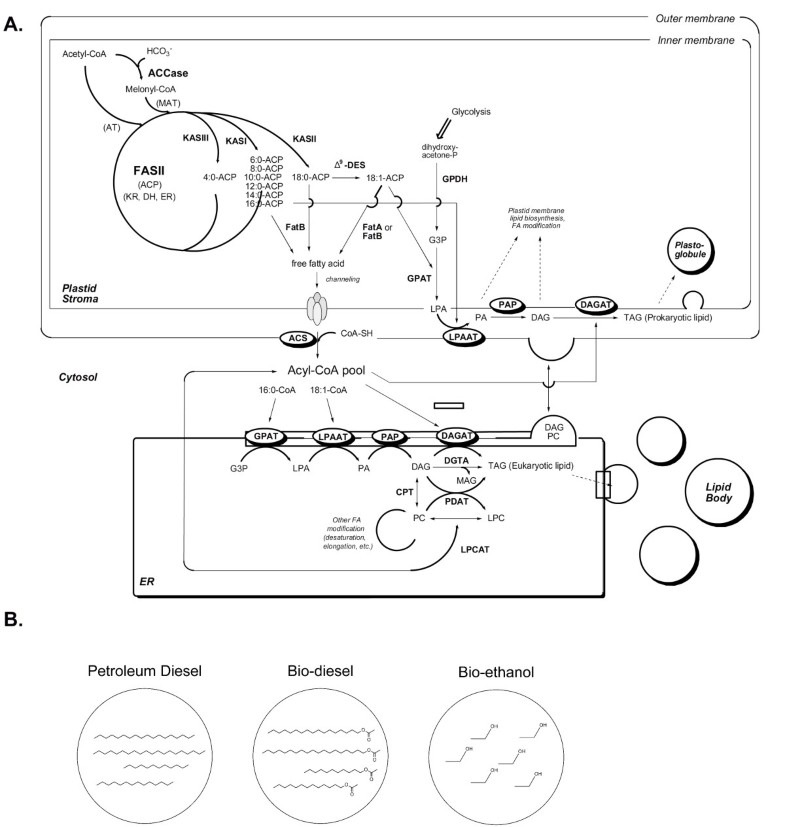 The fatty acid synthase (FAS) complex residing in plant chroloplasts is a major player in de novo fatty acid synthesis [16]. Completion of de novo fatty acid synthesis is accomplished in one of three ways [4, 6]. Either the newly synthesized fatty acid is hydrolysed by a thioesterase, further modified by desaturases, or directly transferred to complex lipid formation ('prokaryotic lipid') using plastid acyltransferases. After release from plastids, free fatty acids are exported to the cytosol by an unknown mechanism and converted to acyl-CoA esters by an acyl-CoA synthetase located in the outer envelope of the plastid [17, 18]. The cytosolic acyl-CoA esters are then transferred to the ER for further elongation, modification, or participation in the synthesis of membrane lipids or storage TAGs ('eukaryotic lipid').
Triacylglycerols (TAGs) are commonly found as storage fats or oils and are described as neutral or non-polar lipids, differentiating them from polar membrane lipids. TAGs consist of three FA chains esterified via the hydroxyl groups of a glycerol backbone. Biosynthesis of TAGs occurs in the plastids, mitochondria, and endomembrane system. Although the substrates are commutable, each compartment of the plant cell has an independent TAG synthesis pathway. The Kennedy pathway is well understood and one of the most straightforward TAG biosynthesis pathways; it consists of stepwise acylation, adding to each hydroxyl group of glycerol beginning with glycerol-3-phosphate [19]. Lipid bodies are single-layer, membrane-wrapped, protein embedded organelles 0.2-2.5 μm in diameter and are in the cytoplasm of most, if not all, plant cells [4, 5]. It is generally believed that plant lipid bodies are not only a cellular lipid reservoir, but also provide an effective energy battery during seed germination. Plastoglobules are lipid bodies found within plastids that contain TAG, isoprenoid-derived metabolites, as well as proteins [20].
Palmitate (16:0) and stearate (18:0) are the major products of plastid FAS. However, the major fatty acids of plants are the C18 compounds, oleate (18:1Δ9), linoleate (18:2Δ9, 12) and α-linolenate (18:3Δ9, 12, 15). Together, these three fatty acids represent over 85% of total membrane acids, and over 80% of economically important storage oils. There are other various fatty acids which contain longer carbon-chains, unsaturated double bonds, hydroxyl groups, and other modifications within the plant fatty acid repertoire [21].
Fatty acid modification during plant lipid biosynthesis is crucial for generating the fatty acid repertoire found in plants. Fatty acids with 20 or more carbon atoms are called very-long-chain fatty acids (VLCFAs). In plants, VLCFAs are ubiquitous in leaf surfaces as wax, and in cuticle components which play an important role against xenobiotics. In Simmondsia chinensis seed, VLCFA is the major component of energy storage in the form of liquid wax consisting of chains 36 to 46 carbon atoms in length [11, 13]. The VLCFAs are precursors of very-long-chain polyunsaturated fatty acids (VLC-PUFAs) which are important in human nutrition and health [22]. However, none of these VLC-PUFAs is normally produced in higher plants. In lower eukaryotes such as mosses, fungi, and algae, VLC-PUFAs are synthesized to confer flexibility, fluidity, and selective permeability to cellular membranes in stringent environments [23].
Biosynthesis of Triacylglycerol (TAG) in Algae
Algae are a diverse group of organisms which includes prokaryotes and eukaryotes in the form of single cells, colonized cells, and multicellular plants. Algae are typically distinguished from other classes of organisms by their ability to fix carbon, and utilize solar energy. Algae reside in a variety of ecosystems including marine and freshwater environments, desert sands, hot springs, and even snow and ice. To survive in these environments, algae produce a myriad of lipids. These include structural lipids for cellular membranes, as well as lipids for nutrient storage [24, 25]. The two oil crises during the 1970's spurred a vigorous search for alternative energy sources, as people began to address their growing energy problem. From 1978 to 1996, the U.S. Department of Energy's Office of Fuels Development developed the Aquatic Species Program (ASP) with a goal of developing renewable transportation fuels from algae. During this program, systematic and fuel-directed algal oil research evaluated the potential of algal oil as an energy source. Although the program was terminated in 1996, the preliminary results of the pioneering studies provide a direction for later exploration in this field [26].
Over almost two decades of the ASP program, thousands of algae strains were isolated and screened for their lipid and fatty acid content. These data were combined with previous sporadic results, and some generalizations of lipid content in different algae categories were formed [26–29]. For example, diatoms are among the most common and widely distributed groups of algae. They store energy primarily in the form of lipids (TAGs) and the average lipid content of oleaginous diatoms is 22.7% dry-cell-weight (DCW) under normal growth conditions; with that number rising to 44.6% DCW when cultured under stress conditions [30]. However, the slower growth rate caused by nutrient deficiency, along with the increasing cost of silicate containing culture media hampers the usage of diatoms as a robust biofuel feedstock.
Green algae, often referred to as chlorophytes, are highly abundant and are estimated to number as many as 8,000 species. They are the most diverse group of algae, and include unicellular, colonial, coccoid, filamentous, and multicellular forms growing in a variety of habitats. Green algae are believed to share a common ancestor with higher plants, carrying the same photosynthetic pigments and having similar metabolic mechanisms. Generally, these algae use starch as their primary storage vehicle, however, in some strains large quantities of TAG accumulate under specific growing conditions. Oleaginous green algae contain an average total lipid content of 25.5% DCW, which can be raised to 55.2% DCW when the algae are grown under stress conditions or heterotrophically [30, 31]. Chlamydomonas reinhardtii has been treated as a model organism for photosynthesis, and as a result has been studied extensively, because of its giant chloroplast and ability to control sexual reproduction, allowing detailed genetic analysis [32]. Indeed, Chlamydomonas was also the first alga to be genetically transformed and a draft sequence of the whole genome has recently been determined [33]. Although it does not typically accumulate lipids under ideal conditions, metabolic engineering can be used to transform this alga into an oleaginous factory [34].
Algal lipid metabolism from de novo fatty acid biosynthesis to the formation of complex glycerolipids is similar to that of the plant cells. Higher plants have differentiated organs, each of which performs specific physiological functions, and contains specific biochemical pathways. Similarly to higher plants, algae process TAG into lipid droplets which are coated in a large number of proteins. Most of these are typical members of vesicular transport and signaling pathways such as RabGTPases, but a proteomics approach to algal lipid bodies has identified a protein called major lipid droplet protein (MLDP) which affecs the size of lipid droplets and may present a target for immunofluorescence imaging of algal lipid content [35]. Algae species, especially microalgae, have a general biochemical composition of 30-50% DCW proteins, 20-40% DCW carbohydrates and 8-15% DCW lipids under optimal growth condition[36]. Most of the algal lipids are glycerinated membrane lipids, with minor contributions to overall lipid content from TAG, wax esters, hydrocarbons, sterols, and prenyl derivatives [30, 36]. Under unfavorable growing conditions many algae shift their metabolic pathways toward the biosynthesis of storage lipids or polysaccharides. TAG accumulation in response to environmental stress likely occurs as a means of providing an energy deposit that can be readily catabolized in response to a more favorable environment to allow rapid growth [27]. Nutrients, temperature, light, salinity and growing phase have been shown to influence the flux of algal cellular metabolism [37].
Since many of the algal lipid metabolism studies on environmental changes have been carried out in batch cultures, there is a lack of systematic, multi-factor monitored studies. This decreases the practicability of applying previous findings to large-scale algal cultures. During the years of Aquatic Species Program, a 'silver bullet' was sought; a single species which could produce high levels of storage lipids without growth rate alteration. To maximize lipid production and growth efficiency for industrial scale culture, experiments with recombinant genetics and complex culture conditions (multi-stage cultures, timed nutrient limitations) may be required.
Engineering of Lipid Biosynthesis for the Production of Biofuels
Concluding Remarks
Renewable energy has become an important issue of recent political campaigns, and an increase in usage with less reliance on fossil energy will create substantial benefits for the global environment, economy, and industry. Biofuels are one of the few renewable energies proposed that have generated large public expectation as a real possibility for one of the fuels of the future. The use and production of plant oil as a source of biodiesel is expanding annually. Decades of studies have provided a general scheme of the plant lipid metabolism, and genetic engineering methods have provided valuable data and several field trials. However, more studies in organism-scale metabolic regulation will be necessary to understand how plants control their lipid biosynthetic pathways in response to physiological and environmental conditions. Elucidation of complex flux-control will hold great benefits for future biofuel production.
Algae, the world's largest group of photosynthetic organisms, contribute a majority of the carbon fixation on earth, turning greenhouse gases into carbohydrates and lipids. Using algal oils as a biodiesel feedstock holds major advantages in comparison to plant oils. Algal cultures have long been studied, and already are used to produce several important value-added products for the agriculture and food industries, such as VLC-PUFA, carotenoids, and high-protein animal feeds. The carbohydrates and cellulosic cell wall of algae have the potential to be hydrolyzed and fermented into bioethanol, further increasing the utility of algae as a biofuel feedstock. Algae cells can also be used to synthesize important eukaryotic proteins or natural products for pharmaceutical applications. Further fundamental studies in algae metabolism hold the possibility of making the algae cell a multi-use feedstock and creating a true "green gold".
Declarations
Acknowledgements
This work was supported with funds from DOE DE-EE0003373 and a US Air Force #FA9550-09-1-0336.
Authors' Affiliations
(1)
Department of Chemistry & Biochemistry, University of California San Diego, La Jolla, USA
(2)
Division of Molecular Biology, University of California San Diego, La Jolla, USA
(3)
The San Diego Center for Algae Biotechnology, University of California San Diego, La Jolla, USA
Copyright
© Yu et al; licensee BioMed Central Ltd. 2011
This article is published under license to BioMed Central Ltd. This is an Open Access article distributed under the terms of the Creative Commons Attribution License (http://creativecommons.org/licenses/by/2.0), which permits unrestricted use, distribution, and reproduction in any medium, provided the original work is properly cited.