Characterization and heterologous expression of the neoabyssomicin/abyssomicin biosynthetic gene cluster from Streptomyces koyangensis SCSIO 5802
Microbial Cell Factories
2018
17:28
Received: 20 November 2017
Accepted: 9 February 2018
Published: 20 February 2018
Abstract
Background
The deep-sea-derived microbe Streptomyces koyangensis SCSIO 5802 produces neoabyssomicins A–B (1–2) and abyssomicins 2 (3) and 4 (4). Neoabyssomicin A (1) augments human immunodeficiency virus-1 (HIV-1) replication whereas abyssomicin 2 (3) selectively reactivates latent HIV and is also active against Gram-positive pathogens including methicillin-resistant Staphylococcus aureus (MRSA). Structurally, neoabyssomicins A–B constitute a new subtype within the abyssomicin family and feature unique structural traits characteristic of extremely interesting biosynthetic transformations.
Results
In this work, the biosynthetic gene cluster (BGC) for the neoabyssomicins and abyssomicins, composed of 28 opening reading frames, was identified in S. koyangensis SCSIO 5802, and its role in neoabyssomicin/abyssomicin biosynthesis was confirmed via gene inactivation and heterologous expression experiments. Bioinformatics and genomics analyses enabled us to propose a biosynthetic pathway for neoabyssomicin/abyssomicin biosynthesis. Similarly, a protective export system by which both types of compounds are secreted from the S. koyangensis producer was identified, as was a four-component ABC transporter-based import system central to neoabyssomicin/abyssomicin biosynthesis. Furthermore, two regulatory genes, abmI and abmH, were unambiguously shown to be positive regulators of neoabyssomicin/abyssomicin biosynthesis. Consistent with their roles as positive regulatory genes, the overexpression of abmI and abmH (independent of each other) was shown to improve neoabyssomicin/abyssomicin titers.
Conclusions
These studies provide new insight into the biosynthesis of the abyssomicin class of natural products, and highlight important exploitable features of its BGC for future efforts. Elucidation of the neoabyssomicin/abyssomicin BGC now enables combinatorial biosynthetic initiatives aimed at improving both the titers and pharmaceutical properties of these important natural products-based drug leads.
Keywords
AbyssomicinTetronateBiosynthesisTransporterPathway-specific regulator
Background
Infectious diseases constitute a leading cause of death worldwide and continue to advance in their lethality as drug resistance becomes more widespread. This concern, coupled with revelations about as yet, untapped sources of molecular diversity, has spurred intense efforts to discover new drug candidates with novel structures/modes of action able to circumvent or ablate bacterial mechanisms of drug resistance. Within this context, three novel natural products, abyssomicin C (Fig.
1
) and its analogues abyssomicins B and D, were discovered from the marine actinomycete strain
Verrucosispora
sp. AB-18032 in 2004 [
1
]. Abyssomicin C exhibits promising antibacterial activities against a number of Gram-positive bacteria, including methicillin-resistant
Staphylococcus aureus
(MRSA) [
2
] and
Mycobacterium tuberculosis
[
3
]. Motivated in part by these important revelations, biosynthetic studies and bacterial activity screening programs have recently unveiled several new members of the abyssomicin family [
4
–
10
]. The abyssomicin class of natural products contains two related subfamilies (type I and type II) [
10
]. Structurally, type II family members are "enantiomeric" counterparts of the type I family compounds and are further grouped into two subtypes (type II
A
and type II
B
) based on difference in C-4 methyl substitution (see Fig.
1
for the chemical structures of the representative for each type/subtype).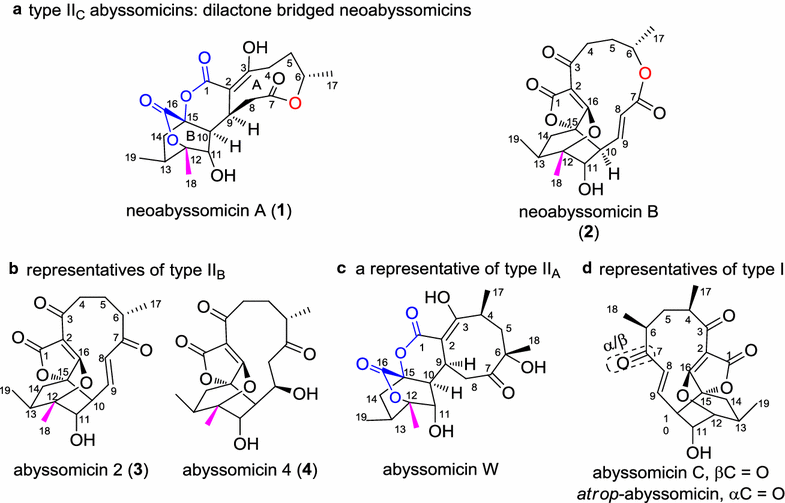 Recently, as part of our efforts to discover novel secondary metabolites with antibacterial activities from under-explored marine actinomycetes, two new analogues of the abyssomicin class, neoabyssomicins A–B (1–2) along with abyssomicins 2 (3) and 4 (4) (Fig. 1), were discovered from the deep-sea bacterium Streptomyces koyangensis SCSIO 5802 [10]. Neoabyssomicin A (1) augments HIV-1 replication in a human lymphocyte model. Notably, abyssomicin 2 (3) not only selectively reactivates latent HIV [9] but is also active against a panel of Gram-positive pathogens, including clinical methicillin-resistant (MRSA) strains, with MICs of 3–15 μg/mL [10]. Structurally, neoabyssomicins A–B constitute a new subtype (type IIC) of the abyssomicins, featuring an inserted oxygen atom within the polyketide chain. Neoabyssomicin A (1) possesses a novel skeleton featuring a rare caged 6/6/6 ring system fused with two additional 6/9 lactone rings (Fig. 1). Neoabyssomicin B (2) has a 12-membered lactone ring in place of the 11-membered polyketide ring (Fig. 1). Both the unique structures and biological activities of neoabyssomicins/abyssomicins provide clear inspiration for understanding the biosynthetic mechanisms leading to their production as well as possible application of combinatorial biosynthesis to enhance yields and create structural diversity within the class.
A model for the biosynthesis of atrop-abyssomicin C has been proposed based on a combination of feeding studies with 13C-labelled biosynthetic precursors and identification of its BGC from Verrucosispora sp. AB-18032 [11]. AbyU has been demonstrated to be a Diels–Alderase that catalyzes [4 + 2] cycloaddition to form a key cyclohexene in atrop-abyssomicin C [12]. Recently, a BGC, identified in Streptomyces sp. LC-6-2 by whole genome sequencing, was proposed to account for abyssomicin M–X biosynthesis [8]. Relative to atrop-abyssomicin C, neoabyssomicins A–B are characterized by a number of biosynthetically interesting structural features. Here, we report the application of genetics experiments and bioinformatics analyses to decipher the biosynthetic pathway leading to the neoabyssomicins/abyssomicins in S. koyangensis SCSIO 5802 as well as their transport systems. Furthermore, rationally designed enhancements to neoabyssomicin/abyssomicin production were realized via overexpression of two different pathway-specific positive regulators.
Conclusions
We have identified and characterized the neoabyssomicin/abyssomicin BGC in S. koyangensis SCSIO 5802 by carrying out whole genome sequencing, systematic gene disruptions and heterologous expression experiments; the abm BGC generates 1–4. Informatics analyses and genetics data have enabled us to propose a plausible biosynthetic pathway leading to 1–4. Central to this proposal is our demonstration that the tetronate moieties result from an enzymatically driven acetylation-elimination sequence. Beyond their basic construction, we employed gene inactivations and bioinformatics to unveil an export system by which the microbial producer avoids the detrimental effects of 1–4 intracellular production; a biosynthetically vital four-component import system was also uncovered. Finally, we have also revealed that abmI and abmH both encode proteins involved in positively regulating neoabyssomicin/abyssomicin biosynthesis; overexpression of either gene afforded significant enhancements in titers. Overall, the findings detailed here set the stage for dramatic improvements in the production, study, and potential clinical applications of the neoabyssomicin/abyssomicin scaffold. The working model for biosynthesis (and its regulation) of 1–4 enabled by these efforts is anticipated to significantly advance combinatorial biosynthetic initiatives to better exploit this unique family of natural products.
Abbreviations
MRSA:

methicillin-resistant Staphylococcus aureus
BGC:

biosynthetic gene cluster
ORFs:

opening reading frames
HIV:

human immunodeficiency virus
aby :

the biosynthetic gene cluster of atrop-abyssomicin C
abs :

the putative biosynthetic gene cluster of abyssomicins M–X
abm :

the biosynthetic gene cluster of neoabyssomicins/abyssomicins
PKS:

polyketide synthase
AT:

acyltransferase
ACP:

acyl carrier protein
DH:

dehydratase
ER:

enoylreductase
KR:

ketoreductase
TE:

thioesterase
MFS:

major facilitator superfamily
TMS:

transmembrane segments
TMDs:

transmembrane domains
NBDs:

nucleotide-binding domains
SBP:

substrate-binding protein
Opp:

oligopeptide ABC import system
SARP:

Streptomyces antibiotic regulatory protein
HTH:

helix-turn-helix
BTAD:

bacterial transcriptional activation domain
Declarations
Authors' contributions
JT, SL and JC performed the experiments. YS and SF assisted with the experiments. QL and JJ analyzed the data. QL supervised the full project and wrote the manuscript. JJ helped with the critical reading and editing of the manuscript. All authors read and approved the final manuscript.
Acknowledgements
No applicable.
Competing interests
The authors declare that they have no competing interests.
Availability of data and materials
All data generated or analyzed during this study are included in this manuscript and in its additional file.
Consent for publication
The authors are consent for publication.
Ethics approval and consent to participate
Not applicable.
Funding
This work was supported in part by the National Natural Science Foundation of China (31670087, 81425022 and 41676151), and the National Key R&D Program of China (2017YFD0201400).
Publisher's Note
Springer Nature remains neutral with regard to jurisdictional claims in published maps and institutional affiliations.
Open AccessThis article is distributed under the terms of the Creative Commons Attribution 4.0 International License (http://creativecommons.org/licenses/by/4.0/), which permits unrestricted use, distribution, and reproduction in any medium, provided you give appropriate credit to the original author(s) and the source, provide a link to the Creative Commons license, and indicate if changes were made. The Creative Commons Public Domain Dedication waiver (http://creativecommons.org/publicdomain/zero/1.0/) applies to the data made available in this article, unless otherwise stated.
Authors' Affiliations
(1)
CAS Key Laboratory of Tropical Marine Bio-resources and Ecology, Guangdong Key Laboratory of Marine Materia Medica, RNAM Center for Marine Microbiology, South China Sea Institute of Oceanology, Chinese Academy of Sciences, Guangzhou, China
(2)
School of Pharmacy, Zunyi Medical University, Zunyi, China
(3)
College of Bio and Marine Sciences, Shenzhen University, Shenzhen, China
(4)
University of Chinese Academy of Sciences, Beijing, China