RNA-guided single/double gene repressions in Corynebacterium glutamicum using an efficient CRISPR interference and its application to industrial strain
Microbial Cell Factories
2018
17:4
Received: 28 November 2017
Accepted: 12 December 2017
Published: 9 January 2018
Abstract
Background
The construction of microbial cell factories requires cost-effective and rapid strain development through metabolic engineering. Recently, RNA-guided CRISPR technologies have been developed for metabolic engineering of industrially-relevant host.
Results
To demonstrate the application of the CRISPR interference (CRISPRi), we developed two-plasmid CRISPRi vectors and applied the CRISPRi in Corynebacterium glutamicum to repress single target genes and double target genes simultaneously. Four-different single genes (the pyc, gltA, idsA, and glgC genes) repressions were successfully performed using the CRISPRi vectors, resulting significant mRNA reductions of the targets compared to a control. Subsequently, the phenotypes for the target gene-repressed strains were analyzed, showing the expected cell growth behaviors with different carbon sources. In addition, double gene repression (the idsA and glgC genes in a different order) by the CRISPRi resulted in an independent gene repression to each target gene simultaneously. To demonstrate an industrial application of the CRISPRi, citrate synthase (CS)-targeting DM1919 (l-lysine producer) strains with a sgRNA-gltA-r showed reduced CS activity, resulting in the improvement of l-lysine yield by 1.39-fold than the parental DM1919 (a lysine producer).
Conclusions
Single or double gene repression were successfully performed using the CRISPRi vectors and sequence specific sgRNAs. The CRISPRi can be applied for multiplex metabolic engineering to enhanced lysine production and it will promote the further rapid development of microbial cell factories of C. glutamicum.
Keywords
Metabolic engineeringSynthetic biologyCRISPR interference Corynebacterium glutamicum
Background
Controlling gene expression using Clustered Regulatory Interspaced Short Palindromic Repeats (CRISPR) inference (CRISPRi) and CRISPR activation (CRISPRa) was first demonstrated to modulate gene expression in Escherichia coli [1]. Subsequently, native or modified CRISPRi of E. coli has been applied to other bacteria and a yeast by repressing multiple genes in cyanobacteria [2], repressing essential genes to study the essentialities in mycobacteria [3], and to analyze fitness effects of guide RNA libraries to identify chemical-genetic interactions in Saccharomyces cerevisiae [4]. Comprehensive genetic tool kits for genome editing and CRISPRi have been also developed for Bacillus subtilis [5]. In addition, metabolic engineering with CRISPRi resulted in cost-effective and rapid strain development by controlling polyhydroxyalkanoate (PHA) biosynthesis flux, PHA composition [6], and balancing gene expression of the heterologous mevalonate pathway in E. coli [7].
Corynebacterium glutamicum is a predominantly aerobic, non-pathogenic, biotin-auxotrophic, Gram-positive bacterium that is used industrially for the production of amino acids, in particular the flavor enhancer l-glutamate and the feed additive l-lysine [8]. A CRISPRi system for the metabolic engineering of C. glutamicum has been developed to repress single genes [9] for improvement of l-lysine and l-glutamate production, and the CRISPRi system also has been applied to regulate multiple genes for shikimic acid production [10].
In this study, we report the development of a two-plasmid CRISPRi and the detail studies with single guide RNAs for single or double repression of target genes in
C. glutamicum
wild-type (Fig.
1
a). In addition, one of the known target gene was tested to demonstrate the CRISPRi application in a lysine producer for improving lysine yield, yielding a 1.39-fold increase to the parental strain. Thus, the CRISPRi vectors could be a cost-effective and time-saving metabolic engineering tool and will promote for researchers to investigate controlling gene expression for biochemical production in
C. glutamicum
.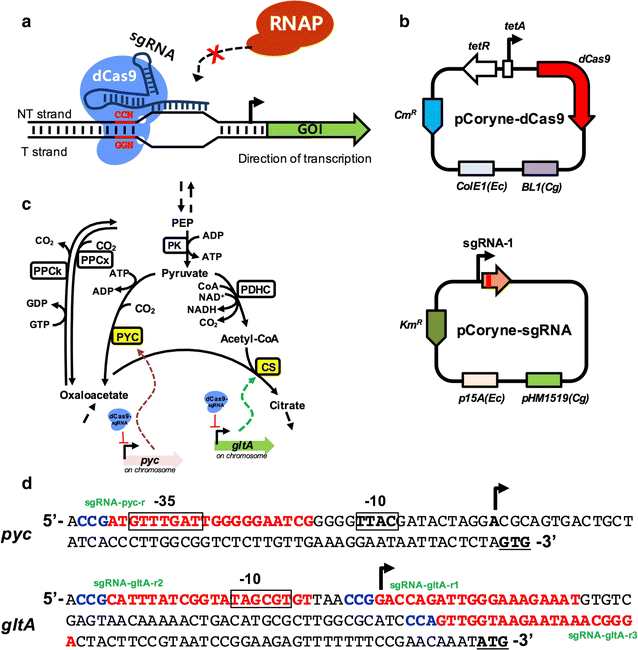 Conclusions
In summary, we report the development and application of the CRISPRi capable of repressing single or double target genes including an essential gene (pyc, gltA, idsA, and glgC) in C. glutamicum by choosing sequence-specific protospacers. For an application to the industrial host strain through interfering mRNA transcription with dCas9 and different sgRNAs for the gltA gene, the CS-targeting recombinants exhibited various CS activities and indeed improved the level of l-lysine yield. The CRISPRi vectors employed in this study will be useful to promote cost-effective for providing high-throughput host engineering of C. glutamicum for constructing microbial cell factories.
Abbreviations
CRISPR:

Clustered Regulatory Interspaced Short Palindromic Repeats
sgRNA:

single guided RNA
PAM:

protospacer adjacent motifs
NGS:

next-generation sequencing
aTC:

anhydrotetracycline
Declarations
Authors' contributions
JP and HS designed the experiments, analyzed the data, and wrote the manuscript, equally. SML, YU, and HMW guided the scope of the project, provided critical input for the manuscript. HMW designed the experiments, analyzed the data, and wrote the manuscript. All authors read and approved the final manuscript.
Acknowledgements
The authors thank Dr. Kay Marin at Evonik Industries, A.G. for providing the strain DM1919, Prof. Dr. Bernard Eikmanns for providing the pyc deletion mutant.
Competing interests
The authors declare that they have no competing interests.
Availability of data and materials
Gene sequences used in this project are from Genbank (http://www.ncbi.nlm.nih.gov/) and the material and data supporting their findings can be found in the main paper and Additional file 1.
Ethics approval and consent to participate
Not applicable.
Funding
This work was supported by Korea CCS R&D Center (KCRC) (2017M1A8A1072034) and Basic Science Research Program (2017R1A2B2002566) through the National Research Foundation of Korea funded by the Korean Government (Ministry of Science and ICT). Also, this work was supported by Golden Seed Project (213008-05-1-WT911) grant-funded by Ministry of Agriculture, Ministry of Oceans and Fisheries. Financial support from the CJ Grant Program (CG-20-16-01-0003) is gratefully acknowledged.
Publisher's Note
Springer Nature remains neutral with regard to jurisdictional claims in published maps and institutional affiliations.
Open AccessThis article is distributed under the terms of the Creative Commons Attribution 4.0 International License (http://creativecommons.org/licenses/by/4.0/), which permits unrestricted use, distribution, and reproduction in any medium, provided you give appropriate credit to the original author(s) and the source, provide a link to the Creative Commons license, and indicate if changes were made. The Creative Commons Public Domain Dedication waiver (http://creativecommons.org/publicdomain/zero/1.0/) applies to the data made available in this article, unless otherwise stated.
Authors' Affiliations
(1)
Department of Food Science and Biotechnology, Sungkyunkwan University (SKKU), Suwon, Republic of Korea
(2)
Clean Energy Research Center, Korea Institute of Science and Technology, Seoul, Republic of Korea
(3)
GyeongSangBukdo Government Public Institute of Health & Environment, Yeongcheon-si, Republic of Korea