Identification and utilization of two important transporters: SgvT1 and SgvT2, for griseoviridin and viridogrisein biosynthesis in Streptomyces griseoviridis
Microbial Cell Factories
2017
16:177
Received: 12 June 2017
Accepted: 14 October 2017
Published: 25 October 2017
Abstract
Background
Griseoviridin (GV) and viridogrisein (VG, also referred as etamycin), both biosynthesized by a distinct 105 kb biosynthetic gene cluster (BGC) in Streptomyces griseoviridis NRRL 2427, are a pair of synergistic streptogramin antibiotics and very important in treating infections of many multi-drug resistant microorganisms. Three transporter genes, sgvT1–T3 have been discovered within the 105 kb GV/VG BGC, but the function of these efflux transporters have not been identified.
Results
In the present study, we have identified the different roles of these three transporters, SgvT1, SgvT2 and SgvT3. SgvT1 is a major facilitator superfamily (MFS) transporter whereas SgvT2 appears to serve as the sole ATP-binding cassette (ABC) transporter within the GV/VG BGC. Both proteins are necessary for efficient GV/VG biosynthesis although SgvT1 plays an especially critical role by averting undesired intracellular GV/VG accumulation during biosynthesis. SgvT3 is an alternative MFS-based transporter that appears to serve as a compensatory transporter in GV/VG biosynthesis. We also have identified the γ-butyrolactone (GBL) signaling pathway as a central regulator of sgvT1–T3 expression. Above all, overexpression of sgvT1 and sgvT2 enhances transmembrane transport leading to steady production of GV/VG in titers ≈ 3-fold greater than seen for the wild-type producer and without any notable disturbances to GV/VG biosynthetic gene expression or antibiotic control.
Conclusions
Our results shows that SgvT1–T2 are essential and useful in GV/VG biosynthesis and our effort highlight a new and effective strategy by which to better exploit streptogramin-based natural products of which GV and VG are prime examples with clinical potential.
Keywords
Metabolite transporter
SgvT1
SgvT2
Griseoviridin
Viridogrisein
Streptogramin
Antibiotic biosynthesis
Streptomyces griseoviridis
Background
The actinomycete
Streptomyces griseoviridis
NRRL 2427 generates two types of unrelated streptogramins; these include griseoviridin (GV) belonging to the A-type cyclic polyunsaturated macrolactone subclass, and viridogrisein (VG), a B-type cyclic depsipeptide counterpart to GV also referred to as etamycin (Fig.
1
) [
1
,
2
]. GV and VG bind to the A and P sites, respectively, of the 50S bacterial ribosomal subunit thereby averting peptide bond formation during the elongation phase of protein translation. Moreover, GV and VG have been noted to work synergistically leading to antibacterial activities superior to those of either compound alone; this effect suggests that the combination of GV/VG has great potential with respect to treating multidrug resistant microbial pathogens [
3
–
5
].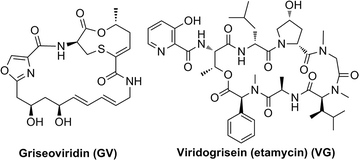 Stemming from the diversity of structures and bioactivities of their secondary metabolites, the streptogramin-producing actinomycetes commonly employ several transmembrane transporters as drug efflux pumps to avoid intracellular metabolite accumulation. These transporters typically belong to major facilitator superfamily (MFS) and ATP-binding cassette (ABC) families and constitute an essential self-resistance mechanism to efficiently secrete antibiotics as they are constructed thereby protecting the producing microbe from the effects of its own secondary metabolism [5–10]. This is a central idea in microbial homeostasis [11–14]. MFS transporters commonly possess 12 or 14 transmembrane segments (TMS) and employ a transmembrane electrochemical gradient to secrete secondary metabolites [11–15]. Conversely, the ABC transporters share a conserved domain organization of separate transmembrane domain (TMD) subunits and nucleotide-binding domain (NBD, also called ATP-binding cassette) subunits enabling ATP hydrolysis and application of the resulting energy to effect metabolite removal from the cell [11–14, 16]. Notably, the majority of prokaryotic ABC transporters consist of stand-alone TMD or NBD polypeptides which must dimerize in some fashion to generate fully functional proteins [12, 17].
Not surprisingly, overexpression of actinomycete efflux transporters significantly enhances antibiotic release rates. This translates to enhanced antibiotic production by reducing feedback inhibition in vivo [
13
,
18
]. This strategy, termed "transporter engineering" is widely applied in large-scale industrial antibiotic production processes; some examples include production of pradimicin, avermectin, doxorubicin and neomycin in
Streptomyces
[
19
–
22
]. Enabled by the recently identified 105-kb GV/VG biosynthetic gene cluster (Fig.
2
) [
1
,
2
], we report herein: (i) the identification of three transporter encoding genes housed within the GV/VG biosynthetic gene cluster:
sgvT1
–
T3
(SgvT1 and SgvT3 are MFS transporters and SgvT2 is an ABC transporter) that are regulated by γ-butyrolactone (GBL)-type signaling, (ii) SgvT1 and SgvT2 are both necessary for efficient GV/VG biosynthesis with SgvT1 playing an indispensable role in maintaining stable expression throughout sustainable GV/VG biosynthesis, and (iii) a roughly threefold increase in GV/VG titers resulting from
sgvT1
–
T2
overexpression. These studies provide new insight into host self-resistance mechanisms in streptogramin biosynthesis and highlight a practical approach to improving streptogramin production.

Discussion
Transporter-encoding genes within secondary metabolite biosynthesis gene clusters are central to cell viability and homeostasis; both rely heavily on a cell's ability to pump antibiotics and other toxic metabolites out of the cell [11–14]. Advances in genomics and gene inactivation assays enabled us to identify three transporter encoding genes: sgvT1–T3 distributed within the GV/VG biosynthetic gene cluster. SgvT3 is a conserved MFS transporter with 14 TMS. Interestingly, inactivation of sgvT3 failed to significantly impact GV/VG titers suggesting that SgvT3 may serve as a form of alternative transporter. Precedence for this logic has been reported for landomycin C and cephalosporin; inactivations of lndW (in the landomycin cluster) and cefT (in the cephalosporin cluster) also failed to impact natural product titers [30, 31]. The failure of inactivations of putative transporters to significantly alter metabolite titers suggests that losses in their activity can be compensated for using substitute or alternative transport mechanisms. In the case of GV/VG biosynthesis, we found that loss of SgvT3 activity is likely compensated for by its counterparts SgvT1 and SgvT2.
SgvT1 and SgvT2 are both necessary transporters involved in GV/VG biosynthesis; inactivation of either protein significantly decreased GV/VG fermentation titers. SgvT1 is a rare 15 TMS-containing MFS transporter. Alternatively, SgvT2 is composed of two NBD domains but is devoid of any TMS. The absence of TMS elements in SgvT2 suggests a reliance upon other TBD domain-containing transporters in order for SgvT2 to be involved in any kind of effective GV/VG efflux system. That two distinct chemical species (GV and VG) are generated by the S. griseoviridis producer also supports the notion that effective efflux systems may require two dramatically different types of transporter proteins to work synergistically to maintain homeostasis within the producer.
Griseoviridin and VG are both excellent examples of streptogramins and previous work has placed a great deal of importance on understanding mechanisms of streptogramin cellular export during biosynthesis [4–10]. We focus herein much more intensely on SgvT1 and SgvT2. Careful analyses of both metabolite production profiles and mRNA levels throughout long periods up to 240 h of fermentation unveiled a new appreciation for the importance of SgvT1 in GV/VG biosynthesis. In particular, the careful tracking of both GV/VG titers and transcript levels for selected key genes using ΔsgvT1 and ΔsgvT2 mutant strains shed tremendous insight into the roles of these transporter genes. These analyses make clear that SgvT1 is pivotal to metabolite export and that its inactivation is only minimally compensated for by either SgvT2/T3 or perhaps other transporters within the producer genome. This is in stark contrast to the case of sgvT3 inactivation, which, based on our results, is readily compensated for by an intact SgvT1/T2 transport couple.
Inactivations of sgvT1–T3 do not appear to directly affect the expression of GV/VG biosynthetic or activating genes. Only the ΔsgvT1 mutant appeared to have any of these gene's expression indirectly inhibited, presumably in response to intracellular environmental adaptations. Moreover, we found that sgvT1–T3 are regulated by the GBL signaling pathway, which appears to synchronize with GV/VG biosynthesis without directly influencing GV/VG titers. On the basis of these findings we envision that, when the S. griseoviridis (WT or mutants) producer receives the GBL signal to activate GV/VG biosynthesis, sgvT1–T3 expression ensues to coordinate prompt GV/VG secretion thereby averting intracellular GV/VG accumulation. In this way, we posit that GBL signaling plays a key role in GV/VG biosynthesis by maintaining cellular homeostasis and coordinating GV/VG biosynthesis and transmembrane export (Fig. 5).
An overarching goal of transport engineering is to increase natural product titers via overexpression of transport genes. Accordingly, and motivated by our findings with sgvT1–T3, we overexpressed sgvT1 and sgvT2 to enhance transmembrane secretion of GV/VG thereby improving natural product titers. Exploitation of ermE promoter technology enabled us to overexpress both sgvT1/T2 by ~ 20-fold which translated to a threefold increase in GV and VG titers. Notably, this approach does not disturb biosynthetic gene expression profiles and affords a producer no longer dependent on environmental antibiotic exposure to generate the antimicrobials of interest. Over-expression of sgvT1/T2 in the mutant GV/VG producer not only validates the importance of these transporters but also provide a new approach for future industrialized exploitation and use of the streptogramins GV and VG.
Conclusions
In this study we have identified the roles of SgvT1–T3 in GV/VG biosynthesis: SgvT1 and SgvT2 are both necessary for efficient GV/VG biosynthesis with SgvT1 playing an indispensable role in maintaining stable biosyntheic gene expression throughout sustainable GV/VG biosynthesis; but SgvT3 is an alternative MFS-based transporter that appears to serve as a compensatory protein in GV/VG biosynthesis. All these three transporters' coding genes are regulated by γ-butyrolactone (GBL)-type signaling, which appears to synchronize with GV/VG biosynthesis and avert excessive intracellular GV/VG accumulation. Enabled by the discovery and application of two critical transporters SgvT1/T2, we constructed a new steady GV/VG high-producing strain in titers about threefold greater than seen for the wild-type producer and without any notable disturbances to GV/VG biosynthetic gene expression or environmental antibiotic control. Consequently, our effort highlighted a new strategy to better exploit streptogramin-based natural products and demonstrate that enhancing self-resistance mechanisms in antimicrobial producing organisms is a valuable approach to safely and efficiently improving metabolite production processes.
Abbreviations
GV:

griseoviridin
VG:

viridogrisein
BGC:

biosynthetic gene cluster
MFS:

major facilitator superfamily
ABC:

ATP-binding cassette
GBL:

γ-butyrolactone
TMS:

transmembrane segments
TMD:

transmembrane domain
NBD:

nucleotide-binding domain
WT:

wild-type
RT-PCR:

reverse transcription PCR
qRCP:

quantitative real-time PCR
Declarations
Authors' contributions
YX designed and performed the experiments. YX, JM, QL, XQ and JJ analyzed the data. YX wrote the draft manuscript. JJ supervised the whole work and wrote the manuscript. All authors read and approved the final manuscript.
Acknowledgements
Not applicable.
Competing interests
The authors declare that they have no competing interests.
Availability of data and materials
All data generated or analyzed during this study are included in this published article and in its Additional file.
Consent for publication
The authors are consent for publication.
Ethics approval and consent to participate
Not applicable.
Funding
This work was supported in part by the National Science Foundation of China (81425022, U1501223 and 41406195), the Chinese Academy of Sciences (XDA11030403), and the Natural Science Foundation of Guangdong Province (2016A030312014).
Publisher's Note
Springer Nature remains neutral with regard to jurisdictional claims in published maps and institutional affiliations.
Open AccessThis article is distributed under the terms of the Creative Commons Attribution 4.0 International License (http://creativecommons.org/licenses/by/4.0/), which permits unrestricted use, distribution, and reproduction in any medium, provided you give appropriate credit to the original author(s) and the source, provide a link to the Creative Commons license, and indicate if changes were made. The Creative Commons Public Domain Dedication waiver (http://creativecommons.org/publicdomain/zero/1.0/) applies to the data made available in this article, unless otherwise stated.
Authors' Affiliations
(1)
CAS Key Laboratory of Tropical Marine Bioresources and Ecology, Guangdong Key Laboratory of Marine Materia Medica, Research Network for Applied Microbiology Center for Marine Microbiology, South China Sea Institute of Oceanology, Chinese Academy of Sciences, Guangzhou, China
(2)
College of Earth Sciences, University of Chinese Academy of Sciences, Beijing, China