Characterization of acetic acid-detoxifying Escherichia coli evolved under phosphate starvation conditions
Microbial Cell Factories
2016
15:42
Received: 21 September 2015
Accepted: 7 February 2016
Published: 19 February 2016
Abstract
Background
During prolonged incubation of Escherichia coli K-12 in batch culture under aerobic, phosphate (Pi) starvation conditions, excess glucose is converted into acetic acid, which may trigger cell death. Following serial cultures, we isolated five evolved strains in two populations that survived prolonged incubation.
Methods
We sequenced the genomes of the ancestral and evolved strains, and determined the effects of the genetic changes, tested alone and in combination, on characteristic phenotypes in pure and in mixed cultures.
Results
Evolved strains used two main strategies: (1) the constitutive expression of the Trk- and Kdp-dependent K+ transport systems, and (2) the inactivation of the ArcA global regulator. Both processes helped to maintain a residual activity of the tricarboxylic acid cycle, which decreased the production of acetic acid and eventually allowed its re-consumption. Evolved strains acquired a few additional genetic changes besides the trkH, kdpD and arcA mutations, which might increase the scavenging of organophosphates (phnE +, lapB, and rseP) and the resistance to oxidative (rsxC) and acetic acid stresses (e14−/icd +).
Conclusions
Evolved strains rapidly acquired mutations (phnE + lapB rpoS trkH and phnE + rseP kdpD) that were globally beneficial to growth on glucose and organophosphates, but detrimental to long-term viability. The spread of these mutant strains might give the ancestral strain time to accumulate up to five genetic changes (phnE + arcA rsxC crfC e14−/icd +), which allowed growth on glucose and organophosphates, and provided a long-term survival. The latter strain, which expressed several mechanisms of protection against endogenous and exogenous stresses, might provide a platform for producing toxic recombinant proteins and chemicals during prolonged incubation under aerobic, Pi starvation conditions.
Keywords
Adaptive evolution Escherichia coli K+ homeostasisOxidative stressAcetic acid stressMetabolism reroutingGrowth in stationary phase
Background
In nature, bacteria are frequently starved for essential nutrients such as phosphate (HPO4 2−, Pi) [1, 2]. When the levels of Pi in the medium decrease below 4 μM, Escherichia coli induces the PhoBR regulon, which helps to scavenge low levels of Pi and secondary sources of Pi such as organophosphates and phosphonates [3]. When the cells cannot find a sufficient source of Pi to maintain growth, they enter the so-called stationary phase [4]. The E. coli K-12 strain MG1655 incubated in batch culture under aerobic, Pi-limiting conditions (0.1 mM K2HPO4 and 40 mM glucose) enters stationary phase after 10 h of incubation when Pi levels drop below 1 μM [5].
At the approach of the stationary phase, the cells steadily accumulate the RpoS (σ
s
) sigma factor [
6
,
7
]. The σ
s
-RNA polymerase holoenzyme poorly transcribes "growth genes" (e.g. genes encoding the succinate dehydrogenase of the tricarboxylic acid cycle) and preferentially transcribes "defense genes" required for the protection of non-growing cells against endogenous stresses such as oxidative stress (e.g.
pdhR
,
poxB
, and
sodC
) and acetic acid stress (e.g.
gadB
) [
4
,
8
–
10
]. For instance, cells incubated under Pi starvation conditions continue to metabolize glucose at a reduced rate, but eventually redirect the metabolic flux from the pyruvate dehydrogenase towards the RpoS-dependent pyruvate oxidase, PoxB, which directly converts pyruvate into acetic acid. PoxB (pyruvate:Q reductase), in contrast to the pyruvate dehydrogenase, does not use NAD
+
as a cofactor, which prevents the adventitious production of O
2
.−
and H
2
O
2
by NADH dehydrogenases in the aerobic respiratory chain [
4
]. Whereas the activity of PoxB protects Pi-starved cells against oxidative stress at the entry into stationary phase, this activity can eventually cause the accumulation of high levels of acetic acid, which decrease the internal pH (pHi), stop metabolism and trigger cell death [
4
,
10
]. Death of Pi-starved cells can be alleviated by the addition of glutamate into the medium, which allows the RpoS-dependent GadB acid resistance system to neutralize acetic acid [
5
,
10
] (Fig.
1
).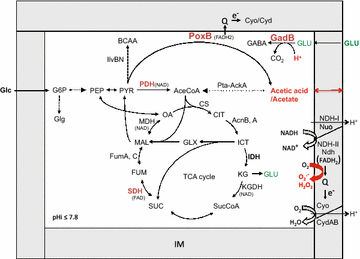 Whereas E. coli is normally doomed to die when glutamate is not added in Pi-limiting medium, evolved strains can sweep populations after generally three serial batch cultures. Variants that survive prolonged incubation exhibit different mutant phenotypes refereed to as RpoS− (colonies grown on LB medium produce low levels of glycogen and exhibit a reduced catalase activity) and Glg− (colonies produce reduced levels of glycogen) [1]. From one evolved population, we isolated three strains exhibiting RpoS− (ENZ1901), Glg− (ENZ1902), and Glg+ (ENZ1903) phenotypes. In a parallel-evolved population, which contained a majority of Glg− mutants and eventually Glg+ cells, we isolated two Glg+ evolved strains (ENZ1904 and ENZ1905) [1].
Compared to the ancestral strain, the evolved strain ENZ1901 (RpoS−) harbors a single-nucleotide deletion (rpoS-ΔG214) that inactivates RpoS, and an 8-bp deletion in phnE that activates the PhnE permease [1]. The lack of RpoS activity allows a substantial activity of the tricarboxylic acid cycle in Pi-starved cells, which decreases the production of acetic acid and allows its re-consumption (Ace+ phenotype) [1, 5, 11, 12]. The PhnE permease can scavenge organophosphates excreted into the medium [1]. The combination of the phnE and rpoS evolved alleles triggers a novel growth-under-Pi-starvation (GPS) phenotype, which refers to the ability of a mutant strain—incubated for 1 day in Pi-limiting medium and added in minority into a 1-day-old culture of the ancestral strain in Pi-limiting medium—to resume growth between days 1 and 4 of incubation by using primarily organophosphates released into the mixed culture by the ancestral strain [1]. The GPS phenotype may account at least in part for the spread of the evolved strain ENZ1901 in populations starved for Pi.
If the presence of an rpoS-null mutation may help to explain the behavior of the evolved strain ENZ1901 (RpoS−), the majority of the evolved strains did not exhibit an RpoS-negative phenotype [1]. This prompted us to determine the complete genotypes, the metabolic patterns and the growth capacities in Pi-limiting medium of the evolved and reconstructed mutant strains. We show here that mutants could overtake populations and detoxify acetic acid by using two novel strategies: (1) K+ accumulation (triggered by trkH or kdpD mutations) combined with changes in outer membrane permeability (lapB or rseP mutations), and (2) inactivation of ArcA activity (arcA mutation) combined with an increased resistance to oxidative stress (rsxC mutation) and to acetic acid stress (crfC and e14 − / icd + mutations).
Discussion
It is generally thought that cells that evolve under nutrient limitation conditions primarily accumulate mutations that decrease the activity of the RpoS (σs) factor [18, 20–22, 25, 26, 28, 29, 49]. We show here that in strains that evolved in serial batch cultures under aerobic, Pi starvation conditions, rpoS-null mutations, which were first beneficial, were eventually detrimental. In contrast, we identified novel combinations of mutations that were beneficial to the long-term viability of the cells.
Declarations
Authors' contributions
LL carried out the molecular genetic studies. PLM conceived of the study, performed the experiments and wrote the manuscript. Both authors read and approved the final manuscript.
Acknowledgements
We thank A. Battesti for comments on the manuscript. The Centre National de la Recherche Scientifique and Aix-Marseille Université provided funding.
Competing interests
Both authors declare that they have no competing interests.
Open AccessThis article is distributed under the terms of the Creative Commons Attribution 4.0 International License (http://creativecommons.org/licenses/by/4.0/), which permits unrestricted use, distribution, and reproduction in any medium, provided you give appropriate credit to the original author(s) and the source, provide a link to the Creative Commons license, and indicate if changes were made. The Creative Commons Public Domain Dedication waiver (http://creativecommons.org/publicdomain/zero/1.0/) applies to the data made available in this article, unless otherwise stated.
Authors' Affiliations
(1)
Laboratoire de Chimie Bactérienne, UMR 7283, Aix-Marseille Université, Marseille, France
(2)
Institut de Microbiologie de la Méditerranée, Centre National de la Recherche Scientifique, Marseille, France
Copyright
© Moreau and Loiseau. 2016