Exacerbation of substrate toxicity by IPTG in Escherichia coli BL21(DE3) carrying a synthetic metabolic pathway
Microbial Cell Factories
2015
14:201
Received: 25 July 2015
Accepted: 5 December 2015
Published: 21 December 2015
Abstract
Background
Heterologous expression systems based on promoters inducible with isopropyl-β-D-1-thiogalactopyranoside (IPTG), e.g., Escherichia coli BL21(DE3) and cognate LacIQ/P lacUV5 -T7 vectors, are commonly used for production of recombinant proteins and metabolic pathways. The applicability of such cell factories is limited by the complex physiological burden imposed by overexpression of the exogenous genes during a bioprocess. This burden originates from a combination of stresses that may include competition for the expression machinery, side-reactions due to the activity of the recombinant proteins, or the toxicity of their substrates, products and intermediates. However, the physiological impact of IPTG-induced conditional expression on the recombinant host under such harsh conditions is often overlooked.
Results
The physiological responses to IPTG of the E. coli BL21(DE3) strain and three different recombinants carrying a synthetic metabolic pathway for biodegradation of the toxic anthropogenic pollutant 1,2,3-trichloropropane (TCP) were investigated using plating, flow cytometry, and electron microscopy. Collected data revealed unexpected negative synergistic effect of inducer of the expression system and toxic substrate resulting in pronounced physiological stress. Replacing IPTG with the natural sugar effector lactose greatly reduced such stress, demonstrating that the effect was due to the original inducer's chemical properties.
Conclusions
IPTG is not an innocuous inducer; instead, it exacerbates the toxicity of haloalkane substrate and causes appreciable damage to the E. coli BL21(DE3) host, which is already bearing a metabolic burden due to its content of plasmids carrying the genes of the synthetic metabolic pathway. The concentration of IPTG can be effectively tuned to mitigate this negative effect. Importantly, we show that induction with lactose, the natural inducer of P lac , dramatically lightens the burden without reducing the efficiency of the synthetic TCP degradation pathway. This suggests that lactose may be a better inducer than IPTG for the expression of heterologous pathways in E. coli BL21(DE3).
Keywords
Metabolic burdenSubstrate toxicity Escherichia coli Heterologous metabolic pathwayIsopropyl β-D-1-thiogalactopyranosideLactose1,2,3-trichloropropaneMetabolic engineering
Background
Escherichia coli is among the most widely used microbial hosts in both fundamental and applied research [1]. E. coli strain BL21(DE3) carries an inducible T7 RNA polymerase-dependent expression system that allows for the simple manipulation and tuning of protein production levels, and it has become a laboratory workhorse [1–4]. This strain carrying commercial pET vectors or their derivatives has been the host of choice in numerous studies on recombinant protein expression [5, 6]. More recently, it has found applications as a cell factory for heterologous expression of entire biochemical pathways in the emerging fields of metabolic engineering and synthetic biology [6–10].
Despite its popularity, the E. coli BL21(DE3) and LacIQ/P lacUV5 -T7 expression system suffers from certain drawbacks that mainly stem from the rapid and strong overexpression of recombinant proteins triggered by exposure to the synthetic inducer IPTG. The negative effects on host fitness associated with redirecting cells' metabolic capacities to achieve high levels of protein production are known as the metabolic burden or metabolic load [11]. The burden is often attributed to the overconsumption of metabolic precursors (e.g., amino acids, rRNAs, ATP, and reducing power) to fuel the synthesis of non-essential foreign proteins [12] or the energetically demanding maintenance and replication of plasmid vectors bearing heterologous genes and selection markers [13–15]. Fitness costs associated with the activities of the foreign proteins, which may cross-talk with the host's extant metabolic network [11] and burdens linked to the components of the expression system, such as the IPTG inducer and its import into the cell, are also frequently discussed [16, 17].
In addition to metabolic burden originating from the expression of foreign pathway components, the microbial cell factories used for biosynthesis of value-added chemicals or biodegradation of polluting compounds may be challenged by the toxicity of the processed substrate or its metabolic intermediates. These issues must be accounted for when considering the evolution of metabolic routes for biodegradation in natural and heterologous hosts [18–22]. Toxicity problems have also been encountered during the engineering of biosynthetic pathways for fatty acids, 1,3-propanediol, amorphadiene, taxadiene, and ethanol in E. coli [9, 23–27]. In addition, studies on the consolidated bioprocessing of lignocellulose have highlighted the potential adverse effects of inhibitory molecules in biomass-hydrolysate substrates [28]. Our current understanding of cellular responses to the exogenous and endogenous stressors that may be encountered during bioprocesses is extensive [29]. However, the combined effects of multiple simultaneous stresses on the hosts and their engineered induction systems have not been examined in depth.
To address this knowledge gap, we examined a recombinant strain of
E. coli
BL21(DE3) under conditions that provide an extreme combination of exogenous and endogenous stresses. The studied strain bears foreign genes encoding a five-step synthetic metabolic pathway for converting the industrial waste product and emerging environmental pollutant 1,2,3-trichloropropane (TCP) into the commodity chemical glycerol (Scheme
1
). We have previously assembled this pathway in
E. coli
BL21(DE3) under the control of the LacI
Q
/
P
lacUV5
-T7 system, and used the resulting construct to investigate reported pathway bottlenecks observed in vivo in the environmental bacterium
Agrobacterium radiobacter
AD1 and in vitro in a version of the pathway constructed using immobilized enzymes [
20
,
22
,
30
]. By using protein engineering, metabolic engineering, and synthetic biology techniques, we were able to improve the pathway's performance [
22
,
31
,
32
] and identify two important factors limiting its output: an imbalance in the enantioselectivity of the pathway's enzymes, and the toxicity of the substrate and various pathway intermediates, which reduced the fitness of
E. coli
constructs incubated with TCP [
20
,
22
].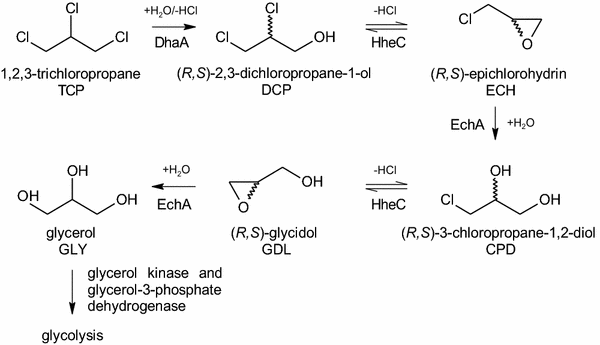 Here, we assess the physiological consequences of using the IPTG-inducible system for the heterologous expression of this TCP degradation pathway. Our results demonstrate a negative synergistic effect of the inducer IPTG and the substrate TCP. Toxicity of TCP in resting E. coli BL21(DE3) cells is greatly exacerbated by pre-induction with IPTG. This effect was observed in the cells affected by metabolic burden from corresponding plasmids. Compared to this exacerbation effect, the physiological burden due to the production and presence of the pathway enzymes was minor. Moreover, we show that it is possible to moderate the pathway's fitness cost by tuning the IPTG concentration or reduce it dramatically by replacing IPTG with the natural inducer lactose. These findings highlight the need to take great care when selecting inducible systems for heterologous expression of metabolic pathways that catalyse harsh reactions, and to finely tune the fitness-productivity trade-off by optimizing the identity and concentration of the inducer.
Conclusions
We studied the toxicity of TCP and its derived metabolites in E. coli BL21(DE3) carrying an inducible synthetic metabolic pathway comprising three catabolic genes [22]. The presence of plasmid DNA, exposure to IPTG, and the metabolic burden of the heterologous pathway were shown to affect the viability of E. coli degraders even before contact with the toxic substrate. The most pronounced impact was attributed to plasmid maintenance: the presence of two medium-to-high copy number plasmids (pCDF and pETDuet) reduced cell viability by 50 %. Pre-induction of host control cells carrying the empty plasmids caused a 40 % decrease in viability, while expression of the genes within the pathway further reduced viability by about 20 %. Treatment with exogenous TCP at a concentration of 2 mM had only a very minor or no effect on the viability of non-induced control cells carrying empty plasmids. The pronounced reduction in survival triggered by adding the substrate to pre-induced cells was unexpected, suggesting that TCP toxicity was exacerbated by pretreatment of the cells with IPTG. The recombinants clearly benefited from the presence of a functioning TCP degradation pathway—the faster the conversion of TCP, the greater the cell viability.
Flow cytometry with selected fluorochromes proved to be useful in dissecting the toxic effects of IPTG and TCP. Variations in the three monitored physiological parameters—membrane permeability, ROS formation, and membrane potential—was insignificant between the non-induced host controls irrespective of exposure to TCP. The fraction of cells staining positively for individual dyes rose significantly when IPTG was added together with TCP, verifying the previously observed exacerbation effect and showing that TCP exposure causes intensive ROS formation in bacterial cells. All three parameters were reduced in E. coli BL21(DE3) recombinants expressing the synthetic biodegradation pathway, and the degree of reduction increased in parallel with the initial rate of TCP degradation. Cell counts and flow cytometry data were in good agreement with the results of electron microscopy experiments.
The potential toxicity of IPTG and its negative effect on cell growth has been repeatedly reported [9, 16, 60, 61]. This effect was attributed to various factors including the induced changes in the host metabolism [16], the active uptake of the inducer into the cell by LacY [17, 62], and the rapid induction of heterologous gene expression [12, 56, 59]. However, that widely used inducer can exacerbate the toxicity of another compound, leading to damage of host cells experiencing metabolic burden, has not been previously reported and should be of wide interest. E. coli BL21(DE3) or similar hosts with the DE3 lysogen and well defined plasmid vectors are widely used because they make it possible to precisely balance the expression of heterologous pathway genes in metabolic engineering and synthetic biology [8, 10, 22, 25]. Still, insufficient attention has been paid to the possible exacerbation of multiple endogenous and exogenous stressors that impose a complex burden on such cell factories. IPTG is often applied at sub-millimolar concentrations [9, 63, 64] although the amount needed for full induction of heterologous genes can be an order of magnitude lower. The optimal concentration of IPTG in any given case may be system-specific [56], but the relatively simple experiments can be used to guide the optimization of its concentration. Importantly, the use of lactose as an alternative inducer should be considered: we observed that replacing IPTG with lactose dramatically reduced the burden experienced by the transformed bacterial cells, suggesting that it may be a better inducer than IPTG for the expression of heterologous pathways in E. coli BL21(DE3).
Methods
Chemicals and growth media
TCP, DCP, epichlorohydrin (ECH), 3-chloropropane-1,2-diol (CPD), GDL, and glycerol standards were purchased from Sigma-Aldrich Co. (St. Louis, MO, USA). All chemicals used in this study were of analytical grade. The fluorescent indicators carboxy-H2DCFDA and DiBAC4(3) were purchased from Life Technologies Inc. (Waltham, MA, USA) and PI from Sigma-Aldrich Co. IPTG was purchased from Duchefa Biochemie B.V. (Haarlem, The Netherlands). Lactose and TBHP solution (5–6 M in decane) were from Sigma-Aldrich Co. A Free Glycerol Assay Kit was acquired from BioVision Inc. (Milpitas, CA, USA). LB medium (Sigma-Aldrich Co.) was used for routine cultivation of E. coli.
Bacterial strains and growth conditions
Plasmids and E. coli strains used in this study are summarized in Table 1. E. coli DH5α was used as a control strain lacking lacZYA operon. E. coli BL21(DE3) was used as a heterologous host for inducible expression of the synthetic biodegradation pathway and also as a control strain bearing the lacZYA operon and LacIQ/P lacUV5 -T7 expression system. Three variants of the pathway were constructed previously in a modular way by combining genes encoding haloalkane dehalogenase DhaA from R. rhodochrous NCIMB 13064, the DhaA mutant DhaA31, and genes encoding haloalcohol dehalogenase HheC and epoxide hydrolase EchA from A. radiobacter AD1 on Duet vectors [22]. For the purpose of this study, E. coli BL21(DE3) degraders and host control strain BL21(DE3) with empty pCDF and pETDuet plasmids were prepared freshly by co-transforming plasmid constructs into competent cells using chemical transformation or electroporation. Cells were spread on LB agar plates with appropriate combination of antibiotics (25 μg.ml−1 Sm and 75 μg.ml−1 Amp for E. coli BL21(DE3) with empty pCDF and pETDuet, degWT, degWTopt, and deg31; 25 μg.ml−1 Sm and 20 μg.ml−1 Cm for deg31opt) and grown overnight at 37 °C. A single colony was used for preparation of overnight cultures in 10 ml of LB medium with the corresponding antibiotics. Precultures (250 µl) were used to inoculate fresh LB medium (25 ml) and cultures were grown at 37 °C with shaking until the cell density reached an optical density measured at 600 nm (OD600) of 1 when the expression of recombinant genes was induced with IPTG or lactose. Induced cells were incubated overnight at 20 °C and biomass was collected at late exponential phase by centrifugation at 4000g for 10 min (4 °C). Pellets were washed with ice-cold sterile filtered sodium phosphate buffer (50 mM, pH 7.0) and dissolved in the same buffer for further use.
Incubation of resting cells with TCP and assessment of viability by plating
Cell suspensions of pre-induced or non-induced E. coli degraders and host cell controls were diluted with sterile filtered sodium phosphate buffer to a final OD600 of 7.0. TCP (4 mM) was dissolved in 5 ml of the same buffer in glass vials (25 ml) with a screw cap mininert valve for 1 h at 37 °C with shaking. The incubation was initiated by mixing 5 ml of the cell suspension with 5 ml of buffer with TCP. The final TCP concentration in 10 ml of the cell suspension of OD600 of 3.5 was 2 mM. In the cases indicated, 1 mM TBHP was added instead of TCP. In case of E. coli degraders, cell suspension samples (0.5 ml) were quenched in 0.5 ml acetone with hexan-1-ol, vortexed for 15 s and centrifuged at 18,000g for 2 min. The concentration of metabolites from the TCP pathway in the supernatant was analyzed using gas chromatography. The presence of GLY in the cell suspension was verified using a Free Glycerol Assay Kit (BioVision Inc.). Viability of degraders and controls before and after 2.5 or 5 h incubation with TCP was tested by plating 100 µl of cell suspension serially diluted with ice-cold sterile phosphate-buffered saline (PBS, 8 mM Na2HPO4, 1.5 mM KH2PO4, 3 mM KCl, and 137 mM NaCl, pH = 7.0) onto Plate Count Agar plates. Plates were incubated for 24 h at 37 °C and grown colonies were counted as CFU.ml−1.OD 600 −1 .
End-point flow cytometry
At the end of incubation of E. coli degraders and host cell controls with or without TCP, 0.1 ml of each cell suspension was added to 0.9 ml of filtered PBS. The suspensions were added with carboxy-H2DCFDA (prepared as 4 mM stock solution in DMSO) to the final concentration of 40 μM and with PI (prepared as 200 μg.ml−1 stock solution in PBS) to the final concentration of 2 μg.ml−1 or with 1 μM DiBAC4(3) (prepared as 25 μg.ml−1 stock solution in 4 mM EDTA). The suspensions with fluorescent probes were mixed by inverting and incubated in the dark for 10 min at room temperature. Flow cytometry analysis of fluorescence levels was performed using BD FACSAria II Sorp (BD Biosciences Co., San José, CA, USA) equipped with an argon-ion laser of 100 mW at 488 nm and a solid state 100 mW 561 nm as the excitation source. The carboxy-H2DCFDA or DiBAC4(3) fluorescence emission at 525 or 516 nm, respectively, was detected using a 525/50-nm band pass filter array. The PI fluorescence emission at 617 nm was detected using a 610/20-nm band pass filter array. Data for at least 50,000 cells per single sample per experiment were collected. Size-related forward scatter signals gathered by the cytometer were used by the Cyflogic 1.2.1 software (CyFlo Ltd., Finland) to gate fluorescence data from bacteria in the stream. Percentage of cells positive for carboxy-H2DCFDA, PI and DiBAC4(3) was calculated using the statistics module of the software.
Time-resolved flow cytometry
For time-resolved measurements of ROS accumulation in E. coli constructs, 0.5 ml of the cell suspension in sterile filtered sodium phosphate buffer (50 mM, pH 7.0) of OD600 of 7.0 was added with carboxy-H2DCFDA at 40 μM. The suspension was mixed by inverting and incubated in the dark for 10 min at room temperature. The measurement was started immediately after mixing the cell suspension with 0.5 ml of sodium phosphate buffer with dissolved TCP in 5 ml polypropylene tube with snap cap. The final TCP concentration in 1 ml of cell suspension of OD600 of 3.5 was 2 mM. Flow cytometry analysis of fluorescence levels in time was performed on the same FACS instrumentation as above. FCS data were recorded in BD FACS Diva (v. 6.1.3, BD Biosciences Co.) at constant flow rate of 20,000 events.s−1 for intervals of 5 s every 30 min for total period of 5 h. Analysis of data was further performed in FlowJo LLC. (v. 7.6.5, Ashland, OR, USA) and exported to Excel (Office 2013, Microsoft Corp., Redmond, WA, USA) for graphical output. Time-resolved profiles of membrane depolarization in E. coli constructs during 5 h incubation in phosphate buffer were compiled from end-point measurements performed at time 0, 1, 2, 3, 4, and 5 h following the procedure described in previous section.
Determination of expression levels of the TCP pathway enzymes
The expression levels of DhaA31, HheC, and EchA were determined in E. coli constructs induced with diverse concentrations of IPTG or 1 mM lactose. Washed cells were resuspended in sodium phosphate buffer and cell density was adjusted to OD600 of 7.0. 1 U of DNaseI per 1 ml of cell suspension was added. Cells were disrupted with One Shot cell disruptor (Constant Systems Ltd., UK) using 1.5 kbar shot. The cell lysate was centrifuged for 45 min at 18,000g at 4 °C and the resulting cell-free extract (CFE) was decanted. The concentration of total protein in CFEs was determined using Bradford reagent (Sigma Aldrich Co., USA). Samples of CFE containing 5 μg of total protein were separated by sodium dodecyl sulfate polyacrylamide gel electrophoresis (SDS-PAGE). CFE prepared from E. coli BL21 (DE3) cells without plasmids were used as controls. Gels were stained with Coomassie Brilliant Blue R-250 (Fluka/Sigma-Aldrich Co., Switzerland) and analyzed using a GS-800 Calibrated Imaging Densitometer (Bio-Rad Laboraories Inc., USA). The expression levels of DhaA31, HheC and EchA and the relative ratios of the enzymes in degWT, deg31, and deg31opt were estimated from trace densities of corresponding bands using the software Quantity One 4.6.9 (Bio-Rad Laboratories Inc., USA).
Electron microscopy
To observe morphological changes, cells of E. coli deg31 induced with 0.2 mM IPTG or non-induced were incubated in presence or absence of 2 mM TCP in sodium phosphate buffer (50 mM, pH 7.0, OD600 of cell suspension of 3.5) at 37 °C for 5 h and then processed for transmission electron microscopy. Briefly, cells were harvested and pelleted by centrifugation (5000g, 5 min). Pellets were washed and resuspended in phosphate buffer and fixed in 3 % glutaraldehyde solution in the same buffer for 1 h at room temperature. Cells were then post-fixed in 1 % osmium tetroxide in phosphate buffer and after addition of 2.5 % agar and dehydration in a graded series of ethanol, the blocks of cells were impregnated with Durcupan (Sigma-Aldrich Co., USA) and embedded in silicone embedding moulds. Polymerization occurred for 3 days at 60–80 °C. Ultrathin sections prepared with a diamond knife on an Ultramicrotome EM UC6 (Leica Microsystems GmbH, Germany) were placed on copper grids, stained with 2.5 % uranyl acetate for 10 min and Reynolds lead citrate solution for 3 min and observed with a Morgagni 268D (FEI Co., The Netherlands) transmission electron microscope.
Gas chromatography and mass spectrometry measurements
A Gas Chromatograph 6890 N with a flame ionisation detector (GC-FID) and Gas Chromatograph 7890A and Mass Spectrometer (GC–MS) 5975C MSD (Agilent Technologies Inc., USA), both with the capillary column ZB-FFAP 30 m × 0.25 mm × 0.25 µm (Phenomenex Inc., USA) were used for routine analysis and quantification of TCP and its metabolites or for verification of the presence of individual metabolites from the TCP pathway in selected samples, respectively. Samples (2 μl) were injected into the GC with an inlet temperature of 250 °C and split ratio 20:1. The operational conditions for the column were: helium carrier gas with an initial flow of 0.6 ml.min−1 for 1 min, followed by a flow gradient from 0.6 to 1.8 ml.min−1 (ramp 0.2 ml.min−1), temperature program set to give an initial column temperature of 50 °C for 1 min, followed by a temperature gradient from 50 to 220 °C hold for 2 min (ramp 25 °C.min−1). The temperature of the detector was 250 °C. MS scan speed was 6.9 s−1. This method was used for all GC analyses. For that purpose, calibration curve of 0–5 mM of TCP, DCP, ECH, CPD and GDL with internal standard hexan-1-ol was prepared. Detection limits calculated using the software OriginPro v8 (OriginLab Corporation, USA) were 3, 5, 6, 186 and 22 μM for TCP, DCP, ECH, CPD and GDL, respectively.
Statistical analysis
All experiments were independently repeated at least three times (number of repetitions is specified in figure legends) and the mean value of the corresponding parameter ± standard deviation is presented. Statistical significance was assessed using Student's t test with two-tailed hypothesis available in Microsoft Excel 2013 (Microsoft Corp., USA). The difference in between two independent data sets was considered statistically significant for P < 0.05.
Abbreviations
IPTG:

isopropyl β-D-1-thiogalactopyranoside
TCP:

1,2,3-trichloropropane
PI:

propidium iodide
carboxy-H2DCFDA:

6-carboxy-2′,7′-dichlorodihydrofluorescein diacetate
DiBAC4(3):

bis-(1,3-dibutylbarbituric acid)trimethine oxonol
TBHP:

tert-butyl hydroperoxide
Declarations
Authors' contributions
PD, LC, PIN, RC, ZP, KS, VDL, and JD designed the experiments. PD and LC prepared the E. coli constructs and performed cultivations. LC carried out plating. PD, LC, RF, and PIN performed flow cytometry experiments. MS performed electron microscopy. PD and LC drafted the manuscript. ZP, RC, KS, PIN, VDL and JD finalized the manuscript. All authors read and approved the final manuscript.
Acknowledgements
This work was funded by the Grant Agency of the Czech Republic (P503/12/0572), the European Regional Development Fund (CZ.1.05/1.1.00/02.0123), the Ministry of Education of the Czech Republic (LO1214, LM2011028) and the European Union (REGPOT 316345).
Competing interests
Jiri Damborsky and Zbynek Prokop are founders of Enantis Ltd., a biotechnology spin-off company from Masaryk University.
Open AccessThis article is distributed under the terms of the Creative Commons Attribution 4.0 International License (http://creativecommons.org/licenses/by/4.0/), which permits unrestricted use, distribution, and reproduction in any medium, provided you give appropriate credit to the original author(s) and the source, provide a link to the Creative Commons license, and indicate if changes were made. The Creative Commons Public Domain Dedication waiver (http://creativecommons.org/publicdomain/zero/1.0/) applies to the data made available in this article, unless otherwise stated.
Authors' Affiliations
(1)
Loschmidt Laboratories, Department of Experimental Biology and Research Centre for Toxic Compounds in the Environment RECETOX, Faculty of Science, Masaryk University, Brno, Czech Republic
(2)
International Clinical Research Center, St. Anne's University Hospital, Brno, Czech Republic
(3)
Systems and Synthetic Biology Program, Centro Nacional de Biotecnología CNB-CSIC, Madrid, Spain
(4)
Institute of Biophysics, Academy of Sciences of the Czech Republic, Brno, Czech Republic
(5)
Department of Histology and Embryology, Faculty of Medicine, Masaryk University, Brno, Czech Republic
(6)
Department of Experimental Biology, Faculty of Science, Masaryk University, Brno, Czech Republic