Enhanced 2,3-butanediol production from biodiesel-derived glycerol by engineering of cofactor regeneration and manipulating carbon flux in Bacillus amyloliquefaciens
Microbial Cell Factories
2015
14:122
Received: 28 June 2015
Accepted: 12 August 2015
Published: 22 August 2015
Abstract
Background
Bacillus amyloliquefaciens B10-127 exhibited an excellent ability for industrial-scale microbial fermentation of 2,3-butanediol (2,3-BD) from biodiesel-derived glycerol. However, the accumulation of by-products (acetoin, acetoin, lactate and succinate) and the 2,3-BD yield remains prohibitively low for commercial production.
Results
Several strategies were developed to manipulate the carbon flux to 2,3-BD branch in a designed B. amyloliquefaciens. Firstly, extra copies of NADH/NAD+ regeneration system were introduced into B. amyloliquefaciens by co-overproduction of glycerol dehydrogenase and acetoin reductase, which resulting in improvement of 2,3-BD production and suppression of by-products accumulation. Subsequently, the transcriptional regulator ALsR under the control of a moderate promoter PbdhA was introduced into B. amyloliquefaciens, which increased carbon flux to 2,3-BD branch. Finally, a three-stage dissolved oxygen control strategy were proposed based on analysis of the characteristic of 2,3-BD fermentation, and a two-stage pH control strategy were proposed based on different pH preferences of ACR for reduction and oxidation. Following these strategies, a high titer (102.3 g/L), yield (0.44 g/g), and productivity (1.16 g/L/h) of 2,3-BD were achieved.
Conclusions
To our knowledge, this is the highest reported 2,3-BD production using biodiesel-derived glycerol as substrate, and this designed B. amyloliquefaciens should be an excellent candidate for producing 2,3-BD on an industrial scale.
Keywords
2,3-butanediolGlycerolCofactor regenerationManipulating carbon flux Bacillus amyloliquefaciens
Background
2,3-Butanediol (2,3-BD) has potential applications in the manufacture of foods, pharmaceuticals fumigants, printing inks, moistening and softening agents, plasticizers [1]. Interest in microbial production of 2,3-BD has increased significantly because 2,3-BD has a wide range of industrial applications, and microbial production will alleviate the dependence on oil supply for the production of platform chemicals [2, 3].
To date, many studies on 2,3-BD production have focused on sugar fermentation. Despite the high-effective productivities that have been achieved via the conversion of glucose [4], the relatively high cost of conventional sugar substrates is still viewed as a major factor during 2,3-BD fermentation. Therefore, 2,3-BD production using cheaper alternative biomass-derived substrates under proper conditions is of high priority [2]. Biodiesel production from plant oils and animal fats reportedly generate large quantities of by-product waste glycerol [5]. For example, approximately 10 % of the biodiesel weight produced is waste glycerol [6]. In some European countries, the production of glycerol has increased significantly due to biodiesel uptake. However, those biodiesel companies have severe problems getting rid of excess glycerol and disposal is quite expensive. The collapse of glycerol prices causes major problems to these companies [7]. Since glycerol can be used as a carbon source in industrial microbiology, this by-product adds value to the productive chain of the biodiesel industry, contributing to their competitiveness [6]. Raw non-purified glycerol is an economical substitute for pure glycerol as a fermentation substrate. Therefore, converting the vast amounts of glycerol into cost-effective commercial products is an industrial priority. Some researchers have reported that Klebsiella strains can catalyze pure glycerol into 2,3-BD, but these reactions generate large quantities of 1,3-PD [8, 9]. Importantly, because Klebsiella pneumoniae is a pathogenic microorganism, it does not conform to the safety regulations of industrial-scale fermentation [3]. Metsoviti et al. [10] obtained a 2,3-BD concentration of 22 g/l and with a relatively high conversion yield on glycerol consumed of 0.40 g/g with a newly isolated Enterobacter aerogenes FMCC-10; however, the efficiency of the production was still much too low for an economic process.
Previously, we reported that B. amyloliquefaciens readily produces 2,3-BD from biodiesel-derived glycerol in the presence of beet molasses as a co-substrate [11]. In fed-batch fermentation, 2,3-BD production (83.3 g/L) from waste glycerol reached the highest level reported to date, but fermentation was accompanied by undesirably large production of acetoin, lactate, acetate, and succinate. However, both raw glycerol and molasses are easily available by-products from plant (mostly) biomass conversion, and they represent abundant renewable feed stocks and furthermore, they need no pretreatment before fermentation processes. So microbial production of 2,3-BD from these raw materials is potentially economically feasible if bacterial strain used for this purpose produces at least 100 g 2,3-BD per L (the recovery of 2,3-BD from culture broth is troublesome and usually energy-consuming distillation is necessary). However, neither process conditions have been optimized (it was just comparison of the effect of pure glucose or sucrose, or molasses on 2,3-BD biosynthesis yield) nor the strain was improved by genetic engineering methods.
The 2,3-BD pathway has been studied in various bacteria [
12
]. As shown in Scheme
1
, assimilation of glycerol to produce 2,3-BD is also an oxido-reduction-associated process. In the oxidative pathway, the NAD
+
-dependent glycerol dehydrogenase (GDH) oxidizes glycerol to dihydroxyacetone, which is subsequently oxidized to pyruvate. Acetolactate synthase (ALS) catalyzes the in vivo coupling of two pyruvate molecules to form acetolactate, which is then decarboxylated to acetoin by acetolactate decarboxylase (ALDC). Finally, acetoin is reduced to 2,3-BD by an NADH-dependent acetoin reductase (ACR) [
13
]. Bacterial strains may accumulate acetoin for several reasons. One factor that limits acetoin degradation is low levels of ACR, assumed as the rate-limiting factor in the conversion of acetoin into 2,3-BD. Alternatively, low levels of NADH may limit the ACR reaction, since this coenzyme is preferentially used in 2,3-BD synthesis. However, some other by-products are also produced by
B. amyloliquefaciens
, such as succinate, lactate, and acetate, which negatively regulate the 2,3-BD yield and increase the costs of downstream separation and purification. Furthermore, large-scale microbial 2,3-BD production requires efficient and economical fermentation processes. Thus, in this work, we focused on improving strains to produce 2,3-BD with high yield, using low price substrates (raw glycerol and molasses) to lower the cost of feedstock, and optimizing the operation mode to make the process more efficient (Scheme
1
).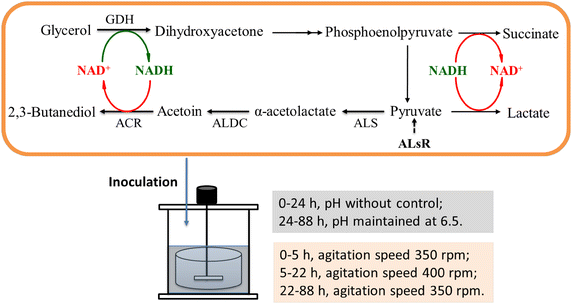 Conclusion
Overexpressing the NADH/NAD+ regeneration system effectively improved 2,3-BD production and inhibited by-products accumulation. Medorate expression of ALsR made the 2,3-BD branch gain a competitive advantage over the end products of pyruvate-deriving pathways. The carbon flux from acetoin to 2,3-BD was manipulated by using two-stage controlled pH and dissolved oxygen strategies. Finally, a high titer (102.3 g/L), yield (0.44 g/g), and productivity (1.16 g/L/h) of 2,3-BD were achieved. To our knowledge, this is the highest reported 2,3-BD production using biodiesel-derived glycerol as a substrate, and this designed B. amyloliquefaciens should be an excellent candidate for producing 2,3-BD on an industrial scale.
Declarations
Authors' contributions
TY conceived of the study, executed the experimental work and data analysis, and coordinated the manuscript draft and revision. ZR, ZX helped to revise and proofread the manuscript. XZ, MX helped with data analysis. SY coordinated the manuscript draft and revision. All authors read and approved the final manuscript.
Acknowledgements
This work was supported by the High-tech Research and Development Programs of China (2015AA021004), the National Basic Research Program of China (973 Program) (2012CB725202), the National Natural Science Foundation of China (31400082, 21276110), the Research Project of Chinese Ministry of Education (113033A), Fundamental Research Funds for the Central Universities (JUSRP11544), the National Training Programs of Innovation and Entrepreneurship for Undergraduates (201510295071), the Priority Academic Program Development of Jiangsu Higher Education Institutions,the 111 Project (111-2-06),and the Jiangsu province "Collaborative Innovation Center for Advanced Industrial Fermentation" industry development program.
Compliance with ethical guidelines
Competing interests The authors declare that they have no competing interests
Open AccessThis article is distributed under the terms of the Creative Commons Attribution 4.0 International License (http://creativecommons.org/licenses/by/4.0/), which permits unrestricted use, distribution, and reproduction in any medium, provided you give appropriate credit to the original author(s) and the source, provide a link to the Creative Commons license, and indicate if changes were made. The Creative Commons Public Domain Dedication waiver (http://creativecommons.org/publicdomain/zero/1.0/) applies to the data made available in this article, unless otherwise stated.
Authors' Affiliations
(1)
The Key Laboratory of Industrial Biotechnology, Ministry of Education, School of Biotechnology, Jiangnan University, Wuxi, China
(2)
Laboratory of Pharmaceutical Engineering, School of Pharmaceutical Science, Jiangnan University, Wuxi, China
(3)
Department of Chemical and Biomolecular Engineering, The Ohio State University, Columbus, USA
(4)
School of Biotechnology, Jiangnan University, Wuxi, China