Technical Notes
Open Access
Evaluation of genes involved in oxidative phosphorylation in yeast by developing a simple and rapid method to measure mitochondrial ATP synthetic activity
Microbial Cell Factories
2015
14:56
Received: 14 December 2014
Accepted: 2 April 2015
Published: 16 April 2015
Abstract
Background
Measurement of mitochondrial ATP synthesis is a critical way to compare cellular energetic performance. However, fractionation of mitochondria requires large amounts of cells, lengthy purification procedures, and an extreme caution to avoid damaging intact mitochondria, making it the highest barrier to high-throughput studies of mitochondrial function. To evaluate 45 genes involved in oxidative phosphorylation in Saccharomyces cerevisiae, we aimed to develop a simple and rapid method to measure mitochondrial ATP synthesis.
Results
To obtain functional mitochondria, S. cerevisiae cells were lysed with zymolyase followed by two-step, low- then high-speed centrifugation. Using a firefly luciferin-luciferase assay, the ATP synthetic activity of the mitochondria was determined. Decreasing the ATP synthesis in the presence of mitochondrial inhibitors confirmed functionality of the isolated crude mitochondria. Deletion of genes encoding mitochondrial ATP synthesis-related protein showed their dependency on the oxidative phosphorylation in S. cerevisiae.
Conclusions
Compared with conventional procedures, this measurement method for S. cerevisiae Mitochondrial ATP Synthetic activity in High-throughput (MASH method) is simple and requires a small amount of cells, making it suitable for high-throughput analyses. To our knowledge, this is the first report on a rapid purification process for yeast mitochondria suitable for high-throughput screening.
Keywords
Mitochondria purificationATP synthesisHigh-throughput analysis
Background
Mitochondria are central organelles controlling the life and death of the cell. They participate in key metabolic reactions, synthesize the majority of ATP in a cell, and regulate a number of signaling cascades, including apoptosis [1]. ATP synthesis is vital for various biological reactions. Many studies have measured ATP content or qualitative changes in total cellular ATP production, but few have quantified ATP production from oxidative phosphorylation of isolated mitochondria [2].
Owing to the ease of genetic manipulation and its importance for bio-industry, the budding yeast
Saccharomyces cerevisiae
is an ideal organism for the study of many basic cellular mechanisms in eukaryotic cells. Their organelles can be rapidly enriched in sufficient quantities for the analysis of specific functions such as metabolite or protein transport. Therefore,
S. cerevisiase
is a valuable model cell for studying the molecular and cellular mechanisms underlying the essential biological functions of mitochondria. However, mitochondrial proteins have many subunits, the functions of which are still largely unknown because a method for easy mutational analysis and sensitive assay development is still lacking [
3
]. One of the biggest problems is that the fractionation of mitochondria requires large amounts of cells, long procedures, and an extreme caution to avoid damaging intact mitochondria [
4
,
5
]. In general, to obtain intact mitochondria, the contents of yeast cells are made accessible by a combination of enzymatic digestion of the cell wall and physical disruption of the resulting spheroplasts [
6
]. To separate the cellular contents by their variable densities, differential centrifugation, which allows for the separation of the constituents of cells based on their different sedimentation properties, is employed to isolate an enriched mitochondrial fraction and is the most common strategy used to obtain crude mitochondria [
7
]. Crude preparations of mitochondria are contaminated by other organelles such as lysosomes, peroxisomes, tubular Golgi membranes, and, to some extent, small amounts of endoplasmic reticulum. To achieve mitochondria with higher purity, additional time- and labor- consuming purification steps using sucrose density centrifugation are needed. Recently, Frezza
et al.
described a step-by-step method to isolate mitochondria from mouse liver, muscle, and cultured filroblasts using modified differential centrifugation steps and a modified sugar concentration for the osmolyte in the isolation buffer [
4
]. Based on this technique and protocol for purification of mitochondria from yeast cells [
5
], we modified this general mitochondria extraction method to quickly obtain crude, but functional mitochondria from yeast cells. The method we developed includes only several steps of differential centrifugation and no sucrose density gradient is needed, which is more suitable for high-throughput screening than the conventional method (Figure
1
). By using this method, we evaluated 45 genes involved in oxidative phosphorylation for mitochondrial ATP synthesis in
S. cerevisiae
.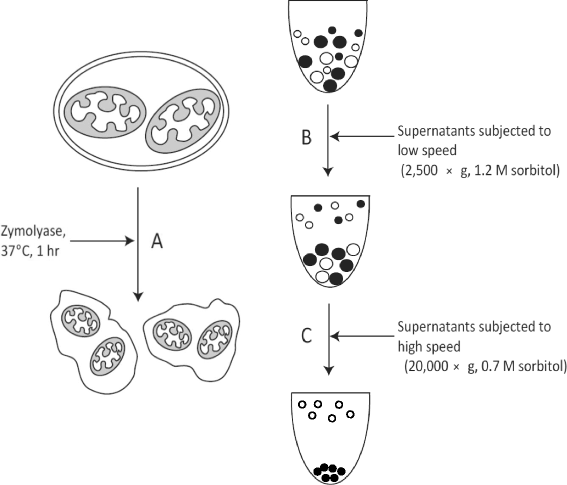 Conclusion
This method is designated as measurement method for S. cerevisiae Mitochondrial ATP Synthetic activity in High-throughput (MASH method). To obtain crude, yet functional mitochondria, only three steps are included (Figure 1). ATP production from isolated mitochondria could be determined by a bioluminescence assay. By using this MASH method, systematic analysis of gene deletion mutants related to the mitochondrial ATP synthesis was carried out to identify genes required for ATP synthesis, providing a global view of these genes in maintaining ATP activity. The MASH method described in this study introduces a quick and reproducible methodology for measuring ATP synthetic activity in isolated mitochondria.
Methods
Yeast strains and growth conditions
The parental strain S. cerevisiae BY4741 (MATα his3∆1 leu2∆0 met15∆0 ura3∆0) was cultured in 5 ml of YPD medium containing 10 g L−1 yeast extract, 20 g L−1 bacto-peptone, and 20 g L−1 glucose overnight at 30°C. The collection of yeast knockouts was purchased from Invitrogen. Zymolyase-20T was purchased from Seikagaku Kogyo Co. (Tokyo, Japan). Protease inhibitor cocktail and D-luciferin was purchased from Roche (Basel, Switzerland). Firefly luciferase was obtained from Promega (Madison, WI, USA). Other chemicals were purchased from Nacalai Tesque (Kyoto, Japan) or Wako Chemicals (Osaka, Japan).
Measurement of ATP synthetic activity
All solutions were stored at 4°C and freshly prepared prior to use. Cultures of S. cerevisiae cells were grown aerobically in 5 ml of YPD medium at 30°C for 24 h. The optical density at 600 nm (OD600) was measured using a UVmini-1240 spectrophotometer (Shimadzu, Kyoto, Japan). The cells were collected, washed with 0.5 ml of 10 mM EDTA, and centrifuged (400 × g, 5 min, 4°C). The supernatant was discarded, and the pellets were resuspended in 50 mM Tris–HCl (pH 7.5), 1.2 M sorbitol, 10 mM EDTA, 0.3% (v/v) 2-mercaptoethanol, and 1.2 mg g−1 wet cells of the zymolyase solution (4 mg ml−1). After incubation at 37°C for 1 h with rotary agitation, the lysis of the cell wall was verified under a microscope. The supernatant was resuspended in 50 mM Tris–HCl (pH 7.5), 0.7 M sorbitol, 10 mM EDTA, 1 mM PMSF, protease inhibitor cocktail, and 20 mM triethanolamine, and then subjected to the low-speed centrifugation step (2,500 × g, 15 min, 4°C). The debris was discarded and the supernatant was then subjected to the high-speed centrifugation step (20,000 × g, 15 min, 4°C). The resulting pellets obtained were dissolved in 50 mM Tris–HCl buffer (pH 7.5), and stored at 4°C before use.
The ATP assay was conducted as previously described [23,24]. The reaction buffer containing 50 mM Tris–HCl (pH 7.5), 1.3 μg ml−1 luciferase, 0.05 mM D-luciferin, 1 mM DTT, 5 mM MgCl2, and 0.1 mM EDTA was added to the crude mitochondria solution. The reaction was initiated by addition of 0.1 mM ADP, and the luminescence was measured using EnVision Multilabel Reader 2104 (PerkinElmer, Waltham, MA, USA). The luminescence of each well was measured at 1 s intervals. The ATP synthetic activities of the crude mitochondria solutions were calculated by taking away the background luciferase activity in the presence of ADP. The relative ATP synthetic activity was normalized each protein concentration determined using the Bradford method [25] of the mutant strains. The values are expressed as a percentage of its activity of the parental strain. To test the functionality of mitochondria, the inhibitors (0.1 mM antimycin A, 0.5 mM CCCP, and 0.1 mM DCCD) were incubated with the crude mitochondria solution for 5 min before being subjected to the ATP assay.
High-throughput measurement for mitochondrial ATP synthesis
The glycerol stock of yeast gene-deletion mutants was inoculated with a sterilized toothpick to 5 ml of YPD medium. Cells were cultured overnight at 30°C with shaking. The cells were harvested by centrifugation (3,000 × g, 10 min, 4°C) and washed twice with distilled water. The purification of mitochondria was conducted as described above. Protein concentration was measured with the Bio-Rad assay system (Bio-Rad, Hercules, CA, USA) using bovine serum albumin as the standard. Relative specific activity (%) was calculated from the ratio of total activity divided by total protein concentration of the mutant strain to that of the parental strain. Z' of this assay can be calculated as 0.58.
Abbreviations
ATP:

Adenosine 5′-triphosphate
G3P:

Glycerol 3-phosphate
CCCP:

Carbonylcyanide
DCCD:

N,N′-dicyclohexylcarbodiimide
pmf:

Proton motive force
NADH:

Nicotinamide adenine dinucleotide hydrogen
ADP:

Adenosine-5′-diphosphate
EDTA:

Ethylenediaminetetraacetic acid
Tris:

2-Amino-2-hydroxymethyl-propane-1,3-diol(hydroxymethyl)aminomethane
PMSF:

Phenylmethylsulfonyl fluoride
DTT:

Dithiothreitol
Declarations
Acknowledgements
This study was supported by a Grant-in-Aid for Scientific Research on Innovative Areas ("Matryoshka-type evolution", 23117001) from the Ministry of Education, Culture, Sports, Science and Technology, Japan. K.Y. Hara was supported by a Grant-in-Aid for Young Scientists (B) (22760608). This study was also supported by Creation of Innovation Centers for Advanced Interdisciplinary Research Areas (Innovative Bioproduction Kobe, iBoiK), MEXT, Japan.
Authors' Affiliations
(1)
Organization of Advanced Science and Technology, Kobe University, Nada, Japan
(2)
Department of Chemical Science and Engineering, Graduate School of Engineering, Kobe University, Nada, Japan
Copyright
© Ye et al.; licensee BioMed Central. 2015
This is an Open Access article distributed under the terms of the Creative Commons Attribution License (http://creativecommons.org/licenses/by/4.0), which permits unrestricted use, distribution, and reproduction in any medium, provided the original work is properly credited. The Creative Commons Public Domain Dedication waiver (http://creativecommons.org/publicdomain/zero/1.0/) applies to the data made available in this article, unless otherwise stated.