Engineering Escherichia coli to overproduce aromatic amino acids and derived compounds
Microbial Cell Factories
2014
13:126
Received: 30 May 2014
Accepted: 17 August 2014
Published: 9 September 2014
Abstract
The production of aromatic amino acids using fermentation processes with recombinant microorganisms can be an advantageous approach to reach their global demands. In addition, a large array of compounds with alimentary and pharmaceutical applications can potentially be synthesized from intermediates of this metabolic pathway. However, contrary to other amino acids and primary metabolites, the artificial channelling of building blocks from central metabolism towards the aromatic amino acid pathway is complicated to achieve in an efficient manner. The length and complex regulation of this pathway have progressively called for the employment of more integral approaches, promoting the merge of complementary tools and techniques in order to surpass metabolic and regulatory bottlenecks. As a result, relevant insights on the subject have been obtained during the last years, especially with genetically modified strains of Escherichia coli. By combining metabolic engineering strategies with developments in synthetic biology, systems biology and bioprocess engineering, notable advances were achieved regarding the generation, characterization and optimization of E. coli strains for the overproduction of aromatic amino acids, some of their precursors and related compounds. In this paper we review and compare recent successful reports dealing with the modification of metabolic traits to attain these objectives.
Keywords
Aromatic compoundsEscherichia coliMetabolic engineeringSystems biotechnologySynthetic biologyShikimate pathwayPhenylalanineTyrosineTryptophan
Introduction
The aromatic amino acids (AAA), L-tryptophan (L-TRP), L-phenylalanine (L-PHE) and L-tyrosine (L-TYR), are the final products of the aromatic biosynthetic pathway comprising the shikimate (SHK) pathway, which connects central carbon metabolism (CCM) with the biosynthesis of chorismate (CHA), the last common precursor in the terminal branches for AAA biosynthesis (Figure
1
) [
1
],[
2
]. These pathways are present in bacteria and in several eukaryotic organisms such as ascomycetes fungi, apicomplexans, and plants [
3
],[
4
]. The AAA are essential components in the diet of higher animals and humans, hence they are used as dietary supplements (e.g. diet of swine and poultry consisting of grains of corn and soybean is low in L-TRP) and key precursors of industrial and pharmaceutical compounds (e.g. L-PHE is the key ingredient in the synthesis of the artificial sweetener aspartame, whereas L-TYR is an essential dietary component for phenylketonuria patients as the starter material for L-DOPA or melanin production) [
5
]. The annual worldwide production of amino acids is estimated to be above 4.5 million tons/year, with a market growth for most amino acids of ~10% and higher [
6
],[
7
]. Among the aromatic amino acids, L-TRP has a market size of more than 14,000 tons/year [
8
] and the production of L-PHE exceeds 30,000 tons/year [
9
].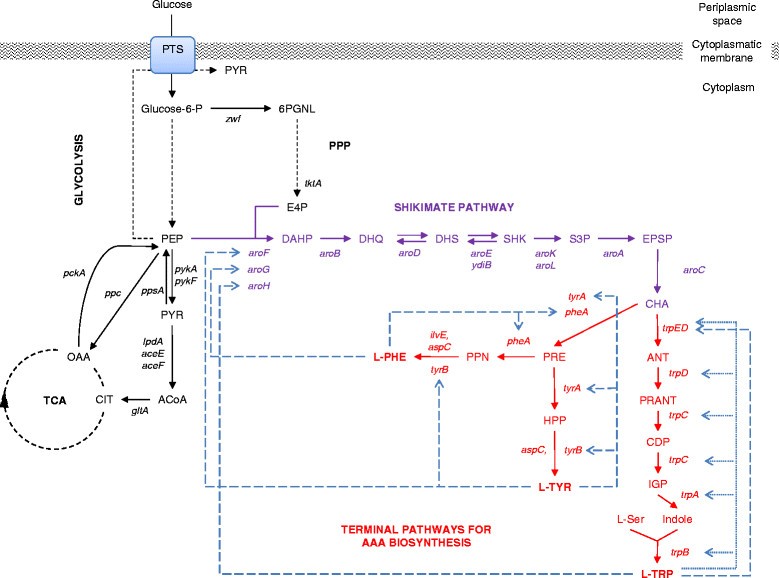 It is well established that the production of high-valued commodities can be performed cost-efficiently by the rational design, modification and cultivation of a recombinant microorganism. In particular, the development of efficient microbial processes for accumulation of compounds derived from the AAA biosynthetic pathway has not been an easy task for metabolic and bioprocess engineers. For more than 200years, considerable efforts have been directed towards characterizing and purposely overriding the naturally tight metabolic regulation of this pathway. These continued efforts have relied on knowledge obtained from pioneer works on the biosynthesis of aromatic compounds by the groups of B.D. Davis, F. Gibson, C. Yanofsky, A.J. Pittard, K.M. Herrmann and J.W. Frost, among others, whose contributions have been comprehensively reviewed in the past [2],[10]-[12].
Recently, the availability of omics-scale data has allowed significant advances in metabolic reconstruction and modeling, resulting in better strain development [13]. Likewise, the increased use of combinatorial and evolutionary approaches, fueled by a rapid expansion of synthetic molecular tools, opened the possibility for testing novel and large combinations of gene expression systems and genetic backgrounds [14],[15]. Additionally, efforts concerning the optimization of fermentation conditions have succeeded in scaling-up many AAA production processes, while simultaneously providing important feedback on the physiological behavior of engineered strains [16],[17]. However, the availability of operational tools and techniques, as well as the amount of physiological and molecular information, are unevenly distributed among the microorganisms currently used for the production of AAA. These circumstances have contributed to positioning E. coli as the organism with most reported success cases and has resulted in a wide array of well-characterized production strains [18],[19].
In this paper we review some notable advances in the generation, characterization and optimization of E. coli strains for the overproduction of AAA, some of their important precursors and related compounds. Although these studies were classified in accordance to the main schemes employed for each case, the constant expansion and complementarity of such approaches has encouraged scientists to apply a systems-based perspective [20],[21]. Therefore, recent and representative works on the subject using different strategies were selected and discussed.
Conclusions
The present review aims to provide a panorama of the current achievements and newly found goals related to the production of aromatic compounds in E. coli. The AAA pathway and the metabolic changes resulting from its deregulation have attracted the interest of metabolic engineers for many years and remain important research targets on several organisms. It is evident that the establishment of efficient bioprocesses on this topic requires the design and implementation of multidisciplinary strategies, taking advantage of the fast-paced developments coming from nearly all biotechnological fields but particularly from those related with information technologies, such as systems and synthetic biology. The works compiled here are a good example of the benefits obtained when new ideas and viewpoints are introduced to an established field in order to cope with long-known problems. From the comparisons presented, it is noticeable that the use of rational and combinatorial approaches powered by the ability to develop complex genetic circuits and high-throughput screenings of new producers has set new trends when dealing with the production of aromatic compounds in E. coli. The benefits of the integral application of these technologies can already be observed, not only from the improved production processes for AAA and pathway intermediates with large and established markets, but also with the generation of novel derivative compounds with important pharmaceutical applications.
Authors contributions
All authors participated in the preparation of this contribution. AR had a major role in writing and editing the manuscript. All authors have read and approved the final version.
Declarations
Acknowledgements
This work was supported by CONACYT 105782, 177568 and DGAPA-PAPIIT UNAM IN206812 grants.
Authors' Affiliations
(1)
Departamento de Ingeniera Celular y Biocatlisis, Instituto de Biotecnologa Universidad Nacional Autonoma de Mexico (UNAM), Morelos, Mexico
Copyright
© Rodriguez et al.; licensee BioMed Central Ltd. 2014
This article is published under license to BioMed Central Ltd. This is an Open Access article distributed under the terms of the Creative Commons Attribution License (http://creativecommons.org/licenses/by/4.0), which permits unrestricted use, distribution, and reproduction in any medium, provided the original work is properly credited. The Creative Commons Public Domain Dedication waiver (http://creativecommons.org/publicdomain/zero/1.0/) applies to the data made available in this article, unless otherwise stated.