Insights into glycogen metabolism in Lactobacillus acidophilus: impact on carbohydrate metabolism, stress tolerance and gut retention
Microbial Cell Factories
2014
13:94
Received: 1 May 2014
Accepted: 20 June 2014
Published: 20 November 2014
Abstract
In prokaryotic species equipped with glycogen metabolism machinery, the co-regulation of glycogen biosynthesis and degradation has been associated with the synthesis of energy storage compounds and various crucial physiological functions, including global cellular processes such as carbon and nitrogen metabolism, energy sensing and production, stress response and cell-cell communication. In addition, the glycogen metabolic pathway was proposed to serve as a carbon capacitor that regulates downstream carbon fluxes, and in some microorganisms the ability to synthesize intracellular glycogen has been implicated in host persistence. Among lactobacilli, complete glycogen metabolic pathway genes are present only in select species predominantly associated with mammalian hosts or natural environments. This observation highlights the potential involvement of glycogen biosynthesis in probiotic activities and persistence of intestinal lactobacilli in the human gastrointestinal tract. In this review, we summarize recent findings on (i) the presence and potential ecological distribution of glycogen metabolic pathways among lactobacilli, (ii) influence of carbon substrates and growth phases on glycogen metabolic gene expression and glycogen accumulation in L. acidophilus, and (iii) the involvement of glycogen metabolism on growth, sugar utilization and bile tolerance. Our present in vivo studies established the significance of glycogen biosynthesis on the competitive retention of L. acidophilus in the mouse intestinal tract, demonstrating for the first time that the ability to synthesize intracellular glycogen contributes to gut fitness and retention among probiotic microorganisms.
Keywords
LactobacilliGlycogenProbioticRaffinoseGastrointestinal retention
Introduction
Glycogen, a soluble multi-branched glucose homopolysaccharide, is a common form of energy storage synthesized by animals and eukaryotic microorganisms. Among prokaryotes, intracellular glycogen has been identified in more than 50 bacterial species including Gram-positive and Gram-negative bacteria as well as archaebacteria (reviewed in [1]). Based on a recent analysis of 1,202 bacterial genomes, intact glycogen metabolic pathways are generally present in species adaptable to more diverse habitats and flexible lifestyles [2]. Structurally analogous to amylopectin, an energy storage component of starch in plants, glycogen is composed of chains of ?-1,4-linked glucose units interconnected by comparatively more extensive ?-1,6-linked branches. Most bacterial glycogen has an average chain length of?~?7 to 13 glucose units and an estimated molecular size of ca. 107 to 108Da [2],[3]. Glycogen is considered a flexible and efficient form of energy storage due to its large molecular mass and highly branched structure, and its accumulation has little effect on the internal osmotic pressure of the cells.
Glycogen synthesis in bacteria is generally regarded as a mechanism to prolong survival by supplying energy production during growth-limiting conditions. This so called energy of maintenance allows cells to sense and respond to nonsupportive environments, such as starvation and stress [
4
]. Glycogen may be synthesized during exponential growth or in stationary phase, and its accumulation generally occurs in the presence of excess carbon sources [
4
]. The classical biosynthetic pathway involves phosphoglucomutase (Pgm), glucose-1-phosphate adenylyltransferase (GlgC or GlgCD), ADP-glucose-specific glycogen synthase (GlgA) and branching enzyme (GlgB) (Figure
1
). Phosphoglucomutase converts glucose-6-phosphate into glucose-1-phosphate, which serves as a substrate for ADP-glucose synthesis catalyzed by GlgC or GlgCD. Then, GlgA catalyzes the transfer of glucosyl units from ADP-glucose to the elongating chain of linear ?-1,4-glucan. GlgB subsequently cleaves off portions of the glucan and links it to internal glucose molecules in existing chains via ?-1,6 glycosidic bonds to form the glycogen structure. The catabolism of glycogen is mediated by glycogen phosphorylase (GlgP) [
5
] and debranching enzyme (GlgX or Amy) [
6
], which catalyze the sequential phosphorolysis of ?-1,4-glucosyl linkages in the glucan chain from the non-reducing ends and debranching of the limit dextrins generated by GlgP, respectively.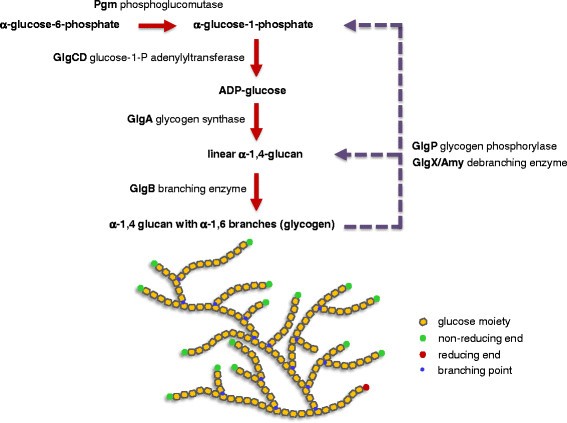 Although the precise function of bacterial glycogen is not well-defined, an increasing number of studies have revealed the involvement of glycogen metabolism in major physiological roles, beyond the synthesis of energy reserve compounds (Table
1
). Eydallin
et al
. showed that in
Escherichia coli
, glycogen metabolism is interconnected with global cellular processes including energy production, nutrient transport and metabolism, cell envelope integrity, protein turnover, stress responses and intercellular communication, and is tightly regulated by nutritional and energy status [
7
],[
8
]. Glycogen synthesis also plays a role in the sporulation of
Bacillus subtilis
[
9
] and the biosynthesis of trehalose in
Corynebacterium glutamicum
which contributes to osmoprotection and cell wall synthesis [
10
],[
11
]. In
Mycobacterium smegmatis
and several other microorganisms, the parallel synthesis and degradation of glycogen during early growth phase suggests that the glycogen metabolic pathway functions as a carbon capacitor that regulates downstream carbon and energy fluxes [
6
],[
11
],[
12
]. The ability to synthesize glycogen has also been associated with the colonization persistence of
Streptococcus mutans
[
13
],
Mycobacterium tuberculosis
[
14
] and
E. coli
[
15
], indicating glycogen synthesis as an important niche factor in the host environments.
Table 1
Functional roles of glycogen metabolic pathway in bacteria
| Species | Roles of glycogen storage/metabolism | References |
| --- | --- | --- |
| Bacillus subtilis | Sporulation | [9] |
| Corynebacterium glutamicum | Synthesis of trehalose, which is involved in cell wall synthesis and osmoprotection | |
| Escherichia coli | Intestinal colonization in mice | [15] |
| Mycobacterium smegmatis | Carbon capacitor for glycolysis | [12] |
| Mycobacterium tuberculosis | Capsular glucan synthesis and persistence in mice | [14] |
| Propionibacterium freudenreichii | Long term survival and activity under low temperatures | [17] |
| Salmonella enteritidis | Biofilm formation and virulence | [18] |
| Streptococcus mutans | Persistence in oral cavity and formation of dental caries | |
| Synechococcus elongatus | Tolerance to salt and oxidative stress | [21] |
| Vibrio cholerae | Environmental persistence and host transmission | [22] |
Lactobacillus acidophilus was the first probiotic microorganism demonstrated to possess a functional glycogen biosynthetic pathway [23]. This ubiquitous probiotic microbe is widely used in the manufacture of yogurt, fermented dairy products and probiotic supplements [24]. Probiotic attributes of L. acidophilus include the alleviation of lactose intolerance and cold and influenza-like symptoms [25],[26], the modulation of immune cell functions [27] and the alleviation of abdominal pain via modulation of visceral pain perception [28]. Due to its Generally Regarded As Safe (GRAS) status and the ability to survive transit through the digestive tract, L. acidophilus has been considered an ideal vehicle for mucosal-targeted delivery of vaccines and biotherapeutics [29],[30]. As with other probiotic microbes, research has revealed in vivo mechanisms involved in their survival and interaction with the host to promote biodelivery and fitness in the gut. The presence of intact glycogen metabolic gene clusters in L. acidophilus NCFM and certain Lactobacillus species typically associated with natural or mammalian host environments led to our speculation that glycogen metabolism potentially contributes to the survival and probiotic functionalities of lactobacilli in the gastrointestinal (GI) tract.
This review highlights our recent findings on the genetics and physiology of glycogen metabolism in L. acidophilus[23], including factors (e. g. type and availability of carbon source, growth phase) which affect gene expression and glycogen biosynthesis, and the influence of glycogen metabolism on various probiotic-associated phenotypes of L. acidophilus. We also present our most current in vivo studies demonstrating that the capability of synthesizing intracellular glycogen contributes to the competitive retention of L. acidophilus in the mouse GI tract.
Conclusions
These studies have provided crucial insights into the broad biological functions and probiotic attributes in
Lactobacillus
that rely on functional glycogen biosynthetic and catabolic pathways. Genetic dissection of the pathway in
L. acidophilus
has thus far suggested that glycogen metabolism plays multifaceted roles including normal growth maintenance, the utilization of certain complex sugars (e.g. raffinose), bile tolerance and competitive fitness in the gut. Although the underlying mechanisms on how glycogen metabolism operates globally remains to be established, it is likely that the
in vitro
phenotypes translated to the observed competitiveness of
L. acidophilus
,
in vivo
. Koch [
39
] previously proposed that bacteria in nature generally exist between the states of feast or famine whereby nutrients are rarely in constant supply. This is supported by the fact that glycogen storage is ubiquitous among enteric bacteria, possibly due to the necessity to support rapid growth in the intestinal environment where there is intense competition for nutrients [
15
]. In view of this, the ability of
L. acidophilus
to synthesize and store energy in the form of glycogen, either prior to (e.g. during commercial processing or product storage) or during its transit through the host, potentially confers advantages to its retention and probiotic activities in the GI tract. We further postulate that the concerted glycogen anabolism and catabolism in
L. acidophilus
serves to regulate central carbon flow and operate based on nutrient status to conserve energy and resources in the competitive intestinal environment (Figure
7
). Overall, we foresee that this work will serve as a foundation to expand our understanding on the roles of glycogen metabolism in other probiotic and commensal species of
Lactobacillus
and
Bifidobacterium
, and to apply the knowledge for improvement of biodelivery and gut persistence of these microorganisms within the host.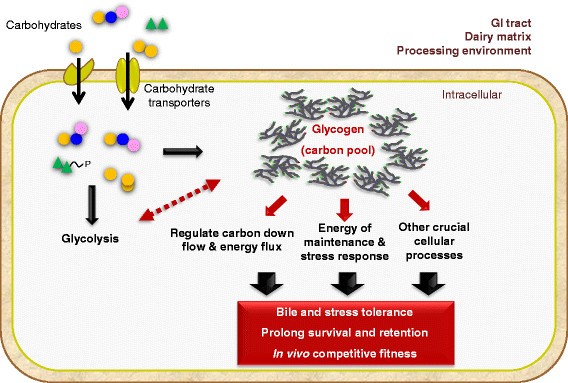 Abbreviations
GI:

Gastrointestinal
GlgA:

Glycogen synthase
GlgB:

Glycogen-branching enzyme
GlgCD:

Glucose-1-phosphate adenylyltransferase
GlgP:

Glycogen phosphorylase
GlgX:

Glycogen-debranching enzyme
Pgm:

Phosphoglucomutase
Amy:

Putative ?-amylase/debranching enzyme
Rif:

Rifampicin
Str:

Streptomycin
CFU:

Colony forming unit
Declarations
Acknowledgements
This work was supported in part by the North Carolina Agricultural Foundation and Danisco/DuPont Nutrition & Health USA, Inc. We express our gratitude to Dr. Sarah OFlaherty, Dr. Sue Tonkonogy, Rosemary Sanozky-Dawes and Emma Call for technical advice and insightful discussion. Our appreciation also extends to Ashley Weaver from the Gnotobiotic Core at the College of Veterinary Medicine, North Carolina State University for assistance with experiments using germ-free and gnotobiotic mice. The Gnotobiotic Core is a facility of the Center for Gastrointestinal Biology and Disease, funded by NIH grant P30 DK034987. This paper was contributed to the supplement for the Proceedings of the 11th International Symposium on Lactic Acid Bacteria (http://www.microbialcellfactories.com/supplements/13/S1).
Authors' Affiliations
(1)
Department of Food, Bioprocessing and Nutrition Sciences, North Carolina State University, Raleigh, North Carolina, USA
Copyright
© Goh and Klaenhammer; licensee BioMed Central Ltd. 2014
This article is published under license to BioMed Central Ltd. This is an Open Access article distributed under the terms of the Creative Commons Attribution License (http://creativecommons.org/licenses/by/4.0), which permits unrestricted use, distribution, and reproduction in any medium, provided the original work is properly credited. The Creative Commons Public Domain Dedication waiver (http://creativecommons.org/publicdomain/zero/1.0/) applies to the data made available in this article, unless otherwise stated.