Quantification of the physiochemical constraints on the export of spider silk proteins by Salmonella type III secretion
Microbial Cell Factories
2010
9:78
Received: 29 July 2010
Accepted: 25 October 2010
Published: 25 October 2010
Abstract
Background
The type III secretion system (T3SS) is a molecular machine in gram negative bacteria that exports proteins through both membranes to the extracellular environment. It has been previously demonstrated that the T3SS encoded in Salmonella Pathogenicity Island 1 (SPI-1) can be harnessed to export recombinant proteins. Here, we demonstrate the secretion of a variety of unfolded spider silk proteins and use these data to quantify the constraints of this system with respect to the export of recombinant protein.
Results
To test how the timing and level of protein expression affects secretion, we designed a hybrid promoter that combines an IPTG-inducible system with a natural genetic circuit that controls effector expression in Salmonella (psicA). LacO operators are placed in various locations in the psicA promoter and the optimal induction occurs when a single operator is placed at the +5nt (234-fold) and a lower basal level of expression is achieved when a second operator is placed at -63nt to take advantage of DNA looping. Using this tool, we find that the secretion efficiency (protein secreted divided by total expressed) is constant as a function of total expressed. We also demonstrate that the secretion flux peaks at 8 hours. We then use whole gene DNA synthesis to construct codon optimized spider silk genes for full-length (3129 amino acids) Latrodectus hesperus dragline silk, Bombyx mori cocoon silk, and Nephila clavipes flagelliform silk and PCR is used to create eight truncations of these genes. These proteins are all unfolded polypeptides and they encompass a variety of length, charge, and amino acid compositions. We find those proteins fewer than 550 amino acids reliably secrete and the probability declines significantly after ~700 amino acids. There also is a charge optimum at -2.4, and secretion efficiency declines for very positively or negatively charged proteins. There is no significant correlation with hydrophobicity.
Conclusions
We show that the natural system encoded in SPI-1 only produces high titers of secreted protein for 4-8 hours when the natural psicA promoter is used to drive expression. Secretion efficiency can be high, but declines for charged or large sequences. A quantitative characterization of these constraints will facilitate the effective use and engineering of this system.
Keywords
Silk ProteinSpider SilkSecretion EfficiencyGenetic CircuitQuantitative Western Blot
Background
Protein secretion is a useful tool for applications in biotechnology when proteins need to be exported for their function or to ease purification [
1
]. Gram negative bacteria have an inner and outer membrane, both of which need to be crossed for proteins to be exported to the extracellular environment. The type III secretion system (T3SS) has this capability, where it forms a large molecular machine that crosses both membranes (Figure
1
) [
2
], [
3
–
5
]. In its natural context, the T3SS is a common virulence mechanism for pathogenic bacteria to deliver proteins to host cells during pathogenesis. T3SS's from various organisms have been harnessed to export recombinant proteins, including enzymes, peptides to induce an immune response, and spider silk proteins [
4
–
11
]. Little is known as to the range of foreign proteins that can be exported and any limits to their properties.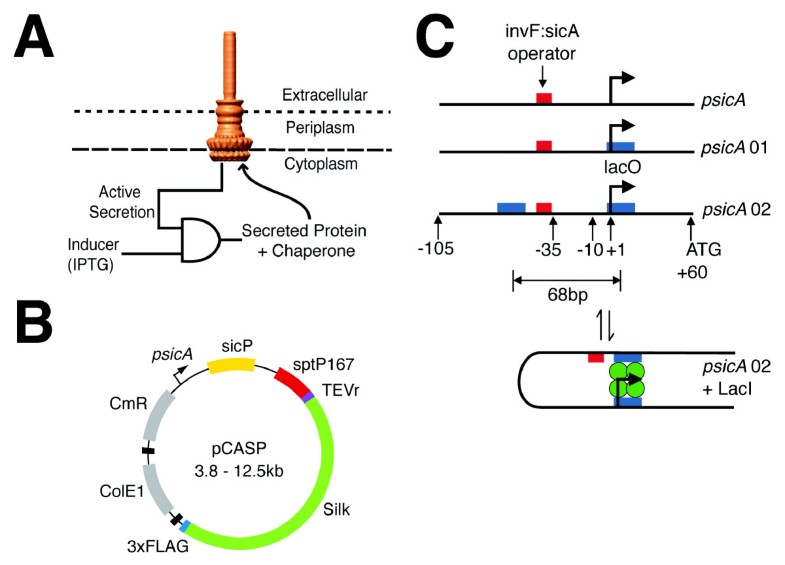 A T3SS is encoded in Salmonella Pathogenicity Island 1 (SPI-1), which is a 34 kilobase gene cluster [12]. Proteins secreted by the T3SS contain an N-terminal peptide tag and a chaperone binding domain [13]. The SptP tag contains 167 amino acids, including a 35 amino acid secretion signal and 104 amino acid chaperone binding domain [13]. SicP is the cognate chaperone and is required for secretion. SPI-1 contains a genetic circuit that links effector expression with the completed assembly of the needles [14, 15]. This circuit consists of a transcription factor (InvF) that is activated by a chaperone (SicA) that is sequestered by effector proteins prior to the needle being completed. The InvF:SicA2 complex upregulates effector expression by inducing the psicA promoter. Previously, we created a plasmid system (pCASP) to export recombinant proteins, where psicA drives the expression of the SicP chaperone and the first 167 amino acids of SptP fused to the recombinant protein to be secreted (Figure 1) [6]. The tag can be removed post-secretion by using the TEV protease.
There are several outstanding questions regarding the suitability of using the SPI-1 T3SS for industrial applications. First, it is controlled by a complex regulatory network that ensures it is expressed at the correct time and location [16]. When induced in culture, SPI-1 genes are strongly expressed for ~6 hours before being repressed [15, 17]. This could be related to its role in pathogenesis, where the SPI-1 T3SS is transiently expressed to inject effector proteins into mammalian cells to facilitate invasion [2]. After invasion, SPI-1 is strongly repressed and a second T3SS encoded within SPI-2 is expressed to promote intracellular survival [2]. Second, it is unclear how the overexpression of recombinant protein from a medium-high copy plasmid affects the efficiency of secretion. Finally, it has been observed that some recombinant proteins will secrete whereas others will not, but the physiochemical properties of peptides that favor secretion have not been well characterized.
The field of synthetic biology has yielded a number of genetic circuits that implement dynamic and logical operations [18]. Elowitz and co-workers created a library of multiple-input logic gates by inserting the transcription factor binding sites randomly into three locations: 1. upstream of the -35 site, 2. between the -35 and -10 sites, and 3. after the transcription start site [19]. They identified promoters that behave as OR- and AND- gates, with respect to the transcription factor inputs. In this paper, we apply this approach to create a hybrid genetic circuit that enables the characterization of how secretion is affected by the timing and magnitude of expression. This is based on regulatory components from the E. coli lactose utilization operon [20]. A 2-input AND gate is constructed by inserting lacI binding sites into the psicA promoter. This promoter is only active when the secretion needle is functional and the inducer IPTG is present (Figure 1). Further, by including upstream binding sites, looping induced by LacI tetramers can produce tighter control of basal expression [21–25]. We use these circuits to induce the expression at different timepoints and magnitudes, while maintaining the dynamics of the SPI-1 regulatory network, in order to measure how these parameters impact secretion.
Spider silk proteins are natural polymers with physical properties that exceed the most sophisticated petroleum-based polymers. Natural silks represent a variety of length, charge, and amino acid compositions that differ significantly from folded proteins. In previous work, we demonstrated the pCASP system by secreting three silk proteins, including web framing (ADF-1), cocoon (ADF-2), and dragline (ADF-3) silks from the orb-weaving spider Araneus diadematus[6]. In this manuscript, we expand the set of silk proteins to include those that are used in flagelliform silk (NCF1), egg sac/cocoon construction (BMF1), and dragline silk (ADF4, LHF1). These represent diverse amino acid compositions and mechanical properties. The flagelliform silk (NCF1) from the orb-weaving spider Nephila clavipes has rubber-like properties with the ability to stretch to > 300% of its length before failure. This is due to the presence of proline in the GPGGX motif which forms a 310 helix structure that acts as a series of springs in the final fiber [26]. The Bombyx mori (silkworm) silk (BMF1) forms β-sheets composed of (GA)n repeats rather than the (A)n repeats common in spider silks, which leads to stiffer and less extensible fibers. Because of their long length and highly repetitive sequences, it has proven difficult to DNA sequence full length spider silk proteins, although there has been recent success [27]. Some recent evidence suggests that native length silk protein monomers are critical for obtaining the natural mechanical properties [28]. In this paper, we construct the first fully synthetic DNA construct of the 3129 amino acid full-length major ampullate spidroin 1 gene (LHF1) from Latrodectus hesperus (black widow spider) using only sequence information from NCBI [27]. This sequence retains the non-repetitive N- and C- terminal domains, which contain a strong Sec secretion signal and have been proposed to be important for assembly into fibrils [29–31]. The full-length sequence does not express in Salmonella and we create a series of truncation mutants to characterize the length dependence on expression and secretion.
While not our original intention, spider silk proteins provide a unique test set for studying the constraints on secretion. Foremost, they are long polypeptides that have no internal structure. This eliminates the effects of protein stability and unfolding kinetics, both of which are critical for a protein to be secreted [5]. They also naturally contain extreme variations in amino acid composition, charge, length, and hydrophobicity. Further, the amino acid sequences are strongly resistant to proteolysis. The calculation of physiochemical properties, such as charge and hydrophobicity, are more accurate for extended peptides than folded proteins.
Work has been done previously to identify the properties of natural effector proteins that make them conducive to secretion. Effectors have highly variable sequences and show no amino acid similarity to each other [32]. Different computational approaches have been developed to search for features that distinguish effectors from non-secreted proteins [33]. These have been mostly applied to understanding the composition and structure of the N-terminal sequence in order to identify secretion signals. It has also been noted that throughout the entire protein, serine and asparagine are enriched, while phenylalanine and arginine are reduced [34]. Structural algorithms have predicted that effectors proteins are more disordered than non-secreted proteins [35].
Conclusions
In this manuscript, we have used a set of spider silk polypeptides to characterize the physiochemical properties that limit the use of the SPI-1 T3SS for the export of recombinant proteins. The most significant constraints are on protein length and net charge. Surprisingly, there was little correlation with hydrophobicity and the needle is able to export polypeptides with diverse and unusual amino acid contents. A synthetic circuit is used to characterize the impact of the magnitude and timing of gene expression. The secretion efficiency is constant with respect to expression level. However, the maximum secretion flux only occurs for a relatively short time when grown in culture. Accurate knowledge of the constraints of SPI-1 secretion is critical for selecting appropriate applications and guide the future optimization of the system.
List of Abbreviations
The following abbreviations were used in this work. T3SS:

Type III Secretion System
SPI-1:

Salmonella Pathogeneity Island 1
IPTG:

isopropyl β-D-1-thiogalactopyranoside
L:

LB Lennox Broth
IM:

Inducing Medium (LB Miller 0.3 M NaCl).
Declarations
Acknowledgements
DW was supported by a Genentech Sandler Fellowship. This work was supported by the Pew Foundation, the National Institutes of Health (AI067699), and the National Science Foundation (BES-0547637).
Authors' Affiliations
(1)
Chemistry and Chemical Biology Graduate Program, University of California - San Francisco, San Francisco, USA
(2)
Department of Pharmaceutical Chemistry, University of California - San Francisco, San Francisco, USA
Copyright
© Widmaier and Voigt; licensee BioMed Central Ltd. 2010
This article is published under license to BioMed Central Ltd. This is an Open Access article distributed under the terms of the Creative Commons Attribution License (http://creativecommons.org/licenses/by/2.0), which permits unrestricted use, distribution, and reproduction in any medium, provided the original work is properly cited.