Spider silks: recombinant synthesis, assembly, spinning, and engineering of synthetic proteins
Microbial Cell Factories
2004
3:14
Received: 11 October 2004
Accepted: 16 November 2004
Published: 16 November 2004
Abstract
Since thousands of years humans have utilized insect silks for their own benefit and comfort. The most famous example is the use of reeled silkworm silk from Bombyx mori to produce textiles. In contrast, despite the more promising properties of their silk, spiders have not been domesticated for large-scale or even industrial applications, since farming the spiders is not commercially viable due to their highly territorial and cannibalistic nature. Before spider silks can be copied or mimicked, not only the sequence of the underlying proteins but also their functions have to be resolved. Several attempts to recombinantly produce spider silks or spider silk mimics in various expression hosts have been reported previously. A new protein engineering approach, which combines synthetic repetitive silk sequences with authentic silk domains, reveals proteins that closely resemble silk proteins and that can be produced at high yields, which provides a basis for cost-efficient large scale production of spider silk-like proteins.
Keywords
Silk FiberSilk ProteinSpider SilkDragline SilkNatural Silk
Perspectives
Engineering of precision fibers
The future objective might not be to prepare identical copies of natural silk fibers, but rather to capture its key structural and functional features in designs that could be useful for engineering applications (Figure
5
). Using "protein engineering" based on knowledge achieved from investigations of the natural silks, artificial proteins can be designed that allow bacterial synthesis at high yields [
75
]. The soluble synthetic silk would be able to assemble into protein fibers with desired properties, which includes the possibility to specifically functionalize the fiber surface by chemical cross-linking with biologically or chemically active groups. Such protein fibers could be optimized by additional protein engineering in order to gain fibers that allow the formation of interconnected nano- or micrometer-scale networks, which are capable of various biological, chemical or physical processes (e.g. enzymatic reactions, chemical catalysis, electronic signal propagation, etc.) (Figure
5
). The main strategy would be to modify the monomeric proteins either with the desired functionality prior to assembly into fibers, or to incorporate a reactive group that will subsequently permit the conjunction with desired functionality after the fibers have assembled. Protein fibers could for instance be covalently linked with external units through chemically specific amino acid side chains (e.g. SH-groups of cysteines) [
76
–
78
].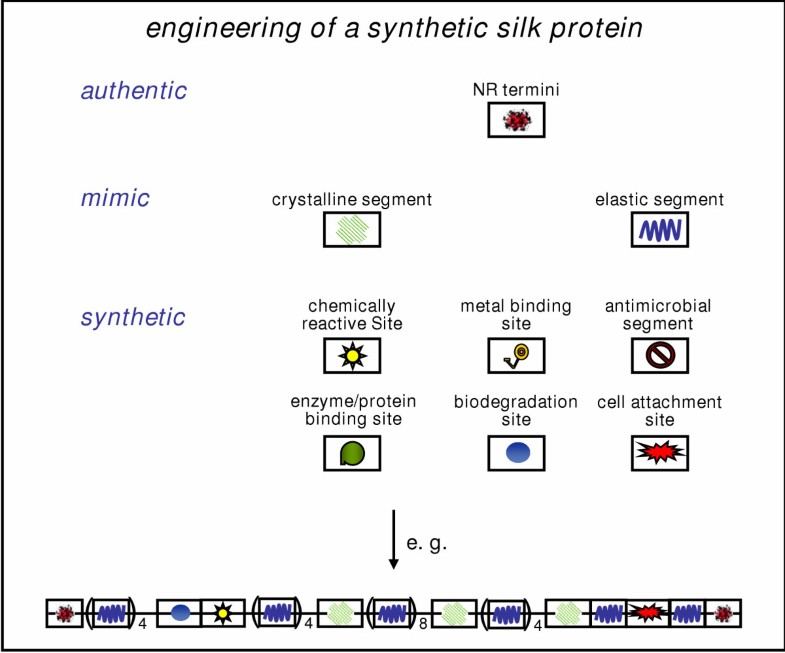 Since the physical and chemical properties of bio-polymers and their assembly processes depend on the amino acid composition of the underlying polypeptide, engineering "synthetic" proteins with specific structural features will create a new class of fibrous proteins. However, to design new biomaterials based on spider silk, all properties of the underlying proteins have to be analyzed and in the best case successfully mimicked [35]. Therefore, the crucial design features of both the feedstock of the dope and the spinning process have to be closely adopted, which would allow for managing the commercial production of new materials.
Declarations
Acknowledgements
The work is supported by the Deutsche Forschungsgemeinschaft and the Fonds der Chemischen Industrie. I would like to thank Bettina Richter for scanning electron microscopy and Daniel Huemmerich for atomic force microscopy. Further I acknowledge Daniel Hümmerich and Christian Ackerschott for critical comments on the manuscript and the members of the fiberlab for inspiring discussions.
Authors' Affiliations
(1)
Department of Chemistry, Lehrstuhl für Biotechnologie, Technische Universität München, Garching, Germany
Copyright
© Scheibel; licensee BioMed Central Ltd. 2004
This article is published under license to BioMed Central Ltd. This is an Open Access article distributed under the terms of the Creative Commons Attribution License (http://creativecommons.org/licenses/by/2.0), which permits unrestricted use, distribution, and reproduction in any medium, provided the original work is properly cited.