Production of hydroxycinnamoyl anthranilates from glucose in Escherichia coli
Microbial Cell Factories
2013
12:62
Received: 25 May 2013
Accepted: 18 June 2013
Published: 28 June 2013
The Erratum to this article has been published in Microbial Cell Factories 2014 13:8
Abstract
Background
Oats contain hydroxycinnamoyl anthranilates, also named avenanthramides (Avn), which have beneficial health properties because of their antioxidant, anti-inflammatory, and antiproliferative effects. The microbial production of hydroxycinnamoyl anthranilates is an eco-friendly alternative to chemical synthesis or purification from plant sources. We recently demonstrated in yeast (Saccharomyces cerevisiae) that coexpression of 4-coumarate: CoA ligase (4CL) from Arabidopsis thaliana and hydroxycinnamoyl/benzoyl-CoA/anthranilate N-hydroxycinnamoyl/benzoyltransferase (HCBT) from Dianthus caryophyllus enabled the biological production of several cinnamoyl anthranilates upon feeding with anthranilate and various cinnamates. Using engineering strategies to overproduce anthranilate and hydroxycinnamates, we describe here an entire pathway for the microbial synthesis of two Avns from glucose in Escherichia coli.
Results
We first showed that coexpression of HCBT and Nt4CL1 from tobacco in the E. coli anthranilate-accumulating strain W3110 trpD9923 allowed the production of Avn D [N-(4′-hydroxycinnamoyl)-anthranilic acid] and Avn F [N-(3′,4′-dihydroxycinnamoyl)-anthranilic acid] upon feeding with p-coumarate and caffeate, respectively. Moreover, additional expression in this strain of a tyrosine ammonia-lyase from Rhodotorula glutinis (Rg TAL) led to the conversion of endogenous tyrosine into p-coumarate and resulted in the production of Avn D from glucose. Second, a 135-fold improvement in Avn D titer was achieved by boosting tyrosine production using two plasmids that express the eleven genes necessary for tyrosine synthesis from erythrose 4-phosphate and phosphoenolpyruvate. Finally, expression of either the p-coumarate 3-hydroxylase Sam5 from Saccharothrix espanensis or the hydroxylase complex HpaBC from E. coli resulted in the endogenous production of caffeate and biosynthesis of Avn F.
Conclusion
We established a biosynthetic pathway for the microbial production of valuable hydroxycinnamoyl anthranilates from an inexpensive carbon source. The proposed pathway will serve as a platform for further engineering toward economical and sustainable bioproduction of these pharmaceuticals and other related aromatic compounds.
Keywords
AvenanthramideTranilastBAHDAntioxidantAnti-inflammatoryTyrosineAnthranilateHydroxycinnamateBiological synthesis Escherichia coli
Background
Hydroxycinnamoyl anthranilates are part of the large cinnamoyl anthranilates family, a class of molecules with beneficial health properties. For example, avenanthramides (Avns) are natural hydroxycinnamoyl anthranilates found in oats (
Avena sativa
L.) at low concentrations (a few parts per million in grains) and whose antioxidant, anti-inflammatory, and antiproliferative effects are considered to contribute to the health benefits of oatmeal consumption [
1
–
6
]. The antioxidant effects of Avns have been established in several animal studies [
7
–
9
], and their anti-inflammatory properties illustrated in model systems of atherosclerosis, diabetes, itching, and breast cancer. In particular, Avn-enriched oat extracts, synthetic dihydroavenanthramide D (DHAvn D) and Avn C methyl ester (CH
3
-Avn C) (Figure
1
A) were shown to inhibit the activation of the NF-κB transcription factor, which is a master regulator of infection and inflammation [
10
–
14
]. Consequently, DHAvn D has been developed as a drug to reduce histamine-related skin disorders [
15
]. Lastly, the antiproliferative effects of Avn have been demonstrated on vascular muscle and colonic cancer cell lines [
16
–
18
]. Similarly, tranilast [
N
-(3′4′-dimethoxycinnamoyl)-anthranilic acid] (Figure
1
A) is a synthetic cinnamoyl anthranilate used as an antihistamine in Japan and South Korea for the treatment of allergic disorders, hypertrophic scars, and keloids [
19
–
21
]. Tranilast has anti-inflammatory and antiproliferative effects and is currently evaluated clinically for the treatment of multiple sclerosis and various arthritic conditions [
22
–
24
]. Moreover, the antitumor potential of tranilast has been evidenced in several clinical trials [
25
], and the design of analogues that exhibit higher anti-fibrotic activity has been extensively investigated [
26
–
30
].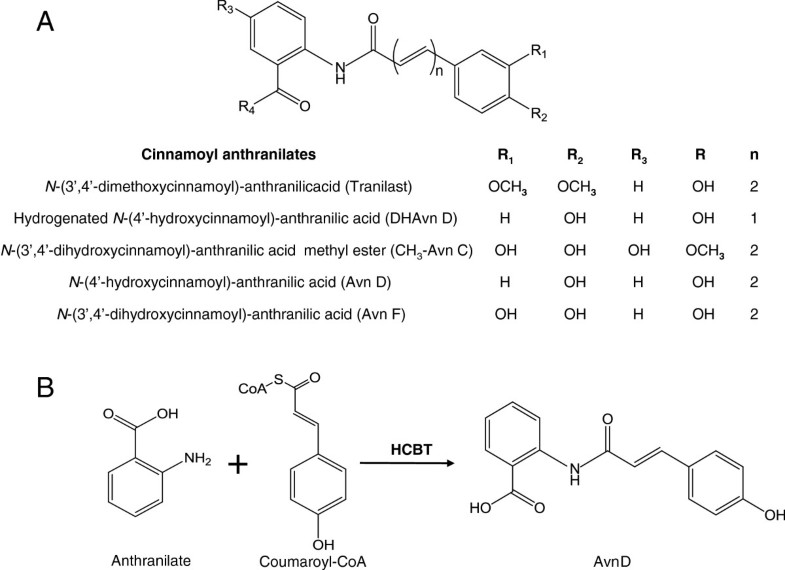 Using microbes for biological synthesis of therapeutic drugs or precursors offers an alternative production strategy to commonly employed methods such as direct extraction from source organisms or chemical synthesis. Microbial expression systems have several advantages such as reduced requirements for toxic chemicals and natural resources; consistent quality; scalability; simple extraction; and potential for higher synthesis efficiency [31, 32]. Taking into consideration the expanding number of therapeutic applications for cinnamoyl anthranilates, as well as the fact that these molecules are currently synthesized chemically or extracted from food sources [33, 34], we attempted to design a pathway for their de novo production from glucose using E. coli as a production platform.
HCBT is an acetyltransferase from the BAHD family [35], which couples p-coumaroyl-CoA with anthranilate via an amide bond to produce Avn D (Figure 1B) [36]; while 4CL enzymes convert cinnamates into their corresponding CoA thioesters [37]. We previously engineered a yeast strain that coexpresses 4CL and HCBT for the production of several cinnamoyl anthranilates, such as Avn D and Avn F, upon feedings with anthranilate and various cinnamates. This highlighted the potential of using these enzymes for the biological production of cinnamoyl anthranilates [38]. E. coli is a host of choice for the expression of complex pathways and the production of elaborate molecules such as aromatic compounds from cheap carbon sources [39, 40].
In this study, we primarily focused on the biological synthesis of Avn D, which features a basal core structure of hydroxycinnamoyl anthranilates. For this purpose, a previously characterized
E
.
coli
anthranilate-accumulating strain was selected as a chassis [
41
,
42
]. In that strain, coexpression of Nt4CL1 and HCBT led to the production of Avn D and Avn F when the culture medium was supplemented only with
p
-coumarate and caffeate, respectively. This validated the functional expression and activity of both plant enzymes in our chassis. The production system was then affranchised from precursor feeding by additional expression of
Rg
TAL, which converts tyrosine into
p
-coumarate [
43
,
44
] (Figure
2
). Avn D biosynthesis was further enhanced by expressing a two-plasmid-based modular biosynthetic pathway for tyrosine overproduction from glucose [
45
]. Finally, Avn F was also biologically produced de novo upon expression of either Sam5 or HpaBC, which are two hydroxylases that convert
p
-coumarate into caffeate [
46
,
47
].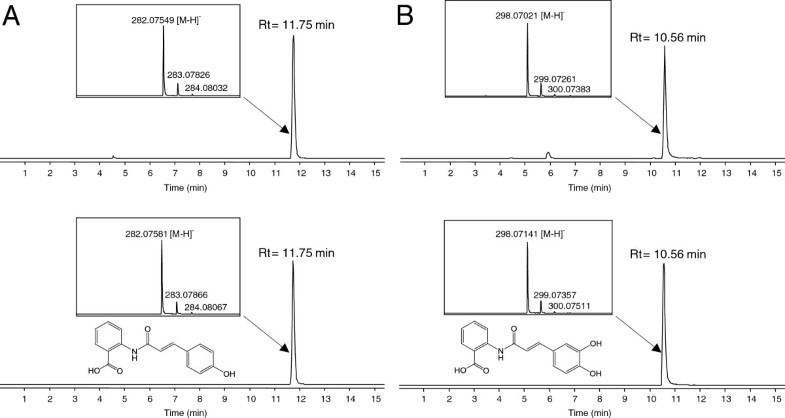 Conclusions
This work is an example of biological production of valuable aromatic metabolites using a tyrosine-overproducing strategy applied to an anthranilate-accumulating strain. Considering the anthranilate titers achieved with the strain containing only the shikimate and tyrosine modules, the maximum theoretical yield for Avn D in this background would be ~5.8 mM. However, much lower Avn D titers were obtained for the strain harboring pS0, pY and pAvnD, probably due to poor conversion of tyrosine into p-coumarate as previously observed in various studies using heterologous expression of TALs [46, 49, 50], and potentially to the limited intracellular pools of coenzyme A availability [55]. It is particularly noteworthy that, because of its specificity to anthranilate as an acceptor, the BAHD acyltransferase HCBT allowed the exclusive biological synthesis of cinnamoyl anthranilates. For instance, no mass peaks corresponding to other phenylpropenoyl-amino acid amides consisting of a tryptophan, tyrosine or an L-dopa moiety — nor to hydroxycinnamate esters of shikimate or quinate — could be detected in the culture medium of our different E. coli Avn-producing strains.
The discovery that Rg TAL has L-dopa ammonia-lyase (DAL) activity is of interest and provides some opportunities for the design of new enzymes with a higher DAL/TAL activity ratio. In combination with tyrosine hydroxylase complexes such as HpaBC, such engineered DALs could be used to improve the bioproduction of caffeate from tyrosine via L-dopa and without generating p-coumarate as an intermediate, a competitive precursor for the biosynthesis of Avn F. Furthermore, the impact of expressing in our system 4CLs other than Nt4CL1 should be considered; especially in regard to production of Avn F, because Nt4CL1 is known to be less active with caffeate as a substrate compared to p-coumarate [56, 57]. Finally, our rationally designed pathway can serve as a framework for improvement of Avn production using combinatorial approaches that have been shown previously to increase tyrosine production [58]. As an adjunct to the recent development of procedures that use safe methylating agents [59], this study describes a basis for eco-friendly production of cinnamoyl anthranilates such as Avn D and Avn F and can serve as a scaffold for the synthesis of more elaborate molecules such as tranilast and its analogs.
Abbreviations
Avn:

Avenanthramide
DHAvnD:

Dihydroavenanthramide D
4CL:

4-Coumarate/CoA ligase
HCBT:

Hydroxycinnamoyl/benzoyl-CoA/anthranilate N-hydroxycinnamoyl/benzoyltransferase
TAL:

Tyrosine ammonia lyase
CoA:

Coenzyme A.
Declarations
Acknowledgements
Authors are thankful to Dr. Carsten Rautengarten for providing the Nt4CL1 cDNA clone and Sabin Russell for language editing of the manuscript. This work was part of the DOE Joint BioEnergy Institute (http://www.jbei.org) supported by the U. S. Department of Energy, Office of Science, Office of Biological and Environmental Research, through contract DE-AC02-05CH11231 between Lawrence Berkeley National Laboratory and the U.S. Department of Energy.
Authors' Affiliations
(1)
Joint BioEnergy Institute, Emeryville, USA
(2)
Physical Biosciences Division, Lawrence Berkeley National Laboratory, Berkeley, USA
(3)
California Institute for Quantitative Biosciences and the Synthetic Biology Institute at UC Berkeley, Berkeley, USA
(4)
Eastern Cereal and Oilseed Research Centre, Agriculture and Agri-Food, Ottawa, Canada
(5)
Department of Bioengineering, Department of Chemical & Biomolecular Engineering, University of California, Berkeley, USA
Copyright
© Eudes et al.; licensee BioMed Central Ltd. 2013
This article is published under license to BioMed Central Ltd. This is an Open Access article distributed under the terms of the Creative Commons Attribution License (http://creativecommons.org/licenses/by/2.0), which permits unrestricted use, distribution, and reproduction in any medium, provided the original work is properly cited.