Transcriptional analysis of the effect of exogenous decanoic acid stress on Streptomyces roseosporus
Microbial Cell Factories
2013
12:19
Received: 26 December 2012
Accepted: 19 February 2013
Published: 21 February 2013
Abstract
Backgroud
Daptomycin is an important antibiotic against infections caused by drug-resistant pathogens. Its production critically depends on the addition of decanoic acid during fermentation. Unfortunately, decanoic acid (>2.5 mM) is toxic to daptomycin producer, Streptomyces roseosporus.
Results
To understand the mechanism underlying decanoic tolerance or toxicity, the responses of S. roseosporus was determined by a combination of phospholipid fatty acid analysis, reactive oxygen species (ROS) measurement and RNA sequencing. Assays using fluorescent dyes indicated a sharp increase in reactive oxygen species during decanoic acid stress; fatty acid analysis revealed a marked increase in the composition of branched-chain fatty acids by approximately 10%, with a corresponding decrease in straight-chain fatty acids; functional analysis indicated decanoic acid stress has components common to other stress response, including perturbation of respiratory functions (nuo and cyd operons), oxidative stress, and heat shock. Interestingly, our transcriptomic analysis revealed that genes coding for components of proteasome and related to treholase synthesis were up-regulated in the decanoic acid –treated cells.
Conclusion
These findings represent an important first step in understanding mechanism of decanoic acid toxicity and provide a basis for engineering microbial tolerance.
Keywords
DaptomycinDecanoic acidToxicTolerance Streptomyces roseosporus
Background
Daptomycin, produced by
Stretomyces roseosporus
, is a 10-membered cyclic lipopeptide showing excellent activity against Gram-positive pathogens, including methicillin-resistant
Staphylococcus aureus
(MRSA) or vancomycin-resistant
Enterococci
(VRE) [
1
]. Intensive efforts to improve daptomycin yield are carried out, including strain improvement as well as optimization of process conditions and growth media [
2
–
4
]. Daptomycin is the minor component of A21978C factors isolated from cultures of
S. rosoesporus
[
5
]. The mixture has a common cyclic peptide nucleus with different fatty acid moieties attached to N-terminal Trp (Figure
1
). The addition of decanoic acid (DA) to the culture broth was shown to be essential for increasing daptomycin yield and productivity [
6
]. However, DA is highly toxic to
S. rosoesporus
and its feeding rate must be kept under strict control in large-scale industrial production [
6
]. As metabolic engineering efforts continue to increase daptomycin production titers, concomitant with addition of more DA during fermentation, it will be crucial to develop strategies for increasing DA tolerance.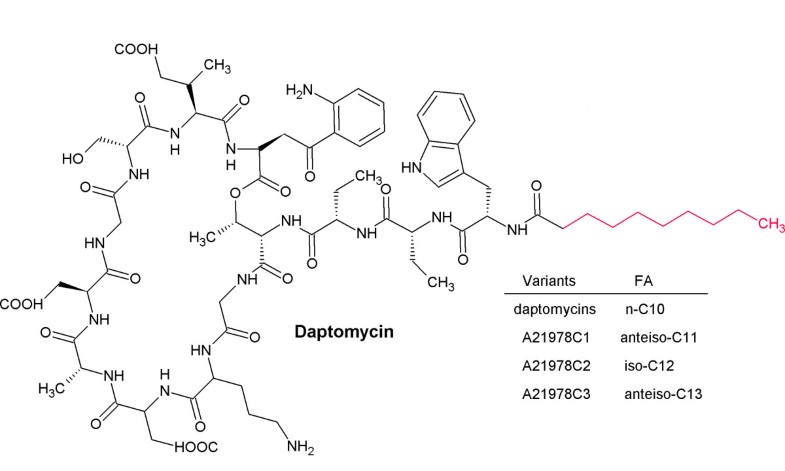 The mechanism of toxicity of free fatty acids (FFA) varies with the length, branching and saturation status of the carbon backbone [7]. The degree of toxicity of a fatty acid also varies across bacteria, with some bacteria being more affected by the length of the carbon backbone while others are more affected by saturation. Their antibacterial mode of action is poorly understood, but most toxicity studies have proposed the cell membrane as the most affected target of fatty acids. In yeast, it has been proposed that DA inserts itself into the lipid bilayer of membrane and physically disturbs the membrane, resulting in increased fluidity of the membrane, leading to conformational changes in membrane proteins, the release of intracellular components [8]. It has been observed that increase of membrane fluidity induced by free fatty acid is accompanied by an increase of ROS production [9]. It can also be hypothesized that the same mechanism may be true for DA.
To elucidate the cytotoxicity mechanism of DA, we combine phospholipid fatty acid analysis, ROS measurement and RNA sequencing technologies to characterize the physiological response to DA and found that resistance to DA likely involves a functional shift of cell membrane composition, increase the gene expression involved in oxidative stress response and oxidative phospholytion. Our findings represent an important advance to understand the mechanism of DA and also provide a list of potential gene targets for further engineering DA tolerance in S. roseosporus.
Conclusions
Multiple mechanisms are involved in the mitigation of the toxicity of DA. The relative contribution of particular mechanism to the toxicity of fatty acid remains elusive. Taken together, our study provided insights into the toxicity or tolerance mechanism underlying DA exposure and several candidates that may be targeted for further engineering to mitigate the toxicity of DA.
Methods
Culture conditions
For toxicity assays, Streptomyces roseosporus (NRRL11579) was grown in TSB medium. To determine the effect of DA on S. roseosporus growth, wide range of concentrations was tested first (data not shown) and then narrowed to a range that caused stress but not significant cell death. Growth assays to test the effect of different concentrations of DA on S. roseosporus were performed in 250 ml shake flasks with 25 ml of TSB medium with a 2% inoculation culturing at 200 rpm at 28°C. Unless specified otherwise, all subsequent DA assays were conducted at 1 mM DA.
Phospholipid fatty acid analysis
Cells were harvested in control culture and DA-stressed S. rosoeporus cultures (2 h after exposure to 1 mM DA) of growth by centrifugation at 3000 × g and 4 for 15 min, and the pellet was washed three times with distilled water. The fatty acids in the cells (40–50 mg in wet weight) were saponified and methylated. The methyl ester mixtures were separated using an Agilent 5890 dual tower gas chromatograph. Fatty acids were identified by the MIDI microbial identification system (Sherlock 4.5 microbial identification system) [24]. Minor fatty acids (<0.6% of the total) are not reported.
Reactive oxygen species assay
Control and DA-stressed S. rosoeporus cultures were grown in TSB medium as described with various concentrations of DA. Positive controls for oxidative stressed cells were prepared by adding 10 ul of 7.78 M tert-butyl hydroperoxide (TBHP) (Invitrogen, USA) to one set of control cells before incubation. Ten microliters of 25 mM carboxy-H2DCFDA was added to all cells. Florescence at 535 nm was measured after 30 min.
RNA extraction
S. roseosprous was cultured in TSB to exponential phase (48 h). DA was added to a final concentration of 1 mM, and biomass was collected after treatment of 30 min. the cultures were centrifuged at 3000 × g and 4 for 15 min, and cell pellets were immediately frozen in liquid nitrogen and stored at −80 for subsequent RNA isolation. Total RNA was extracted using Trizol (Invitrogen), following manufacturer's protocols. RNA preparations were treated with RNase-free DNase (Promega) and the integrity of the RNA was determined using Bioanalyzer 2100 (Agilent Technologies). mRNA was enriched by removing the rRNAs using MICROBExpress kit. The mRNA remaining in the supernatant was recovered by ethanol precipitation and quantified by Bioanalyzer 2100. A cDNA library was constructed and sequenced by Illumina Hiseq™ 2000 [25].
Data processing and analysis
Raw sequencing reads were mapped against the S. roseosprous genome. Reads that mapped to more than one region of the genome (5 to 8% of the total) failed to be unambiguously mapped were excluded for subsequent analyses. Analyses of differential expression including FDR calculations were performed using DESeq [26, 27]. Only P values of <0.01, FDR ≤ 0.01 were considered to be significant.
Declarations
Acknowledgements
This work was supported by grants from National Natural Science Foundation of China (Grant No. 31100069), the Natural Science Foundation Project of CQ CSTC (cstc2012jjA10149) and the Fundamental Research Funds for the Central Universities (XDJK2013A010), New Century Excellent Talents in Universities (NCET-11-0703).
Authors' Affiliations
(1)
Institute of Modern Biopharmaceuticals, State Key Laboratory Breeding Base of Eco-Environment and Bio-Resource of the Three Gorges Area, School of life sciences, School of Pharmaceutical Sciences Southwest University,, Chongqing, China
Copyright
© Liao et al.; licensee BioMed Central Ltd. 2013
This article is published under license to BioMed Central Ltd. This is an Open Access article distributed under the terms of the Creative Commons Attribution License (http://creativecommons.org/licenses/by/2.0), which permits unrestricted use, distribution, and reproduction in any medium, provided the original work is properly cited.