Microbial production of hyaluronic acid: current state, challenges, and perspectives
Microbial Cell Factories
2011
10:99
Received: 20 July 2011
Accepted: 16 November 2011
Published: 16 November 2011
Abstract
Hyaluronic acid (HA) is a natural and linear polymer composed of repeating disaccharide units of β-1, 3-N-acetyl glucosamine and β-1, 4-glucuronic acid with a molecular weight up to 6 million Daltons. With excellent viscoelasticity, high moisture retention capacity, and high biocompatibility, HA finds a wide-range of applications in medicine, cosmetics, and nutraceuticals.
Traditionally HA was extracted from rooster combs, and now it is mainly produced via streptococcal fermentation. Recently the production of HA via recombinant systems has received increasing interest due to the avoidance of potential toxins. This work summarizes the research history and current commercial market of HA, and then deeply analyzes the current state of microbial production of HA by Streptococcus zooepidemicus and recombinant systems, and finally discusses the challenges facing microbial HA production and proposes several research outlines to meet the challenges.
Keywords
Hyaluronic acid Streptococcus zooepidemicus Metabolic engineeringMolecular weight
Introduction
Hyaluronic acid (HA) is composed of disaccharide repeats of
D
-glucuronic acid (GlcUA) and
N
-acetylglucosamine (GlcNAc) joined alternately by β-1, 3 and β-1, 4 glycosidic bonds (Figure
1
). The molecular weights of HA from different sources are highly variable, ranging from 10
4
to10
7
Da. In the human body, HA occurs in the salt hyaluronate form and is found in high concentrations in the skin, umbilical cord, and vitreous humor [
1
]. HA is also present in the capsules of certain microbial strains (e.g., strains of streptococci). HA possesses significant structural, rheological, physiological, and biological functions. With distinctive moisturising retention ability and viscoelasticity, coupled with its lack of immunogenicity and toxicity, HA finds various applications in the cosmetic, biomedical, and food industries [
2
].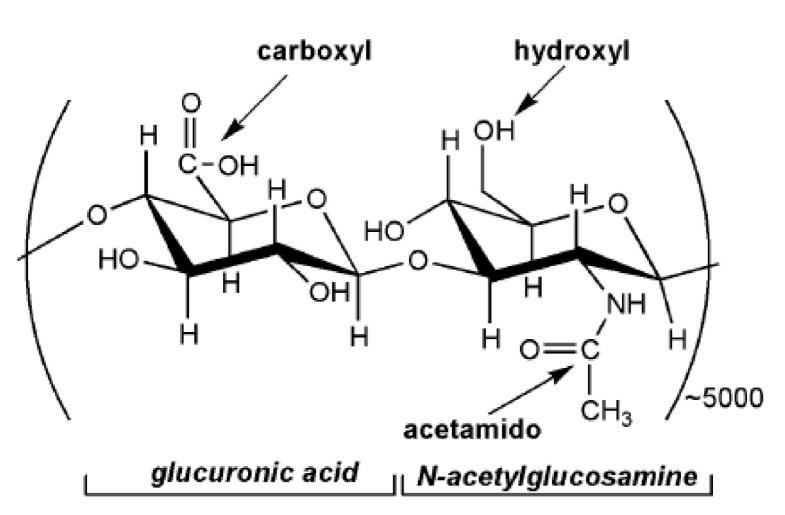 Traditionally HA was extracted from rooster combs, and now it is mainly produced via microbial fermentation with lower production costs and less environmental pollution [3–7]. HA has been successfully produced on an industrial scale with Streptococcus sp. as the main producer. Nevertheless, the production of HA from Streptococcus sp. is facing a growing concern due to the fact that streptococci are pathogenic [8]. In this background, the recombinant HA production has attracted an increasing interest, and Novozymes has produced HA with recombinant Bacillus subtilis on an industrial scale [8].
In this review, the research history, current HA markets, and HA production by Streptococcus zooepidemicus and recombinant systems were summarized. And then the challenges facing the microbial HA production were discussed, and finally several guidelines in the forthcoming research were proposed.
Declarations
Acknowledgements
This project was financially supported by the Fundamental Research Funds for the Central Universities (No.JUSRP30901), 973 Project (2012CB720806), and the Programme of Introducing Talents of Discipline to Universities (111-2-06), and the Priority Academic Program Development of Jiangsu Higher Education Institutions.
Authors' Affiliations
(1)
Key Laboratory of Industrial Biotechnology, Ministry of Education, Jiangnan University, Wuxi, China
(2)
School of Biotechnology, Jiangnan University, Wuxi, China
(3)
State Key Laboratory of Food Science and Technology, Jiangnan University, Wuxi, China
Copyright
© Liu et al; licensee BioMed Central Ltd. 2011
This article is published under license to BioMed Central Ltd. This is an Open Access article distributed under the terms of the Creative Commons Attribution License (http://creativecommons.org/licenses/by/2.0), which permits unrestricted use, distribution, and reproduction in any medium, provided the original work is properly cited.