The effects of disruption of phosphoglucose isomerase gene on carbon utilisation and cellulase production in Trichoderma reesei Rut-C30
Microbial Cell Factories
2011
10:40
Received: 2 September 2010
Accepted: 24 May 2011
Published: 24 May 2011
Abstract
Background
Cellulase and hemicellulase genes in the fungus Trichoderma reesei are repressed by glucose and induced by lactose. Regulation of the cellulase genes is mediated by the repressor CRE1 and the activator XYR1. T. reesei strain Rut-C30 is a hypercellulolytic mutant, obtained from the natural strain QM6a, that has a truncated version of the catabolite repressor gene, cre1. It has been previously shown that bacterial mutants lacking phosphoglucose isomerase (PGI) produce more nucleotide precursors and amino acids. PGI catalyzes the second step of glycolysis, the formation of fructose-6-P from glucose-6-P.
Results
We deleted the gene pgi1, encoding PGI, in the T. reesei strain Rut-C30 and we introduced the cre1 gene in a Δpgi1 mutant. Both Δpgi1 and cre1 + Δpgi1 mutants showed a pellet-like and growth as well as morphological alterations compared with Rut-C30. None of the mutants grew in media with fructose, galactose, xylose, glycerol or lactose but they grew in media with glucose, with fructose and glucose, with galactose and fructose or with lactose and fructose. No growth was observed in media with xylose and glucose. On glucose, Δpgi1 and cre1 + Δpgi1 mutants showed higher cellulase activity than Rut-C30 and QM6a, respectively. But in media with lactose, none of the mutants improved the production of the reference strains. The increase in the activity did not correlate with the expression of mRNA of the xylanase regulator gene, xyr1. Δpgi1 mutants were also affected in the extracellular β-galactosidase activity. Levels of mRNA of the glucose 6-phosphate dehydrogenase did not increase in Δpgi1 during growth on glucose.
Conclusions
The ability to grow in media with glucose as the sole carbon source indicated that Trichoderma Δpgi1 mutants were able to use the pentose phosphate pathway. But, they did not increase the expression of gpdh. Morphological characteristics were the result of the pgi1 deletion. Deletion of pgi1 in Rut-C30 increased cellulase production, but only under repressing conditions. This increase resulted partly from the deletion itself and partly from a genetic interaction with the cre1-1 mutation. The lower cellulase activity of these mutants in media with lactose could be attributed to a reduced ability to hydrolyse this sugar but not to an effect on the expression of xyr1.
Keywords
FructoseCellulaseLactoseMinimal MediumPentose Phosphate Pathway
Background
Trichoderma reesei, an anamorph of the species Hypocrea jecorina, stands out for its ability to degrade cellulose and hemicellulose. Cellulose is a long polymer of β-1,4-linked D-glucospyranose units. Degradation of cellulose to glucose requires the synergistic action of different types of enzymes. In T. reesei, at least several endoglucanases (EGI/Cel7B, EGII/Cel5A, EGIII/Cel12A, EGIV/Cel61A, and EGV/Cel45A), exoglucanases (the cellobiohydrolases CBHI/Cel7A and CBHII/Cel6A) and β-glucosidases (BGLI/Cel3A and BGLII/Cel1A) contribute to the total cellulase activity [1, 2]. An additional protein, swollenin, disrupts crystalline cellulose structures, making polysaccharides more accessible [3].
Cellulase induction in T. reesei is modulated by several physiological and environmental conditions, such as growth rate [4], sulphur [5] and light [6, 7]. Cellulose and disaccharides such as lactose, cellobiose and sophorose (glycosyl β-1,2-glucose) [8, 9] can act as inducers and, in fact, lactose is used in industry as a cheap inducer. In T. reesei, lactose is hydrolysed, mainly by an extracellular β-galactosidase, Bga1, to the monosaccharides D-glucose and D-galactose which are taken up by appropriate permeases [10]. Cellulase induction by lactose requires the β-anomer of D-galactose, that cannot be catabolized via the Leloir pathway but can be converted to fructose by an alternative pathway [11]. D-xylose reductase (encoded by xyl1) is the enzyme that catalyzes the first step in the alternative pathway [12]. XYR1 (xylanase regulator 1) is essential for the activation of xyl1. This regulator is also an indispensable transcription factor for expression of hydrolytic enzymes on lactose [13, 14].
The majority of the cellulase genes are repressed by the presence of glucose [15, 16]. This repression is mediated by CRE1, a two-zinc finger protein that binds to DNA [17, 18]. Other negatively- and positively-acting transcription factors have been characterised for cellulase and hemicellulase genes, and their functions have been described in detail [15, 19–22].
Cellulases have been used for different applications in food, textile and paper industry and recently have gained interest for the production of bioethanol [19]. Demands of biofuel obtained from renewable feedstock require high amounts of cellulases [23].
One of the best cellulase producer strains is T. reesei Rut-C30. This strain was obtained from the natural isolate QM6a through three mutagenesis steps: (i) UV mutagenesis and screen for the ability to hydrolyse cellulose in repressing conditions; (ii) N-nitrosoguanidine mutagenesis and a similar screen; and (iii) UV mutagenesis, screen for cellulase activity and selection for 2-deoxyglucose resistance to eliminate catabolite repression [24]. The comparison between the genomes of Rut-C30 and QM6a revealed a surprisingly high number of mutagenic events [25, 26]. Some of them had been previously characterized, including a truncation of the cre1 gene, encoding the CRE1 repressor; a frameshift mutation in the glucosidase II alpha subunit gene gls2α, involved in protein glycosylation [27]; and an 85-kb deletion that eliminated 29 genes, including transporters, transcription factors, and primary metabolic enzymes [28]. The truncated form of cre1 (allele cre1-1) encodes a truncated protein of only 95 amino acids with a single zinc finger [17]. This mutation, which is equivalent to a null mutation [29], produces catabolite derepression and is one of the main factors responsible for the hypercellulolytic phenotype of Rut-C30.
T. reesei is not only biotechnologically important for the cellulase production but also for being an efficient host for large scale production of other enzymes [30]. Different strategies have been applied to improve protein production by this fungus, including the use of strong promoters [31], induction of the unfolded-protein response [32], generation of fusions to a hydrophobic tag [33], control of the specific growth rate [4], and modification of carbon repression [29].
Although Rut-C30 is a good cellulase-producer microorganism, some improvements are still possible [
34
]. We sought to explore possibilities to engineer the cellulase production capacity of the overproducer Rut-C30 by alteration of a metabolic pathway. The idea was to eliminate phosphoglucose isomerase (PGI) activity in order to redirect the carbon flux through the pentose phosphate pathway (PPP). The two central pathways of carbon metabolism are glycolysis and the PPP (Figure
1
). The PPP is the major source of NADPH, needed for the biosynthesis of many biomolecules, in particular fats [
35
]. It also provides intermediates for the synthesis of amino acids: histidine is synthesised from ribose 5-phosphate (ribose-5-P), and erythrose 4-phosphate is one of the metabolic precursors needed for the synthesis of aromatic amino acids: phenylalanine, tyrosine and tryptophan [
35
]. For this reason, it is obvious that the PPP plays an important role in the production of proteins and therefore this pathway is expected to be relevant especially in an organism with an efficient protein production system. The PPP intermediate ribose-5-P is also essential for the synthesis of nucleotides and nucleic acids.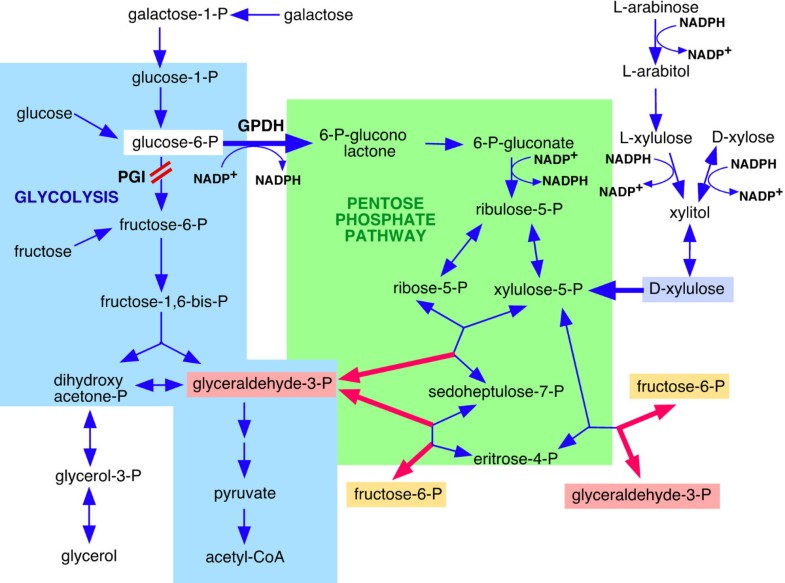 PGI catalyzes the second step of glycolysis converting glucose 6-phosphate (glucose-6-P) into fructose 6-phosphate (fructose-6-P). Since this enzyme is located at the first junction between glycolysis and the PPP, a consequence of the inactivation of PGI could be the rerouting of the metabolic flux through the PPP, which, in turn, would lead to an increase in NADPH production. This is, in fact, the result of the disruption of the pgi gene in the bacterial species Escherichia coli[36]. A similar result was obtained with the pgi mutant of the yeast Kluyveromyces lactis (rag2 mutant), which was able to grow on glucose, bypassing the glycolytic step. This suggests that glucose-6-P was metabolized via the PPP in K. lactis[37]. However, fungal species show differences in the capacity to use the PPP, and, in contrast with the situation in K. lactis and E. coli, the deletion of PGI1 in Saccharomyces cerevisiae prevents growth on glucose [38, 39]. The S. cerevisiae PGI1 mutants can grow with fructose as main carbon source, but trace amounts of glucose are required [38, 39] because it is the only way to provide glucose-6-P that is required for biosynthesis of many cell components. Boles et al. [40] proposed that the growth defect of the PGI1 mutants of S. cerevisiae on glucose medium was due to a rapid depletion of cytoplasmic NADP, which is needed as a cofactor in the PPP. This defect could be solved either by adding oxidizing agents to restore NADP from NADPH or by over-expressing the NADH-dependent glutamate dehydrogenase, resulting in substrate cycling and coupled conversion of NAD to NADH and NADPH to NADP [40]. At the same time, high concentrations of glucose prevent growth, probably due either to the toxic effect of high levels of glucose-6-P or to ATP depletion [41]. In addition, there is a great intraspecies diversity in the PPP capacity among S. cerevisiae strains and a low capacity may be the main factor limiting glucose oxidation through this pathway [42].
In this work, we have constructed pgi1 deletion mutants (Δpgi1) in T. reesei Rut-C30 to block the early part of the glycolytic pathway and we have analysed if this mutation leads to the redirection of carbon flux through the PPP. We report the effects of this genetic alteration on morphology, growth, carbon utilisation, lactose metabolism, and, especially, cellulase production. The analysis has been carried out, both in the original cre1-1 background and in a cre1 + background.
Conclusions
We have deleted the pgi1 gene in the hypercellulolytic T. reesei mutant Rut-C30. The resulting strains were able to grow using glucose as the only carbon source, suggesting that the PPP is active in T. reseei. These Δpgi1 mutants exhibited higher total cellulase activity under repressing conditions in comparison to Rut-C30. The increase in activity is partially explained by the pgi1 mutation, and partially by to the genetic interaction between the pgi1 mutation and the cre1-1 mutation that was already present in RutC-30. In contrast, the morphological and growth alterations observed in the mutants may be attributed to the pgi1 mutation since similar effects were observed in cre1 + and cre1-1 backgrounds. In summary, since the pgi1 mutation produces an increase in cellulase activity in certain media, even though not under inducing conditions, it could be interesting to use this mutation, in combination with others, to improve the hypercellulolytic phenotypes of T. reesei strains. Overexpression of bga1 gene could be explored as a way to increase induction by lactose in pgi1 mutants. Another strategy of improvement could be the co-cultivation of Δpgi1 mutants with overproducer strains under inducing conditions, taking advantage of their different sugar preferences and their different production profile.
Methods
Strains
T. reesei strain Rut-C30 (ATCC 56765, VTTD-86271) [62] was used for gene disruption, strain VTT-D-80133 [63] was used for the preparation of a genomic cosmid library and the natural isolate QM6a (ATCC13631, VTT-D-071262T) was used as a control. Escherichia coli strains JS4 and DH5α were used for library and plasmid constructions, respectively, while strain TOP10F' was used as a host for cloning PCR products in the TOPO vector.
Media and culture conditions
Conidia of T. reesei Rut-C30, pgi1 and cre1 + Δpgi1 mutants for inoculating liquid cultures were collected from mycelia grown for 7 days at 28°C on potato dextrose agar (PDA) and PDA supplemented with 20 g l-1 fructose, respectively. Unless otherwise stated, the liquid cultures were grown on minimal medium (MM) [8] with 10 g l-1 of each carbon source added (either glucose, fructose, lactose or a combination of them). Conidia (4 × 107) of Rut-C30 or Δpgi1 strains were inoculated in 400 ml of medium in 2-liter flasks and incubated on a rotary shaker at 200 rpm at 28°C. For determination of dry weight, two sample aliquots were weighed and collected on pre-weighed filter disks (Whatman GF/B 55 mm Ø). The biomass was washed with approximately 50 ml of demineralised water and dried overnight in an oven at 105°C, and afterwards the disks were weighed again. Triplicates of each strain were cultured for each condition.
For comparison of cellulase activity among all the strains, Rut-C30, QM6a, Δpgi1 and cre1 + Δpgi1 mutants were cultured in 500-ml flasks containing 100 ml of MM with glucose and fructose or MM with lactose and fructose. Mycelia were incubated for 7 days at 30°C in a rotary shaker at 150 rpm. β-galactosidase activity was measured from these culture supernatants.
For gene expression experiments, strains were first grown in 500-ml flasks containing 100 ml of MM with glucose, fructose and 2 g l-1 peptone at 150 rpm and 30°C. After 30 h of culture, mycelia from each strain were filtered, washed and equal amounts of each strain were resuspended in MM containing glucose or lactose. Samples were immediately taken after the transfer (t = 0) and after 6 and 14 h of culture. Two independent experiments were carried out.
To determine hyphal growth on agar plates, a 7-mm plug was inoculated in the center of each 8-cm Petri dish containing MM with the following combination of sugars: glucose, fructose, fructose and glucose, galactose, galactose and fructose, glycerol, glycerol and glucose, lactose, lactose and fructose, xylose, xylose and glucose. Plates were incubated at 22°C for 14 days and colony diameter was measured daily. The data shown are the average of three independent experiments. Error bars indicate standard deviation.
Bacterial host strains were grown in LB medium at 37°C.
Isolation of the chromosomal pgi gene
The chromosomal pgi1 gene was isolated from a genomic cosmid library of T. reesei (strain VTT-D-80133) in the cosmid p3030 (Hohn & Hinnen, unpublished). The library was screened using a pgi1 cDNA fragment as a probe. All positive clones corresponded to the same cosmid. DNA from cosmid K4.1 was digested with enzymes Stu I, Pst I or SacI, blotted and hybridized with a fragment of the pgi1 cDNA. Positive fragments of 2.5 and 5 kb from the Stu I digestion and the positive 5-kb fragment from the Pst I digestion, were subcloned in pBluescriptSK+ (Stratagene, La Jolla, USA). The resulting plasmids were used to clone the gene. ABI PRISM Bigdye™ terminator sequencing kit (Australia) was used to check plasmid constructions and for sequencing the chromosomal pgi1 gene.
Deletion of gene pgi1 from the Trichoderma genome
The primers used for PCR amplification of pgi1 promoter (2.1 kb fragment) from the cosmid clone were Oligo-KpnI-PacI-Prom (+) 5'-CCG AGA GGT ACC TTA ATT AA G GCC CCA TCC GTT CTT CCA TGA C-3', where Kpn I restriction site is underlined and Pac I site is in bold, and Oligo-PGI-KpnI (-) 5'-CGG GGC ATT GGT ACC GTT GGA GAG GTT GTG GTT GAA GTA-3', where Kpn I restriction site is underlined. The PCR reaction mixture contained 0.1 U μl-1 Advantage polymerase (BD Biosciences Clontech), 0.2 mM dNTP, 1.1 mM Mg(CH3COO)2, 10 μM of each primer and 20 ng of the cosmid DNA in a 50 μl final volume. The PCR program used was: 32 cycles of 94°C 25 s, 50°C 3 min, 72°C 3 min, followed by a single cycle of 67°C 7 min. The amplified fragment was isolated from a 10 g l-1 agarose gel, purified through Qiaquick Spin Columns (Qiagen, Netherlands), ligated to TOPO TA cloning vector (Invitrogen) and transformed to TOP10 E. coli competent cells. The fragment was isolated from the TOPO vector by digesting with Asp 718 (isoschizomer of Kpn I) (Roche Molecular Biochemicals) and cloned in vector pARO21 (5.7 kb) [64], previously digested with Asp 718, to obtain plasmid pCL23. The pgi1 terminator was amplified by PCR from the cosmid clone as a 1.6-kb fragment using primers Term1.6Forward, 5'-CTGGGGCGTCGAAGCTT GGGCAAGGTCCTT-3' (Restriction site Hind III underlined), and Term1.6Reverse, 5'-GGCAAGC TT AATTAA GGC AGGGCGAGCTGAACAA-3' (restriction site Hind III is underlined and restriction site Pac I is in bold). The conditions for the PCR reaction were as described above. This 1.6-kb fragment contained 0.3 kb of the 3' end of the coding region of the pgi1 gene and 1.3 kb of the pgi1 terminator. The amplified fragment was digested with Hind III and ligated to pCL23, which contained the pgi1 promoter and the hygromycin resistance marker to generate plasmid pCL28 (9.5 kb). A fragment of 6.7 kb containing the cassette for deletion was released from pCL28 digesting with Pac I and used for transformation of T. reesei.
Transformation procedures
E. coli TOP10F' was transformed by electroporation according to the manufacturer's instructions (Bio-Rad). T. reesei protoplasts were transformed with 5.5 μg of the pgi1 deletion cassette as described earlier [65]. The transformed protoplasts were plated on MM medium where glucose was replaced by 20 g l-1 fructose and 1 g l-1 glucose, and hygromycin (150 μg ml-1) was added for selection of the transformants. Monosporic cultures from transformant strains were obtained on selection media (MM medium with 20 g l-1 fructose, 1 g l-1 glucose, 150 μg ml-1 hygromycin and 1 ml l-1 Triton X-100).
Introduction of gene cre1 in a Δpgi1 background was done by cotransformation with a 6-kb Sal I-Hind III genomic fragment from plasmid pMI-41 [17], containing cre1, together with plasmid pTOC202. Strains were selected for growth on acetamide in MM with 20 g l-1 fructose, 5 g l-1 glucose and 10 mM acetamide.
The putative transformants were submitted to three selection rounds on selection media to purify them.
Nucleic acid hybridizations
Genomic DNA of T. reesei strains was isolated using Easy DNA™ kit (Invitrogen, CA). Southern blot hybridizations were carried out using standard methods [66]. Probes of gene pgi1 for Southern blot analyses were a 1.4 kb fragment of pgi1 cDNA obtained from plasmid pMS57 after digestion with Sac I, and a 0.6 kb fragment obtained from plasmid pCL5 after digestion with Pst I, the latter containing a fragment of the pgi1 promoter and the coding region. For detection of the hygromycin resistance gene, either a Nsi I-Xba I fragment from the plasmid pRLMex30 [20] or a 782-bp Xba I-Sac II fragment of the hygromycin gene, obtained from plasmid pARO21 [64], were used as probes. The restriction enzymes used for digesting genomic DNA for Southern blot analyses were BstX I, EcoR I and Nde I.
Genomic DNA of wild type QM6a, P40, and 17 putative cre1 + Δpgi1 transformants was digested with Pst I to discard transformants without integration of cre1. To test the number of integrations of the cre1 cassette, genomic DNA from strains QM6a, P40, CP5, CP26 and CP28 was digested with Eco RV, Sac I and Xba I. A 1.2-kb probe corresponding to the complete open reading frame (ORF) was obtained from plasmid pMI-41 with primers 1592: 5'-GGCGGATCCATGCAACGAGCACAGTCTGCC-3' and 1590: 5'-GGCGGATCCCTACATGGCATCCATGAGGTC-3'. A specific probe for a protein-coding region, which did not hybridize with the allele cre1-1 of Rut-C30, corresponded to nucleotides +342 to +1209 of cre1. This specific probe was amplified from plasmid pMI-41 and DIG-labelled with the PCR DIG probe synthesis kit using primers 1842: 5'-CGCGGATCCAGGCGGGGCAACAAGGGCAG-3', and 1844: 5'-GTGGGAATTCCTACATCCGATCCATGAGGTCGCC-3'. The Southern detection was carried out with detection starter kit II using the standard procedure (Roche Diagnostics GmbH, Mannheim, Germany).
RNA isolation and expression
Mycelia were lysed in a Fast-Prep®-24 homogenizer (MP™Biomedicals LLC Europe, France) using zirconia microbeads by 2 pulses of 30 s at 6 m/s. Total RNA was isolated using the RNeasy Plant Mini kit (Qiagen, Spain). 250 ng of RNA samples were treated with 1 U of rDNAsa I (USB, Affymetrix, Inc) for 15 min at 25°C and the reactions were stopped with 1 μl of 50 mM EDTA and incubated at 65°C for 10 min. Total RNA concentration was estimated using a Nanodrop ND-1000 spectrophotometer (NanoDrop Technologies, Wilmintong, DE, USA).
RT-PCR mixtures contained 1 × Power SYBR-Green PCR Master Mix (Applied Biosystems), 0.125 μl MultiScribe Reverse Transcriptase (50 U μl-1), 0.125 μl RNAse Inhibitor (10 U μl-1), 100 ng of total RNA and 8 μM of each primer, in a total volume of 25 μl. RT-PCRs were performed in an ABI 7500 (Applied Biosystems). The PCR program consisted of 30 min at 48°C for retrotranscription, 10 min at 95°C, 40 cycles of 15 s at 95°C and 1 min at 60°C. Dissociation curves were done to test amplification validity. Primer sets to analyse gene expression by RT-PCR were: gpdhF: 5'-GGGCGGCTACTTTGATGAGTT-3' and gpdhR: 5'-TGGTTCTGCATGACGTCTCG-3' for glucose-6-P dehydrogenase gene; xyrF: 5'-GAGCTTTCGAGTTCACGCATG-3' and xyrR: 5'-CCCAGCAGTACCCGTTGAATT-3' for the xylanase regulator 1, xyr1 (AF479644) [21]; xyl1F: 5'-CTGTGACTATGGCAACGAAAAGGAG-3' and xyl1R: 5'-CACAGCTTGGACACGATGAAGAG-3' [14] for xy1l, the gene for D-xylose reductase; actF: 5'-TGACATGGCTGGTCGTGATC-3' and actR: 5'-ATGTCACGGACGATTTCCCTC-3' for actin-encoding gene (X75421), used as an endogenous control.
Primer design and relative gene expression were done as described by Rodríguez-Ortiz et al. [67]. Each RT-PCR analysis was achieved in duplicate to confirm repetitiveness. The values given are the mean of 2 independent experiments with 2 measurements each one. Error bars indicate standard deviation.
Preparation of cell extracts
Mycelial samples were harvested by filtration through Whatman GF/B glass fiber filters, washed with 7 g l-1 NaCl, frozen in liquid nitrogen and stored at -80°C. Cell extracts from frozen mycelium were prepared as described by Pakula et al. [68]. Briefly, equal amounts of mycelia were resuspended in 100 mM Tris buffer pH 7.4, containing 20% glycerol, and 1 tablet of Complete protease inhibitor cocktail (Roche Applied Science, Indianapolis, USA) per 50 ml of buffer. Mycelia were disrupted by 20 cycles of sonication for 8 s followed by 30 s on ice between the cycles and centrifuged at 14,000 × g for 10 min. The homogenate was used for enzyme assays.
Protein concentrations of the cell extracts were measured using Bradford method (Bio-Rad, Hercules, CA, USA) using bovine serum globulin (500-0007, Bio-Rad, Hercules, CA, USA) as a standard protein.
Enzyme assays
Phosphoglucose isomerase (EC 5.3.1.9) was assayed from cell extracts as described by Maitra and Lobo [69]. All enzyme assays were carried out in a Cobas Miras automated analyser (Roche) at 30°C. Phosphoglucose isomerase (PGI) activity was measured by adding the cell extract to a reaction mixture containing 10 mM sodium phosphate buffer (pH 7.0), 0.2 mM NADP+, 1 μg glucose-6-P dehydrogenase (Boehringer-Mannheim, GmbH, Germany). The reaction was started adding fructose-6-P (Boehringer-Mannheim, GmbH, Germany) to a final concentration of 2 mM. The activity was calculated from the rate of the decrease in NADH absorbance at 340 nm.
For cellulase activity, culture aliquots were filtered as described above and filtrates were kept at -20°C until measurement. Total cellulase activity in culture supernatants were measured as described by van Tilbeurg [70]. 4-methylumbelliferyl-β-lactoside (MUL) (Sigma, St. Louis, MO, USA) was used as the substrate (0.17 mM). MUL and culture filtrates were incubated in 50 mM sodium acetate buffer (pH 5.0) with a final volume of 100 μl for 5 min at 37°C. The reaction was stopped with 100 μl of 1 M Na2CO3. Individual activities of cellobiohydrolase (CBH) and endoglucanase were estimated by adding 10 mM cellobiose (inhibits mainly CBH) or 100 mM glucose (inhibits β-glucosidases) to the assay, respectively. Fluorescence was measured on a Varioskan microtiter plate reader (Thermo Scientific, USA) at excitation and emission wavelengths of 350 and 450 nm. Measurements were done from three cultures replicates.
Extracellular β-galactosidase activity was determined in cultures grown in MM with lactose and fructose for 7 days at 30°C and 150 rpm. Supernatants were filtered and concentrated by ammonium sulphate precipitation [71]. The resulting concentrated samples were dialyzed against 3 liters of 50 mM sodium citrate buffer pH 4.5 at 4°C. 200 μl samples were incubated with 850 μl of 50 mM sodium citrate buffer pH 4.8 at 50°C. The reaction was carried out by addition of 150 μl of 10 mM o-nitrophenyl-β-D-galactopyranoside as a substrate and incubated for 20-40 min. The reaction was stopped with 500 μl of 1 M Na2CO3. Activity was measured at 405 nm against a supernatant blank for each sample in a spectrophotometer (Beckman DU®, USA). One unit of β-galactosidase activity was defined as the amount of enzyme releasing 1 μmol of p-nitrophenyl per min under the conditions used.
Extracellular protein concentration was determined by Bradford method (Bio-Rad, Hercules, CA, USA) using bovine serum globulin (500-0007, Bio-Rad, Hercules, CA, USA) as a standard protein.
Measurement of sugar concentrations
Fructose and glucose concentrations in culture medium were measured by HPLC (Waters, Milford, Massachusetts, USA) using an Aminex HPX-87H column (Bio Rad Labs, USA) with a 2487 dual α absorbance detector and 5 mM H2SO4 (Titrisol, Merck) as an eluent at a flow rate of 0.6 ml min-1 at 55°C. Glucose and fructose were used as standards. The data was processed using Water Millenium software.
Lactose and galactose concentrations were analysed enzymaticaly using the Boehringer 176 303 Lactose kit (Boehringer Mannheim, Germany) on the Cobas Miras automated analyser (Roche Applied).
Microscopy
Samples were observed under a microscope (model BHS-RFK, Olympus Optical Ltd., Tokyo, Japan). The microscope was connected to a video camara (Sensicam, PCO CD Imaging, Kelheim, Germany) and digital image analysis software (analySIS® 3.0, Soft Imaging System GmgH, Münster, Germany).
Statistical analysis
Statistical significance of differences in gene expression among Trichoderma strains were evaluated with a Student's t-test.
Abbreviations
Fructose-6-P:

fructose 6-phosphate
glucose-6-P:

glucose 6-phosphate
GPDH:

glucose 6-phosphate dehydrogenase
MUL:

4-methylumbelliferyl-β-lactoside
PGI:

phosphoglucose isomerase
PMI:

phosphomannose isomerase
PPP:

pentose phosphate pathway
ribose-5-P:

ribose 5-phosphate.
Declarations
Acknowledgements
This work was supported by an individual Marie Curie Fellowship (QLK-CT-1999-51554) and a José Castillejo Mobility Fellowship from the Spanish Government (Ministerio de Educación y Ciencia JC2007-00186) given to MCL, and the research program "VTT Industrial Biotechnology" (Academy of Finland, Finnish Centre of Excellence Program, 2000-2005, Project no. 64330). We thank Aili Grundström for skilled technical assistance, Dr. Marilyn Wiebe for technical advice and Dr. Peter Richard for technical advice and discussion. We also thank Dr. Francisco Ramos-Morales for discussion and critical reading of the manuscript and Dr. Javier Avalos for text revision.
Authors' Affiliations
(2)
Departamento de Genética, Facultad de Biología, Universidad de Sevilla, Seville, Spain
Copyright
© Limón et al; licensee BioMed Central Ltd. 2011
This article is published under license to BioMed Central Ltd. This is an Open Access article distributed under the terms of the Creative Commons Attribution License (http://creativecommons.org/licenses/by/2.0), which permits unrestricted use, distribution, and reproduction in any medium, provided the original work is properly cited.