The promising future of microalgae: current status, challenges, and optimization of a sustainable and renewable industry for biofuels, feed, and other products
Microbial Cell Factories
2018
17:36
Received: 23 December 2017
Accepted: 17 February 2018
Published: 5 March 2018
Abstract
Microalgae have recently attracted considerable interest worldwide, due to their extensive application potential in the renewable energy, biopharmaceutical, and nutraceutical industries. Microalgae are renewable, sustainable, and economical sources of biofuels, bioactive medicinal products, and food ingredients. Several microalgae species have been investigated for their potential as value-added products with remarkable pharmacological and biological qualities. As biofuels, they are a perfect substitute to liquid fossil fuels with respect to cost, renewability, and environmental concerns. Microalgae have a significant ability to convert atmospheric CO2 to useful products such as carbohydrates, lipids, and other bioactive metabolites. Although microalgae are feasible sources for bioenergy and biopharmaceuticals in general, some limitations and challenges remain, which must be overcome to upgrade the technology from pilot-phase to industrial level. The most challenging and crucial issues are enhancing microalgae growth rate and product synthesis, dewatering algae culture for biomass production, pretreating biomass, and optimizing the fermentation process in case of algal bioethanol production. The present review describes the advantages of microalgae for the production of biofuels and various bioactive compounds and discusses culturing parameters.
Keywords
MicroalgaeBiofuelsCarbon dioxide mitigationViable biomassCulture parametersPretreatmentBioactive compounds
Introduction
Algae are photosynthetic organisms that grow in a range of aquatic habitats, including lakes, pounds, rivers, oceans, and even wastewater. They can tolerate a wide range of temperatures, salinities, and pH values; different light intensities; and conditions in reservoirs or deserts and can grow alone or in symbiosis with other organisms [1]. Algae are broadly classified as Rhodophyta (red algae), Phaeophyta (brown algae), and Chlorophyta (green algae) and classified by size as macroalgae or microalgae. Macroalgae (seaweed) are multicellular, large-size algae, visible with the naked eye, while microalgae are microscopic single cells and may be prokaryotic, similar to cyanobacteria (Chloroxybacteria), or eukaryotic, similar to green algae (Chlorophyta).
Microalgae can be a rich source of carbon compounds, which can be utilized in biofuels, health supplements, pharmaceuticals, and cosmetics [
2
]. They also have applications in wastewater treatment and atmospheric CO
2
mitigation. Microalgae produce a wide range of bioproducts, including polysaccharides, lipids, pigments, proteins, vitamins, bioactive compounds, and antioxidants (Fig.
1
) [
3
]. The interest in microalgae as a renewable and sustainable feedstock for biofuels production has inspired a new focus in biorefinery. Growth enhancement techniques and genetic engineering may be used to improve their potential as a future source of renewable bioproducts.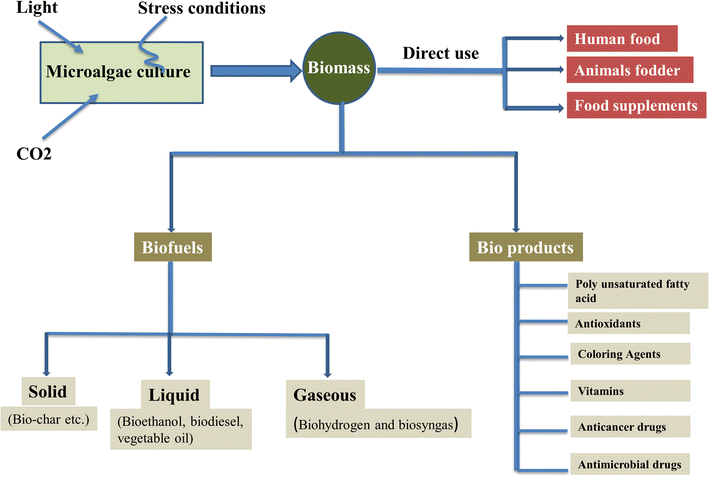 The industrial cultivation of microalgae to produce biofuels and bioproducts has increased dramatically over the last few decades [4]. Algae are produced in quantity and sold directly as food and nutrient supplements, while their processed products or extracts are used in biopharmaceuticals and cosmetics [5–7].
Bioenergy and microalgae
The rapid growing population of the world continuously increases the global demand for fuel energy. The intensive use of fossil fuels worldwide leads to its depletion and will bring them close to the point of exhaustion due to unsustainable and nonrenewable nature. Thus, biofuels are now a growing opportunity throughout the world as alternative to fossil fuels. Some developed countries are already producing biofuels at the commercial level. Biofuels such as biodiesel and bioethanol are proving to be excellent alternative fuels and can be produced from several resources of biomass, such as food crops, crop wastes or fruits, woody parts of plants, garbage, and algae [8, 9]. The advantageous features of biofuels produced from biomass are renewability and a significantly smaller contribution to environmental pollution and global warming. The emission of greenhouse gases mainly CO2 from burning of fossil fuels are the main cause of global warming. Fossil fuels are responsible for 29 gigatons/year release of CO2 with a total of 35.3 billion tons CO2 till now [10]. Biofuels including algal fuels have oxygen levels of 10–45% and very low levels of sulphur emission while petroleum-based fuels have no oxygen levels with high sulphur emission. Biofuels are non-polluting, locally available, accessible, sustainable and reliable fuel obtained from renewable sources. Microalgae algae-based fuels are ecofriendly, nontoxic and with strong potential of fixing global CO2. It has been reported that 1 kg of algal biomass is can fix 1.83 kg of CO2 furthermore some species use SOx and NOx as nutrient flow along with CO2 [11]. CO2 constitutes 50% of dry weight of algal biomass. The selection and development of biomass is a crucial, cost-limiting phase in biofuels generation for adjusting and optimizing energy structure and cost. Selection of biomass for biofuels production is also directly related to greenhouse gas emissions, environmental and economic sustainability [12]. The current focus is on microalgae as a feedstock for bioenergy production as the most promising raw material to compensate and balance the ever-increasing demands for biofuels, food, feed and valuable chemicals production [9, 10]. Many countries in Asia, Europe, and America have started industrialization of bioenergy from microalgae biomass.
Microalgae are rapidly growing photosynthetic organisms having potential of transforming 9–10% of solar energy (average sunlight irradiance) into biomass with a theoretical yield of about 77 g/biomass/m2/day which is about 280 ton/ha/year [13, 14]. At lager scale cultivation this yield is lower both in outdoor and indoor culture system. In Photobioreactors the actual yield is lower due to loss of absorbed active radiation [15–17], Proper shaking and mixing of the culture in the bioreactor is necessary for uniform distribution of light energy to avail the same strength to all the cells to convert maximum light energy to biomass.
In several aspects, microalgae feedstock is competent and preferable to produce biofuels for examples microalgae don not require cultivable land and fresh water for cultivation, they are not edible therefore no effect on human and animal's food chain, can be grown to serval folds irrespective to seasonal conditions, mitigation of atmospheric CO2 and treatment of waste water [18, 19]. Absence of lignocellulosic materials in microalgae cell wall facilitate the pretreatment process and reduce overall cost of production. Microalgae can feed on industrial wastes and the processing energy is less than the energy produced by the algae [20–22]. Second generation biofuels involve terrestrial plants, especially food crops as feedstocks, a highly controversial issue, since biofuels production from food crops can only occur at the expense of their use as food and feed. Additionally, crop foods require arable land and large amounts of water, which makes their use for fuel production unsustainable and thus, incomputable as alternative liquid fuels [23, 24]. The algal fuels technology is still incipient, and much improvement is required to make it commercially attractive to both, investors and consumers.
Most of the microalgae species are favorable for biodiesel production due to high lipids contents 50–70% and may reach to 80% such as in case of the microlaga B. braunii which accumulate up to 80% of oil in it biomass [25–27]. Microalgae are capable of producing algal oil 58,700 L/hac which can produce 121,104 L/hac biodiesels [11, 28, 29]. The infeasibility of algal biodiesel is due to the associated high operational, maintenance, harvesting and conversion cost [30].
Bioethanol is one of the major and clean biofuel used as transportation fuel. Bioethanol has many advantages over fossil fuels, such as (i) high octane number in bioethanol prevents knocking of cylinders in engines (ii) due to the presence of higher oxygen contents, bioethanol burning produces much less greenhouse-effect gasses (iii) Bioethanol is the only biofuel that can be used directly in the current automotive industry without any modifications (iv) Bioethanol can be mixed with oil [31–33]. Global production of biofuels has increased from 4.8 to 16.0 billion of gallons from 2000 to 2007 [34]. Currently, the USA and Brazil are the world leaders in the production of bioethanol. Their contribution is approximately 75–80% of the world total bioethanol production [32, 34]. The USA have 187 commercial bioethanol plants, which mainly produce bioethanol from corn grain [31]. In 2013, Brazil produced 37 billion l of bioethanol using sugar cane as the main feedstock. The European Union (EU), uses wheat and sugar beet as the preferred feedstock for bioethanol production and produces 2.0 billion gallons annually [31, 32].
Biofuels from renewable and sustainable feedstock are the future permissive energy sources in place of fossil liquid fuels. Today, bioethanol is the most common biofuel, mainly produced from sugars of corn and sugarcane, but the technology is now shifting towards algal carbohydrates as potential raw materials for bioethanol production [35–37]. Global bioethanol production has vigorously increased from 1 billion to 39 billion l within a few years and will reach 100 billion l soon [38].
Microalgae possess high contents of different carbohydrates, such as glycogen, starch, agar and cellulose, etc. which can be easily converted to fermentable sugars for bioethanol production [
39
]. Figure
2
presents carbohydrate-rich microalgae species suitable for algal bioethanol production.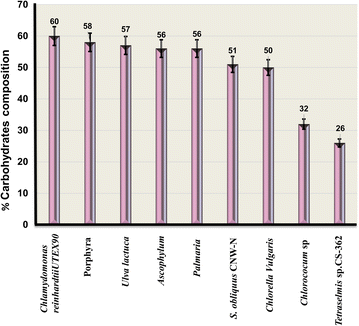 Extraction of the stored carbohydrates from algae cells needs lysis of the cells. This may be accomplished in different ways, such as enzymatic, acidic or solvent extraction. However, ethanol yields depend on the method followed for the extraction. The extracted sugars need pretreatment to break the polymer molecules to monomeric forms that can be subjected to microbial fermentation to yield bioethanol [8].
Bioethanol production from microlage is an excellent effort in the development of sustainable biofuels, still there are some challenges regarding large-scale production and commercialization of this clean biofuel. The main areas in the development of algal bioethanol technology, which should be optimized for the commercialization of bioethanol are, selection of the algal biomass, pretreatment and an efficient fermentation process. Fermentative ethanol yield greatly depends on the potential of the fermenting microorganisms used. The fermentation process should be carried out in an aseptic environment to avoid contamination, which greatly reduces final yields [40]. The potential of microalgae to become a competitive feedstock for bioethanol production will require a continued effort to overcome current limitations regarding (i) culturing algae and producing carbohydrate- rich biomass (ii) dewatering and harvesting (iii) pretreatment of biomass (iv) ensuring maximum yielding fermentation. Development of a cost-effective algal system can be achieved by improvement and optimization of each of the above mentioned. Both biomass and carbohydrate productivity of algal cells need to be increased for economical and feasible production of bioethanol [7]. Some carbohydrates rich microalgae like Chlamydomonas reinhardtii and Chlorella vulgaris are considered to be potential for techno-economic analysis (TEA) of bioethanol production [41]. TEA of commercial bioethanol production from microalgae estimate suitability of the plant with respect to total investment, total cost ant total net profit [42].
Increasing the feasibility of microalgae for higher bioethanol yields through fermentative production, requires careful consideration of several parameters. The key factor for economic feasibility of microalgae biofuels are maximizing the algal biomass with reduction of operational and maintenance cost [43]. It has been stated that the economic viability of algal fuels need at least more 10 years research and development to achieve a stable position [44]. US Renewable Fuels Standard (RFS) estimated to obtain 36 billion gallons of microalgae-based fuels by the year 2022 [45].
Microalgae based fuels are estimated to be economical for crude petroleum sell higher than 100 USD per barrel [46]. Although the algal biofuels are not yet economically feasible, there are many companies in USA, Europe and other regions of the word that are producing algal fuels at commercial scale [11]. According to the TEA model biodiesel from algal biomass below $5/gallon gasoline equivalent and bioethanol at the cost $2.95/gal are economically viable [47]. Some studies suggested the feasible and economically viable price of algae competitive to other biofuels is $1/L [18]. Several companies, e.g. Algenol, Sapphire Energy and Seambiotic etc. are involved in commercial scale production of bioethanol with output 1 billion gallons/year costing at 85 cents/l [48].
Algae culturing
Large-scale microalgae cultivation will decisively contribute to the development of a sustainable industry for biomass production as well as generating cost-effective high-value products. Many species of microalgae show potential for large-scale cultivation, but there is insufficient information to run commercial trials. A huge amount of microalgae biomass is required to compete with other feedstocks for sustainable production of bioethanol. Successful microalgae culturing technologies will need to create larger amounts of biomass, which will make the use of food stuffs for bioethanol production comparatively less attractive.
Microalgae can be cultured by different methods and under different conditions. They need light as an energy source to convert the absorbed water and CO2 into biomass through photosynthesis [49]. Photosynthetic products accumulate in various forms, such as cell components or storage materials, and vary from 20 to 50% of total biomass [25]. Algae also need nitrogen and phosphorus as major nutrients, which account for 10–20% of algae biomass [50]. Other requirements for growth are the macronutrients Na, Mg, Ca, and K; micronutrients, such as Mo, Mn, B, Co, Fe, and Zn; and other trace elements. Wastewater is a good source of the required nutrients for microalgae cultivation. Thus, application of organic effluents from the food and agriculture industries can nourish microalgae.
During growth, the algae cells pass through different phases (e.g., lag, exponential, stationary, death). Different species of microalgae may vary in their need for growth media. However, the major requirements are the same for almost all species and include essential nutrients, an organic or inorganic carbon source, nitrogen, phosphorus, and iron [51].
One of the most important parameters in algae culturing is the type of bioreactor used. This should be designed according to the species and the purpose of culture. On a large scale, algae can be cultured in open ponds (high-rate ponds). Open culture systems are comparatively inexpensive, but they become easily contaminated. Other bioreactors have continuous or batch culture facilities [52, 53]. Some species of algae grow very well in heterotrophic culture [54]. For commercial cultivation it is feasible to grow microalgae in waste water treatment plant to get dual advantages of water treatment and biomass production. See water is also a good alternative for commercial cultivation of microalgae. Using see water instead of fresh water for microalgae culturing will reduce the cost of production. Marin water is a good media for microalgae culture avoiding nutrients cost and enhancing productivity of lipids and other useful products in microalgae biomass [55]. Most recently ocean cultivation system has attracted attention for commercial scale production of algae due the advantages like mixing of the culture by ocean waves, utilizing dissolve nutrients large area availability, etc. which result in the reduction of culturing and maintenance cost [55–57].
To make the algae biotechnology sustainable, feasible and economically viable it is necessary to develop successful culturing technologies for targeted production of biomass. For a feasible algal culture, the biomass output should be > 30 g/m2-day [58]. Approximately 40,000 different species of microalgae have been reported [59]. Microalgae culture depends on the species and is affected by factors such as nutrient availability (N, P, K, etc.), temperature, pH, salinity, inorganic carbon, oxygen, light intensity, and CO2 [60]. Other important factors that determine the success of culture include stirring and mixing, width and depth of the bioreactor, harvest frequency, and dilution rate. Following are the important parameters of culture which has great influence and impact on the overall yield of biomass and bioproducts in microalgae.
Modifications and improvement of the algal strains
The future feasibility of bioethanol as an alternative to fossil fuels will largely depend on its economic advantages. At present, microalgae biomass production does not permit commercial production of bioethanol [99]. The low carbohydrate content in algal biomass is a strong limitation. The amount of algal carbohydrate can be induced to reach a higher level than normal, either by controlling environment conditions or by introducing genetic modifications. Growing algal cells under certain stress conditions can alter certain biochemical pathways, leading to enhanced synthesis of carbohydrates [100, 101]. These stress conditions may be limitation of nutrients, such as nitrogen and phosphorus; change in light intensity, salinity of the growth media, or pH; or application of UV radiation. Regarding genetic modification, metabolic pathways inside the algal cell can be modified to increase the production of carbohydrates, lipids, and other important compounds of interest [102, 103]. It is important to select microalgae strains that allow easy, multidimensional modification of biochemical pathways. This novel approach uses new, powerful, rapidly evolving genetic engineering tools to identify and selectively modify the right genes.
Hence, efforts are increasing to develop carbohydrate-rich microalgae strains with the help of engineering approaches. Rapid development in genetics has made a number of transformation methods available, and successful trials encourage the use of genetic tools for a variety of purposes. Although the technology has not made satisfactory progress in the field of algal bioethanol yet, expectations for the near future are high.
Pretreatment of algal biomass
Pretreatment of algal biomass involves the degradation or disruption of biomass to convert, accumulate, and process the carbohydrates and lipids it contains (Fig.
3
). On a large scale, biomass pretreatment is a bottleneck and potentially costly step in biofuels production. Many different methods have been described for the pretreatment of algal biomass, but there is still no optimal, highly productive method. Researchers need to develop feasible and economical methods of biomass pretreatment for bioethanol production, optimized for different feedstocks.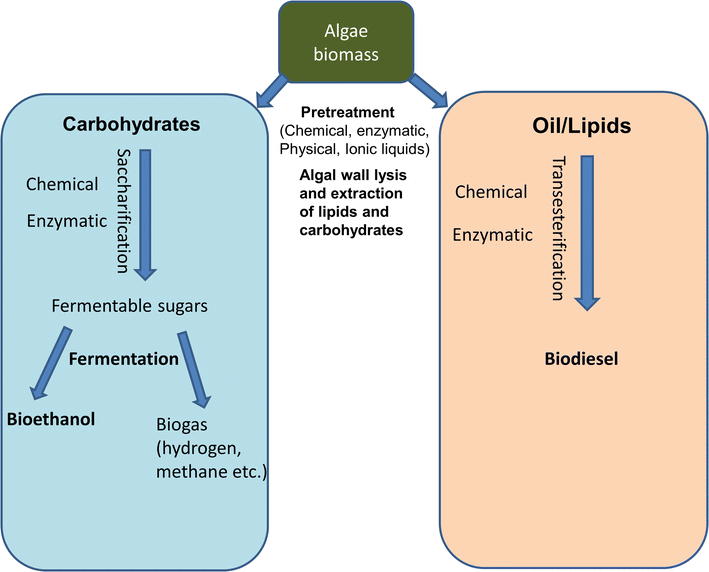 Pretreatment of the algal biomass for fermentation involves lysis of algal cells to release the stored carbohydrates from inside the cells. The next step is the saccharification of the accumulated sugars to monomeric units, as fermenting microorganisms can only convert the fermentable forms of sugars (disaccharides and monosaccharides, usually hexoses and pentoses) into ethanol [104]. Algal biomass for bioethanol production is usually pretreated with acids and alkalis. Depending on the purpose of pretreatment, chemical, biological, thermochemical, or thermophysical methods are used, sometimes in combination [105, 106]. After lysis of the cells the macromolecules of sugars need saccharification which mean to break the α-(1 → 4), α-(1 → 6), β-(1 → 3) and β-(1 → 6) glycosidic linkages between the monomers to release the monomers units [107]. Lignocellulose present in the biomass impedes the pretreatment process, as this material is recalcitrant to conversion. The amount of lignocellulose also increases the cost of the whole pretreatment process. Hence, it is ideal if algal biomass has few or no lignocellulosic components present. This would make it economically more competitive than other feedstocks, such as terrestrial plants [108, 109]. Furthermore, the presence of cellulose in algal cell walls requires efficient degradation and conversation, approaches that also need to be optimized.
Algal biofuels technology needs to face the challenges of biomass harvesting and efficient pretreatment at low cost, with reduced emission of gases and high yields with scalable co-products. As different products are obtained from different source materials, pretreatments of biomass are often related to the products of interest. Thus, mechanical methods of pretreatment yield biodiesel, while enzymatic and chemical methods (including acidic hydrolysis) are used in bioethanol production, because fermentative bioethanol production requires degradation of cellulose, hemicellulose, and starch. In some cases, hydrothermal methods are also applied in combination with these. The cost of pretreating microalgae is far less than that of pretreating terrestrial plant biomass. Microalgae store photosynthetic products as cellulose, starch, and hemicellulose; some species also accumulate galactan. Algal cells are almost like lakes of lignin, which makes them a suitable and preferable feedstock for bioethanol production. Some of them contain other forms of carbohydrates that can be fermented to produce bioethanol and chemical feedstocks.
Hydrolysis with acids or enzymes can release fermentable sugars from algal carbohydrates for bioethanol production [8, 110, 111]. Acid hydrolysis is considered more effective than physical and thermal methods, but it requires high-temperature treatment (between 120 and 200 °C) to degrade algal biomass and convert the polymeric sugars of algal cells (e.g., starch and cellulose) to monomeric units. Strong acids, such as hydrochloric acid, sulfuric acid, and nitric acid, are commonly used. Acid strength, duration of treatment, and temperature considerably affect the yield of acid hydrolysis. Weak acids cannot successfully lyse the cells to extract the inner sugars, while excessively strong acids reduce sugars to furfural, thereby decreasing the final yield of monomeric sugars. In addition, furfural and its derivatives are toxic for the fermenting microorganisms, diminishing or even completely inhibiting fermentation [112, 113].
Some researchers have used mechanical methods, such as ultra-sonication, microwaves, and beating, to degrade algal biomass [114, 115]. Mechanical methods can be combined with chemical methods to reduce chemical waste and enhance the pretreatment process. They do not contaminate the environment, but they do impose higher costs, due to the consumption of energy [116, 117]. Enzymatic pretreatment of algal biomass is more productive and advantageous for fermentation processes [118, 119]. Enzymes such as amylases, cellulases, and invertases are common catalyzers that can hydrolyze a specific sugar substrate by selectively breaking the linkages between the units of the polysaccharide and releasing the monomer sugars. However, the high cost of enzymes makes this method exceedingly expensive for large-scale biomass pretreatment. An appropriate solution is to identify a microorganism that can overexpress the genes encoding these enzymes [120].
Fermentation of the algal sugars to generate bioethanol
Fermentation is the biological process whereby sugars are converted to bioethanol by the action of fermenting microorganisms. Fermentable sugars, such as glucose, fructose, maltose, and rhamnose, are used as substrates by microorganisms in the fermentation process, which converts them to ethanol and CO2 [121, 122]. Several types of microorganisms, such as bacteria, yeasts, and fungi, have been identified for their potential for fermenting sugars to bioethanol [123–125]. The yield and quality of the bioethanol produced is strongly dependent on the fermentation process, which is affected by several factors, such as temperature, pH, oxygen, substrate concentration, and the fermenter organism used [126–130].
The algal sugars are excellent materials for bioethanol production. As mentioned above some species of microalgae are most adventitious for bioethanol production due to their higher sugars profile. However, the carbohydrates in algal biomass are mostly in polymeric form and need conversion to monomers unit to be readily fermented by microorganisms to produce bioethanol [131]. Veracious scientist reported various yields of fermentable sugars and ethanol from different species and strains of microalgae.
Scenedesmus dimorphus accumulated 53.7 w/w carbohydrate contents which on hydrolysis with sulfuric acids produced 80% fermentable sugars, indicating its feasibility for bioethanol production [132]. 11.7 g/l final ethanol yield was reported from Chlorella vulgaris [111]. Sivaramakrishnan et al. [133] recently reported 93% of ethanol yield from fermentation of Scenedesmus sp. derived sugars.
To scale up the fermentation process and define a commercialization strategy for bioethanol, the problems associated with alcoholic fermentation must be overcome. For bioethanol production to be viable, all the different types of sugars (pentoses and hexoses) must be converted to bioethanol. Fermenting microorganisms are substrate-dependent, so the substrate should be chosen carefully to maximize yields. Algae biomass contains different types of fermentable sugars, therefore combination of the fermenter microorganisms is preferable and effective, because different microorganisms have different rates of conversion for different substrates [134].
Use of microalgae for food feed and bioproducts
The indigenous use of algae as food sources is an ancient practice. Many species of green algae have been utilized as food from ancient times [135]. Cultivation of microalgae started only a few decades ago, when it became clear that the fast-growing world population was likely to suffer a lack of protein-rich food stuffs [136]. Microalgae are an excellent source of food and other important bioproducts, such as natural antibiotics [137–139]. The world energy crisis in the 1970s led to the identification of algae as renewable and sustainable sources for biofuels production, prompting the exploration of microalgae as a new field of research for fuels and other valuable products [10, 140]. The first large-scale culture of the microalga Chlorella for commercial purposes was reported in Japan, in the 1960s [141]. Over the last few decades, algae culturing expanded to new fields, such as food and feed, biofuels, and biopharmaceuticals. Natural products in algal extracts are used in cosmetics and medicinal products [5]. According to one estimate, about 5000 metric tons of dry algal biomass processed for bioproducts generates US$ 1.25 × 109 each year [140].
Microalgae produce a wide range of other commercially important and valuable products. They produce vitamins, which elevates their importance as a nutritional food for people and animals [136, 142]. They also produce different types of medicinally important polysaccharides. Various species produce bioactive and commercially important pigments, such as chlorophyll, β-carotene and other carotenoids, phycobiliproteins, and astaxanthin. These pigments are crucial in therapies for tumorigenesis, neuronal disorders, and optical diseases. Microalgae are also rich sources of protein. Their production of essential amino acids increases their potential for use as protein-rich foods [143, 144]. Microalgae synthesize starch, cellulose, hemicelluloses, and other polysaccharides from simple monomeric sugars: basically, glucose. The higher amounts of carbohydrates in algal cells make them an important food source [144]. Microalgae also produce and accumulate large amounts of lipids, which vary among species and are affected by various factors [145]. Lipids in algal cells are present mainly in the form of glycerol, esterified sugars to different types of fatty acids (12–22 carbon atoms). Algal fatty acids have nutritional and medicinal applications. Most of the substances produced by microalgae have therapeutic effects. Therefore, a new area of research is extracting and identifying substances from microalgae and determining their biological and medicinal activities. Microalgae are becoming economical sources of natural substances for use as food and in cosmetics [146].
Pharmaceuticals on the market mainly consist of tablets or liquid forms of health-promoting substances, but several microalgae species are available as a supplement of various active substances in extract form, a new trend in the market. The microalgae market is growing due to the increasing demand for beneficial algal food and health products [147]. Polyunsaturated fatty acids produced by microalgae are important commercial products of high therapeutic value for cardiac diseases, asthma, and arthritis [148]. Many important microalgae products, such as eicosapentaenoic acid and docosahexaenoic acid (DHA), have been marketed by various biotechnological companies. Some species of microalgae produce protective substances against free radicals to prevent oxidative stress. These compounds are utilized as antioxidants in nutraceuticals and foods.
Researchers are taking a keen interest in algal substances with antioxidant properties that may be used in beverages and functional foods. These natural substances are highly important in pharmaceutical formulations for the treatment of free radicals and oxidative stress–associated diseases and complications. Blue-green microalgae (cyanobacteria) are rich in various pigment compounds that enhance the efficiency of light energy utilization (phycobiliproteins) and protect photosynthetic pigments from photo-oxidation (carotenoids). Currently, microalgae products with high nutritional value are available both in pure form as extracts, tablets, or capsules and as additives to several food products, such as candy bars, gums, pastas, and beverages [149]. These products are either used as nutrients or food coloring agents. Many microalgae strains, such as Aphanizomenon flos-aquae, Chlorella, and Arthrospira, are being cultured at a commercial scale for their high protein content and other health-promoting substances [143]. These products reportedly have important biological effects, such as anti-hyperglycemia and anti-hyperlipidemia, which are helpful in diabetes and obesity control because they affect the elevated serum glucose level.6
Stress conditions
Although microalgae have many potential applications for biofuel and other useful products, 48 their production has not been fully commercialized because of several obstacles and challenges. Under normal conditions, microalgae may not produce important metabolites or produce them only in very small amounts. However, microalgae can be induced to synthesize these compounds by subjecting them to stressful conditions. This property of microalgae is considered very important for enhanced production of carbohydrates, lipids, astaxanthin, and other products [150, 151]. Stress conditions are unfavorable environmental factors, such as strong light, high salinity, high temperature, deprivation of nitrogen or other nutrients, short-term exposure to UV radiation, or a combination of these factors [152].
Astaxanthins are multifunctional carotenoids usually obtained from Haematoccocus pluvialis. This microalga synthesizes astaxanthin in response to environmental stress [153]. Microcystis sp. also synthesizes many important metabolites in response to unfavorable conditions, as a defense mechanism. Microcystis aeruginosa produces blooms in response to unfavorable environmental conditions, with excessive synthesis and release of toxic metabolites known as microcystins. Many researchers have reported that cyanobacteria produce compounds in response to environmental stress [154] Synthesis of microcystins and other metabolites by M. aeruginosa is greatly induced and influenced by light intensity, temperature, pH, and nutrients, such as carbon, nitrogen, and phosphorus [155].
Significant compounds produced by microalgae
Some of the highly valuable bioactive products isolated from microalgae are discussed below. Figure
4
shows their chemical structure.
Biological activities of natural products from microalgae
Conclusions
Microalgae are tiny factories and renewable, sustainable and economical sources of biofuels, bioactive medicinal products and food ingredients. Microalgae useful in mitigation of elevated CO2 level and treatment of waste water. Upgradation of algal fuel and bioproducts technology from pilot scale to commercial level is possible by overcoming the associated challenges and limitations. In this review we describe the extensive applications of the microalgae in bioenergy, nutraceutical and pharmaceutical industry, the associated challenges and limitations and how it can be overcome to make them feasible and viable for commercialization.
Declarations
Authors' contributions
MIK wrote the manuscript and analyze the data. MIK and JDK collected the information and reviewed literature. MIK, JDK and JHS revised the manuscript. All authors read and approved the final manuscript
Acknowledgements
Not applicable.
Competing interests
The authors declare that they have no competing interests.
Availability of data and materials
All the data and materials can be found main text.
Consent for publication
All the authors agree to submission.
Ethics approval and consent to participate
Not applicable.
Publisher's Note
Springer Nature remains neutral with regard to jurisdictional claims in published maps and institutional affiliations.
Open AccessThis article is distributed under the terms of the Creative Commons Attribution 4.0 International License (http://creativecommons.org/licenses/by/4.0/), which permits unrestricted use, distribution, and reproduction in any medium, provided you give appropriate credit to the original author(s) and the source, provide a link to the Creative Commons license, and indicate if changes were made. The Creative Commons Public Domain Dedication waiver (http://creativecommons.org/publicdomain/zero/1.0/) applies to the data made available in this article, unless otherwise stated.
Authors' Affiliations
(1)
Department of Biotechnology, Chonnam National University, Yeosu, South Korea
(2)
Research Center on Anti-Obesity and Health Care, Chonnam National University, Yeosu, South Korea