Whole-cell biocatalysts by design
Microbial Cell Factories
2017
16:106
Received: 28 December 2016
Accepted: 8 June 2017
Published: 13 June 2017
Abstract
Whole-cell biocatalysts provide unique advantages and have been widely used for the efficient biosynthesis of value-added fine and bulk chemicals, as well as pharmaceutically active ingredients. What is more, advances in synthetic biology and metabolic engineering, together with the rapid development of molecular genetic tools, have brought about a renaissance of whole-cell biocatalysis. These rapid advancements mean that whole-cell biocatalysts can increasingly be rationally designed. Genes of heterologous enzymes or synthetic pathways are increasingly being introduced into microbial hosts, and depending on the complexity of the synthetic pathway or the target products, they can enable the production of value-added chemicals from cheap feedstock. Metabolic engineering and synthetic biology efforts aimed at optimizing the existing microbial cell factories concentrate on improving heterologous pathway flux, precursor supply, and cofactor balance, as well as other aspects of cellular metabolism, to enhance the efficiency of biocatalysts. In the present review, we take a critical look at recent developments in whole-cell biocatalysis, with an emphasis on strategies applied to designing and optimizing the organisms that are increasingly modified for efficient production of chemicals.
Keywords
Whole-cell biocatalysisDesignOptimizationBiosynthetic pathwayCofactor balanceMetabolic engineeringSynthetic biology
Background
Developing sustainable bio-based processes for production of fuels, chemicals, and materials is increasingly attractive due to increased concern for the environment. Chemical synthesis processes are generally high-yield, however they are often environmentally unfriendly and are associated with the production of unwanted byproducts, thus reducing efficiency and increasing downstream costs. In comparison with chemical catalysis, whole-cell biocatalysis offer some unique advantages (Table
1
) and provides an efficient and environmentally friendly alternative to traditional chemical synthesis for production of bulk and fine chemicals [
1
,
2
]. In the past several decades, many biocatalytic processes have been implemented to produce a wide variety of products in various industries [
3
,
4
]. The most important advantage of a biocatalyst is its high selectivity. The high selectivity, including regio-, chemo-, diastereo- and enantioselectivity, is very desirable in chemical synthesis and produces benefits such as reduced (or zero) use of protecting groups, minimized side reactions, easier separation of products, and fewer environmental problems [
5
]. Other advantages such as multi-step reactions in single strain with cofactor regeneration; high catalytic efficiency and mild conditions are also very attractive in commercial applications. In some cases, such as the asymmetric synthesis of chiral target compounds or the synthesis of some sophisticated chemicals, generating the desired products by traditional chemical means is challenging, and biotransformations can be the solution to these challenges. In addition, according to the FDA and European legislation, products obtained by biotechnological methods can also be considered natural, if the substrate for the process is of natural origin [
6
]. The label of natural is important for the profitability of bioprocess produced products. For example, 2-phenylethanol (2-PE) obtained by chemical synthesis from benzene or styrene is of a price about US$5/kg. However, natural 2-PE is about US$ 1000/kg [
7
]. By far, 20.4–26.5 g/L 2-PE (space–time yields of 0.3 g/L/h) can be achieved in bioprocess [
8
,
9
]. The yield of bioprocess may be not as high as chemical synthesis (yield >98%) [
10
]. The label of "natural" and difference in price of a natural compound and its chemically synthesized counterpart can be considerable. Therefore, whole-cell bioprocess holds promise to be the commercially viable route to produce compounds that used in food, beverages, and cosmetics field. The most common drawbacks of biocatalysts include the presence of substrate or product inhibition, the presence of metabolic by-products, and the membrane acting as a mass transport barrier. A biocatalyst can be tailored with protein engineering and metabolic engineering methods to cope with these constraints. Nonetheless, conventional chemical synthesis still remains the staple of the chemical and pharmaceutical industries by far. The most important reason for industry to not shift to bio-based production of chemicals is its higher production cost. A multi-pronged approach to constructing efficient whole-cell biocatalysts and improved production processes would be required.
Table 1
Advantages and disadvantages of whole-cell biocatalysis in comparison with chemical catalysis
Advantages

Disadvantages

High selectivity (which can be chiral, positional, and functional group-specific)

Catalyst stability: biocatalyst is susceptible to substrate or product inhibition; inactivation may occur at high temperatures, at extremes of pH, or in organic solvents

High catalytic efficiency

The cell membrane may act as a mass transport barrier

Multi-step reactions in single strain with cofactor regeneration

Much more likely to have undesirable metabolic by-products, which may be toxic to the cells and difficult to separate

Recycling is sometimes possible

Milder operational conditions

Environmentally friendly
Whole-cell catalysis approaches can broadly be classified into biotransformation (biocatalysis) and fermentation bioprocesses. In fermentations, the products are synthesized from growth substrates via the host cells' native metabolism and are accompanied in the fermentation broth by metabolic intermediates that make downstream processing complicated [11, 12]. In biotransformations, cell growth (the enzyme manufacturing phase) and production phase are separated. Substrates are converted to the desired products by resting cells [3, 13]. The key advantages of whole-cell biocatalysis are its abilities to use cheap and abundant raw materials and to catalyse multistep reactions. Gehring et al. reported the synthesis of rhamnolipids from the cheap raw material butane using a tailored whole-cell biocatalyst. The AlkBGT system from Pseudomonas putida (for butane activation) and the RhlABC system from Pseudomonas aeruginosa (for rhamnolipid assembly) were integrated into the cell strain to result in rhamnolipid biosynthesis that used butane as the sole carbon and energy source. This approach represents a one-pot convergent total synthesis with more than 25 steps [14]. Whole-cell biocatalysts that include active enzymes or pathways make the time-consuming and material-intensive enzyme purification process more efficient. In addition to this upstream simplification, downstream processing can also be simplified, further decreasing environmental and economic costs [13]. In an economic evaluation of a process, the cost of the product is considered. The cost of a product (US$/kg) = A + B/Yield + C/Pv, where A is the capital cost, B is the raw material cost and C is the operating cost. Here, Pv is the volumetric productivity in the unit of g/L/h. Cheap raw materials, efficient bioconversion, and the ability to reuse the biocatalyst many times reduce the cost of product and make whole-cell biocatalysis very cost-competitive with fermentation [12, 15–19].
Efficient whole-cell biocatalysts are very important for an economically feasible biocatalysis process with optimal titre, yield and productivity. The principles for designing whole-cell biocatalysts for bioconversions are quite different from those for designing the microbial cell factories that are used in fermentations [15–19]. Single or multiple enzymes, depending on the complexity of the synthetic pathway that produces the target products from the feedstock, need to be introduced into host cells to construct whole-cell biocatalysts for the production of value-added chemicals. It is important to consider whole cells, in their entirety, as catalysts and not only focus on the individual active enzymes to fully exploit the synthetic potential of microbial biocatalysts. Maximizing the flux through a synthetic pathway plays a pivotal role in obtaining the best volumetric productivity of a bioconversion, which thus lowers the production cost of the targeted chemicals. The emerging tools of synthetic biology, integrated with comprehensive omics data, facilitate metabolic engineering of microbial cells at an unprecedented level, holding promise for the development of a balanced, stable, productive, and efficient whole-cell workhorse platform [20, 21].
Escherichia coli is perhaps the most widely used microbial platform for cell factories. This dominance is largely because of its well-studied genetic background, a mature and powerful genetic toolset for metabolic engineering, and relatively well-developed fermentation processes with low-cost raw materials [12, 13, 16]. Whole-cell biocatalysis has even been implemented by coupling two recombinant strains [22–24]. The catalytic efficiency of such processes is low due to high mass transfer resistance, and the processes are generally too complex for use on an industrial scale [25, 26]. Assembling the synthetic pathways in a single strain reduces the mass transfer problem by avoiding the transfer of intermediates and thus greatly simplifies the operation [16, 27]. Whole-cell biocatalysis using engineered E. coli seems to be the most promising method and offers the potential for large-scale and low-cost production. Consequently, this review focuses on whole-cell biocatalysis using microbial cell factories based on E. coli.
Biocatalysis using a single strain as the sole catalytic unit can offer a broad scope of substrates that is not limited to natural pathways and thus opens the door to versatile multistep biocatalysis. Additionally, whole-cell biocatalysts can be rationally designed and readily tailored to their specific applications. In this review, we summarize the different strategies and efforts that have been used in designing and optimizing various whole-cell biocatalysts to convert cheap feedstocks to value-added chemicals.
Advantages of whole-cell biocatalysis
Efficiency
Whole-cell biocatalysts allow for the facile implementation of enzymatic cascades that span multiple reactions, with an integrated supply of the myriad cofactors that are needed for such complex biotransformations [12]. This internal supply greatly simplifies cofactor regeneration and makes the addition of expensive external cofactors unnecessary. Furthermore, the presence and protective nature of the cellular envelope helps stabilize the enzymes and can enable enzyme applications under harsh reaction conditions [16, 28]. Moreover, the close proximity of reactants and catalysts, as well as the inherent presence of what would otherwise be expensive external cofactors, greatly improves biocatalyst efficiency [12, 28].
Catalyst cost
As with any catalytic process, the cost and stability of the catalyst are highly relevant to its economical application in chemical manufacturing [2]. The use of whole cells circumvents the need for cell lysis and enzyme purification that is associated with biocatalysis with isolated enzymes and inherently greatly reduces the catalyst cost. No external cofactors are needed because the expensive cofactors can be supplied and regenerated by the cell, which also reduces the cost. Whole-cell biocatalysts are generally more readily prepared, the cost of fermentation is usually not prohibitive, and furthermore, the cells can often be used repeatedly [12, 16]. Therefore, whole-cell biocatalysts have outstanding inherent cost advantages.
Downstream processing
Typical biotransformation processes comprise two stages: growth of the living "catalyst" and conversion of the substrate(s). After cells are cultured, they are harvested and washed with water or a buffer solution and suspended in the desired buffer for biocatalysis. When the cells are washed, unconsumed growth substrates and nutrients, as well as undesired metabolites that were produced during growth, are removed from the system, allowing significantly better product recovery rates and greatly simplifying downstream processing [28]. Furthermore, the removal of necessary nutrients arrests cell growth, and resting cells can produce higher yields from their carbon source since the available carbon and energy is overwhelmingly used for product synthesis instead of biomass production [13].
Whole-cell biocatalyst design principles
The construction of effective whole-cell biocatalysts requires that single or multiple enzymes are introduced into host cells to construct synthetic pathways for the conversion of the desired feedstocks into the targeted products. Metabolic engineering and synthetic biology efforts aim to enable rational design and construction of biosynthetic pathways that maximize the pathway flux to products by providing preoptimized chassis cells that enhance the production of target compounds. The strategies that are employed in the design and optimization of whole-cell biocatalysts are discussed below (Fig.
1
).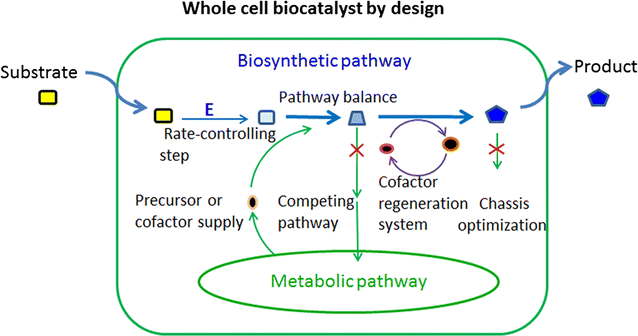 Process engineering
To develop an economically feasible whole-cell biocatalysis process, in addition to the rational design of whole-cell biocatalysts, it is of great importance to also optimize the entire production process to achieve economic viability. Whole-cell biocatalysis processes must, by definition, involve a growth process and a substrate conversion process. Cells are cultured, removed from the growth medium and then resuspended in different biotransformation media to convert substrates into desired products [3, 13]. Several considerations influence the optimal growth of the biocatalyst, as with any fermentation, but the major issues regarding their use in biotransformations are the expression level(s) of the enzyme(s) of interest and the biomass yield. For most whole-cell biocatalysts that contain multistep pathways, coordinated expression, but not necessarily overexpression of the many enzymes involved in the pathways, is of great importance [16, 41, 49, 51]. A good balance is a prerequisite for the efficiency of the biocatalyst. In single-step biotransformations, on the other hand, optimal overexpression of a single enzyme is usually sought [29, 30]. In both cases, biomass is an important factor to consider in the cell growth process since a higher biomass, especially if obtained from a cheap fermentation medium, means a lower cost of the biocatalyst.
To implement a whole-cell biotransformation, the substrate of interest must be transported across the cell membrane to reach the active enzyme or enzyme system. The same issues exist for the product. Even though the substrate can usually enter the cell by passive diffusion [28], mass transport must be considered. The mass transfer resistance is mainly caused by the cell membrane, which acts as a mass transport barrier for both the substrate and the product. Several studies have shown that it is possible to improve substrate transfer across cell walls and membranes by increasing their permeabilization level by chemical (detergents and solvents) or physical (e.g., temperature shock) means. For example, surfactants and organic solvents (Triton X-100, Tween 80, Xylene and CTAB) were added to the reaction mixture to enhance the transport of GlcNAc into cells, which resulted in improved production [16, 23, 39]. The permeabilized cells effectively had "holes" in their cellular membrane while leaving enough of the cell membrane and cell wall intact to contain the enzymes and other macromolecules [13]. This technique is especially useful when transport issues are found to be limiting.
Conclusion and perspective
Whole-cell biocatalysts can convert cheap feedstocks into complex, value-added fine chemicals with a range of applications in pharmaceutical and chemical industries. What is more, efficient whole-cell biocatalysts can increasingly be rationally designed. The present work reviews strategies for the metabolic engineering of whole-cell biocatalysts based on the well-established E. coli platform. As described above, advances in metabolic engineering and synthetic biology have markedly improved the productivities and yields of products that are synthesized using whole-cell biocatalysts.
Despite the advantages outlined in this article, there are certain limitations that should be considered. The mass transport barrier that the cell membrane represents is one limitation. Cells often have a specific system to transport compounds in or out of the cell. Enhancing the transport system may help the transportation of substrates and products. Another method that can be used to improve substrate transfer across cell walls and membranes is to increase their permeabilization level by chemical means. However, these methods may damage the cell integrity and cause leakage of cellular components, complicating downstream process engineering; therefore, the best conditions for permeabilizing cells should be determined. Second, metabolic engineering strategies that are used in rational strain design involve the overexpression, deletion or down-regulation of genes in their native metabolic pathways [46, 71, 72]. However, a precise control of native gene expression levels is important for cell growth. Total deletion or overexpression of metabolic branches can sometimes result in poor growth and thus in poor biocatalyst expression, especially when the targets are in the central metabolic pathways. Several recent studies aimed at overcoming these limitations have focused on the experimental and theoretical advantages that are associated with the dynamic control of enzyme levels [72–77]. For example, a molecular switch for the dynamic control of gene expression is expected to activate target gene expression in the cell growth phase and deactivate it in the bioconversion stage. The whole-cell biocatalyst will be in its optimal state for cell growth and for efficient biotransformation when such dynamic control is used.
Whole cell biocatalysis has been successful in bioconverting non-native substrates into target products. However, challenges still remain when whole-cell biocatalysis uses glucose as a substrate for fine chemical production. Although cells are in a resting state in the conversion stage, the enzymes of central metabolism are still active; thus, the introduced biosynthesis pathways compete with the native enzymes of the central pathways for substrates and energy. Metabolically engineering targets in the central metabolic pathways would affect cell physiology and lead to fluctuations in cell growth. Redirecting fluxes of central metabolism to cell growth or to biosynthesis pathways through dynamic control of native enzyme expression are expected to solve the problem [72–77]. Dynamic gene expression profiles enable better management of the balance between growth and chemical production and can thus help avoid accumulation of undesired intermediates.
The increasingly sophisticated synthetic biology and metabolic engineering toolbox is already having an impact on the number and frequency of reported successful whole-cell biocatalytic processes. This field will thus be highly dynamic for the foreseeable future.
Abbreviations
E. coli :

Escherichia coli
TCA:

tricarboxylic acid cycle
ED:

Entner–Doudoroff pathway
PP:

pentose phosphate pathway
NAD(P)H:

nicotinamide adenosine dinucleotide (phosphate)
7-ADCA:

7-aminodeacetoxycephalosporanic acid
Declarations
Authors' contributions
BL investigated references and wrote the review; YT outlined and assembled the manuscript. Both authors read and approved the final manuscript.
Acknowledgements
The research carried out in our laboratory was supported by the National Natural Science Foundation of China (31670051).
Competing interests
The authors declare that they have no competing interests.
Publisher's Note
Springer Nature remains neutral with regard to jurisdictional claims in published maps and institutional affiliations.
Open AccessThis article is distributed under the terms of the Creative Commons Attribution 4.0 International License (http://creativecommons.org/licenses/by/4.0/), which permits unrestricted use, distribution, and reproduction in any medium, provided you give appropriate credit to the original author(s) and the source, provide a link to the Creative Commons license, and indicate if changes were made. The Creative Commons Public Domain Dedication waiver (http://creativecommons.org/publicdomain/zero/1.0/) applies to the data made available in this article, unless otherwise stated.
Authors' Affiliations
(1)
CAS Key Laboratory of Microbial Physiological and Metabolic Engineering, Institute of Microbiology, Chinese Academy of Sciences, Beijing, People's Republic of China