Biosynthesis of catechol melanin from glycerol employing metabolically engineered Escherichia coli
Microbial Cell Factories
2016
15:161
Received: 21 June 2016
Accepted: 14 September 2016
Published: 22 September 2016
Abstract
Background
Melanins comprise a chemically-diverse group of polymeric pigments whose function is related to protection against physical and chemical stress factors. These polymers have current and potential applications in the chemical, medical, electronics and materials industries. The biotechnological production of melanins offers the possibility of obtaining these pigments in pure form and relatively low cost. In this study, Escherichia coli strains were engineered to evaluate the production of melanin from supplemented catechol or from glycerol-derived catechol produced by an Escherichia coli strain generated by metabolic engineering.
Results
It was determined that an improved mutant version of the tyrosinase from Rhizobium etli (MutmelA), could employ catechol as a substrate to generate melanin. Strain E. coli W3110 expressing MutmelA was grown in bioreactor batch cultures with catechol supplemented in the medium. Under these conditions, 0.29 g/L of catechol melanin were produced. A strain with the capacity to synthesize catechol melanin from a simple carbon source was generated by integrating the gene MutmelA into the chromosome of E. coli W3110 trpD9923, that has been modified to produce catechol by the expression of genes encoding a feedback inhibition resistant version of 3-deoxy-d-arabino-heptulosonate 7-phosphate synthase, transketolase and anthranilate 1,2-dioxygenase from Pseudomonas aeruginosa PAO1. In batch cultures with this strain employing complex medium with 40 g/L glycerol as a carbon source, 1.21 g/L of catechol melanin were produced. The melanin was analysed by employing Fourier transform infrared spectroscopy, revealing the expected characteristics for a catechol-derived polymer.
Conclusions
This constitutes the first report of an engineered E. coli strain and a fermentation process for producing a catechol melanin from a simple carbon source (glycerol) at gram level, opening the possibility of generating a large quantity of this polymer for its detailed characterization and the development of novel applications.
Keywords
Metabolic engineeringMelaninCatecholTyrosinase Escherichia coli
Background
Melanins are polymeric pigments found in most biological groups [1]. These compounds have diverse functions, mostly related to stress protection from physical and chemical factors. Melanins result from the oxidative polymerization of phenolic and indolic compounds [2]. Monomer precursors for the various types of natural melanins include l-tyrosine, l-3,4-dihydroxyphenylalanine, homogentisic acid, 1,8-dihydroxynaphthalene, glutaminyl-3,4-dihydroxybenzene and catechol [3, 4]. The first step in the synthesis of melanins involves the enzyme-catalysed oxidation of the precursor monomers into their respective quinones, which undergo further spontaneous oxidation to generate the high molecular weight melanins. Tyrosinase and lacasse have been identified as the enzymes involved in melanogenesis in various microbial species. These are copper-containing oxidoreductases, which can employ as substrates various mono- and polyphenolic compounds [5, 6].
Diverse studies have determined potential industrial applications for melanins. These polymers can act as UV absorbers, scavengers of free radicals and reactive oxygen species, amorphous semiconductors, cation exchangers, X and γ-ray absorbers [2, 7, 8]. Melanins can also serve as a template for the synthesis of silver and gold nanostructures with potential uses in the medical and food industries [9, 10]. Considering the physicochemical complexity and diversity of melanins, it is expected that further industrial applications will be found in the near future.
There is considerable interest in the development of production processes for obtaining melanins with high purity and at a relatively low cost. The biotechnological production of melanin derived from l-tyrosine (eumelanin) has been reported employing recombinant Escherichia coli strains. This has been achieved by the heterologous expression of the gene encoding the enzyme tyrosinase from the bacteria Rhizobium etli or Streptomyces antibioticus [11–13]. The production processes with these recombinant microorganisms are based on the conversion of l-tyrosine that is supplemented to the culture medium, into melanin in liquid cultures. In a recent development, an E. coli strain was modified by metabolic engineering to transform glucose to melanin by increasing its capacity to synthesize the precursor l-tyrosine and simultaneously expressing the gene encoding tyrosinase from R. etli [14].
Most efforts directed towards the biotechnological production of melanins have been directed to eumelanin. This is motivated in part because humans produce eumelanin. However, other types of melanins have physicochemical properties different from those of eumelanin and thus have particular potential applications. The allomelanins are polymers derived from catechol or other substrates. A recent study has demonstrated that a melanin synthesized by the basidiomycetous fungus
Rhizoctonia solani
is derived from catechol [
15
]. In another report, the production of catechol melanin by the obligate aerobe nitrogen-fixing bacterium
Azotobacter chroococcum
was demonstrated [
16
]. These organisms could potentially be employed as producers of catechol melanin in a biotechnological process. However, important challenges to overcome would be related to defining the optimal growth and catechol melanin production conditions. An alternative to this approach could be to employ an organism that can be easily grown in a bioreactor under laboratory conditions and genetically modify it to synthesize melanin. In this report, we used the bacterium
E. coli
as a platform to generate strains with the capacity to synthesize catechol melanin. As an initial approach, the Mut
melA
gene from
R. etli
was expressed in
E. coli
W3110 to construct a strain for converting catechol supplemented in the culture medium to catechol melanin. To improve this production system, we employed
E. coli
strain W3110
trpD9923
, a mutant that overproduces anthranilate, which was modified to produce catechol from glucose [
17
]. This strain was further engineered by the chromosomal insertion of gene Mut
melA
from
R. etli
(Fig.
1
). The resultant strain was grown in liquid fed batch cultures in complex medium with glycerol as carbon source, where 1.21 g/L of catechol melanin were produced in 55 h. The chemical identity of the produced catechol melanin was determined by employing Fourier transform infrared spectroscopy.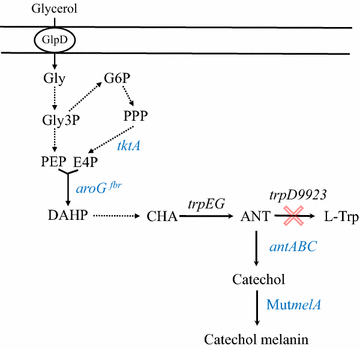 Conclusions
Melanins are natural polymers having a broad range of potential applications. However, their widespread utilization is limited by the availability of a well-characterized product obtained at a relatively low cost. This is not the case for eumelanin since several microbial strains and biotechnological processes for its industrial production have been reported [11–14]. In contrast, the number of production strains and processes for other types of melanins is very limited. There is only one report on the production in a liquid medium of a melanin derived from homogentisic acid (pyomelanin). By employing the mutant Pseudomonas putida strain F6-HDO, 0.35 g/L of pyomelanin was produced [30]. In the case of allomelanins, this report constitutes the first example towards employing a microbial strain developed by metabolic engineering for the gram-level production of catechol melanin from glycerol. These efforts will contribute to a better understanding of the distinct properties of various melanins, leading to potentially unique industrial applications.
Abbreviations
Ap:

ampicillin
Tc:

tetracycline
Gm:

gentamicin sulphate
LB:

Luria–Bertani
OD600 :

optical density at 600 nm
HPLC:

high performance liquid chromatography
DCW:

dry cell weight
FTIR:

Fourier transform infrared spectroscopy
GlpD:

glycerol transporter
Gly:

glycerol
Gly3P:

glyceraldehyde-3-phosphate
G6P:

glucose-6-phosphate
PPP:

pentose phosphate pathway
E4P:

d-erythrose 4-phosphate
PEP:

phosphoenolpyruvate
DAHP:

3-deoxy-d-arabino-heptulosonate 7-phosphate
CHA:

chorismate
l-Trp:

l-tryptophan
Declarations
Authors' contributions
AMC, RDA, VMC and GG participated in the design of this study. AMC constructed the strains. AMC, RDA, GHC and CAV characterized the strains in flask and bioreactor cultures and analyzed the experimental data. SR and GHC participated in performing FTIR analysis of catechol melanin samples. AMC, RDA, SR, GHC, CAV, AM, FB, VMC and GG participated in the analysis of the results as well as in writing and critical review of the manuscript. All authors read and approved the final manuscript.
Acknowledgements
We thank Luz Maria Martinez for her technical assistance.
Competing interests
The authors declare that they have no competing interests.
Availability of data and material
The data supporting our findings can be found in the main paper.
Funding
This work was supported by Grant 177568 from the Consejo Nacional de Ciencia y Tecnología, México.
Open AccessThis article is distributed under the terms of the Creative Commons Attribution 4.0 International License (http://creativecommons.org/licenses/by/4.0/), which permits unrestricted use, distribution, and reproduction in any medium, provided you give appropriate credit to the original author(s) and the source, provide a link to the Creative Commons license, and indicate if changes were made. The Creative Commons Public Domain Dedication waiver (http://creativecommons.org/publicdomain/zero/1.0/) applies to the data made available in this article, unless otherwise stated.
Authors' Affiliations
(1)
Departamento de Ingeniería Celular y Biocatálisis, Instituto de Biotecnología, Universidad Nacional Autónoma de México, Cuernavaca, Mexico
(2)
Centro de Física Aplicada y Tecnología Avanzada, Universidad Nacional Autónoma de México, Santiago de Querétaro, Mexico