Display of recombinant proteins at the surface of lactic acid bacteria: strategies and applications
Microbial Cell Factories
2016
15:70
Received: 22 December 2015
Accepted: 21 April 2016
Published: 3 May 2016
Abstract
Lactic acid bacteria (LAB) are promising vectors of choice to deliver active molecules to mucosal tissues. They are recognized as safe by the World Health Organization and some strains have probiotic properties. The wide range of potential applications of LAB-driven mucosal delivery includes control of inflammatory bowel disease, vaccine delivery, and management of auto-immune diseases. Because of this potential, strategies for the display of proteins at the surface of LAB are gaining interest. To display a protein at the surface of LAB, a signal peptide and an anchor domain are necessary. The recombinant protein can be attached to the membrane layer, using a transmembrane anchor or a lipoprotein-anchor, or to the cell wall, by a covalent link using sortase mediated anchoring via the LPXTG motif, or by non-covalent liaisons employing binding domains such as LysM or WxL. Both the stability and functionality of the displayed proteins will be affected by the kind of anchor used. The most commonly surfaced exposed recombinant proteins produced in LAB are antigens and antibodies and the most commonly used LAB are lactococci and lactobacilli. Although it is not necessarily so that surface-display is the preferred localization in all cases, it has been shown that for certain applications, such as delivery of the human papillomavirus E7 antigen, surface-display elicits better biological responses, compared to cytosolic expression or secretion. Recent developments include the display of peptides and proteins targeting host cell receptors, for the purpose of enhancing the interactions between LAB and host. Surface-display technologies have other potential applications, such as degradation of biomass, which is of importance for some potential industrial applications of LAB.
Keywords
Lactic acid bacteriaGenetic engineeringSurface display
Background
Lactic acid bacteria (LAB) have been used for thousands of years in food products where their fermentative properties promote natural conservation and taste development [1]. LAB are a heterogeneous group of gram-positive bacteria, including species of Lactococcus, Lactobacillus and Streptococcus, which during fermentation of carbohydrates produce lactic acid as a major end product. The majority of LAB strains are capable of surviving the harsh conditions in the gastro-intestinal tract (GIT), and some are capable of colonizing certain intestinal tissues. It has to be noticed that Lactococcus lactis, the most used LAB for heterologous protein expression, only survive for a few hours in the human GIT [2] whereas survival times for some lactobacilli are much higher until 7 days. This physiological characteristic could be an asset for L. lactis as genetically modified organism (GMO) because, as the bacterium dies in the GIT, it cannot be spread in the environment. Since LAB have been consumed for ages and are commonly found in food products they are considered as safe by the World Health Organization. Several LAB, and especially members of the genus Lactobacillus, have health promoting properties. Strong resistance to harsh conditions, innocuous activity and beneficial properties make LAB excellent candidates to deliver active molecules such as vaccines or cytokines to the GIT mucosa [3].
Over the last 20 years, wide and numerous health applications of LAB have been demonstrated. For example, a L. lactis strain producing recombinant Elafin, a protease inhibitor, has been shown to have a positive effect on gluten-related disorders and in the control of inflammatory bowel disease in an induced colitis model [4, 5]. LAB have also been used to produce medically interesting proteins like tetanus toxin [6, 7], insulin [8] or leptin [9], to deliver cDNA to eukaryotic cells [10] and several recombinant LAB have entered clinical studies [11, 12].
Recombinant protein can be produced in the cytoplasm, end up in the cell membrane or be exported from the cells to end up in the surroundings (secreted) or to become anchored at the bacterial surface. Secreted proteins are diluted in the environment and are likely to be prone to proteolytic degradation as well as effects of low pH and bile salts, all of which may weaken the activity and functionality of the protein [13, 14]. To protect the protein from harsh conditions and to increase its on-site concentration, strategies based on anchoring the protein to the microbial surface are gaining increasing attention. It is conceivable that a protein attached to the bacterial surface, is more protected than a free protein, especially if the protein is embedded in the bacterial cell wall.
In this review we describe the diverse techniques to display functional proteins at LAB surfaces, review comparative studies of strains directing the same protein to different locations, and discuss specific advantages of protein surface display.
Strategies to display proteins at the surface of lactic acid bacteria
The first heterologous bacterial display system was constructed almost 30 years ago [
15
,
16
]. In these early studies, short, heterologous gene fragments were inserted into genes encoding outer membrane proteins of
Escherichia coli
leading to peptide display at the bacterial surface. It was suggested that surface display would open up for development of oral live vaccines using non-pathogenic strains [
15
]. Later on, several systems have been established for surface-anchoring and displaying heterologous proteins, including systems for gram-positive bacteria [
17
,
18
]. Gram-positive bacteria have only one cytoplasmic cell membrane, meaning that protein export only involves one membrane translocation. Both the single cell membrane and the relatively thick cell wall of Gram-positive bacteria offer anchoring opportunities. There are two principally different ways to anchor secreted proteins to the bacterial surface, by covalent binding to surface components or by non-covalent binding to the cell membrane or cell wall components through specialized binding domains [
19
] (Fig.
1
).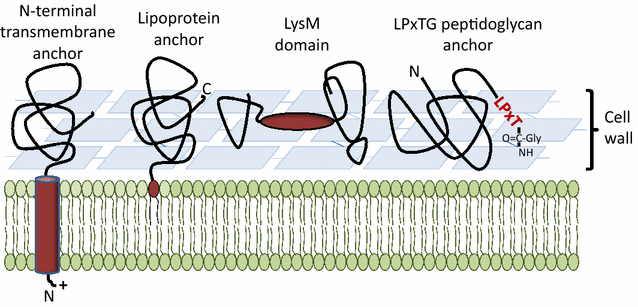 Display of proteins implies a trade-off between high exposure, which will improve interactions with the GIT, and a low exposure, which will protect the displayed protein. Proteins displayed as compact properly folded molecules are likely to be less susceptible to degradation than engineered fusion proteins such as multi-epitope antigen fusions. Exposure of the protein will depend on the type of anchor used, although the degree of exposure and its effect on e.g. immunogenicity cannot be measured or rationalized. Fact is that the use of different anchoring systems can result in distinctly different host responses [20, 21]; this should be taken into consideration when designing LAB-based delivery strategies.
Expression and export of a heterologous protein containing the desired anchoring signal is at the basis of most display strategies. The success of these steps is a major determinant of both the viability of the recombinant strain and the amount of protein displayed on its surface. Assuming that the primary gene product is produced at desirable levels, its proper secretion and post-translational processing are by no means assured. Insufficiently effective secretion may lead to overloading of the secretion machinery and secretion stress, which may cause reduced growth of the host and/or promote intracellular or extracellular proteolytic degradation [22, 23]. Unfortunately, the secretion efficiency for heterologous proteins is difficult to predict. It depends not only on the signal peptide, but also on an optimal combination between the signal peptide and the target protein and, most likely, the interplay between expression rate, folding rate and secretion rate [23–27]. Since it is not possible to predict which signal peptide works best for a certain protein, it is generally advisable to test several to find the most optimal one, possibly by evaluating genome-wide signal peptide libraries in modular cloning systems (see below). In early work in the field, Dieye et al. [27] showed that replacement of the M6 signal peptide with the Usp45 signal peptide from L. lactis doubled the amount of a staphylococcal nuclease reporter protein (NucA) that was successfully anchored to the cell wall [27]. It has also been shown that insertion of a negatively charge synthetic pro-peptide immediately downstream of the signal peptidase cleavage site increases secretion efficiency [28]. The optimization of secretion efficiency and the reduction of secretion stress are of utmost importance when the aim is surface display. Notably, several of the recombinant strains appearing in the examples discussed below showed impaired growth, meaning that further optimization, e.g. by adjusting expression levels and/or secretion and anchoring signals, may be useful.
In LAB, expression, secretion and surface display of heterologous target proteins have been explored quite extensively [27, 29–37]. The nisin-based NICE system is a well-known system for inducible expression in L. lactis and several other LAB [32]. A system similar to the NICE system and primarily developed for use in lactobacilli is the pSIP system [38, 39] In recent years, this modular vector system for inducible gene expression has been developed for protein secretion and anchoring [21, 23, 40–44], exploiting signals from L. plantarum WCFS1.
Below, the varying anchoring strategies displayed in Fig. 1 are discussed in detail and references illustrating the use of these strategies are provided. All these strategies have to some extent been implemented in the pSIP system.
Application of lactic acid bacteria for displaying proteins
The remainder of this review will address various applications of the anchoring strategies discussed above, and will address the potential advantages of the anchoring approach compared to other protein delivery strategies such as secretion or cytosolic production. Figure
3
provides a schematic overview of possible applications of protein-displaying LAB.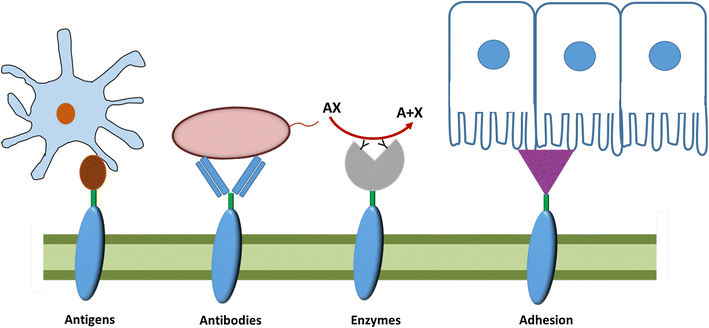 Conclusions
Taken together, the accumulated results of in vivo studies show that while it is not straightforward to predict the best localization of the target protein, surface-display tends to be a good strategy for reasons that are likely related to the accessibility and stability of the displayed protein. Importantly, the studies described above are by and large non-quantitative, meaning that it remains mostly unclear whether functional differences between different strategies simply relate to the amount of protein expressed rather than to the localization and stability of the expressed protein. There is a clear need for approaches with more focus on quantification, to discriminate between localization effects and dose–response effects. Interesting open questions that relate to the quantification issue concern the potentially interrelated effects of the anchoring-type on in vivo stability and proteolytic susceptibility of the displayed protein and on protein accessibility for host cells. Varying anchoring strategies will lead to varying degrees of protein shedding, which also may have (quantitative) effects on strain functionality.
High production levels of the to-be-displayed protein may seem beneficial and may be achieved by using strong inducible or constitutive promoters, as well as by codon optimization of the to-be-expressed gene. However, unbalance in the transcription-translation-secretion machinery, caused by e.g. too high transcription levels or suboptimal translation rates may cause problems, leading to retarded growth of the producer strain and/or to secretion stress, or leading to reduced secretion efficiency and proteolytic degradation of the target protein. The choice of signal peptide affects also the secretion efficiency. Signal peptide performance shows considerable variation and is partly dependent on the target protein [23]. Unfortunately, signal peptide performance and secretion efficiencies are notoriously difficult to predict, meaning that the best strategy for strain development is to use an expression vector system that allows rapid screening of numerous variants. Clearly, deeper functional insight into the factors that govern the efficiency of the secretion of heterologous proteins in LAB would be highly useful.
Rapid screening of various expression constructs should also allow variation of the anchors since the data accumulated so far do not pinpoint to one particular type of localization or anchoring mode as superior. Depending on its localization, the translocated recombinant protein will be exposed to the harsh conditions in the GIT and one would expect a trade-off between being vulnerable for proteolysis and being visible to the immune system of the host. Unanswered questions include: Will membrane-anchored proteins be more protected from the harsh conditions in the GIT, compared to cell wall anchored proteins? Which significance has the length of the linker between the cell wall-anchoring motif and the recombinant protein?
When it comes to application of the engineered LAB, one open question is whether live and replicating or non-viable bacteria should be used. Clinical studies have shown that both attenuated [12] and living bacteria are promising [140] delivery vehicles. In replicating bacteria, it is important that the promoter is active in situ, otherwise recombinant surface located proteins will be diluted from the surface, which will likely result in a reduced immune stimulatory effect. Promoters whose expression is induced during passage through the GIT of mice [141] may be good candidates for in situ expression.
To date, several recombinant LAB have reached clinical studies [11]. The first clinical study was completed in 2006 using L. lactis for secretion of human IL-10 in patients with Crohn's disease [142]. Ten patients were included in a placebo-uncontrolled phase I trial. The treatment was shown to be safe and was well tolerated by the patients, while Crohn's disease symptoms were reduced. However, the beneficial effects of this engineered L. lactis strain could not be confirmed in a following phase II clinical study. Another more recent study concerned L. lactis secreting trefoil factor (TFF), which is an anti-inflammatory protein. It has been shown that TFFs reduce the severity of radiation-induced oral mucositis when administrated in hamsters [143]. In a phase 1b, single blinded, placebo-controlled experiment, the patient received recombinant L. lactis secreting TFF 1(AG013) orally. The results demonstrated that AG013 was safe and well tolerated, and reduced oral mucositis [140]. A phase II study has been designed to further validate the efficacy of AG013. The last known example is an ongoing clinical study using a recombinant L.lactis, AG014, which secretes anti-TNF-alpha Fab to treat inflammatory bowel disease. An example of clinical studies with L. casei has been described above [12].
Much of the pioneering work in this area was done using L. lactis, a well-known bacterium in dairy products which does not survive in the GIT more than a few hours [2]. In contrast, some lactobacilli survive the GIT; they can reside in the body for several days and some of them are even considered commensal, meaning that they are part of our intestinal microbiota. Many have been described with beneficial effects [144, 145]. It has to be noted that the genetic toolbox for lactobacilli is well developed and that many of the most recent and most promising studies on functional display of proteins in LAB concern lactobacilli.
Further insight into lactobacilli is emerging from massive genomics efforts, while the emergence of CRISPR-Cas technologies provides novel genetic engineering tools of unprecedented quality, safety and precision [146, 147]. These bacteria, with their ecological versatility, robustness and known beneficial effects, are likely to become major players in further development of LAB-based vaccines and cell factories.
Abbreviations
LAB:

lactic acid bacteria
GIT:

gastro-intestinal tract
WHO:

World Health Organization
SP:

signal peptide
NucA:

staphylococcal nuclease reporter protein
BmpA:

basic membrane protein A
LPS:

lipopolysaccharides
OFA:

oncofetal antigen
SLPs:

surface layer proteins
SLHDs:

surface layer homology domains
GFP:

green fluorescent protein
TTFC:

tetanus toxin fragment C
HPV:

human papillomavirus-16
CWA:

cell wall anchored
ScFv:

single-chain antibody fragment
PA:

protective antigen
IBD:

inflammatory bowel diseases
DSS:

dextran sodium sulfate
FnBPA:

fibronectin-binding protein A
InlA:

internalin A
mInIA:

mutated form of InlA
CMV:

human cytomegalovirus
DCs:

dendritic cells
Inv:

invasin of Yersinia pseudotuberculosis
M-cells:

microfold cells
Declarations
Authors' contributions
CM and GM drafted the paper. GM and VGHE made the figures. GM, VGHE, PL, CM and JMC revised the manuscript. JMC coordinated the project. All authors read and approved the final manuscript.
Acknowledgements
GM and VGHE are grateful for support from the Globvac program of the Norwegian Research Council, grant number 234502. CM was recipient of an Yggdrasil Norwegian mobility (Grant Number 227257) and a mobility Grant from AgroParisTech.
Competing interests
The authors declare that they have no competing interests.
Open AccessThis article is distributed under the terms of the Creative Commons Attribution 4.0 International License (http://creativecommons.org/licenses/by/4.0/), which permits unrestricted use, distribution, and reproduction in any medium, provided you give appropriate credit to the original author(s) and the source, provide a link to the Creative Commons license, and indicate if changes were made. The Creative Commons Public Domain Dedication waiver (http://creativecommons.org/publicdomain/zero/1.0/) applies to the data made available in this article, unless otherwise stated.
Authors' Affiliations
(1)
Micalis Institute, INRA, AgroParisTech, Université Paris-Saclay, Jouy-en-Josas, France
(2)
Department of Chemistry, Biotechnology and Food Science, Norwegian University of Life Sciences (NMBU), Ås, Norway